We all love granola in our households. Pour it with milk, load it with raisins and dried fruit, add it to yogurt, pair with fresh fruit, top a dessert, eat it simply dry…there's so many options! The tricky part? Why are so many granola's loaded with sugar, empty calories and gluten!? We knew that we had to get to the bottom of this and make a granola that would satisfy an empty tummy for hours, use no refined sugar and be full of protein.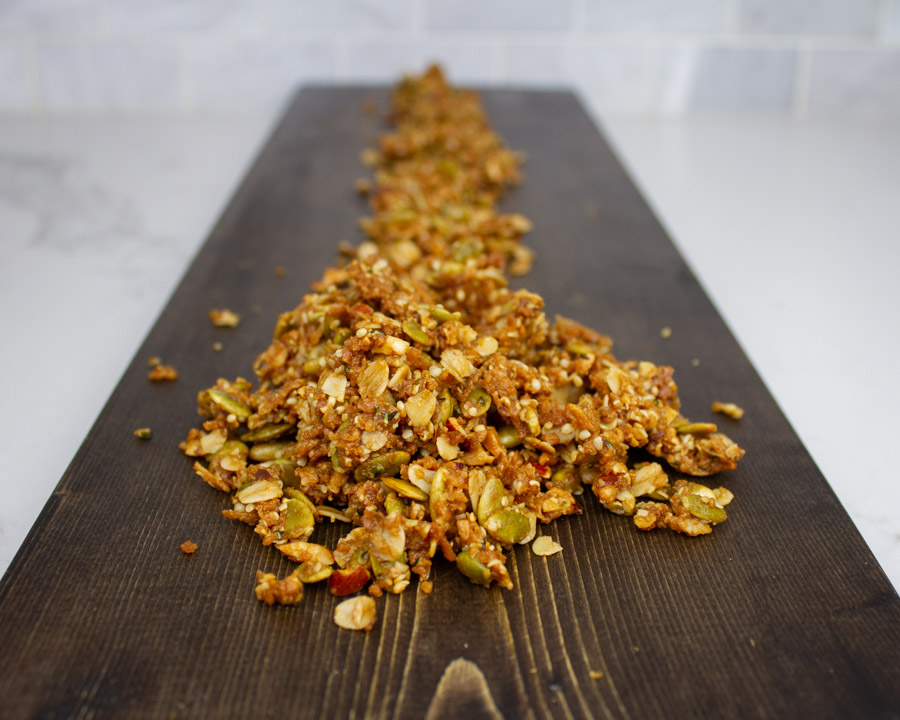 There's something funny about the process of granola. Why is it that so many people think this is a food that's hard to make? It's really not! Stacey even remembers the first time she started making granola and her kids questioned, "Mommy, you can actually make granola?" YES!! We're here to tell you that everyone can make granola. It's not hard and you probably have many of these ingredients already in your pantry.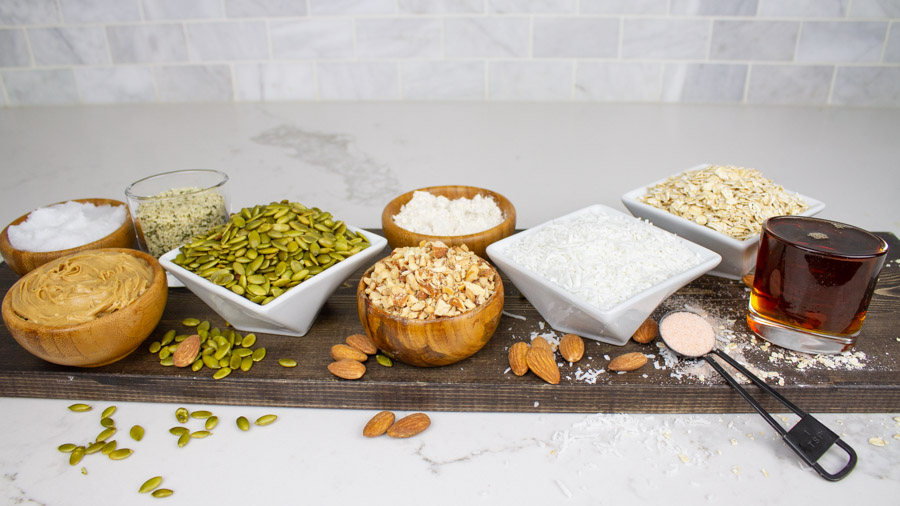 Honestly, it's truly as easy as this – mix it all up. Bake it. Cool it. Eat it!
Well, alright. In all fairness, you'll have to melt the oil and nut butter together in a pot. But this is another great recipe to get the kids helping! It's so simple. We love having our children in the kitchen with us.
Cooking and baking is such a great life skill. Not to mention that if you are eating gluten-free, it's a wonderful way to continue educating our children to advocate for themselves.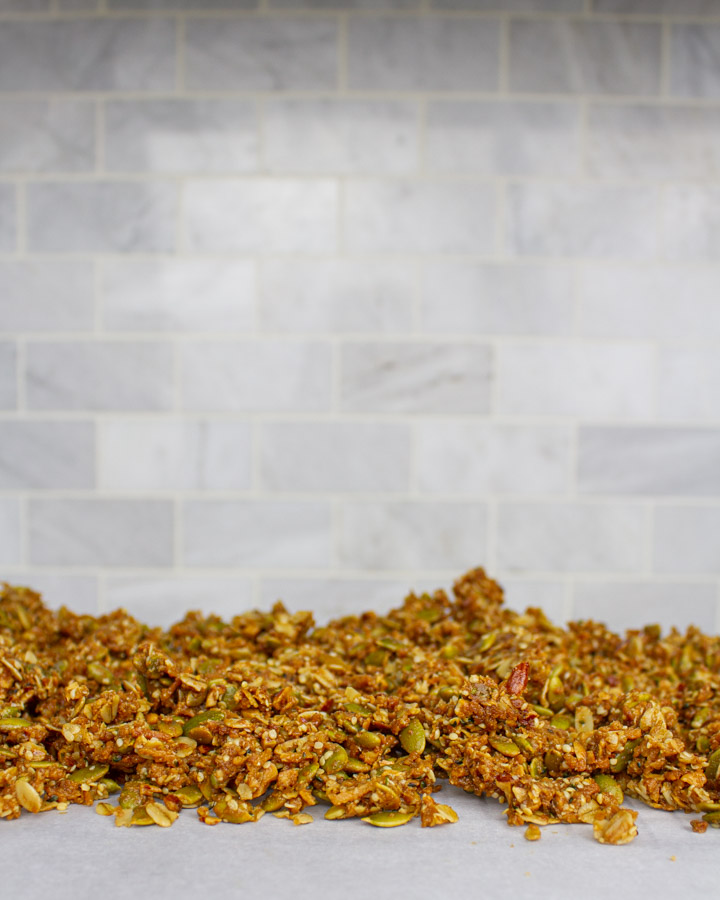 Stacey's son is celiac and the two of them love trialing new foods and discovering the best products, and recipes to make. She has also been able to pass along knowledge of where to find the hidden sources of gluten, how to avoid cross contamination, or what questions to ask at a friends house when offered a snack.
We hope that as you follow along with us in the CUT kitchen we are able to help answer some of your GF related questions too!
Back to our recipe…let's get mixing! If you are following a gluten-free diet whether celiac disease or by choice or intolerance, be sure to always read packaging labels of dried goods such as coconut, pumpkin seeds, nuts, and oats. These products may often have come into contact with gluten, processed with gluten or even contain gluten or wheat.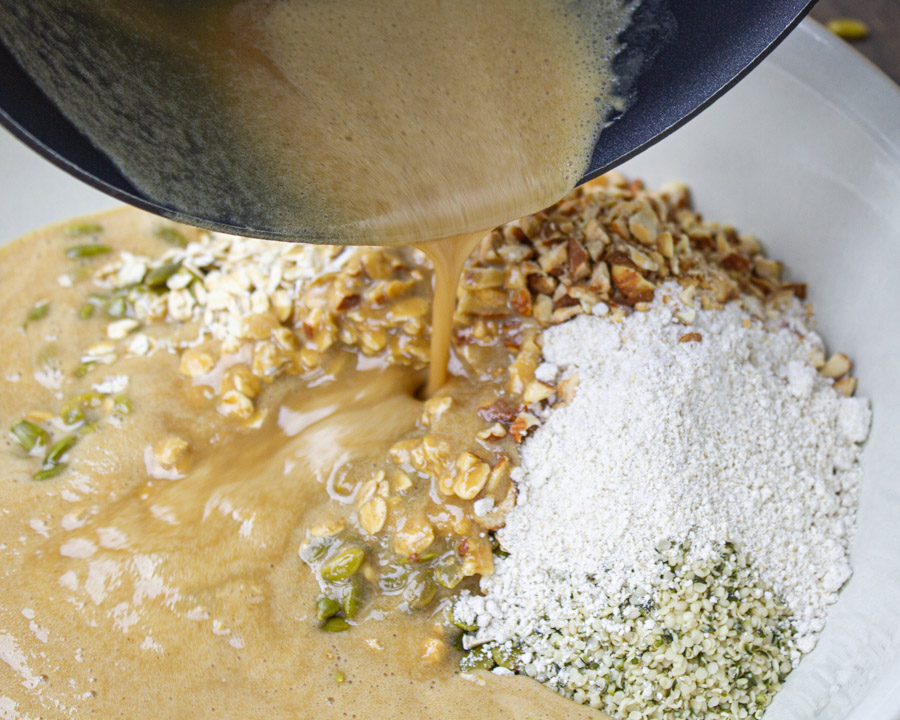 Once the oils and syrup have all melted, go ahead and pour this over the dried goods. Stir everything well that it's thoroughly coated. Once combined, you're ready to transfer to a baking sheet and get it into the oven.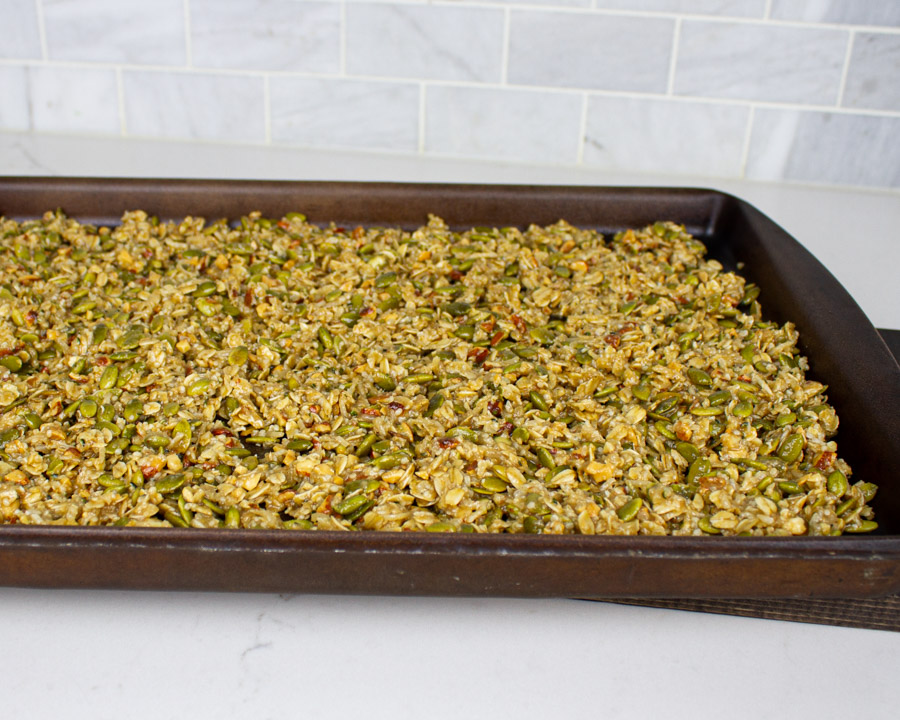 Once you've baked your granola, let it completely cool in the pan. Then go ahead and break it into pieces.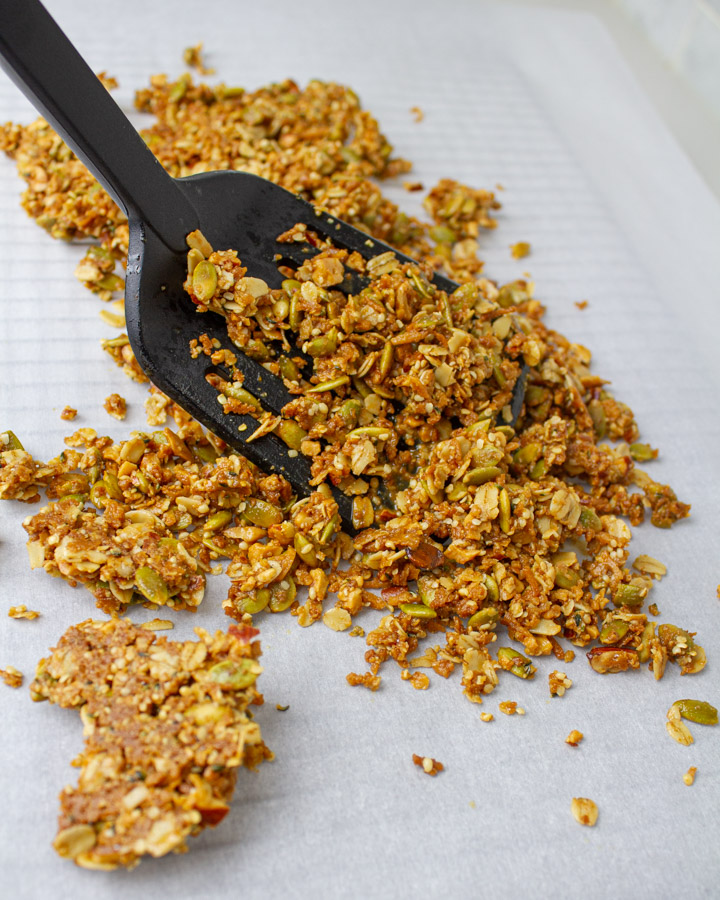 This granola is loaded with protein, no refined sugar, and simple to make. It doesn't take long and we promise, anyone can make granola!
Ingredients
1/4 cup coconut oil


1/2 cup peanut butter, try different nut butters too! (Such as pecan or cashew)

1/4 cup maple syrup

3/4 cup coconut, shredded and unsweetened

1 cup gluten-free rolled oats

1 cup raw pumpkins seeds

3/4 cup chopped raw almonds

1/4 oat flour

1/4 cup hemp seeds

1/2 tsp salt
Directions
Preheat oven to 325°F
On low heat, melt coconut oil, peanut butter and maple syrup.
Combine all other ingredients in large bowl.
Once coconut oil, peanut butter and maple syrup melted, pour over everything else in large bowl.
Stir well. Be sure to thoroughly coat everything.
Pour onto baking sheet and spread evenly, pack down with spatula to make 'chunkier' granola.
Bake for 10 minutes and stir.
Bake another 8 minutes and stir. Bake for a final 3 min.
Remove from oven and completely let cool in baking pan.
Once completely cool, break into small pieces. Store in airtight glass jars or tins.
Spoon the yogurt and wash the berries, it's parfait time!
Stacey and Meg
Guess what? You made granola. That's it! We told you it was easy.