Do you remember the fried hidden sticks of cheese usually found on a restaurants appetizer menu? Wrapped in full-gluten flour, seasoned with garlic powder, served warm, ready to dip in marinara sauce? Stacey does. And she missed them…May we introduce to you a slightly healthier version, and of course, gluten-free.
These ooey-gooey focaccia balls have a hidden pocket of mozzarella cheese and boost not just garlic but also oregano, basil and rosemary. Using the same base dough as CUT's Focaccia Crisps, and baking these incredible morsales versus frying, this recipe is easy to pull off! It definitely triumphs it's fried and gluten-FULL predecesor.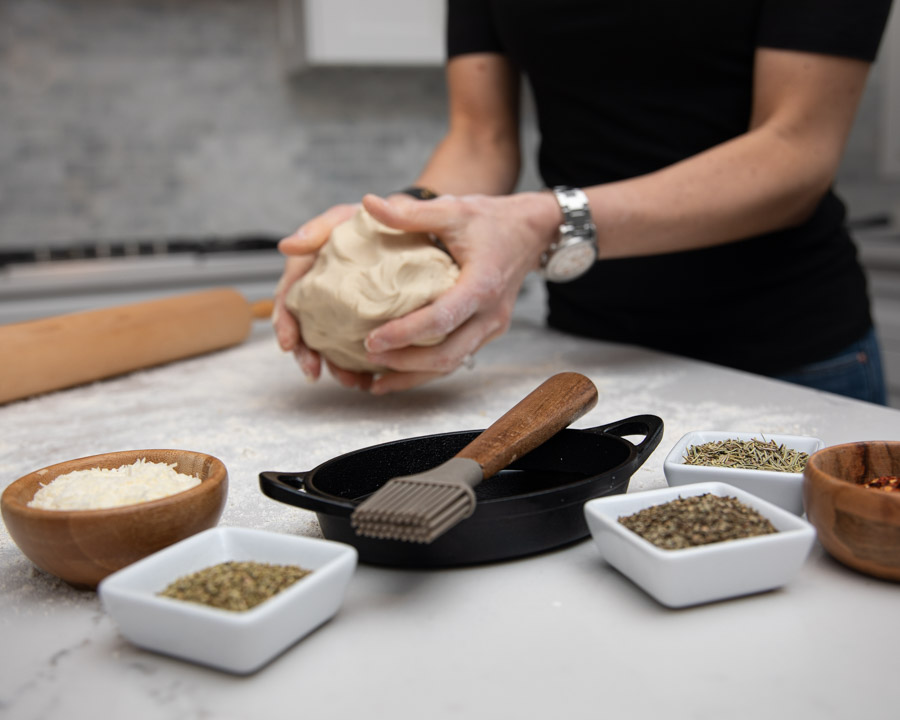 Start by literally combining all the ingredients except the mozzarella and parmesan cheese into your mixer. Beat everything well for approximately 7 minutes with a dough hook and you'll be ready to roll.
Once your dough is well mixed, divide and roll dough into golf size balls using just the palm of your hand. If you find the dough is a bit sticky still, knead first on a CUT floured surface. Be sure to leave a bit of flour on your hands too!
You're ready to add the mozzarella cheese. Cut cubes of mozzarella cheese approximately 1 cm square. After making a thumb indent in the dough ball, add a single cube of mozza.
Wrap the dough carefully around the cheese cube and 'pinch' , roll and incorporate the edges tightly closed again.
Place them on a greased baking sheet and you're almost ready to place into the oven. Simply brush melted butter on the tops and sprinkle with the parmesan cheese. The wait is almost over.
Bake and you'll be ready to enjoy. Dip them in a marinara sauce, top with CUT bruschetta or enjoy them on their own. Remember the ooey-gooey mozzarella you've missed? It's only 17 minutes away. Time to clean up the kitchen and pour a glass of wine.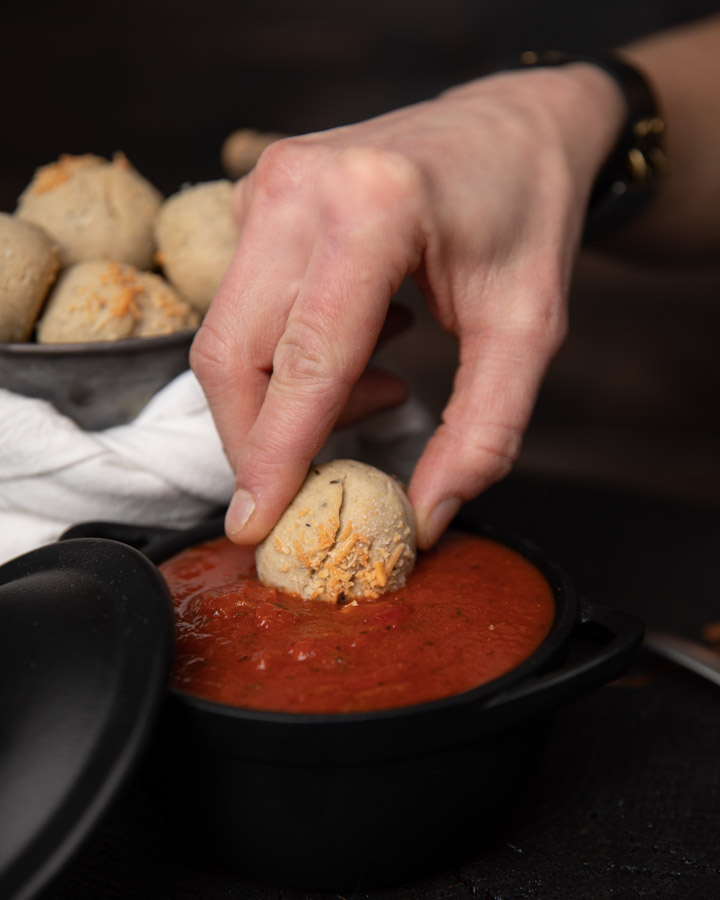 Mozza Balls
Course: Meal board
Cuisine: Italian
Difficulty: moderate
An Italian herbed Focaccia bread dough encompassing a cube of ooey-gooey mozzarella cheese. Could there be anything better? One bite of these incredible balls and you'll be reaching for another.
Ingredients
3 cups CUT flour

1 cup warm water

1 egg

1/4 cup olive oil

2 tbsp honey

2 1/2 tsp instant quick rise yeast

3 cloves garlic, minced

1 1/2 tbsp oregano

1 1/2 tbsp basil

1 1/2 tsp salt

1 tsp rosemary

12- 1cm squared cubes of mozzarella cheese

1/4 cup melted butter

1/4 cup grated parmesan cheese
Directions
Preheat oven to 375°F
Combine all ingredients except cheese and butter into mixer bowl.
Using dough hook, knead and beat dough for approximately 7 minutes. Scrap the bowl often to ensure everything is incorporated well.
Divide dough into golf size balls (approximately 1″ in diameter).
Indent a small hole and place a cube of mozzarella cheese.
Wrap the dough carefully around the cheese cube and 'pinch' , roll and incorporate the edges tightly closed again.
Place on a greased baking sheet. Brush with melted butter and sprinkle parmesan cheese over the top.
Bake for 17 minutes.
Revel in the mozza,
Stacey and Meg
Bet you can't eat just one! This revamped traditional appie is one of both our families favorites.