Both of our families LOVE cookies. This recipe is a cookie staple. The cookie that Grandma made, and the cookie that Great Grandma made. Everyone needs a little tradition in their life. Pour a glass of milk and get ready to 'dunk'. These cookies are amazing!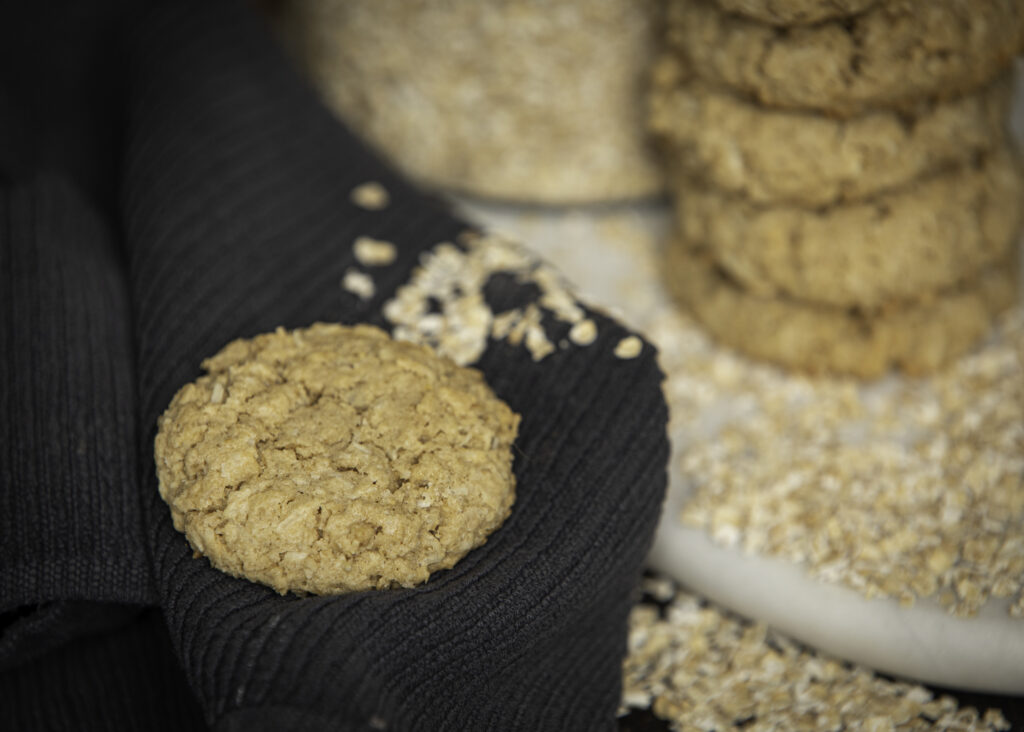 With the addition of gluten-free rice cereal, coconut and oats, these delicious cookies are full of texture. They are soft to bite and crispy to chew. The perfect combo for a cookie. This is the cookie to please anyone in every crowd.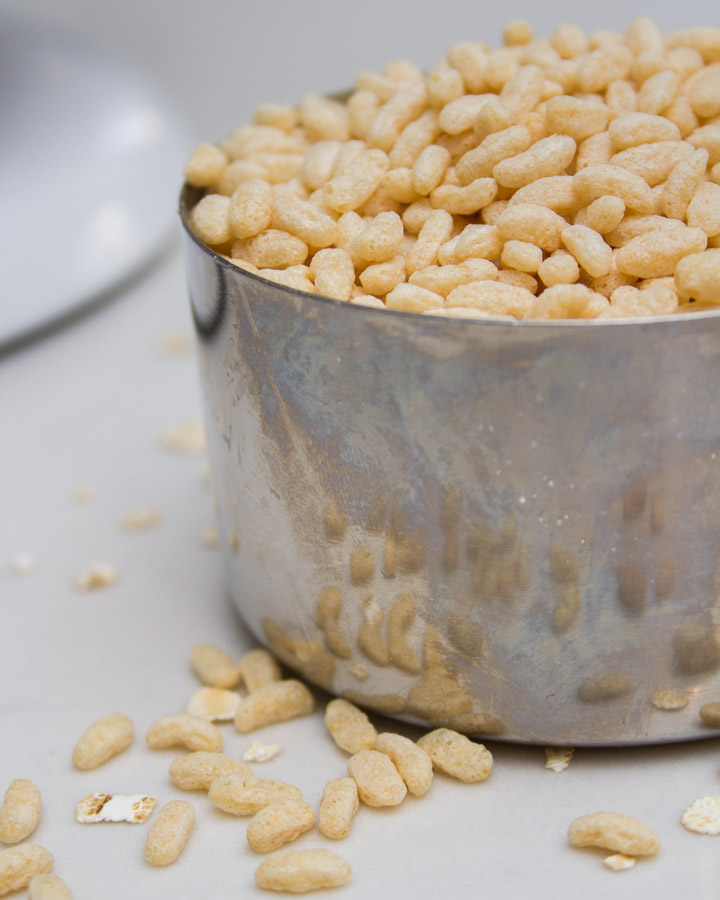 We promise again that this recipe is easy to follow. It doesn't require any extra fridge or freezing time and fresh cookies can be enjoyed within a half hour. The perfect recipe to let the kids help mix and measure ingredients. Ha!… the perfect recipe to work on the home school math and fractions 🙂 Pull out your ingredients and lets go!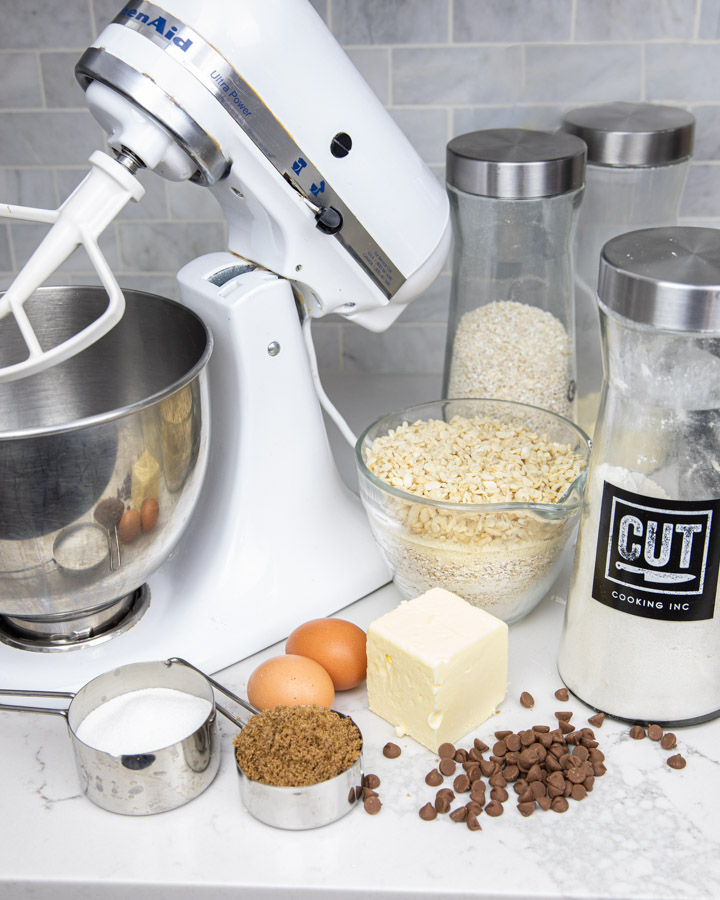 These cookies are so delicious on their own or simply add chocolate chips or raisins to create another traditional cookie – Oatmeal Raisin, or Oatmeal Chocolate Chip!
To create a flat cookie and not a 'round ball', use a fork and push the raw cookie dough down a bit. Do not push them too skinny, just enough to level the tops flat. The cookie should be approximately 1 cm thick going into the oven.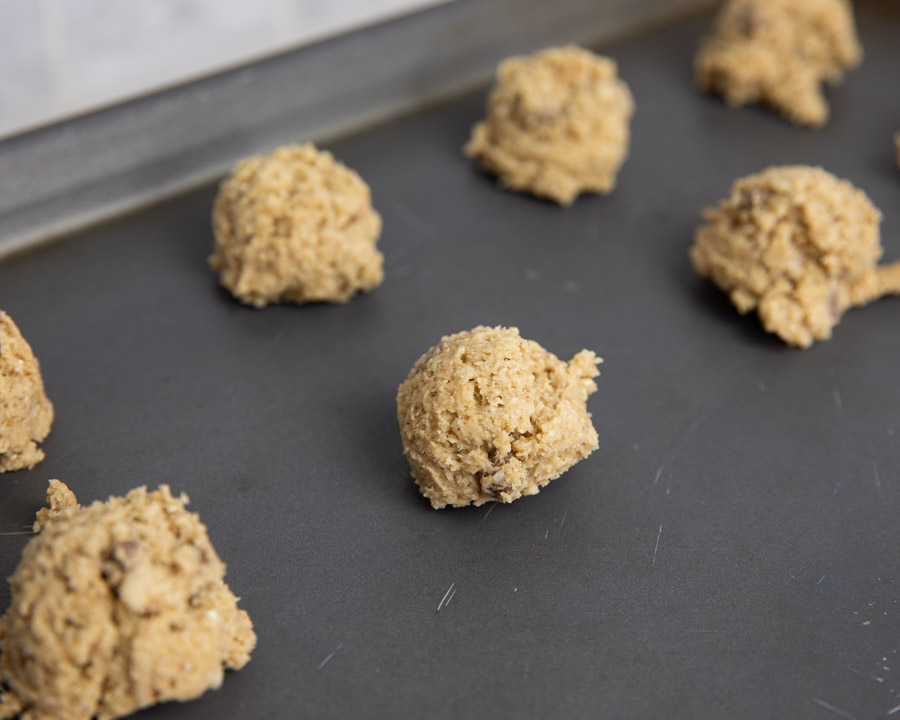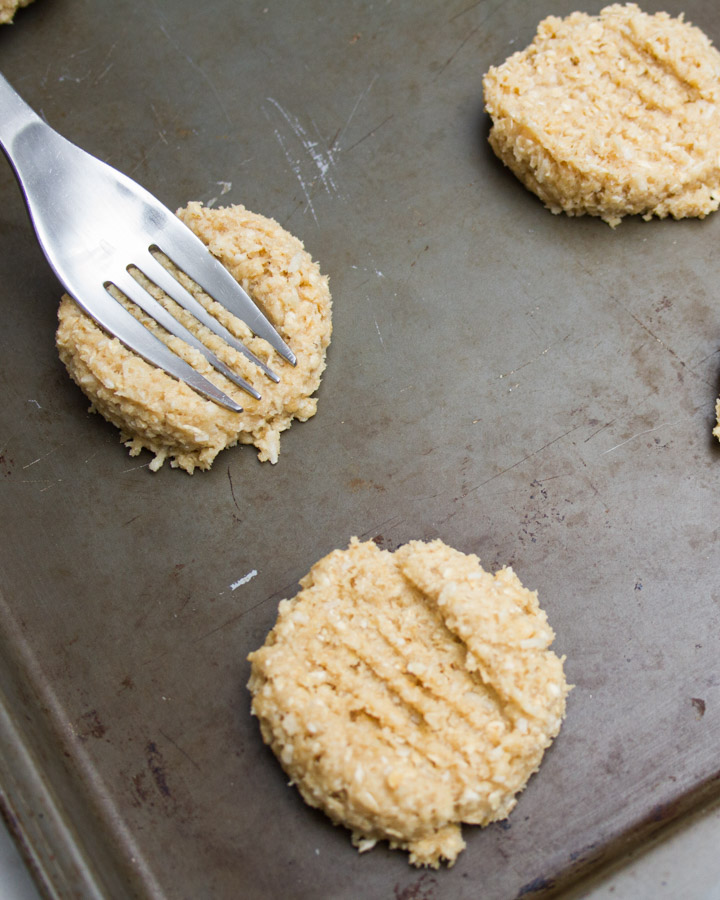 Simply then into the oven. That's all there is to it. The cookie jar will be empty before you know it!
Oatmeal Cookies
Course: Dessert, Treats
Cuisine: Canadian
Difficulty: Easy
Your hand will be caught more than once in the cookie jar. A perfect cookie combo, soft to bite and full of crispy texture. The perfect traditional treat.
Ingredients
1 cup butter

3/4 brown sugar

1/2 cup white sugar

2 eggs

2 tsp vanilla

2 cups gluten-free oats

2 cups gluten-free crispy rice cereal

2 cup CUT flour

1 cup shredded coconut

2 tsp baking powder

1 tsp baking soda

1/2 tsp salt

Optional

1 cup chocolate chips

OR

1 cup raisins
Directions
Preheat oven to 375°F
Using mixer, cream butter and both sugars together.
Add eggs and vanilla and mix well.
Combine all other ingredients and stir until mixed. Optional if desired is to add chocolate chips or raisins.
Scoop dough with cookie scoop or use teaspoons to form 1″ balls, place onto UNGREASED baking tray.
Using a fork, gently press cookie, slightly flattening to approximately 1cm thickness.
Bake for 9 minutes.
Let cookies cool slightly on tray before removing to completely cool on wire rack.
Pour a glass of milk.
Start 'dunking',
Stacey and Meg
Cookies anyone?