This cake might just be heaven on earth. Seriously. It's light and fluffy and uses no oil or butter! Made mostly from egg whites, its delicate texture is like no other. It bakes up tall and boasts a snow white inside and slightly golden crumbly exterior.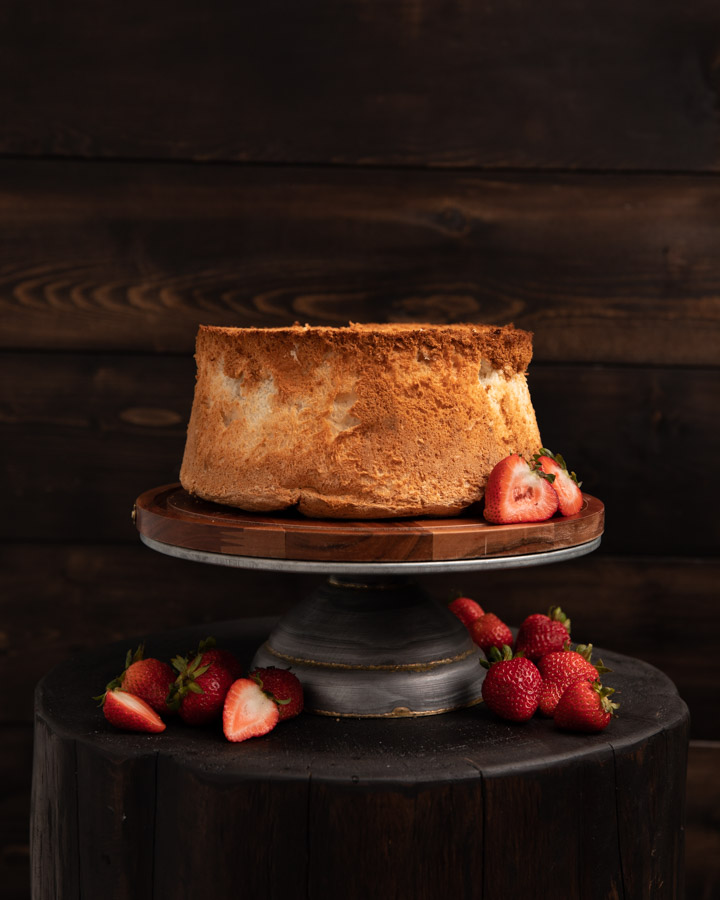 You might think this cake seems daunting but have no fear! Lol, you can absolutely do this. We're going to give every helpful tip and trick that you might need. A 'made from scratch', gluten-free Angel Food Cake is totally accessible and attainable!!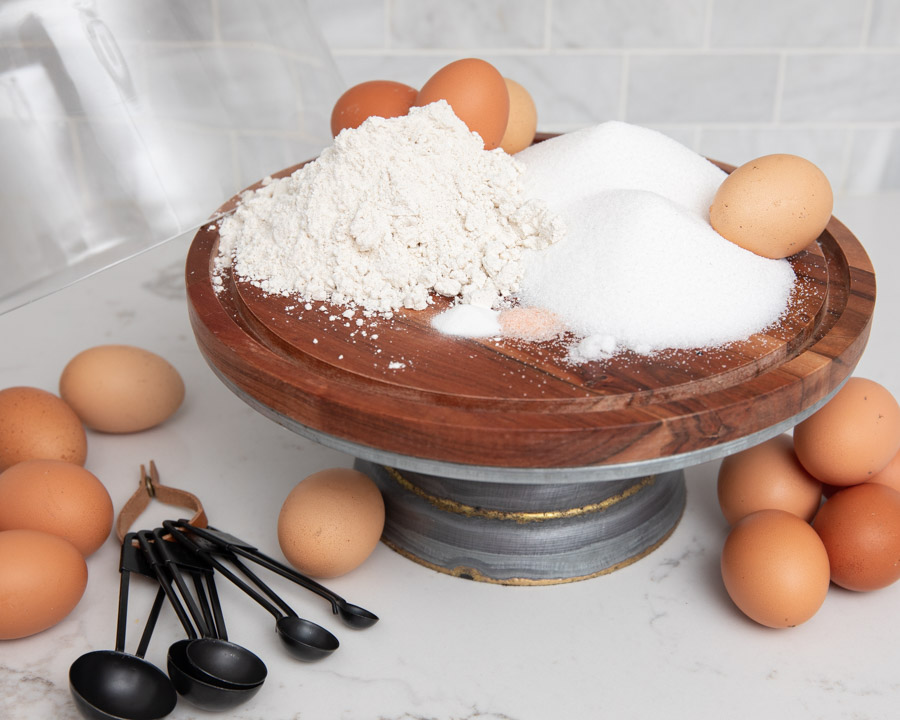 Due to the fact that angel food cake has limited ingredients and doesn't use any baking powder or soda, you'll need to ensure the egg whites are beat really well. The trick to an amazing outcome is your egg whites. No cheating this one. They need to beat stiff!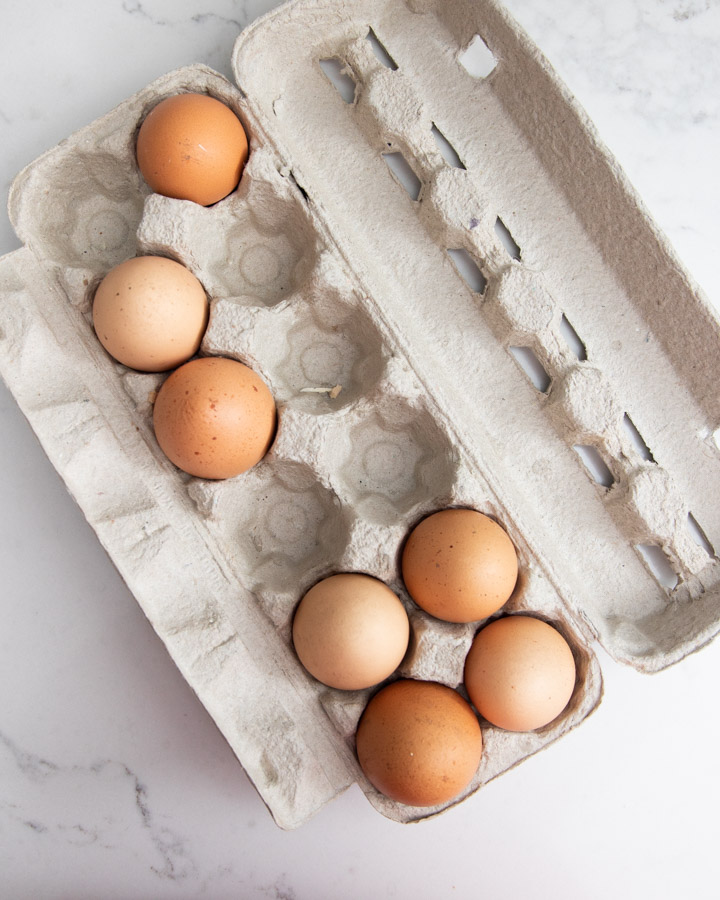 Caution when separating the eggs. You can't allow ANY of the yolk to be mixed. Not even a tiny bit! We like to crack and separate a couple eggs at a time in a small separate bowl, then add it to the main mixing bowl. This way if a bit of yolk does happen to sneak in, you won't ruin your entire cake. You'll also only lose maybe 1 or 2 eggs- not 12 😉
Once you have your eggs separated, go ahead and begin sifting the flour and dry ingredients. To maintain a light and fluffy end result using gluten-free ingredients, don't miss this step.
Another secret to a tall end result and fluffy cake, is combining by hand the last blend of the dry ingredients. If you use an electric mixer to do this, your cake will fall and not bake evenly. Beat the egg whites and sugar and then it's hand mix only!
Don't over stir the batter. Simply combine and get it into your pan. Use a tall tube cake pan for baking and be sure not to grease the sides. The cake needs to cling and climb up the sides of your pan for it to bake properly. Don't worry, we promise if your cake is baked properly it will come out of your pan!
Our last tip for baking the perfect Angel food cake is the cooling. Ha! We know this sounds contradictive but truthfully – the cooling process is just as important as the baking process.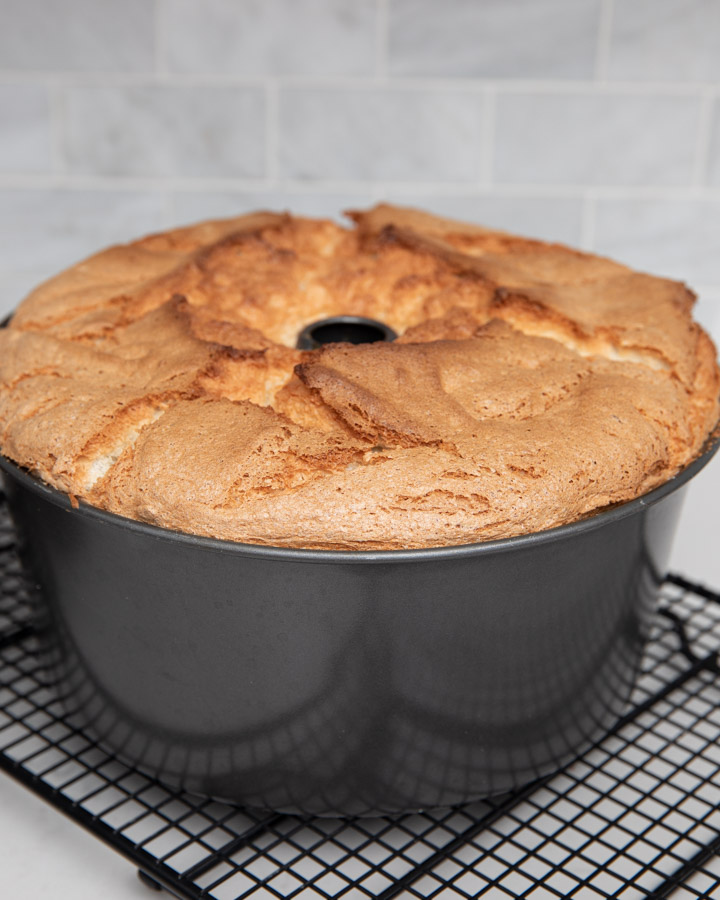 If cooled upright, the cake's own weight will crush it's airy texture. Most tube pans have little 'legs' that hold the pan upside down and allow the cake to cool fully. However, if your pan doesn't, go ahead and invert it using a bottle (from your sauces in the fridge!) in the middle to support and balance the cake.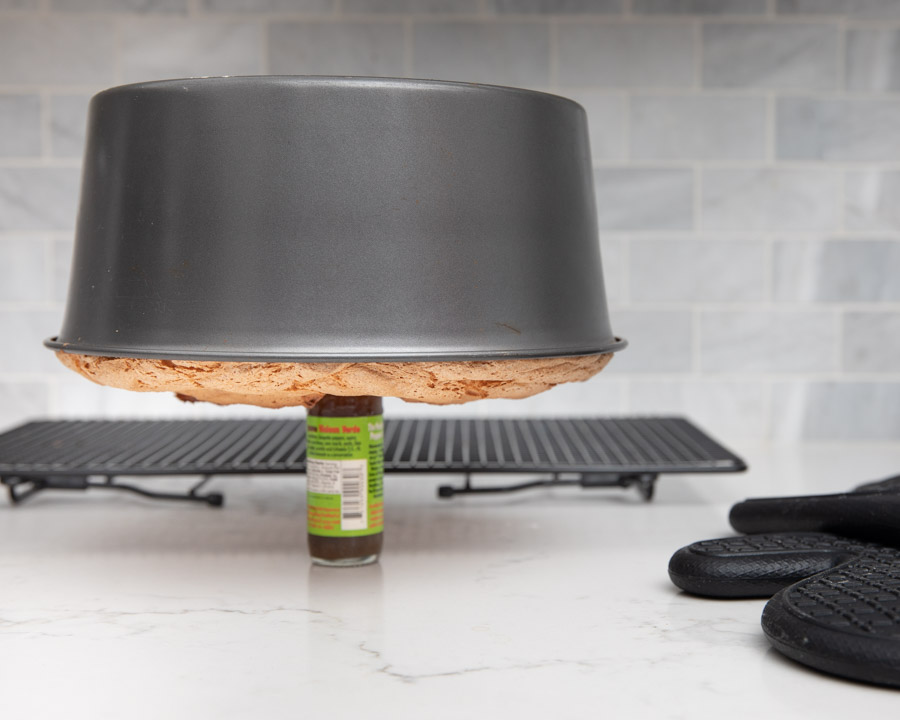 Once it's cooled and only once fully cooled, go ahead and push the sides off. You can then cut the bottom of the pan alongside the cake to reveal this stunning dessert. You'll never guess it's gluten-free!!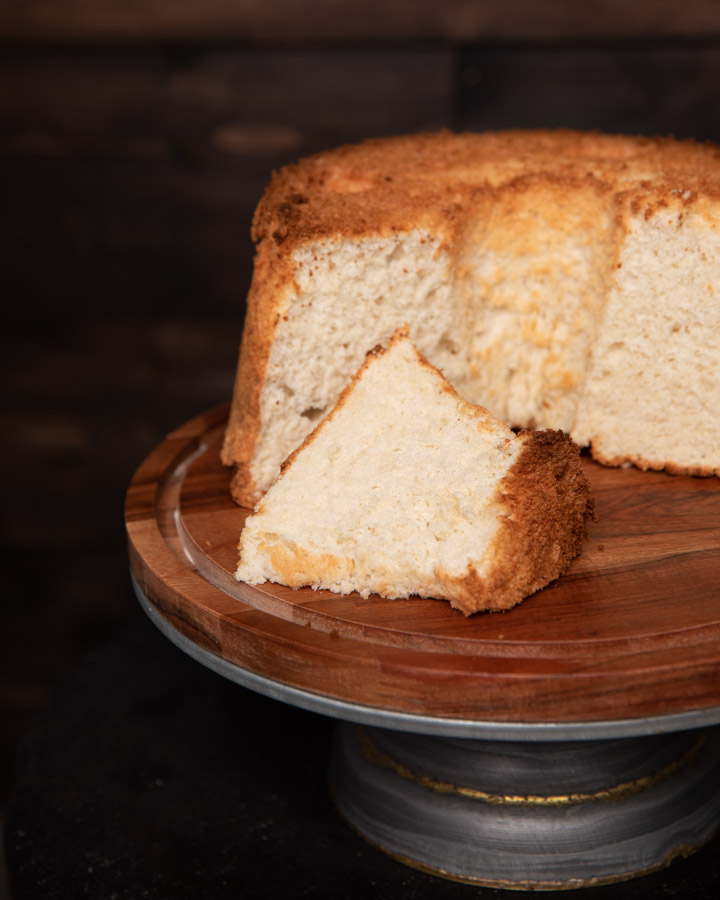 Whip the cream and cut the fresh summer strawberries. We promise this dessert will not disappoint.
Angel Food Cake
Course: Dessert
Cuisine: Canadian
Difficulty: Moderate
The gluten-free Angel has landed. This snow white cake boasts of a tall structure that is light and fluffy. Only using six ingredients, you're likely to have most of them in your pantry. Throw away the box mixes and start beating those egg whites!
Ingredients
12 large egg whites

1 1/3 cup sugar

1 1/4 tsp cream of tartar

1 1/2 tsp almond extract

Sifted Ingredients

1 1/2 cup CUT flour

1/2 cup sugar

1 tsp baking powder

1/4 tsp salt
Directions
Preheat oven to 375°F
Begin first with separating egg whites. Crack them in a separate bowl to ensure absolutely NO yolk gets mixed. Separate one or two eggs, pour into the mixing bowl and do another couple. There cannot be any yolk in the batter at all!
Once all egg whites are separated, go ahead and start beating them using an electric mixer. Gradually add 1 1/3 cup sugar, cream of tarter and almond extract.
Beat egg whites until stiff!
Meanwhile egg mixture beating in mixer, go ahead and sift other ingredients.
Once you have achieved stiff egg whites, go ahead and turn electric mixer off. Combine the sifted ingredients by hand. Lightly stir batter with a whisk. Don't over mix!
Pour batter into an ungreased tube pan.
Bake for 30-35 minutes.
Invert upside to completely cool. Use a bottle in the middle to balance the cake if it doesn't have 'legs' on the pan.
Once cake is fully cooled, push sides of tube pan out and then use a knife to cut cake from bottom of tube pan.
Top with whipping cream and fresh berries.
Heaven on earth!
Stacey and Meg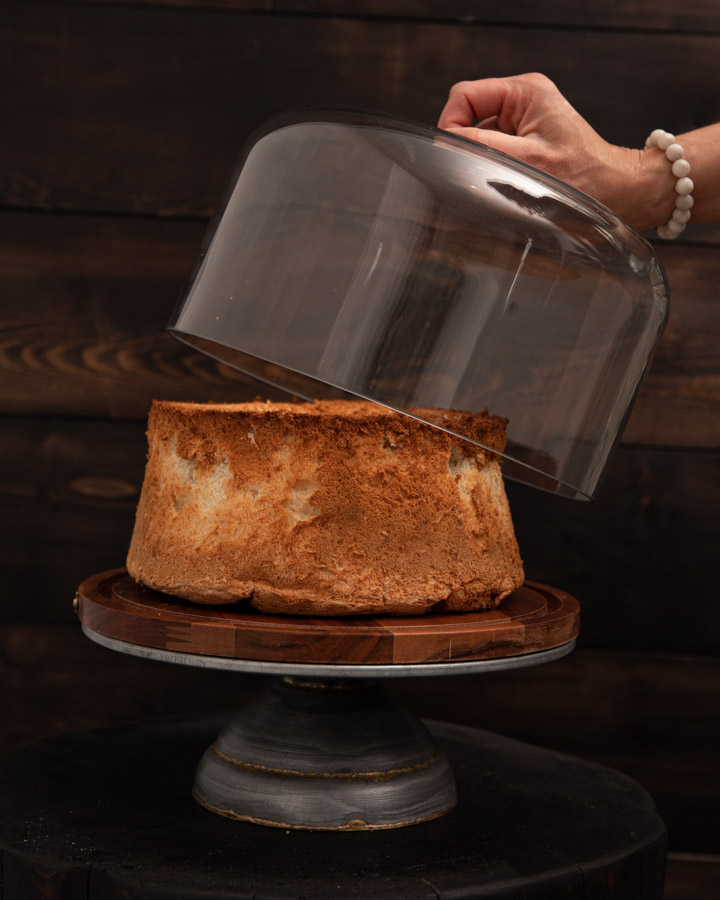 Throw away the mix and uncover your gluten-free Angel genius.