Alright it's day 6 of the arctic freeze and we can't lie, we're a bit tired of the absolutely freezing temperatures… -36 ˚C without even calculating wind chill is cold!!! Ha! Born and raised Canadians, we are hearty stock. But seriously, we're done. Thank goodness we have the sunshine here in YYC making -25˚ C seem balmy today. Running from your car to the closest entrance of where you're going- mittens, toques pulled tight, long underwear under your jeans, we as Calgarians got this. Right? LOL.
Sure we got this. The only thing on your mind is your warm bed or hot shower. Dinner is definitely the last thing you want to think about.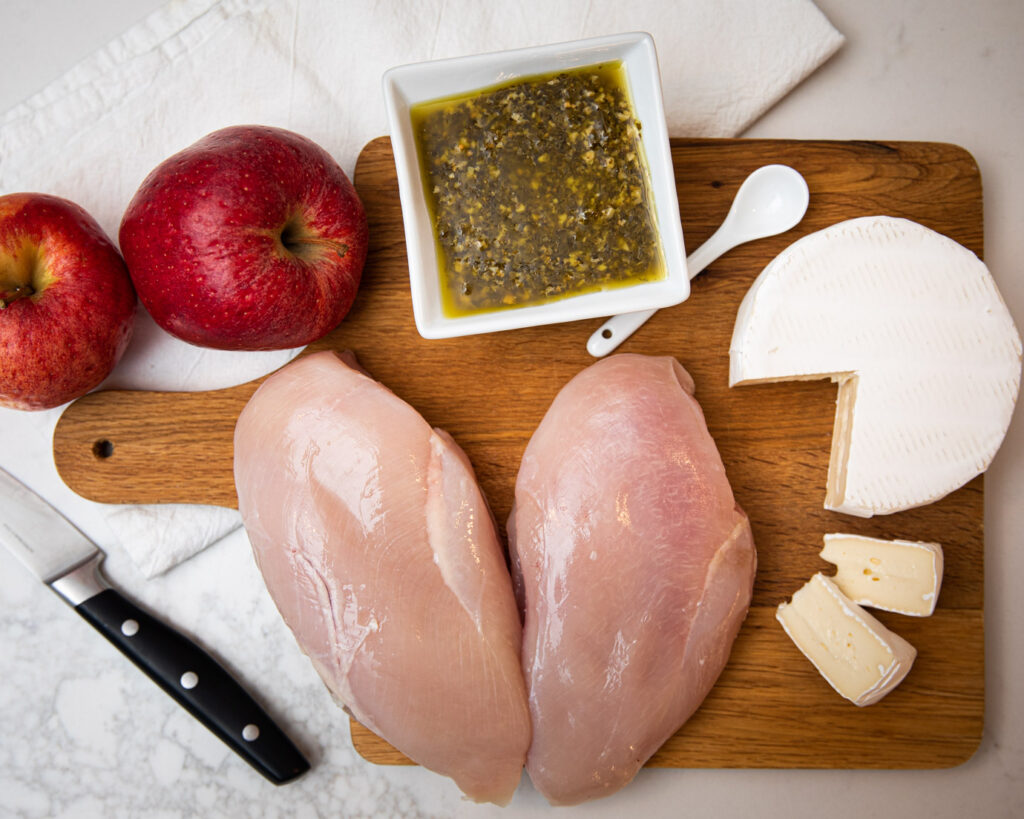 Our Apple Chicken recipe will redeem your evening. We promise. It's so easy and the combination of brie, apples and pesto is absolute bliss. It's rich flavours encompass such a wealth of flavours. This is the perfect comfort food on a cold winter's night. Reminiscent of the fall harvest or even late summer's evening, this chicken is absolute fuel for your soul.
Start by simply slicing your chicken breasts horizontally across, cutting about half way through. Then blanket with pesto all over. Be sure to coat well. You can either make your own pesto sauce, or to keep things even more simple; use a gluten free, already packaged, jarred version. This is not hard to find and you should have no troubles seeking out from your local grocery store.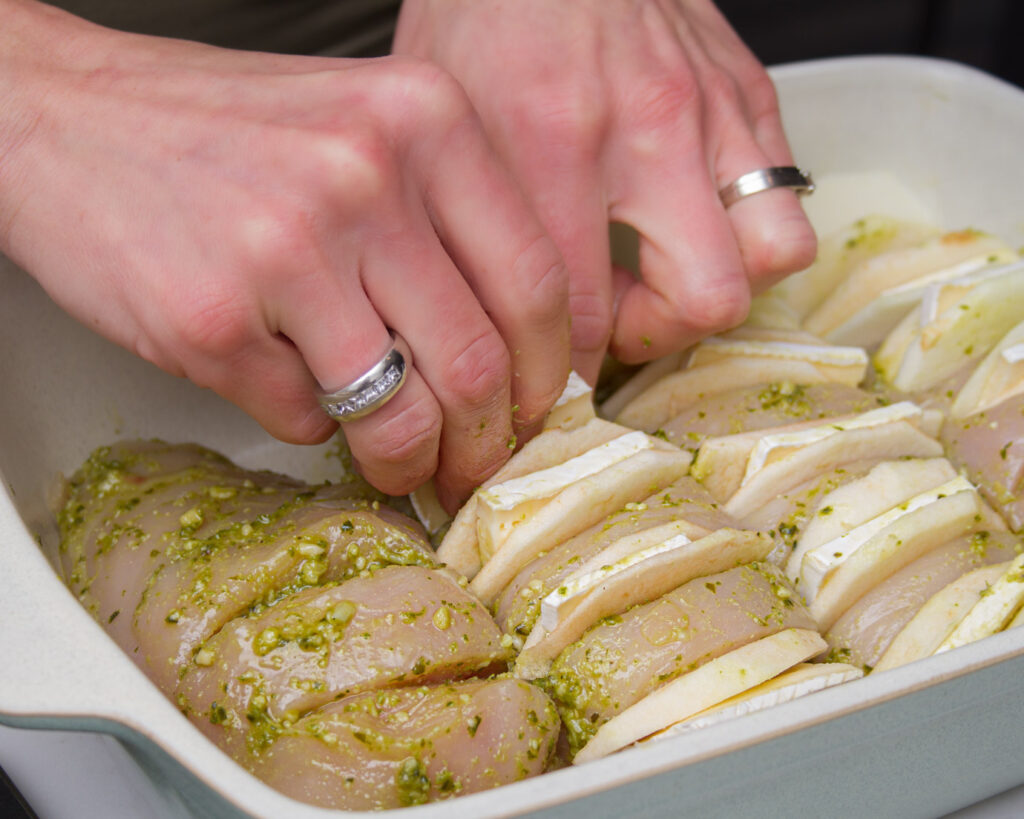 Cut slices of brie and apple, both 1/4″ thick. You can either peel the apples or not. We found it didn't make a difference. We decided to show you both in our pictures so you could decide which direction to go! Stuff and lay a slice of both the brie cheese and apple in each slit on the chicken breast.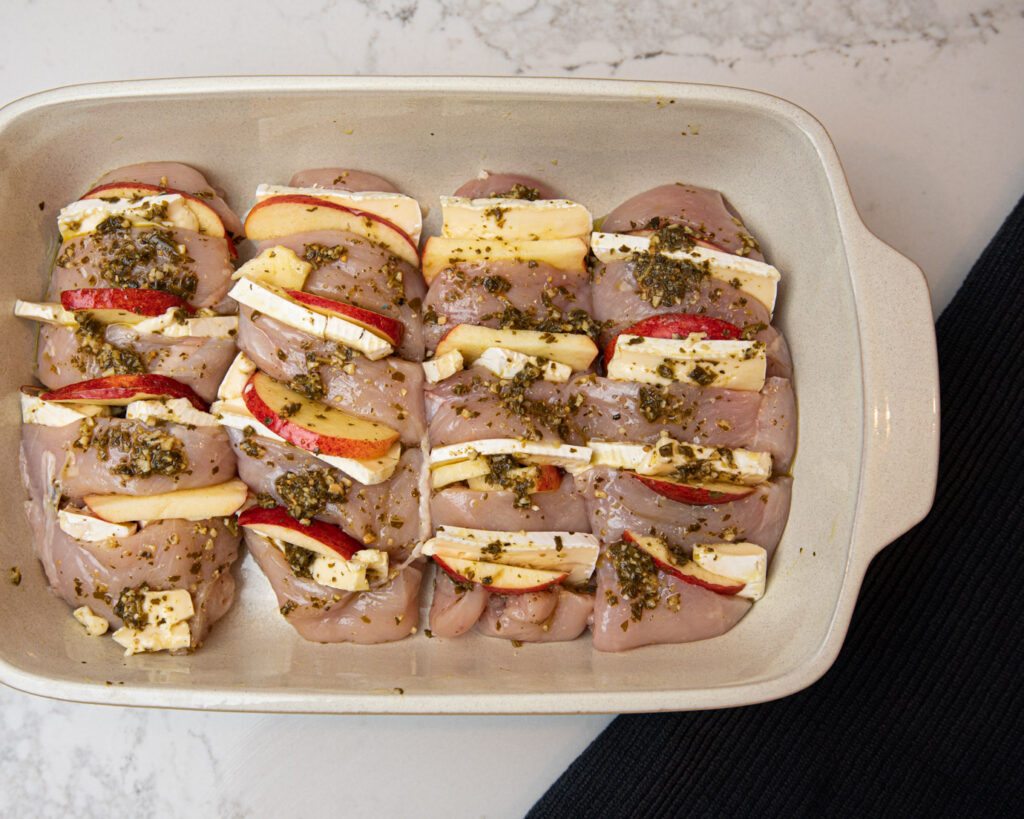 Simply then place in a greased pan and bake. Go find your slippers or even that hot shower, dinner is on its way. We love to pair this dish with a pasta or rice. The perfect solution to a winter's evening.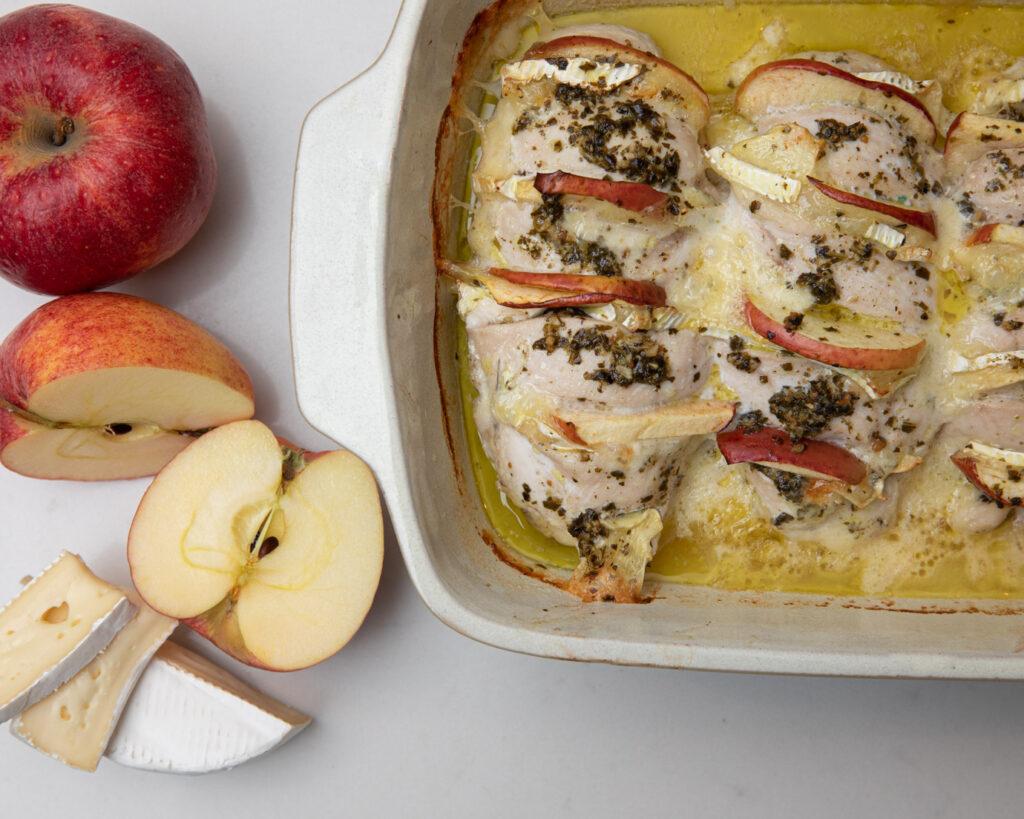 Your chicken is finished when juices run clear. It serves as a gourmet dish that the entire family will LOVE before having to run to hockey practice or violin practice. We might know this already after polling the kids:) Don't worry about the grown-up flavours of the brie and pesto. The pairing of these with the chicken and apples is like magic. There shouldn't be any complaints.
Apple Chicken
Course: Main
Cuisine: Canadian
Difficulty: Easy
The combination of brie, apples, and chicken wrapped in an Italian pesto, is the perfect solution to a dish that's presentable when 'the queen' is coming for dinner; or simply when you need a quick, weekday, nourishing family meal. This main will entice every of all ages. We promise.
Ingredients
4 larger chicken breasts

2 apples

1 wheel of brie cheese (4″)

1/2 cup of gluten-free Italian pesto sauce
Directions
Preheat the oven to 350˚F
Cut the chicken breasts horizontally. Making slits all along breast, making sure not to completely cut right through.
Spread and rub pesto sauce all around each chicken breast. Make sure to coat well.
Set in glass greased baking sheet. Approx 8″ X 11″ in size.
Slice apples approx in 1/4″ thick. You can either leave the peel on or off the apple. Place one slice in each slit along chicken breast.
Slice brie cheese in 1/4″ thick. Lay into chicken slits beside apple.
Bake in preheated oven for approx 45 min or until chicken juices run clear.
Serve with either rice or pasta.
Pure soul food, savour each bite, Stacey and Meg
That's it! Perfect for any dinner. Perfect for company. Perfect for the rush hour meal time. Winter will hopefully take pity on us one day soon. Until then eat apple chicken.
Genuine soul food