We had so many requests for this recipe when we posted a picture on Instagram and Facebook, we knew we had to share the recipe PDQ…What to do with the leftover chicken?! Let us tell you!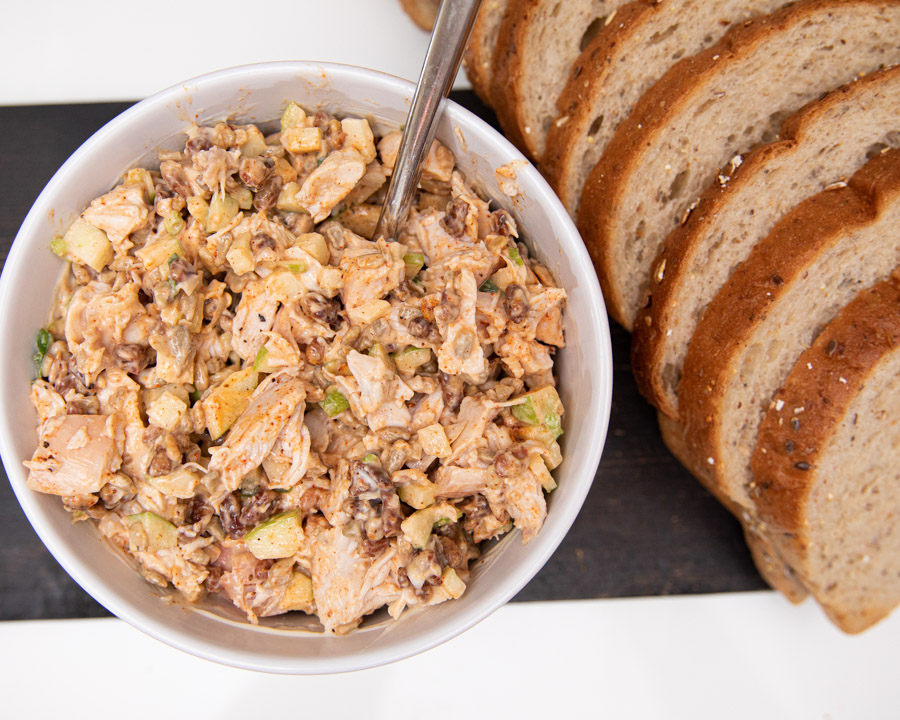 This recipe is so incredible and absolutely delicious. Both of our families enjoy the combination of chicken, apples, sunflower seeds and carmelized pecans. The perfect leftover lunch or supper option. It's an incredible choice to serve during your covid backyard picnic, or as things are starting to open, pack for your hike into the mountains or provincial park. It's exciting times maybe again and we have exciting food to share!
This recipe is so easy and we're pretty sure everyone will think it taste gourmet. It won't take you long to prepare and you'll be quickly spreading on a sandwich or scooping with a cracker. There's really only 2 parts – the "NUTS" and the "CHICKEN".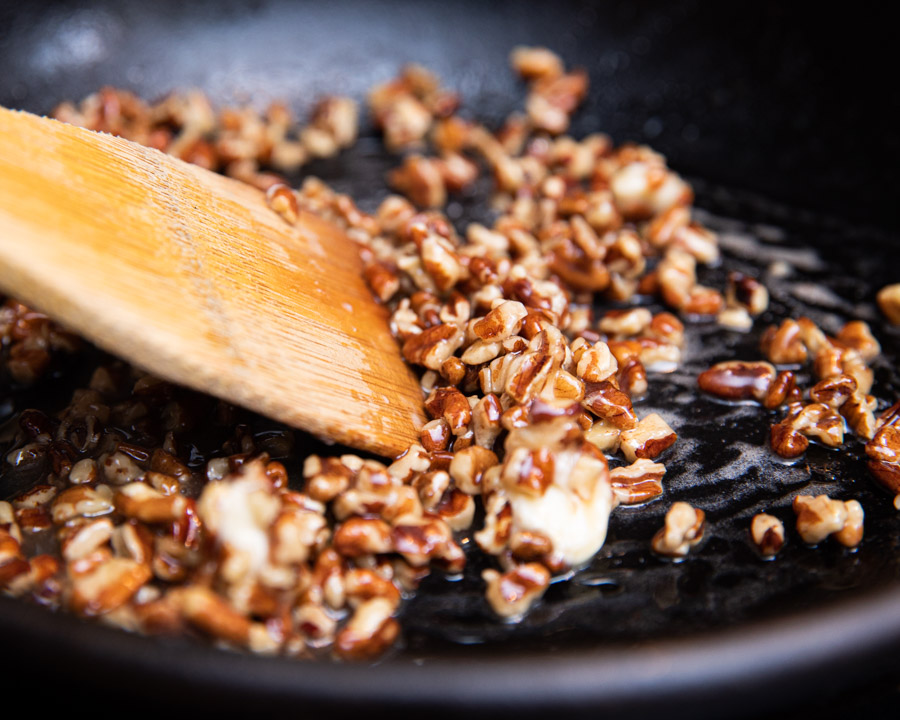 Lets talk about the nuts. If you've never carmelized nuts before, this is one of the easiest thing to accomplish well…or burn. Lol, the trick is to have your heat on low and don't try and pull a "Stacey" and do 20 things at once. Carmelizing nuts is easy but it requires an attention span of more than a squirrel… pay attention and you'll have no problem 🙂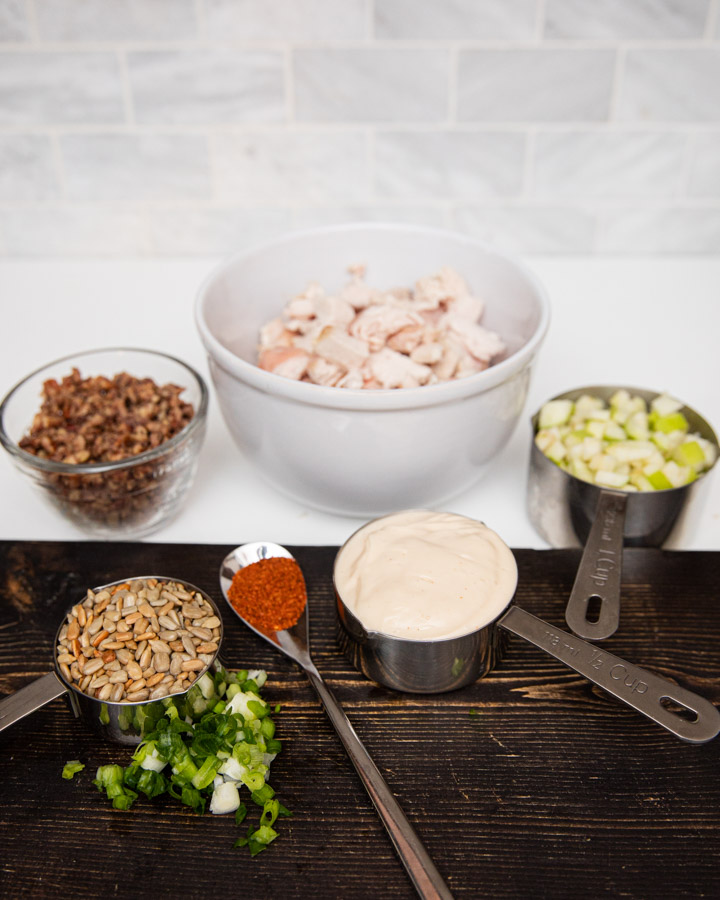 Really, after the nuts are carmelized, the rest is easy. Get chopping and measuring and mix it all together!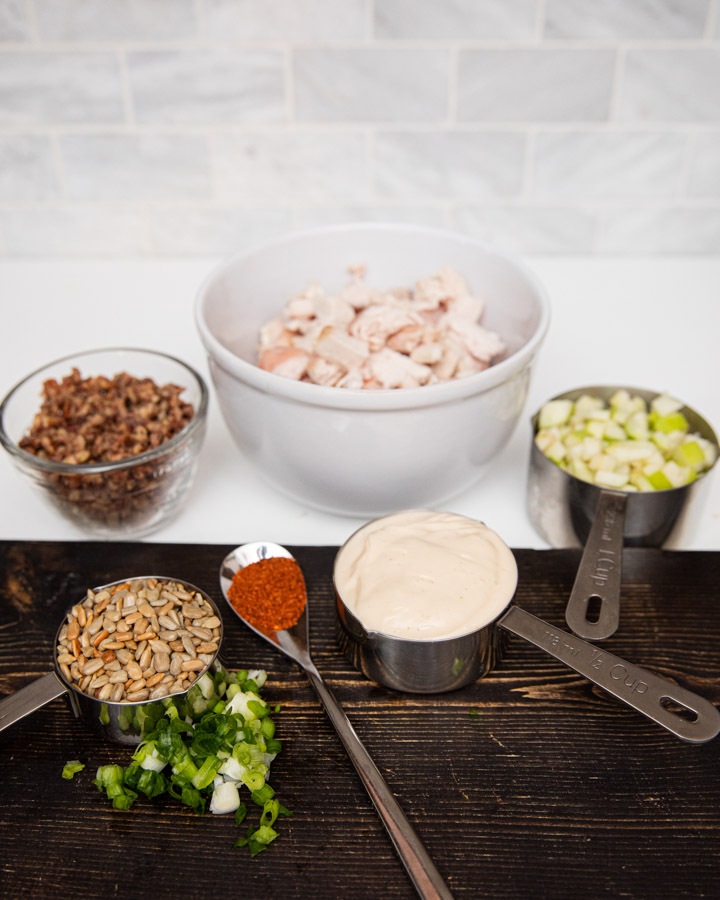 Chicken Salad
Course: Main, Chicken
The most incredible way to use the leftover chicken- fresh apples, sunflower seeds and carmelized pecans…need we say more!?!
Ingredients
Carmelized Pecans

1/2 cup pecans, finely chopped

1 tbsp butter

2 tbsp maple syrup

Chicken

3 cups cooked chicken, chopped

1 green apple finely chopped

1/2 cup gluten-free sunflower seeds

2 tbsp green onion, minced

1/2 cup mayonnaise

1 tsp cajun seasoning
Directions
To carmelize pecans; on low heat, melt butter in medium size pan with maple syrup.
Add pecans and toss nuts in syrup and butter for about 4 minutes until they are well coated.
Transfer to cool on a piece of parchment paper while you prepare the chicken.
To prepare the rest of the chicken salad; chop and add all other ingredients accordingly.
Combine all ingredients well. Add pecans once they are cooled and stir well.
Spread onto gluten-free bread for a sandwich or simply scoop with your favourite gluten-free cracker.
We're pretty sure you'll make extra chicken for dinner from now on… just to have the leftovers…
Stacey and Meg
Never again will leftover chicken linger in the fridge.