We all love hummus in our families. Dipping crackers, veggies, breads, or spreading it on chicken or burgers – it's always stocked in our fridge. The kids love packing it for lunches, we love snacking with it in the evening.
If you've never had hummus before; you are missing out. You must try this incredible dip! We're certain that once you do, it will become something you can't live without 🙂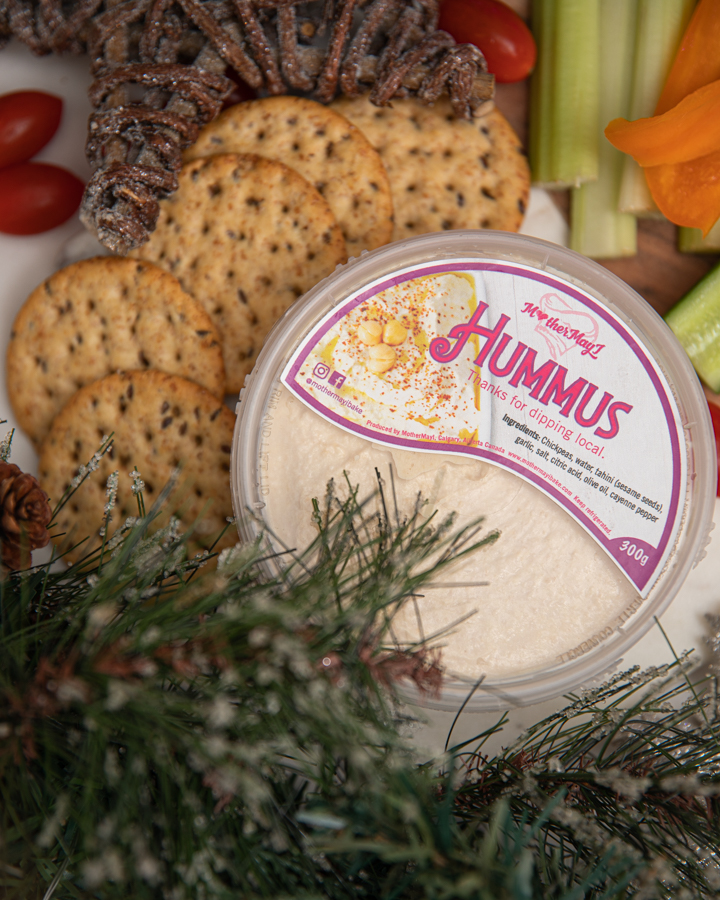 Here's the thing though – there is definitely a difference of good hummus and an amazing hummus! We have landed on a local company that we are so excited to tell you about. Her hummus is literally the yummiest we've ever tried!! It's so delicious. If you've not heard of our local YYC queen of hummus before, let us introduce you to "mother may i bake".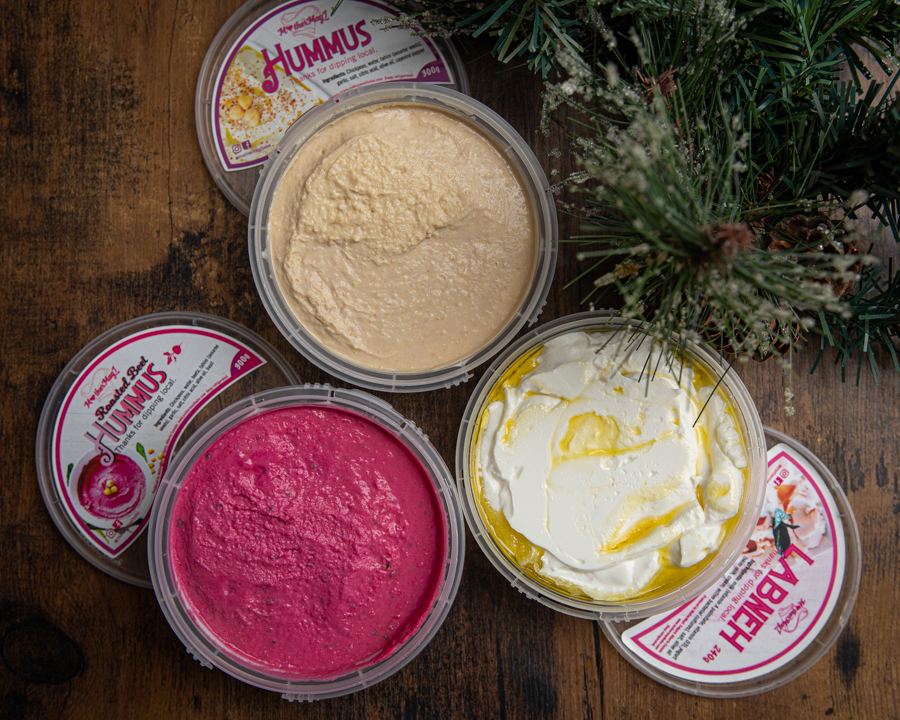 "I am a BIG foodie. BIG! I love my kitchen and more so love spending time in it. Baking, cooking, kitchen fails and new creations on the daily is truly my passion. I am a bit of a Daddy's girl. By a bit, I mean HUGE Daddy's girl. My Dad is a professional chef. I love his baking, cake making, expertise and BIG heart. This may have a bit to do with my passion for amazing eats!"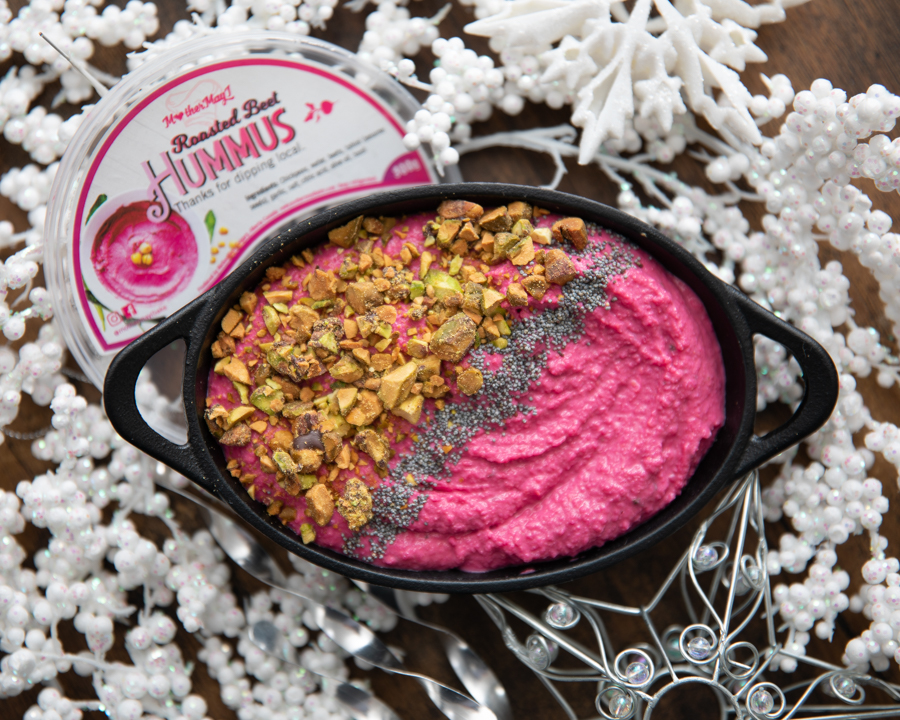 "I am a proud Mommy of three beautiful boys (4 including my husband). They keep me BUSY to say the least, however most of my healthy food inspiration comes from them. They are my fav little test tasters, and worlds biggest critics! I love kicking it with them in my downtime. Ah who am I kidding I love kickin' it with them ALL THE TIME!!
Snowboarding, hockey, soccer, and movie nights are on the list for top favorite things to do. I absolutely love being a Mom to such amazing kids. And of course, I have to give a big thanks to my Hubby. He is amazing and so supportive of everything I do. If it weren't for him, I would not be doing what I am doing today."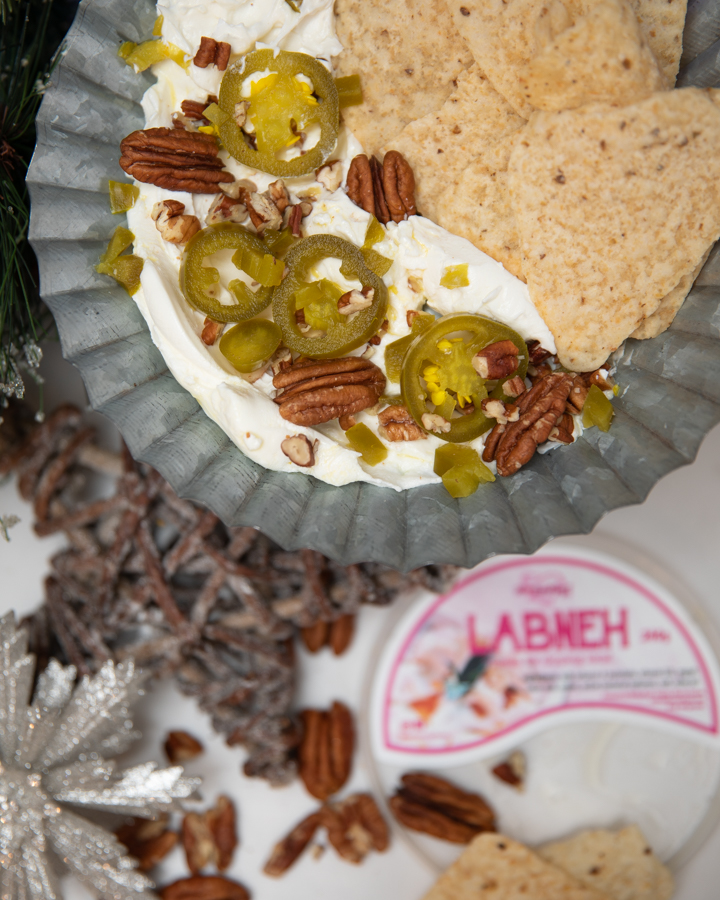 "My recipes are ancient, coming all the way from back home. What makes my hummus unique? Despite the fact that this hummus recipe is 100 years old, I use minimal ingredients for this wholesome dish. My hummus line up consists of vibrant colors, flavors and give hummus a whole new meaning with a modern twist on it! Vegan, gluten free and no preservatives. As good as it gets!
The simple quality ingredients are precisely measured and combined to create optimal flavor. I had to dedicate an entire page to my hummus – make sure you check it out! You can taste the history in each bite.

All around Ah-Mazing!"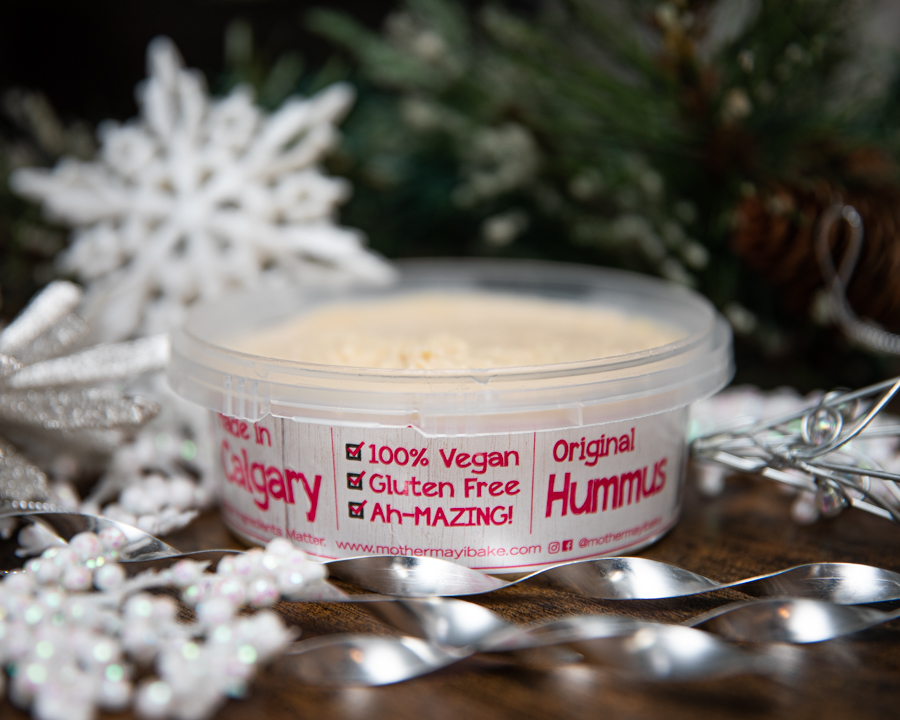 As "mother may i bake" is already creating some "Ah-Mazing" foods, we were so excited to partner with her on this project! We have used her incredible "mother may i bake" Hummus and Labneh and created the most "Ah-Mazing" chocolate dessert dip! With no added refined sugar, this is a dessert you won't mind the kids asking for seconds.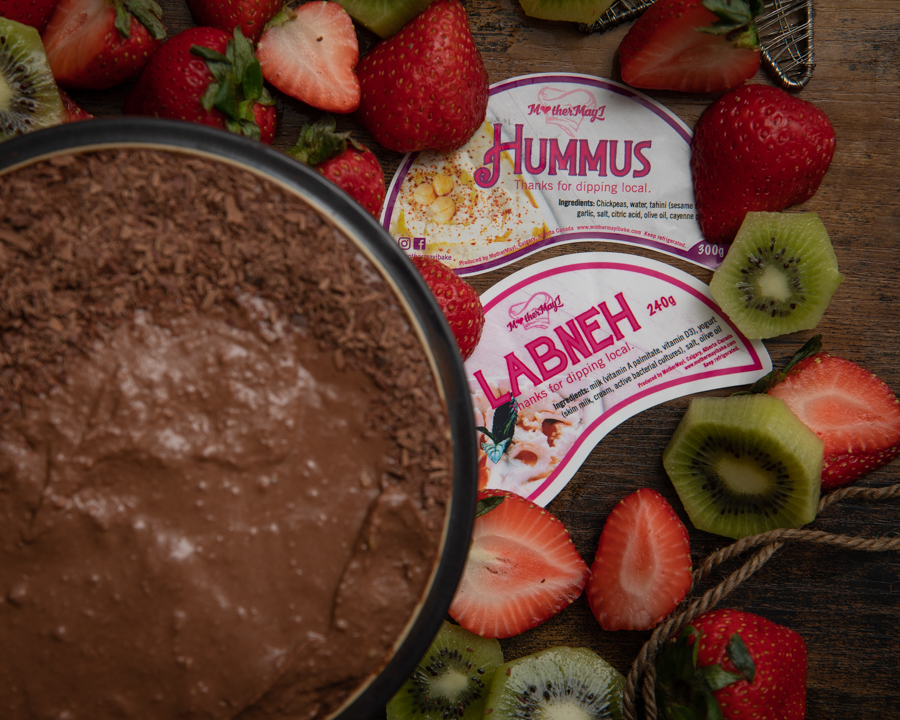 Did we mention it takes all of 5 minutes to make? Here we go! Grab a larger mixing bowl, and your "Santa" spatula…Lol. Combine all the ingredients and stir well. It's that easy. Simple and serves gourmet – true CUT style.
Chocolate Hummus
Course: Dessert, Treats
Cuisine: Canadian
Difficulty: Easy
An incredible dessert option with no refined sugar; created from "mother may i bake" Hummus and Labneh. Mixed within 10 minutes, you won't mind when the kids ask for dessert…or seconds!
Ingredients
1 ripe avocado, mashed

1/3 cup cocoa powder (dutch processed)

1/4 cup honey

1/2 tsp almond extract

pinch of salt
Directions
Combine all ingredients in large mixing bowl.
Stir well and ensure everything well incorporated. Mashing the avocado, mixing the dips…
Top with chocolate shavings if desired.
Serve with fresh fruit, cakes, pretzels…be creative! Or just eat it with a spoon…
Stacey and Meg