Dreaming of pumpkin? Wishing it would be a staple all year round rather than just Thanksgiving and Halloween? This pumpkin combo is exactly what those wishes are made of. The perfect combination of a cinnamon cookie base, Cococo white chocolate, whipping cream and of course pumpkin!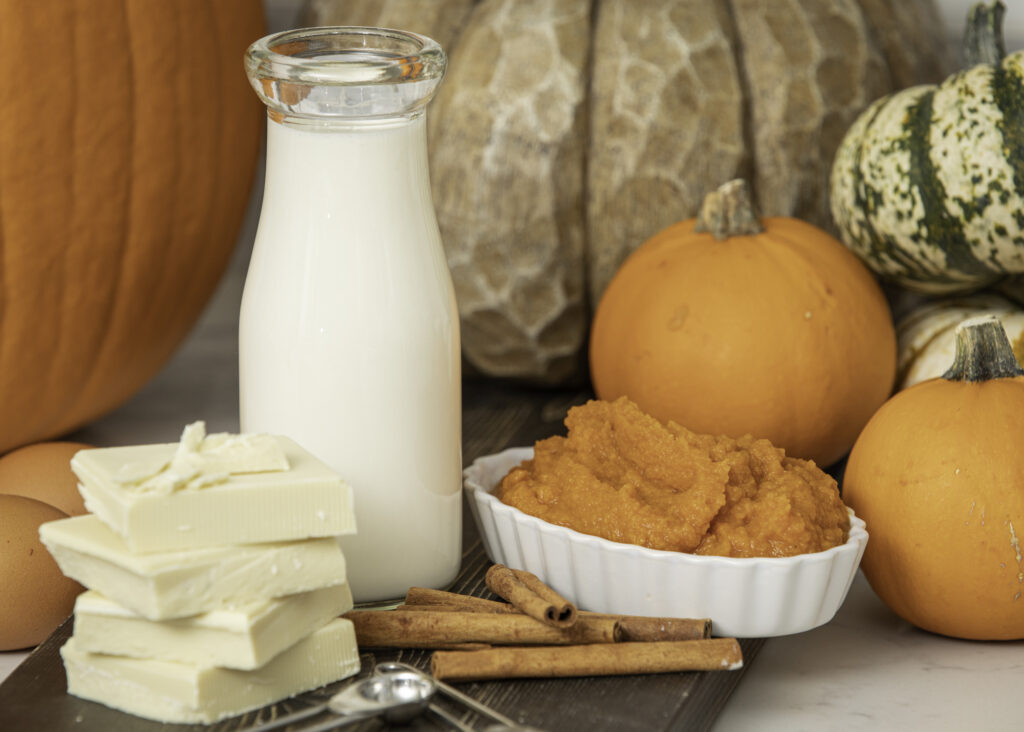 In fact, this dessert is so delicious and incorporates all the elements of a perfect fall treat. Dare we say it might even replace the Pumpkin Pie on your dinner table. It's honestly that good! And so incredibly easy to make. "Just a small piece…" will turn into "May I have another?".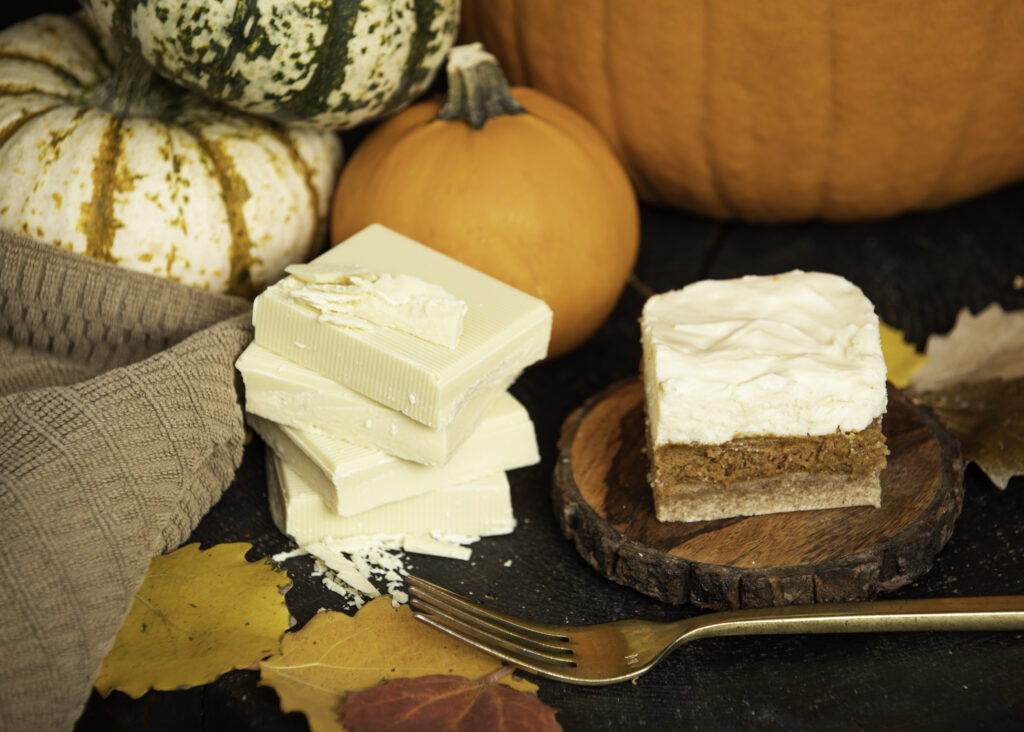 Without further introduction to why you should make this dessert, we need to just get baking. Lets skip to the point, we need to create this dreamy pumpkin dessert!
Let's start backwards! You'll first begin by making the whipped topping. Pour the whipping cream into a small saucepan and begin warming it to a lukewarm temperature. Be careful not to burn the cream or have it too warm. It just needs to be slightly warmer than room temperature – that's it!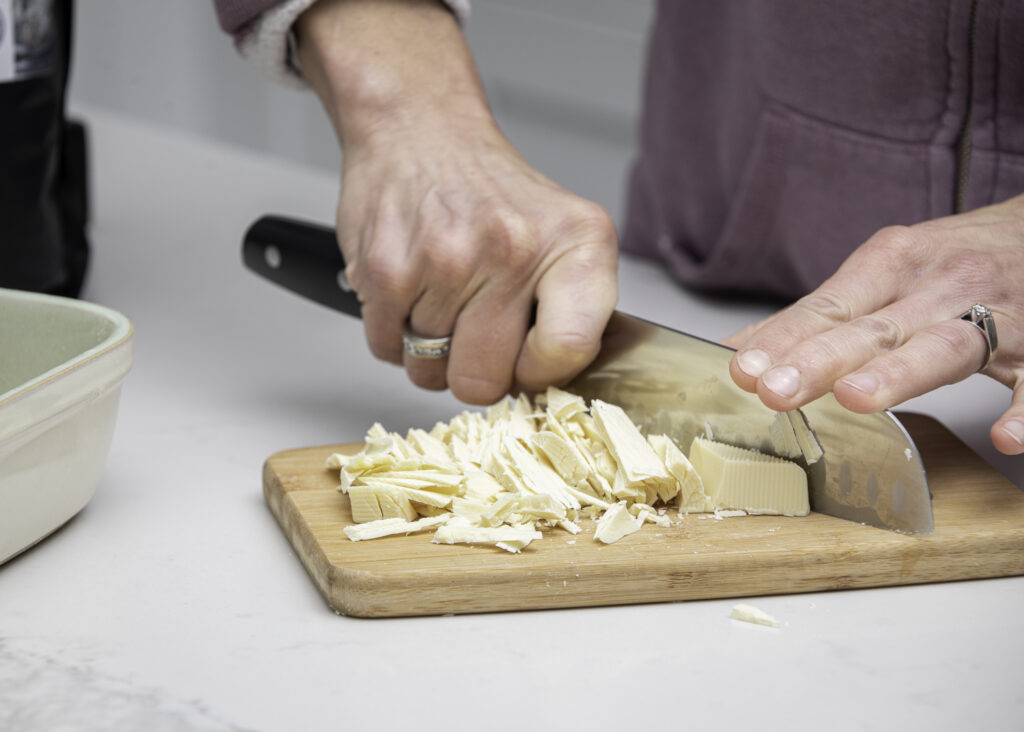 Using Cococo Chocolatier's baking chocolate, chop 4 oz. into fine pieces. When the cream is warmed, go ahead and begin whisking the chocolate into the cream. Stirring continuously, melt and incorporate the chocolate. Then transfer to cool in the fridge. You can also use 4 oz. Cococo's white chocolate drops. As long as it's Cococo you won't go wrong.
With the white chocolate cream cooling, you'll start the next layer by making the base. This is a simple recipe that closely resembles a typical sugar cookie. However, it's fall, and the addition of cinnamon is a must. Pull out the electric mixer and begin beating the butter!
Continue by adding the rest of the base ingredients and mix well. The dough should come together as a ball in which you can then press into the bottom of your pan.
Next is the luxurious pumpkin custard middle. You can use either canned pumpkin or fresh pumpkin that's been roasted and puréed. If you're using fresh pumpkin though, make sure that you have drained any extra water out of the pulp. Otherwise the custard will be "liquidy" rather than the creamy goodness it should be!
Separate the eggs, pour the whipping cream, incorporate the pumpkin and add a touch of fall spice. Once this is all mixed together pause for the secret "star" of this recipe. The addition of Cococo Chocolatiers white chocolate in both the whipped topping and between the custard and cookie base is absolute perfection. The subtle and rich flavours of the highest quality white chocolate elevate this incredible dessert to its dreamy status. We promise your pumpkin wishes will all come true with a single bite!
Before pouring the pumpkin custard filling you'll use another 4 oz. of Cococo white chocolate and sprinkle it over the top of the cookie base. Again we used their baking bar but the drops will work great too!
Once the base has been sprinkled with chocolate, pour the pumpkin custard over and transfer to the oven to bake.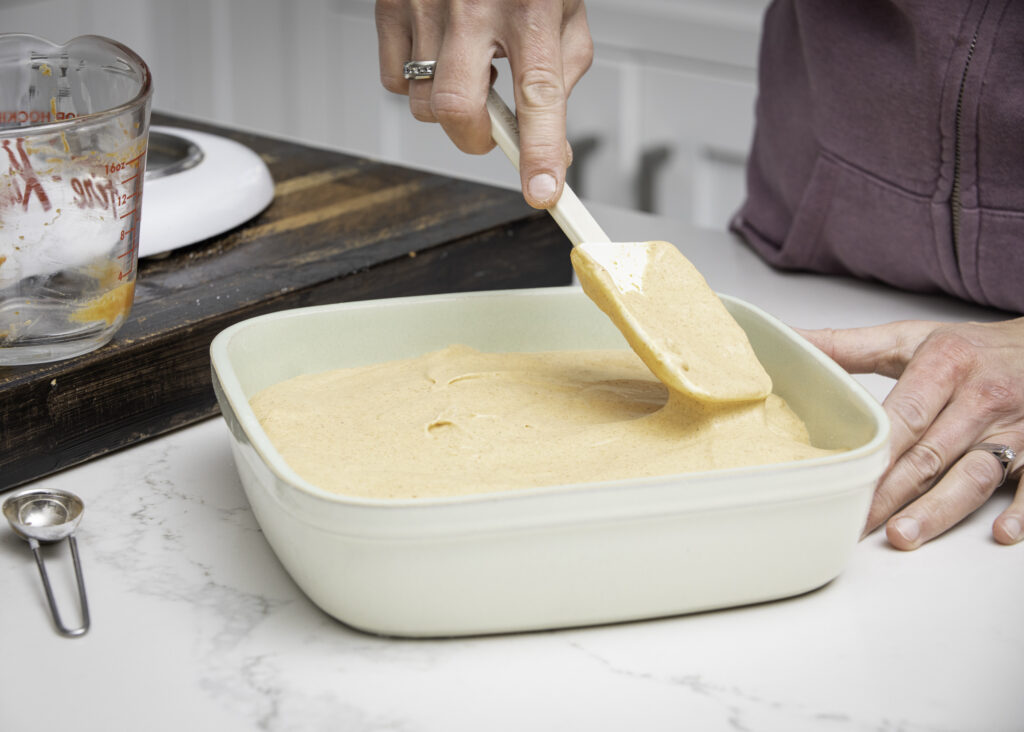 Remember the whipped topping that's cooling in the fridge? After your dessert comes out of the oven and begins to cool, remove the white chocolate whipping cream from the fridge and pour it into your mixing bowl. We'll have to warn you with this step – you'll need to hang on…This topping will test your patience within the kitchen! Lol, it's not hard, but you'll literally need to let the mixer do it's thing for about 35 min. Set the speed to a medium/medium-high speed and mix away. (Throw a tea towel over the mixer if you find it wants to 'splash'.)
We know you'll look in the bowl probably around 15-20 minutes in and think really? These ladies are crazy! We promise, let it go. It'll look chunky and a bit like the cream has curdled…but suddenly it will go and you'll have a lovely whipped topping!
Make sure your dessert is fully cooled before spreading the whipped chocolate topping. Then find a fork and discover a single bite that will satisfy all of your fall pumpkin wishes!
Dreaming of Pumpkin Dessert
Course: Dessert
Cuisine: Canadian
Difficulty: Easy
This dreamy dessert boasts a cinnamon cookie base, spiced pumpkin custard and a luscious white chocolate topping. A single bite and all your fall pumpkin wishes will come true! It's so good, it might even replace the pumpkin pie.
Ingredients
Whipped Topping

2 cups whipping cream


Cookie Base

1/4 cup butter

1/2 cup sugar

1 egg

1/2 tsp vanilla

1 cup CUT Flour

1 tsp baking powder

1 tsp cinnamon

1/4 tsp salt

Pumpkin Filling

1/2 cup pumpkin


1/2 cup sugar

1/2 cup whipping cream

4 egg yolks

2 tsp cinnamon

1/4 tsp cloves

1/4 tsp nutmeg

Chocolate layer

4 oz. Cococo White Chocolate, finely chopped or chocolate drops
Directions
Preheat oven to 375°F
Prepare Whipped Topping. In small sauce pan on low heat, warm whipping cream to lukewarm. Be careful not to over heat.
Add 4 oz. chopped Cococo White Chocolate to saucepan. Using a whisk, continuously stir. Fully melt the chocolate and incorporate the whipping cream.
Remove from heat and place in fridge to cool.
Prepare Cookie Base. Using electric mixer, whip butter. Add sugar and continue to mix.
Add egg and vanilla and stir.
Combine CUT Flour, baking powder, salt and cinnamon. Mix well to form dough.
Transfer to a lightly greased 8″X8″ pan and press evenly to create cookie base.
Chop additional 4 oz. Cococo white chocolate and sprinkle over cookie base. Take care to cover evenly and all areas.
Prepare Pumpkin Filling. Using electric mixer, combine all ingredients.

Mix on medium high for 1 minute. Pour pumpkin custard over white chocolate / cookie base.
Bake in oven for 35 minutes.
Remove from oven and let cool on rack. Remove white chocolate whipping cream from fridge and pour into mixing bowl.
Using electric mixer on medium to medium/high speed, whip white chocolate topping. Leave this go for at least 35 minutes. We promise, let it go. It'll look chunky and a bit like the cream has curdled…but suddenly it will combine and you'll have a lovely whipped topping! (Cover with a tea towel if you find the cream is splashing a bit)
Spread whipped white chocolate topping over cooled pumpkin/cookie layers.
Find a fork and dig in. Your fall pumpkin dreams have come true,
Stacey and Meg
UuuuMmmm….Pumpkin.