Uno, Dos, Tres…!! It's Mexican night!! This burrito will warm your belly and your heart with how easy it is to make. The kids will be asking for seconds! It's absolutely perfect for a rush hour meal and can definitely be packed for lunch leftovers the next day. We promise that when your schedule is BUSY and FULL and life gets crazy, this supper CAN happen!! This recipe is also vegetarian for those of you following a plant-based diet.
The ingredients can be prepped before, even the night before if necessary. Then it's just a matter of building your burrito and baking it. Uno, Dos, Tres!! It's honestly that easy. We know life gets busy sometimes. Our goal at CUT Cooking is to arm you with recipes to slide in your schedule easily and effortlessly using accessible gluten-free ingredients. Alright are you ready to go?
This is important! To make a family burrito, you first need to lay 5 soft corn tortilla shells (gluten-free either yellow or white corn) in the pattern shown above. We used the smaller shells (approx 5-6″) but feel free to use the large shells too.
Step 1- Spread gluten-free canned refried beans approx 1 cm thick on the inner tortilla. You can use either black or pinto beans, it doesn't matter 🙂 You may also choose to make your own refried beans simply by boiling black or pinto beans and then mashing them either with a fork or in a food processor. Yum!…refried beans…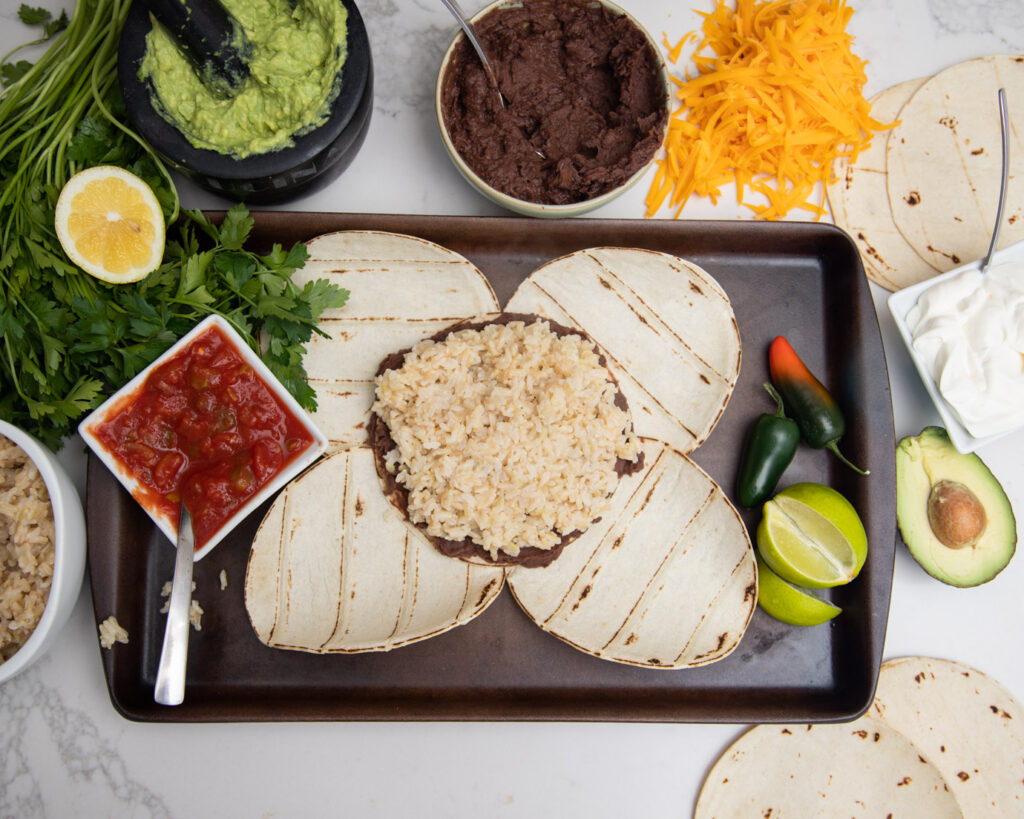 Step 2- Add gluten-free white or brown rice approx 2 cm thick over the beans. It doesn't matter whether the rice is hot freshly made, or cold. Lol, or use the leftover rice from a couple days ago which is usually what happens in our homes!
Step 3- Add the cheese and begin to fold. Save a little for topping your burrito in the last 5 min of baking…Here we go, lets fold and get them in the oven.
That's it! It's truly that easy. We love serving these burritos and the kids never complain. Cut a piece and serve with your favorite Mexican toppings…Salsa, sour cream, guacamole, jalapeño…
Depending on how many mouths you're feeding and what size shells you've decided on, make the amount of family burritos accordingly. We've also made these when you need a quick meal for company and have never been disappointed with the outcome.
For the adventurous, we dare you to try different fillings. Get creative…It'll be delicious we're sure!
Family Burritos
Course: Main, vegetarian
Cuisine: Mexican
Difficulty: Easy
This is a unique spin on a traditional Mexican dish. It's simplicity makes it fast and delicious for a rush hour meal the entire family will love. The prep time is 30 min, but this recipe works well to use prepped or even leftover ingredients making it even quicker. We've made it vegetarian but the ingredients with creativity could really be endless. Make the guacamole and cut up the jalapeño…Uno, Dos, Tres! Dinner is ready!
Ingredients
10 corn tortilla shells (gluten-free, 5-6″ in size)

2 1/2 cups boiled white or brown rice (gluten-free)

1 3/4 cups re-fried beans (black or pinto)

2 1/2 cups cheddar cheese grated

Optional Chopped fresh cilantro, jalapeño, salsa or guacamole for garnish and topping
Directions
Preheat oven to 350 °F
Lay tortilla's in a "flower" shape with center one on top of the other 4. Make 2 flower shaped burritos on a cookie sheet.
Spread re-fried beans onto the middle tortilla, spliting refried beans between the 2 tortilla family sized burrito's.
Next add rice, spreading on top of the beans. Approx 2 cm thick. Again dividing in half between the 2 family burritos.
Last, top with the grated cheddar cheese, 1 cup for each burrito. this will leave some for garnishing and melting within the last 5 min. of baking.
Fold each side in, creating a burrito pocket. Secure with toothpicks.
Bake for 10 min. Then top with remaining cheese divided between the 2 burritos. Bake again for additional 5 min or longer to ensure cheese is fully melted.
Cut family burrito into individual pieces and top with your favorite Mexican garnishes such as fresh cilantro, guacamole, jalepenos, salsa, sour cream etc.
Uno, Dos, Tres…Enjoy, Stacey and Meg