It's no secret that we both LOVE fries! It doesn't matter whether they're potato or yam, straight or curly, thick or skinny, fried or baked…we LOVE fries.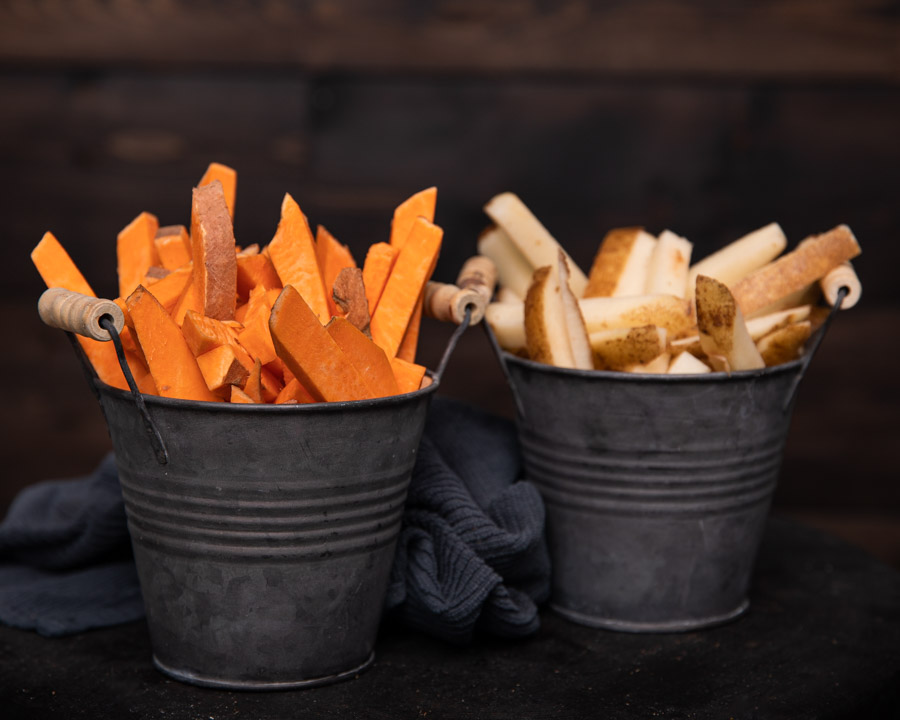 We have to be honest with you all that fries are a staple in our homes. In fact, there's usually fries present when we work together. Lol, did we tell you we love fries!?!
We're certain though, that we're not alone in this fry camp. Shared between so many different cultures, served for breakfast, lunch or dinner…we knew we needed to highlight this staple. Who doesn't love a good french fry?
There's also the matter of dipping your fries. This is a whole other incredible foodie world. If you've only ever dipped in ketchup, you're missing out! We're not saying that simply ketchup isn't delicious but this next week might open your "fry world"!
That's right. It's FRY WEEK!! We are going to share with you how to make the most amazing fries right within your own kitchen and then four different dipping sauces!! This next weekend – make it a fry board weekend. Your family and friends will love you for it.
Our recipe is for oven baked fries. We figured so many of our followers don't have a deep fryer or air fryer but almost everyone has an oven! We promise that these fries are ssssooo crispy and delicious you won't want to make them any other way.
Preheat your oven to 425°F, decide whether it's potatoe's or yam's and let's go!
You can either use a fancy fry cutter like this one from 1970 (Lol), or simply a knife. Whatever you have access too or find the easiest will work the best! We find for more fry crunch, cut your veggies skinnier.
Once your fries are cut, go ahead and simply add the oil and salt. Toss your potatoes/yams well and transfer them to a baking sheet. That's it!
French Fries
Course: Main, Side, Inbetween
Cuisine: Canadian
Difficulty: Easy
"My favorite day is FRY day". These incredible oven baked fries will become a favorite in your home. An easy recipe that you can prepare with either potaote or yam. Pair with ketchup or find a new 'favorite' dip!
Ingredients
6 cups chopped fries – potato or yam

1/4 cup grapeseed oil

1 tbsp salt
Directions
Preheat oven to 425°F.
Cut either potato or yam into desired fry thickness. (We suggest about the size of your little finger.)
Combine oil and salt with cut potato/yam and toss well.
Transfer to baking sheet and spread fries out.
Bake for 10 minutes and then flip fries so they don't stick to pan.
Continue to bake and flip every 10 minutes.
Potato fries will take approximately 40 minutes in total and yam fries approximately 50 minutes in total.

Serve with ketchup or your favorite dipping sauce! We dare you to try something new 🙂 "Fry day" will become your favorite day…
Stacey and Meg