As a technique, Hasselback Potatoes are nothing new. As for presentation, they are absolutely everything! With Easter around the corner, make your dinner a little extra special – with very little effort. In fact, you'll be surprised at how easy these "Hassel-free" potatoes are to make!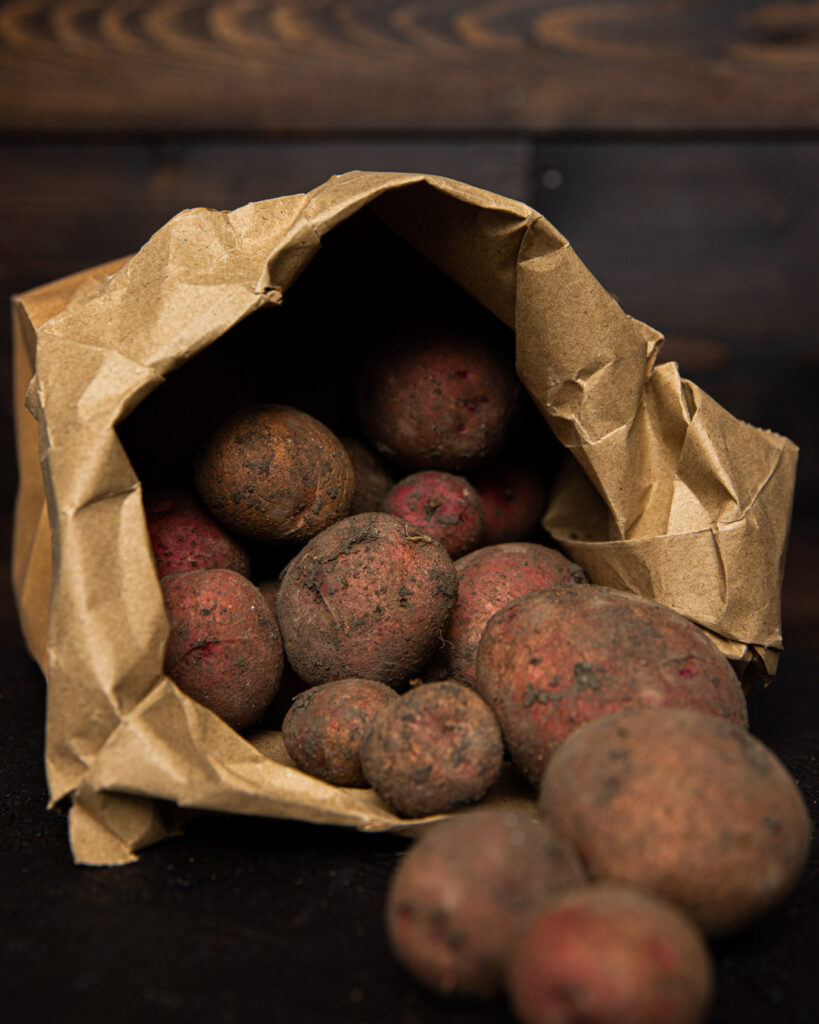 Your history lesson for today- Hasselback potatoes have been in the making since 1940! That's right, no fancy tools needed, just a sharp knife and a large cooking spoon will create the magic of these fancy potatoes.
There's not a lot of introduction needed to these beautifully served vegetables. Their presentation can hold their own! Lets get going.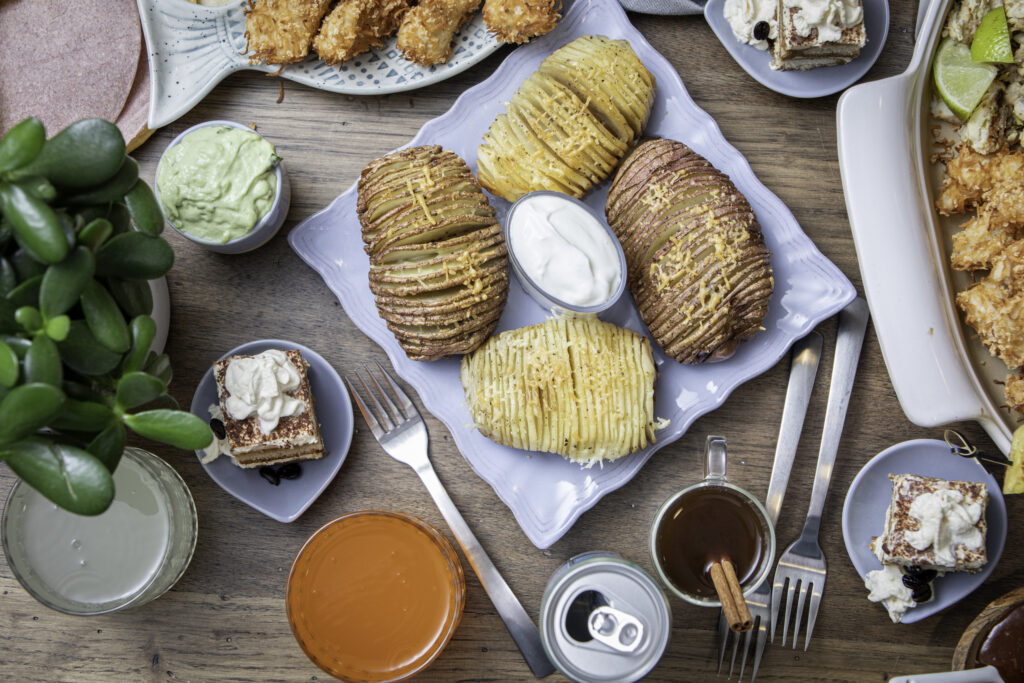 Using a large serving spoon, simply lay your baking potatoe lengthwise, filling the spoon with the potatoe. Then use a sharp knife and cut slices through the potatoe until your knife hits the spoon. Continue to do this making very thin slices all the way across the potato.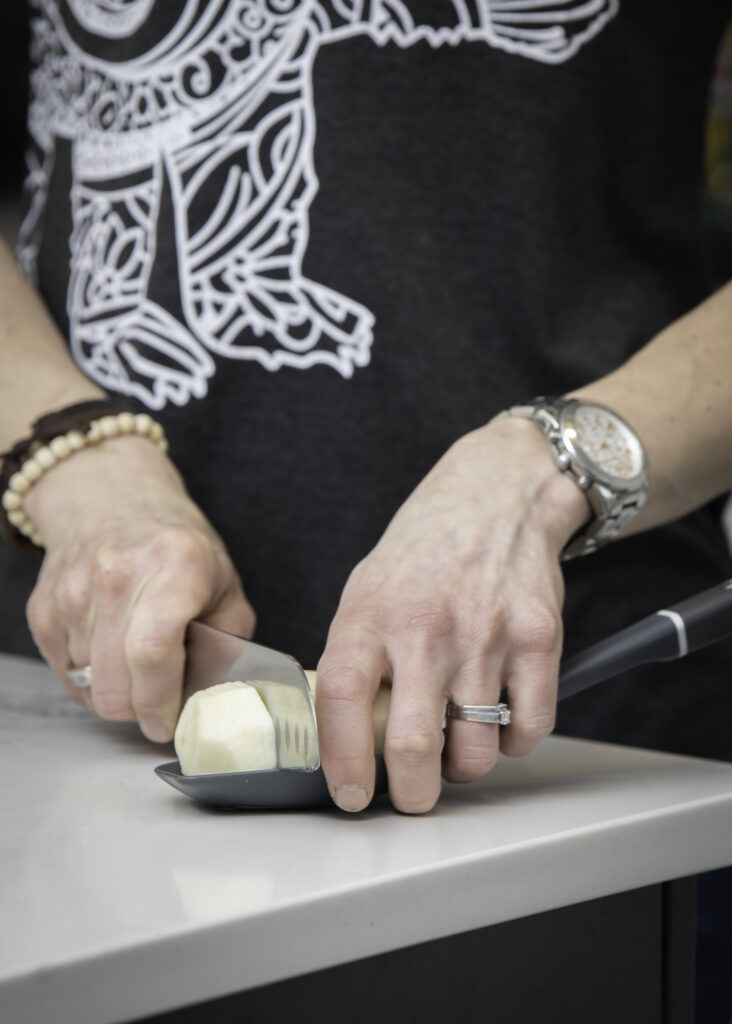 After you've sliced all the potatoes, simply drizzle them with melted butter and some fresh ground salt and pepper. Then into the hot oven to bake. That's it! Absolutely no hassle. We added some parmesan cheese too near the end of baking. Feel free to omit if you'd like, but we think it's the perfect addition.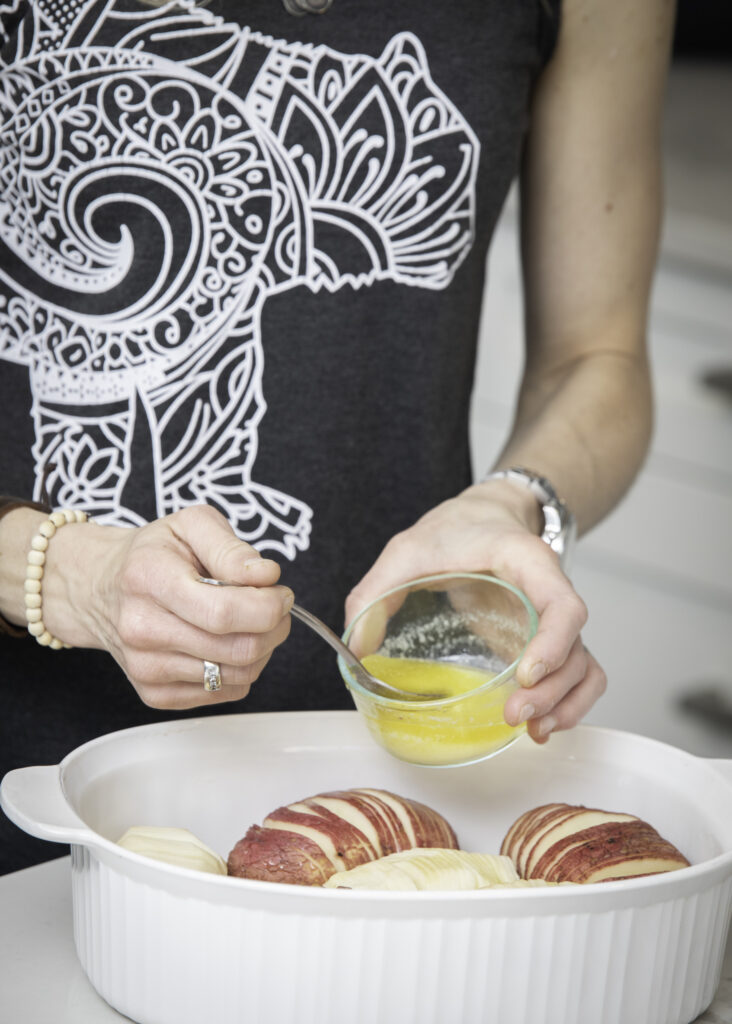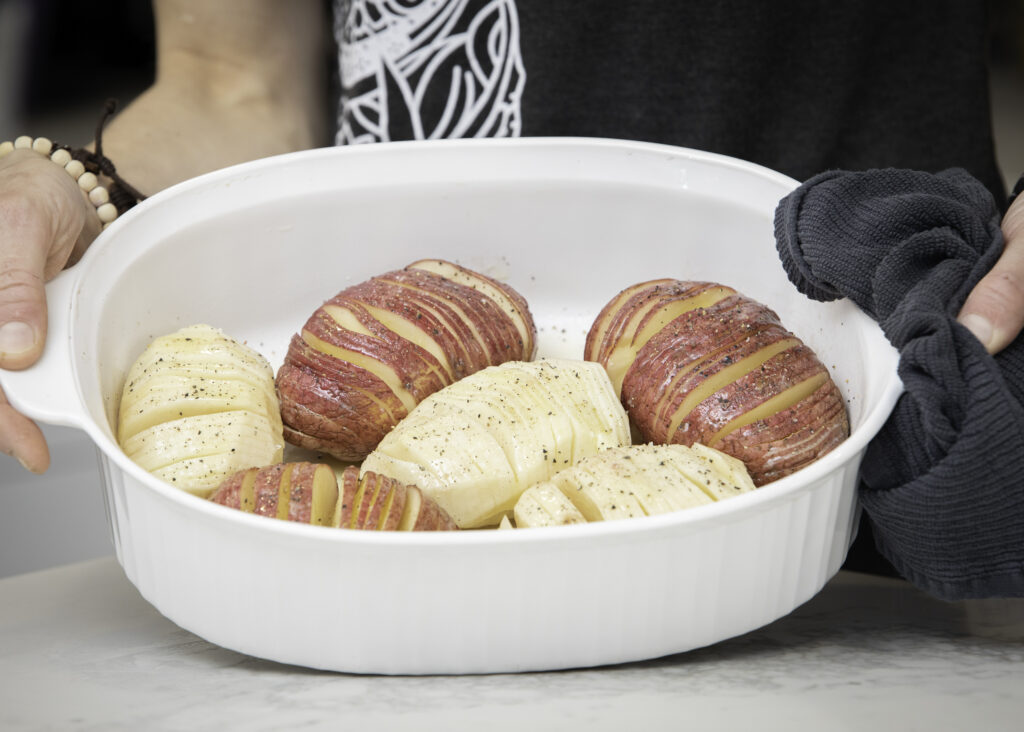 Once they're baked, go ahead and load them with your favourite toppings. Sour cream, green onion, bacon, cheese, tomato…With more exposed surface area, they're the perfect potato for topping! The best part? You'll look like the finest gourmet chef this Easter! Don't tell the secret 😉
Hasselback Potatoes
Course: Side dish, Vegetable, Holiday, Vegetarian
Cuisine: Canadian
Difficulty: Easy
Cooking time
1
hour
15
minutes
These incredible potatoes are anything but a hassle to make. Hassel-free, they are simple to make and present gourmet. The perfect potatoe to load up with your favourite toppings!
Ingredients
4 large sized baking potatoes

6 tbsp butter, melted and divided

Salt and Pepper as desired

2 tbsp Parmesan Cheese (optional)
Directions
Preheat oven to 425°F.
Using a large spoon, set potato lengthwise filling the spoon. Using a sharp knife, thinly slice potatoe until knife hits the spoon. Don't cut to the bottom.
Transfer sliced potatoes into 8 X 8 baking dish. Pour 4 tbsp of melted butter over potatoes. Sprinkle with freshly ground salt and pepper.
Bake 45 minutes.
Pour another 2 tbsp butter and bake another 15 minutes.
Sprinkle Parmesan cheese and bake for final 15 minutes. (**If you don't add the parmesan cheese, make sure to still bake your potatoes for another 15 minutes. You want them slightly crispy on the edges and fully cooked all the way through!)
Serve and load the potatoes with your favourite toppings. Sour cream, green onions, tomatoe, bacon, mushrooms, more cheese…!


Cheers for "Hassel-free" potatoes,
Stacey and Meg