Crêpes are definitely one of our families favourites! Not to mention there's just something special about enjoying a crêpe. Lol, even the word just sounds special. Enjoy these luxurious "pancakes" either sweet or savoury, the end result is an absolute win.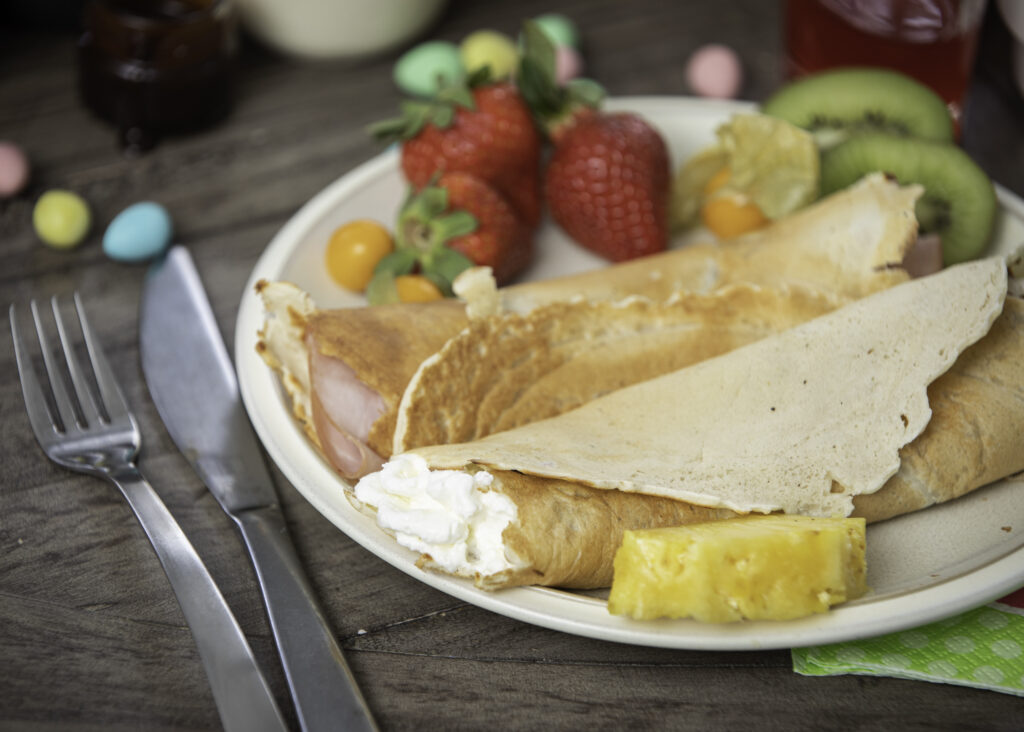 Have you ever wondered about the history of some of our favourite recipes? Crêpes is one that definitely needs acknowledgement! Dating all the way back to the 13th century in Brittany France, a housewife accidentally dripped some thin porridge on the hot flat iron cooktop in the fireplace. The resulting mistake turned out to be a crisp pancake that turned out to be very tasty…And the rest we could say is history.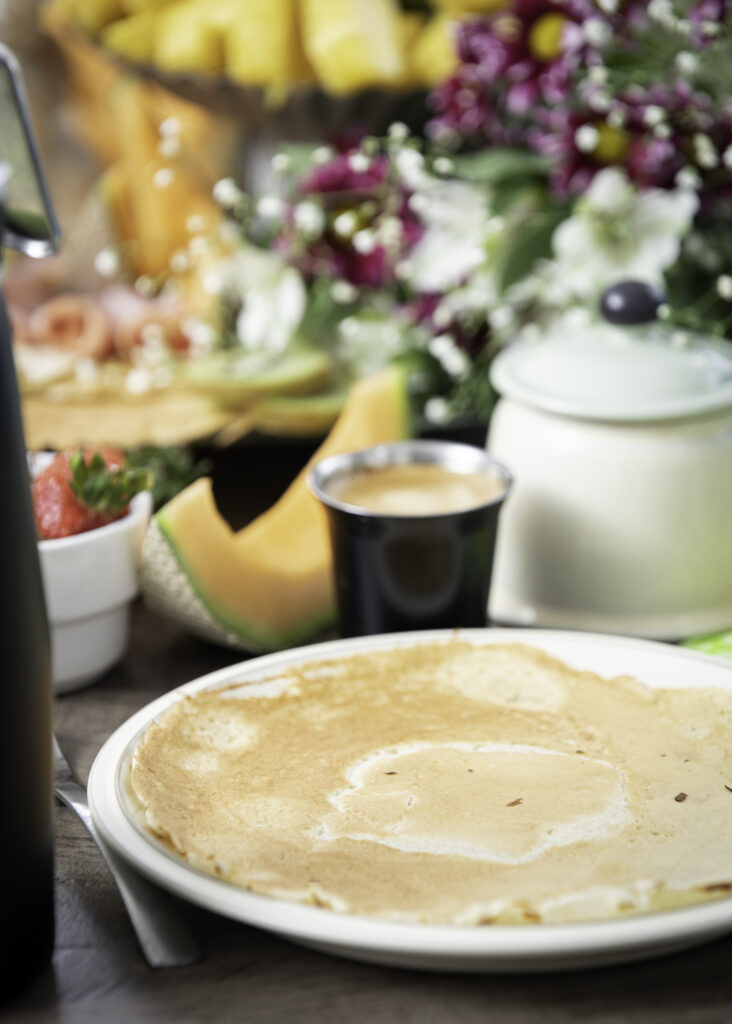 The national dish of France, the French have taken these thin pancakes and made them pieces of art. In fact, there's even a national crêpe day in France! We're a little late for le jour des crêpes ('the day of crepes') or otherwise known as La Chandeleur ('the return of the light') which falls on Febuary 2. However, the symbolism of a crêpe means the coming of Spring! It looks like the sun and reminds us that the cold winter will soon be over. A perfect option for Easter!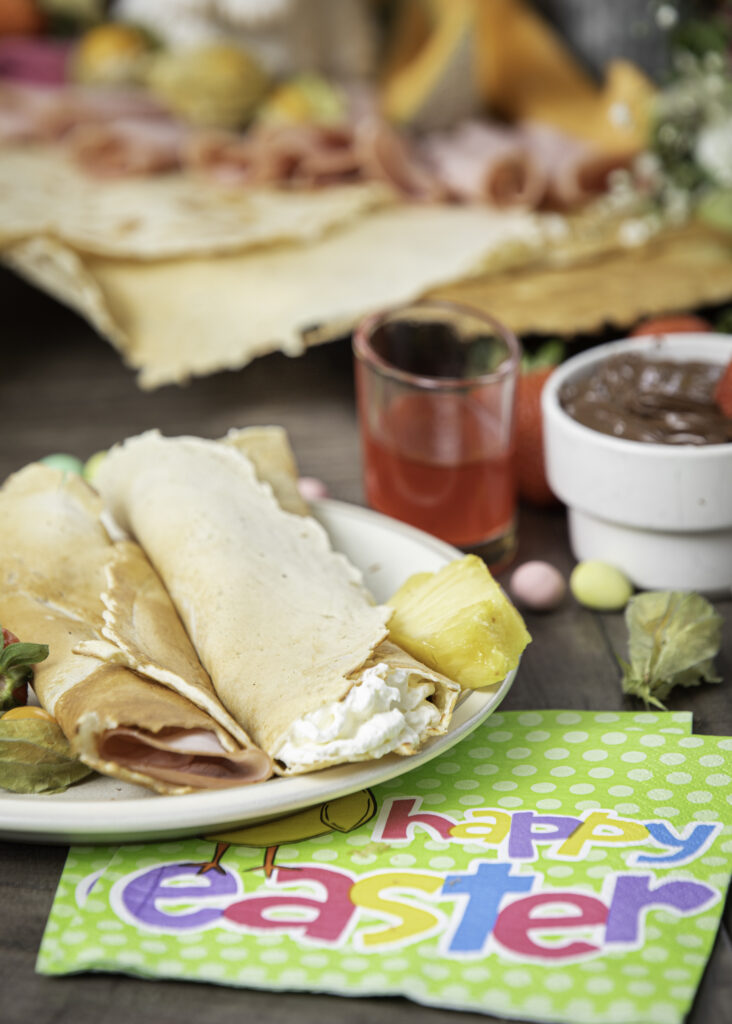 Just as easy as crêpes were invented, our recipe for gluten free crêpes have followed suite. Pull our your blender and CUT Cooking GF Flour. Lets get started!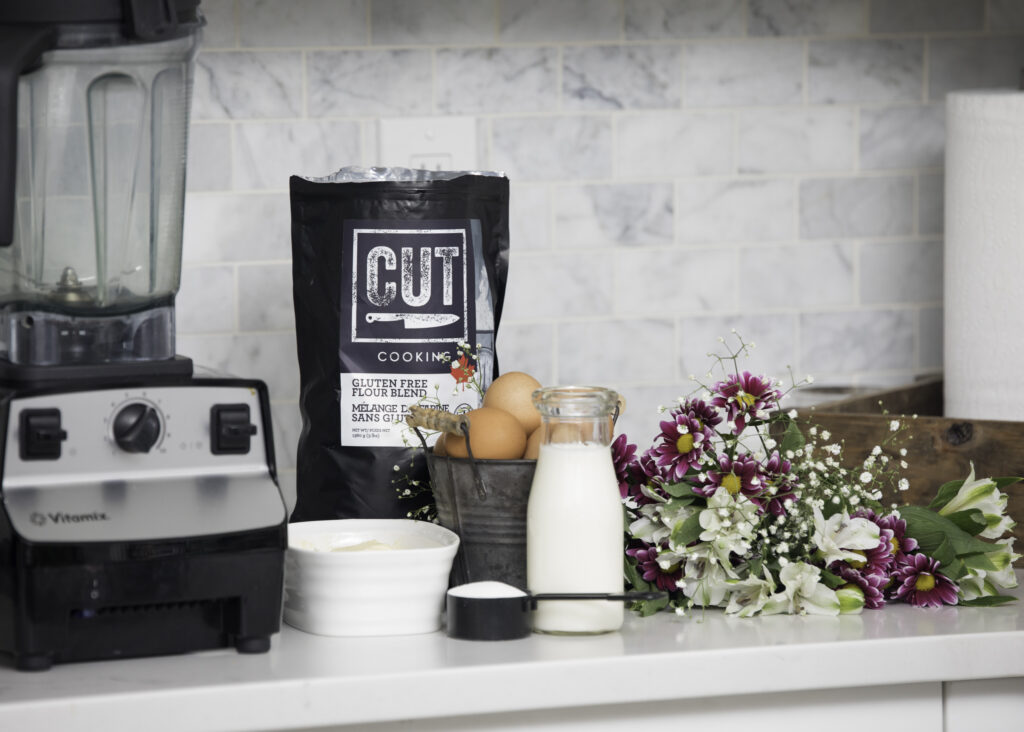 Using basic ingredients that you probably already have, combine everything into your blender. Purée and start heating a frying pan. You can use a crêpe maker if you have one. However, you don't need one! We are all about "accessibility" and keeping things simple. Your frying pan will be excellent! Something we do recommend is the simple crêpe tool for spreading the batter. They're inexpensive and will help your crêpe making process immensely.
With all the ingredients mixed and TWO frying pans hot (yes TWO!) you're ready to begin making crêpes. Pour a small amount of batter into one frying pan. Then using the crêpe spreading tool, circle or fan out the batter to make a large thin "pancake".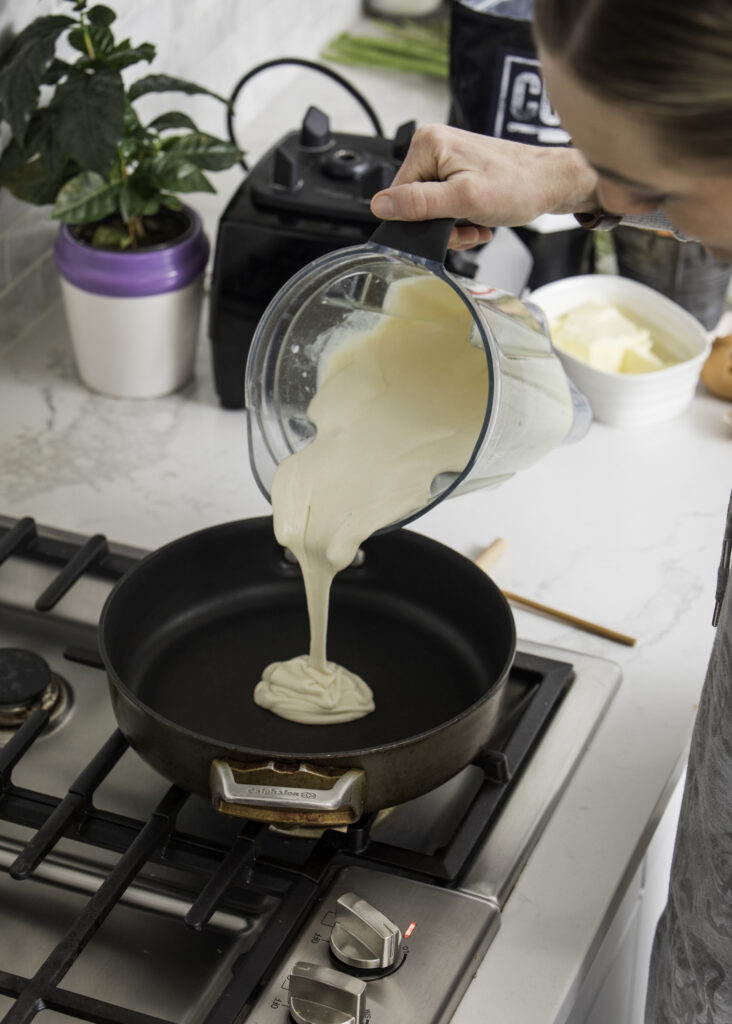 Once the batter begins to bubble slightly, use a rubber spatula and loosen the crêpe from the frying pan. Then go ahead and flip the crêpe into the other hot frying pan to brown the other side. You can use just one pan if desired but using two makes things go quicker and is easier to flip the crêpe!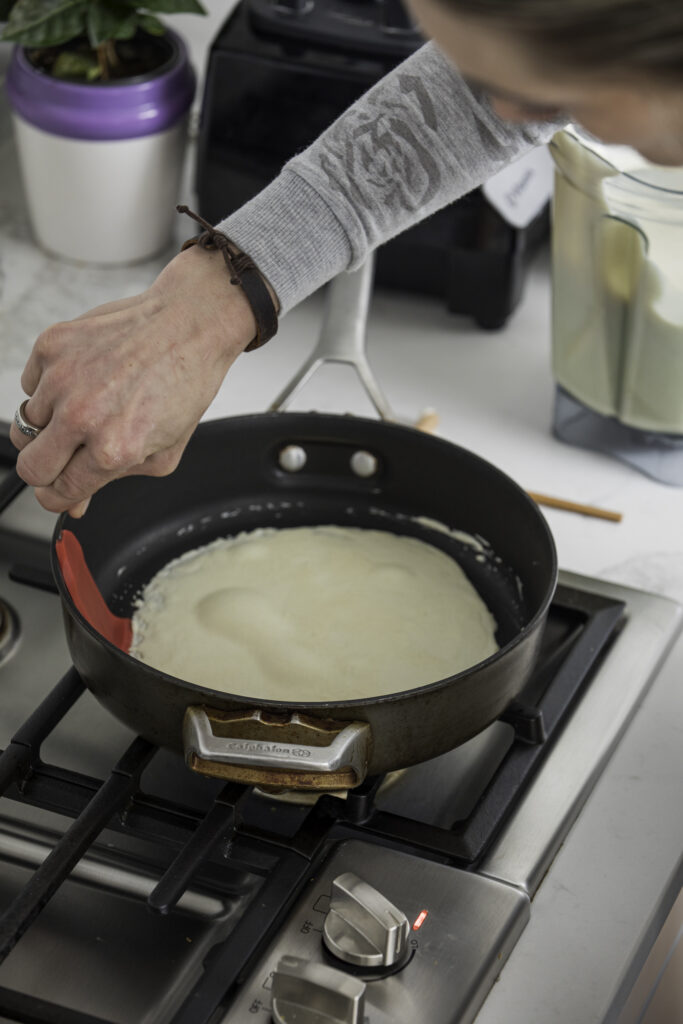 This entire process doesn't take long. Approximately 2 minutes per crêpe. While the other side is browning on the flipped crêpe, begin pouring another.
Once your crêpes are all cooked, it's time to decide what to pair them with. Both savoury and sweet options are delicious! If you have more of a sweet tooth, try filling them with whipping cream, Nutella, strawberry, caramel or chocolate sauce and fruit-berries, banana's, mango's, melons, kiwi…
If you're feeling savoury – trying melting cheese with ham, mushrooms, spinach, tomatoes or avocado…and of course Stacey suggests to pair with your favourite hot sauce!
With Easter upon us, family is gathered. Get creative and have some fun in the kitchen. Crêpes are so versatile and make an excellent breakfast, lunch or dinner option. Everyday is "le jour des crêpes"!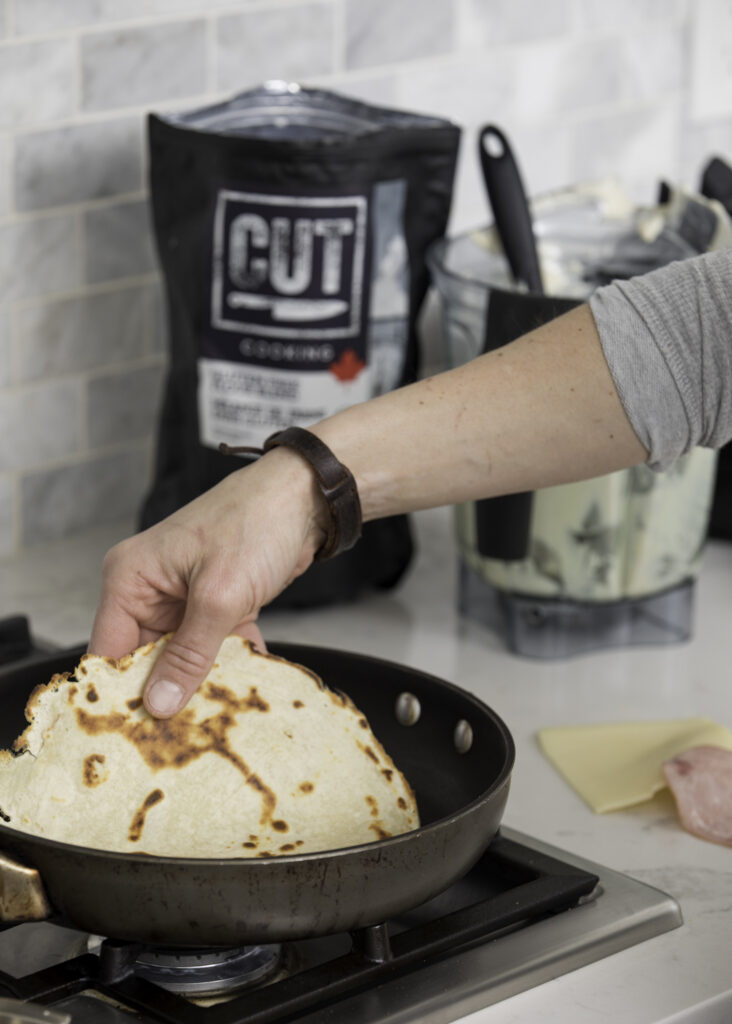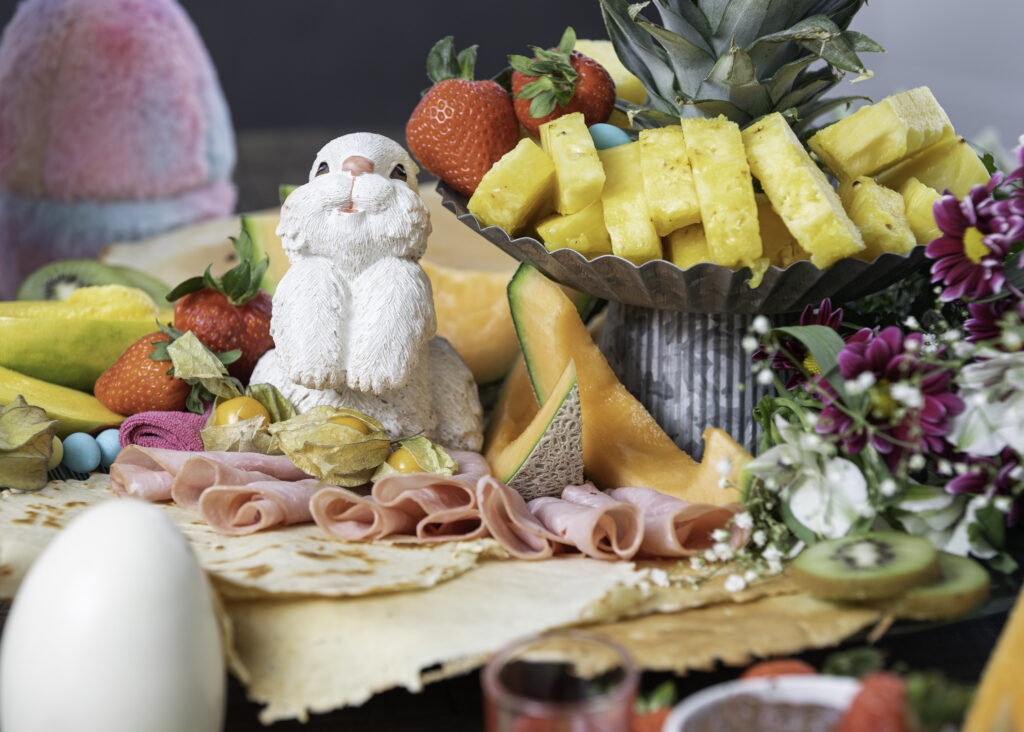 Crêpes
Course: Not Always Breakfast, Holiday
Cuisine: Canadian, French
Difficulty: Easy
Make everyday special! These crêpes can be enjoyed either sweet or savoury. The perfect option to celebrate the holidays or simply any day of the week.
Ingredients
Combine in Blender:

2 cups CUT Cooking GF Flour 

4 eggs 

1 1/2 cups skim milk 

3/4 cup whipping cream 

1/3 cup melted butter

2 tbsp sugar 

1/4 tsp salt
Directions
Using a blender, combine all the ingredients and mix well.
Heat 2 large frying pans to medium heat.
Pour approximately 1/4 cup of batter into one frying pan. Using a crêpe tool, spread batter in a circular pattern, fanning the batter thin.
Let cook approximately 30 seconds to 1 minute, until bubbles start to form.
Using a rubber flipper, gently loosen all the edges and under crêpe.
Flip crêpe then from one pan to the other to let finish cooking. Approximately another 30 seconds.
While one crêpe is finishing cooking, pour batter in the other pan and spread to start the next!
Flip finished crêpe out of second pan onto a cooling rack or simply a serving plate.
Continue to do above method until all the batter is used.
Decide whether its savoury or sweet! Fill and roll with your favourites…ham, cheese, mushrooms, spinach, tomatoes, sausage, avocado, peppers, onions. Or sweet fruit such as strawberries, raspberries, melons, Nutella, syrups or whipping cream.
Make any day le jour de crêpe. Bon Appétit!
Stacey and Meg