Asian inspired, this recipe for ground turkey and veggies is the perfect crunch for both a main dish or an appetizer. Our families love this recipe! The kids love the ability to eat with their hands, making meals fun:)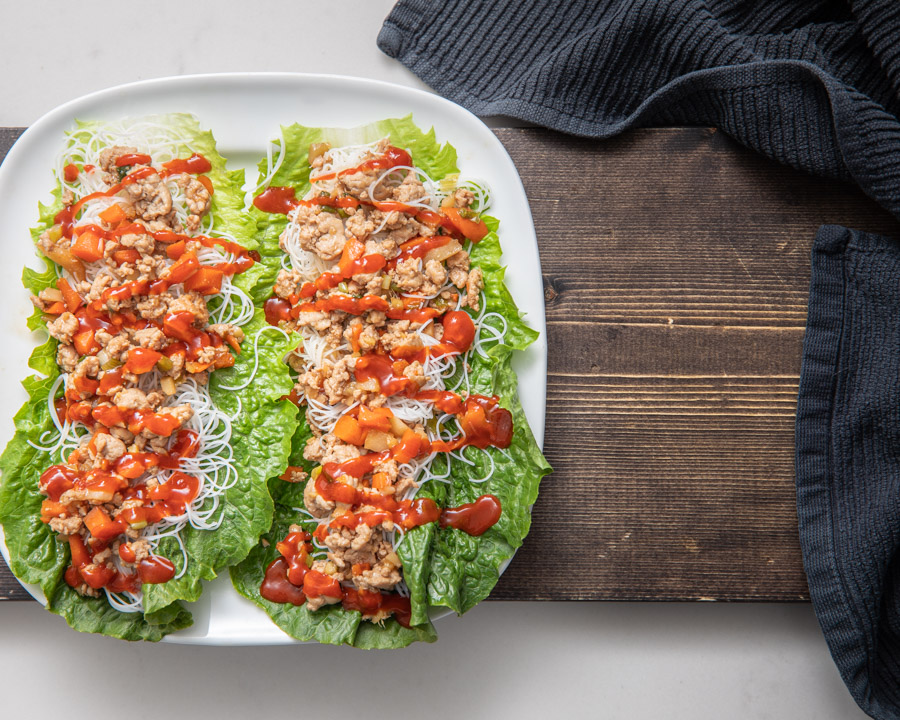 According to the Chinese zodiac, 2021 is the Year of the Ox. This year is going to be lucky and also perfect to focus on relationships, whether we are talking about friendships or love. With the year of 2020 behind us, lets hope this rings true. Lets focus on relationship with a Lunar Lettuce Taco!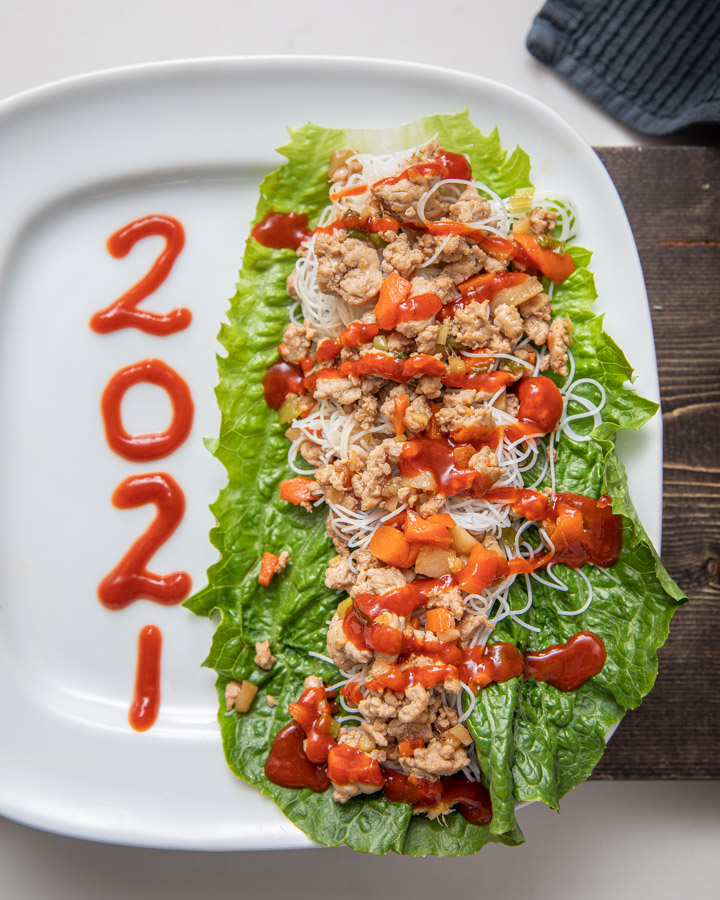 Who doesn't love creating "masterpieces" with their food?! Lol. These Lunar Lettuce Taco's are exactly that. A masterpiece of lean ground turkey, carrots, water-chestnuts and onions; all wrapped within a bed of vermicelli noodles and romaine.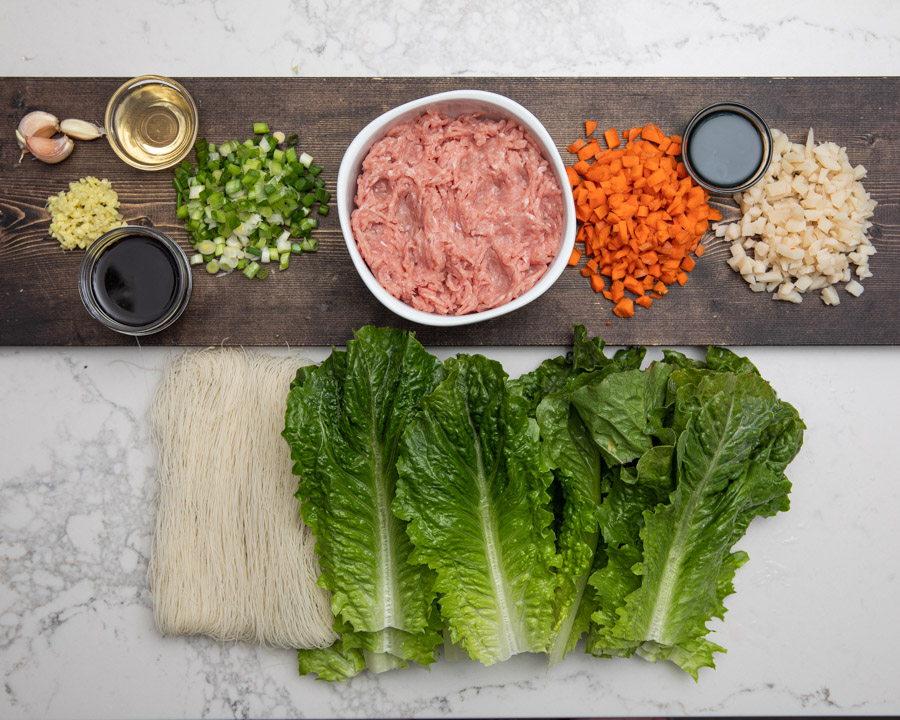 The fusion of spice and layers of flavour within the sauce is the perfect combination. Not too spicy but complex within each bite. We promise that this recipe will become a "regular" within your household, and not one that's prepped only once a year!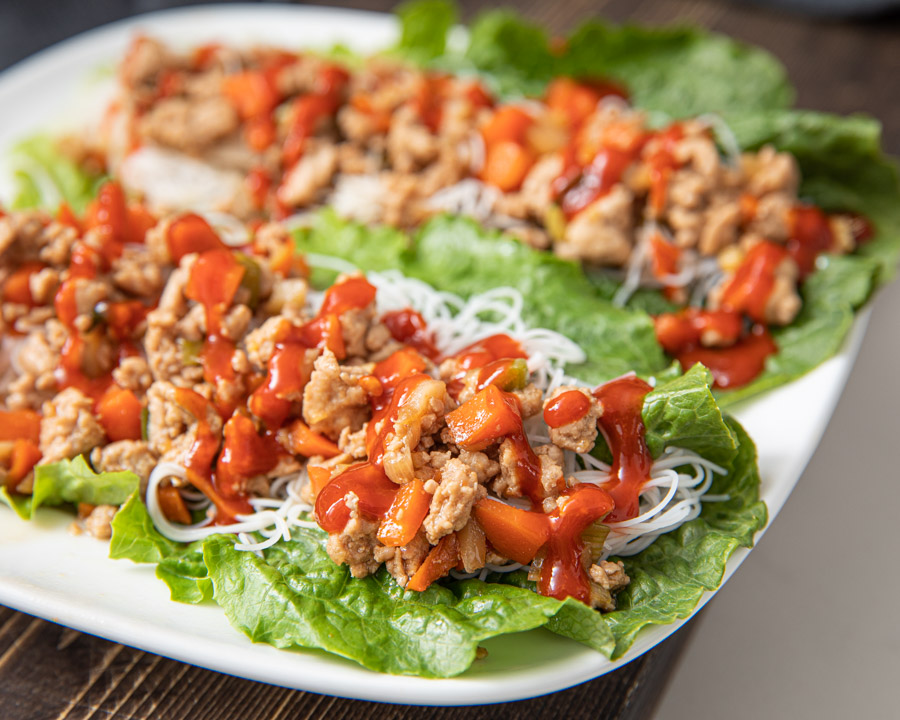 In true CUT nature, this recipe is quick, simple and a perfect choice for rush hour meals when bellies are grumbling. It's a great option when you have no desire to cook, but supper needs to happen. Trust us, we love cooking and being in our kitchens; but we have these days too. Lunar lettuce wraps always for the win!
You'll begin first by cooking the turkey, veggies and sauce ingredients. Combine everything into one pan and sauté. It's that easy. The only ingredient not going into the pan immediately are the green onions. The green onions are added within the last 5 minutes before serving.
Get the water boiling to cook the vermicelli noodles, supper is literally minutes away!
Once everything is combined, noodles are cooked, and leaves of lettuce are washed; your Lunar Lettuce Taco's are ready to build.
We like to use romaine lettuce for our "Taco's". However, if you want a lettuce to "wrap" more, try using iceberg. If you're creating an appetizer size Taco, we then prefer using fresh butter lettuce. This creates the perfect bite size Taco. Have fun with trying different greens, and celebrate! It's 2021 😉
Lunar Lettuce Taco's
Course: Main, Appetizer
Cuisine: Canadian, Asian inspired
Difficulty: Easy
Celebrate the Lunar New Year with Lunar Lettuce Taco's! An Asian inspired "Taco" boasting of lean ground turkey, carrots, water-chestnuts and onions. Then wrapped within a bed of vermicelli noodles and lettuce for the win. This fusion of flavour will become a "regular" within your household and not one that's prepped once a year!
Ingredients
2 tbsp sesame oil

1 lb. ground turkey (approximately 450g)

2/3 cup carrot, chopped small

1/2 cup waterchestnuts, chopped small

3 cloves garlic, minced

1 tbsp fresh ginger, minced

1/2 cup gluten free hoisin sauce


2 tbsp gluten free soya sauce

2 tbsp rice vinegar

1/3 cup green onions, chopped small

1 head romaine lettuce

vermicelli rice noodles (optional)

siracha hot sauce (optional)
Directions
On medium heat, add sesame oil and ground turkey into large pan.
Cook for approximately 3-5 minutes to start browning and break up ground meat.
Combine carrot and water chestnuts. Continue to stir.
Add all other ingredients except green onion. Boil water for vermicelli rice noodles and cook to package instructions if desired.
Continue to sauté and stir for additional 5 minutes. Wash leaves of lettuce.
Add green onion to pan and sauté for 5 more minutes.
Lunar Lettuce Wraps are served! Begin building your perfect bite by combining noodles, turkey mixture and Siracha if desired.
Celebrate! It's the year of the OX!
Stacey and Meg
Don't forget the hot sauce!