"Oh Momma this is good sauce, I love the sausage!!"…
This recipe is definitely one of both our families favourites. It makes such a large amount, it's perfect for hosting company or freezing in smaller portions when life is busy. It's so easy to make with very little prep. Not to mention, it uses sausage instead of ground beef like a typical bolognese recipe!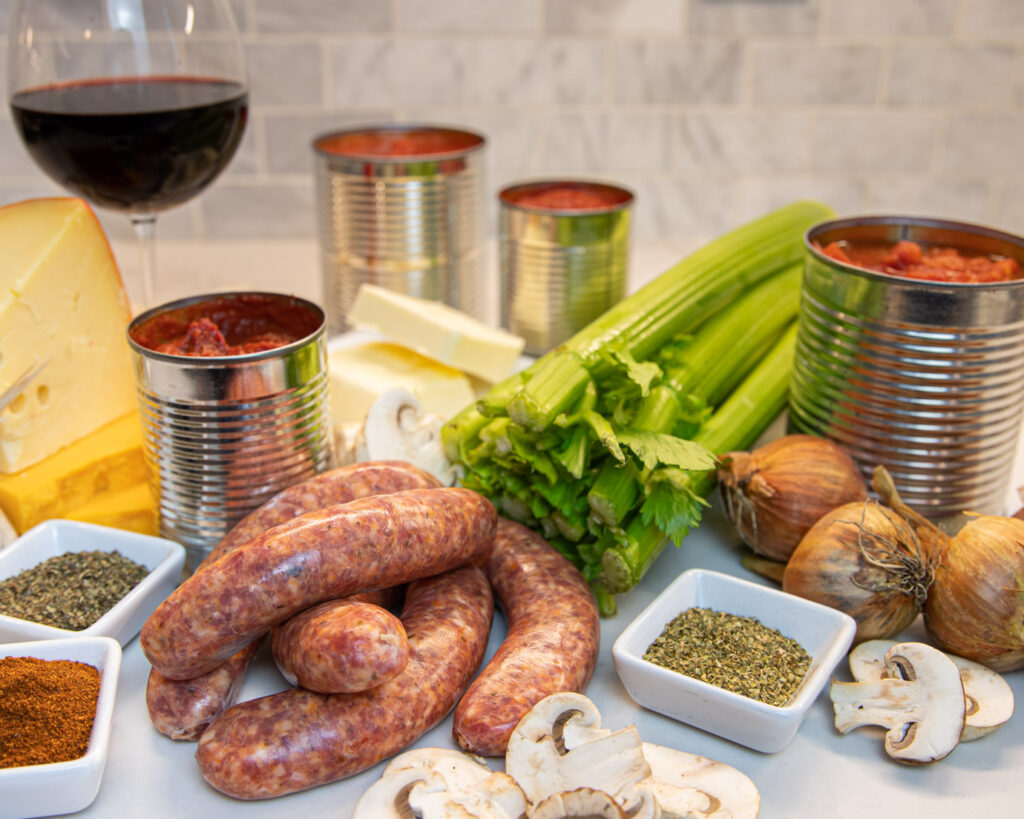 Gather all the ingredients and maybe even pour yourself a little extra….this recipe is so easy! The snow is falling as we're writing this entry, the sweet aroma of pasta sauce lingers in the kitchen. There's something so incredible about this simple traditional food. It fuels our families, warms our bellies and also brings a comfort to our soul.
We love the addition of using sausage! It brings a different complexity and taste to this typical sauce. Begin by removing the casings from the sausage simply using a knife and peeling them off. While the sausage meat is cooking, go ahead and begin chopping the onions, celery and mushrooms. You can either do this by hand, or for speed in a food processor.
We love using a slow cooker to make this sauce. Running busy homes, we appreciate the ability to simply prep the ingredients, plug it in and carry out our day; never thinking again about dinner until you walk through the door and the sweet aroma of this bolognese fills your nose. A little trick we always use which might seem obvious, but truly might be a game changer for some of you; prep this all the evening before. Even the day before. The beauty of this sauce is that the longer it simmer's the better it is! We're laughing as we write this, there's no way we could prep this the morning of. No way. The focus needs to be getting out the door in the mornings. I'm sure most of you can identify with that!
Keep adding those ingredients and fill up your crock! You're almost finished….pause, have a sip and then add the vino!
Finally add the ground sausage and give everything a great big stir. You're on your way to the most delicious bolognese! Now if you are prepping the night or day before, this is where we suggest you stop. Put the pot in the fridge and in the morning, drop it back in the cooker to start cooking! When it's time to eat, boil a pot of gluten-free pasta and presto! Dinner is served 🙂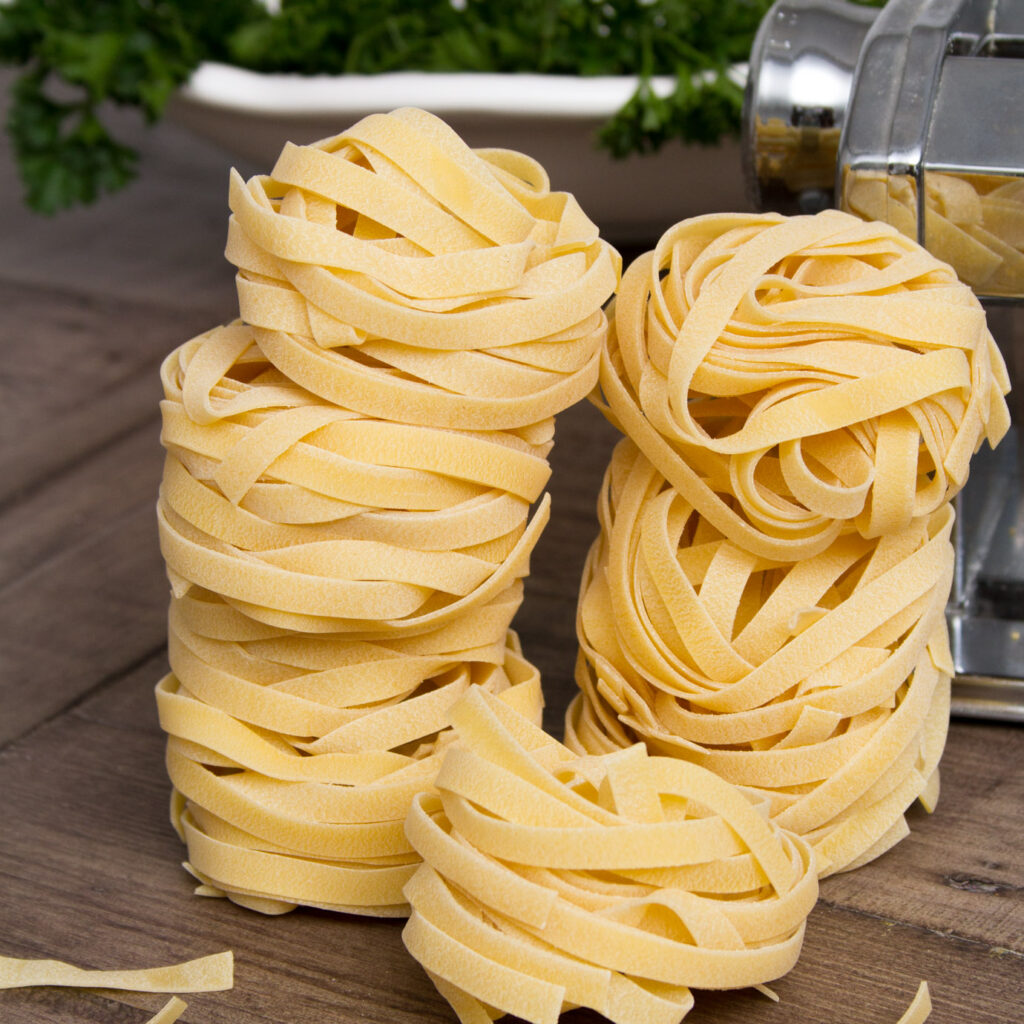 Momma's Bolognese
Course: main
Cuisine: Italian
Difficulty: Easy
A true hearty meat sauce. Our families love the complexity of this sauce which uses sausage instead of ground beef, tomatoes, a variety of many different veggies…and wine! We promise, the kids will never know there's mushrooms…and don't worry about the wine – the alcohol is long gone through the cooking process. Just the delicious linger of a good red is left. Made in a slow cooker, it couldn't be easier. Not to mention it freezes well. Don't miss this easy recipe…your company is coming. Try it this weekend!
Ingredients
2 lbs (1000g) gluten-free sausages

3 large onions

5 sticks celery

2 cups finely diced mushrooms

2 1/2 tbsp butter

2 – 28 oz. cans diced tomatoes

1 can tomato paste (369 ml)

2 – 16 oz. cans tomato sauce

1 cup red wine

3 tbsp chili powder

5 cloves minced garlic

1 cup grated cheddar, mozzarella or gouda cheese

1 tsp cayenne pepper

2 tbsp oregano

3 tbsp basil

1 tsp salt
Directions
Begin by removing casings on sausages with a sharp knife.
Brown and crumble sausage in frying pan on medium heat.
Meanwhile, chop celery, onions, mushrooms and add to crock pot.
Combine cooked sausage meat, spices, tomato sauce, tomato paste, cheese, garlic, and wine all into crock pot.
Stir well and set to cook for approximately 8-10 hours on low heat.
Stir occasionally. This sauce can not over cook. Feel free to simmer longer in slow cooker.
Boil your noodles and "Oh Momma, this is good bolognese!!"
Stacey and Meg
The question won't be what sauce to buy anymore, rather simply what shape of pasta to boil. Momma, it's that easy!