These are the PERFECT cookies to leave for Santa and his elves! Santa will be so thrilled to have a sampling of something other then gingerbread or a sugar cookie… We also hear that the reindeer love the peppermint and white chocolate 😉 This easy cookie will be ready quick for Christmas Eve!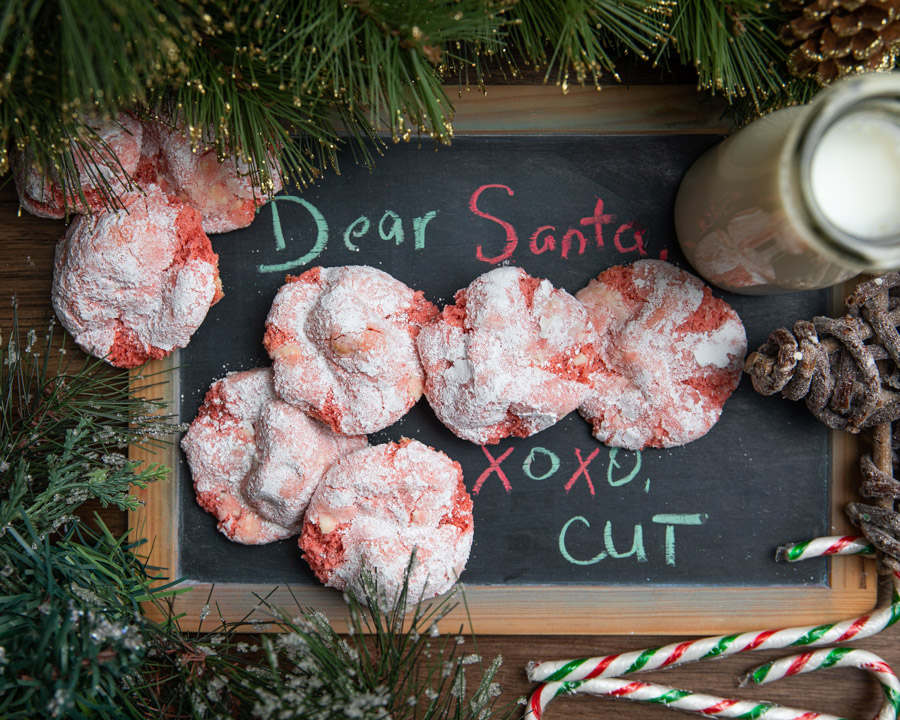 The goregous pink colour of these cookies is so unique. It looks amazing on a baking tray! Our families love that it's a bit different and have chosen it the perfect cookie to celebrate the holidays.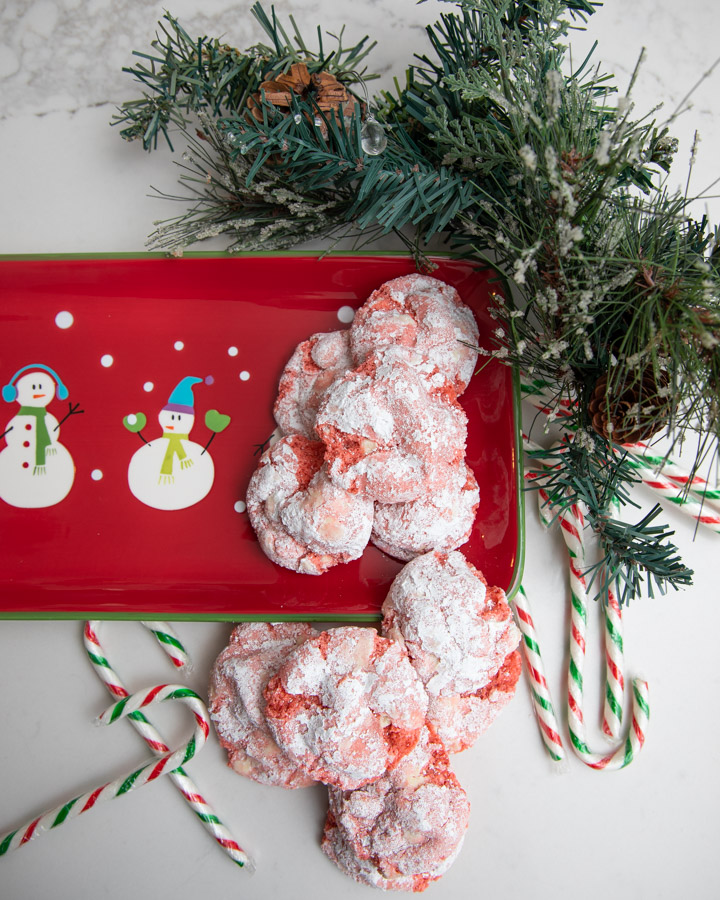 Bursting with peppermint and white chocolate, it's a cookie that's hard to eat just one. They're so delicious! You won't want to share…Ha! Be sure to share them with Santa because we're pretty sure he'll leave you something extra special if you do…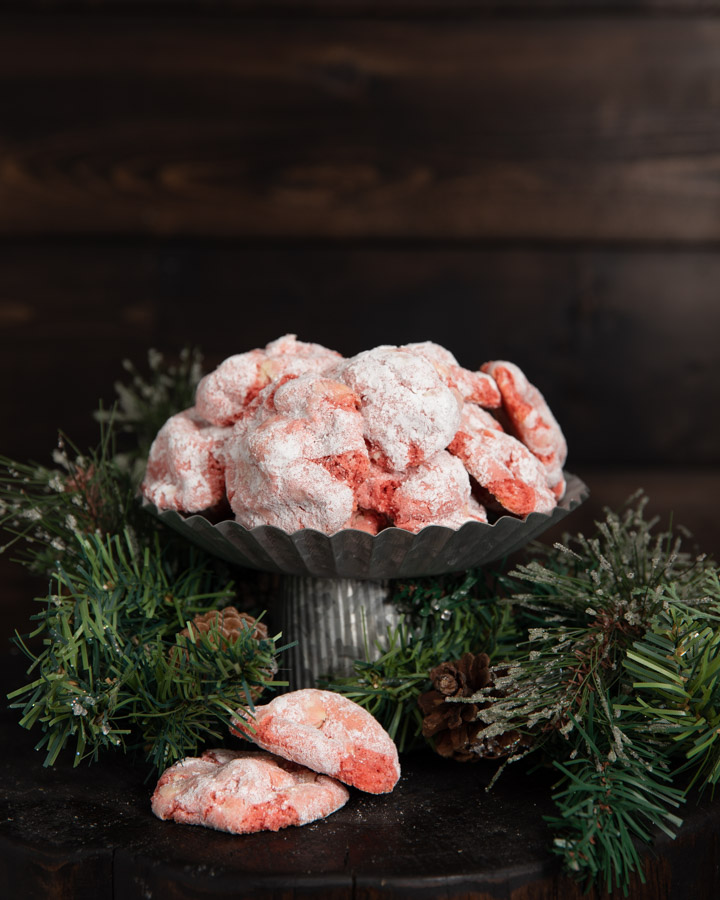 A crinkle texture on the outside and soft on the inside, this cookie is the cookie for the season. Everyone of all ages will love it's complexity. Don't wait any longer, let's get baking. These don't take long!
In an electric mixer, begin by creaming your butter, then add your sugar and eggs.
The secret ingredient that makes this recipe so special is the addition of vanilla pudding! Be sure when you're baking that you use an instant pudding. If you use a 'cooked' vanilla pudding, your cookies may end up a little soggy. Santa won't approve of that! Lol.
Now if you're wondering where the beautiful color of these cookies comes from, we cheated. We loved the idea of creating a reddish/pink cookie for Christmas and so we actually added a teeny bit of red food coloring. This could be optional if you wanted 😉 But they look so pretty when finished!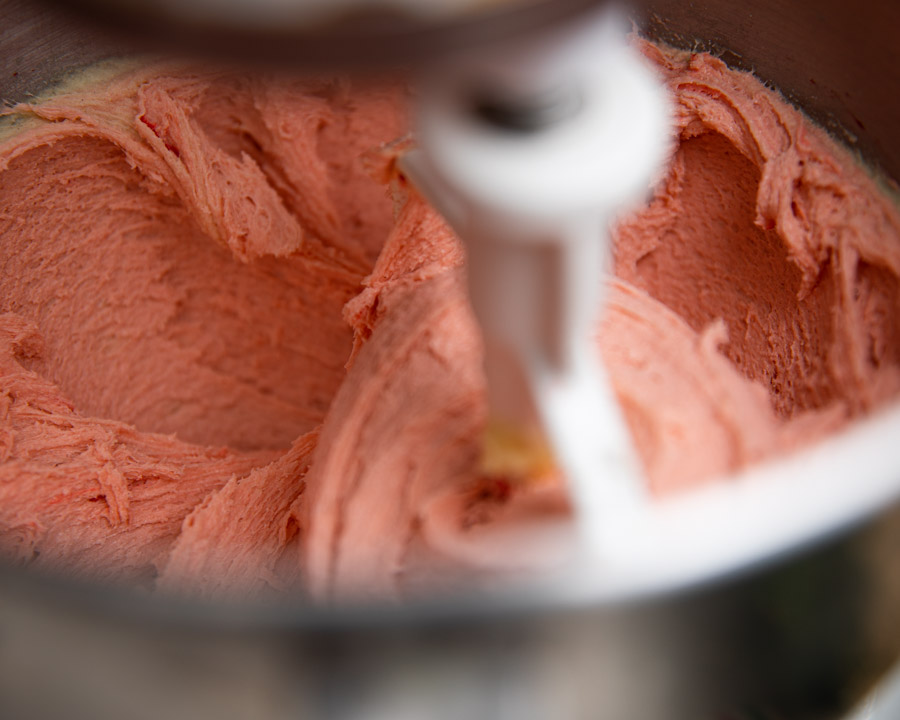 The last is to add your white chocolate chips before rolling your cookies.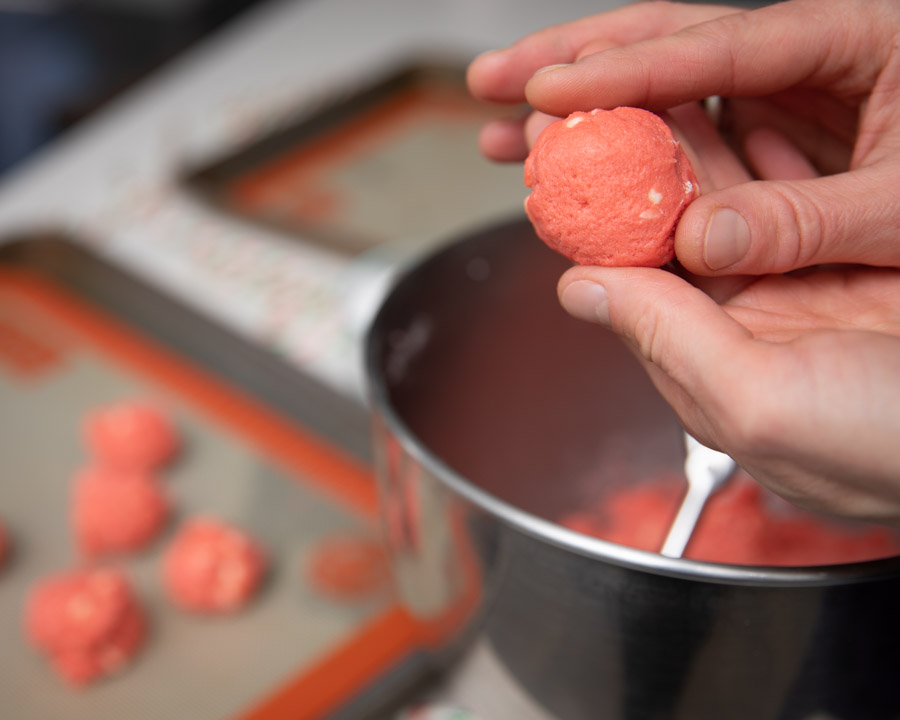 The 'crinkle' of this cookie comes from rolling it in sugar before baking. We've both made crinkle cookies before and have tried all sorts of different rolling combo's. The best crinkle on these came from a quick roll in white sugar and then also icing sugar.
Don't count any calories on these cookies! It's Christmas, and we've almost made it through 2020. Just walk an extra lap around the block if you feel you need too. What else are you going to go?!
Cookies for Santa…and hopefully a few for you! Merry Christmas!
Peppermint Crinkle Cookies
Course: Dessert, Treats
Cuisine: Canadian
Difficulty: Easy
These cookies we promise will be Santa's favourite on Christmas eve! A fuss free recipe that you'll want to make with the kids. And just like any good Christmas cookie, they hold up in the freezer so don't be afraid to make these ones in advance!
Ingredients
1/3 cup butter, softened

1 1/2 cups sugar

1 box (102g) vanilla instant pudding

3 eggs

1 tsp peppermint extract

2 cups Cut Flour

2 tsp baking powder

1 cup white chocolate chips

1/4 cup sugar (for rolling)

1/4 cup icing sugar (for rolling)

OPTIONAL*
a few drops of red food colouring
Directions
Preheat oven to 350°F.
Using electric mixer, cream butter, sugar and vanilla pudding.
Add eggs and peppermint extract. Mix well.
Combine CUT flour and baking powder. If using red food colouring, add this too.
Stir in chocolate chips until everything well combined.
Roll into 36 balls.
Roll in white sugar and then in icing sugar.
Bake on a cookie sheet for 13-15 minutes.
Let cool slightly and then transfer to cooling rack to fully cool.
Don't forget to leave these ones for Santa!
Stacey and Meg