Thanksgiving is right around the corner! This weekend we hope that even though celebrations may look different, you will still be able to pause and take some time to reflect on the many things we can be grateful for. There's no doubt that 2020 has proven to be 'special', but we will continue to drink from the glass that's 'half full'!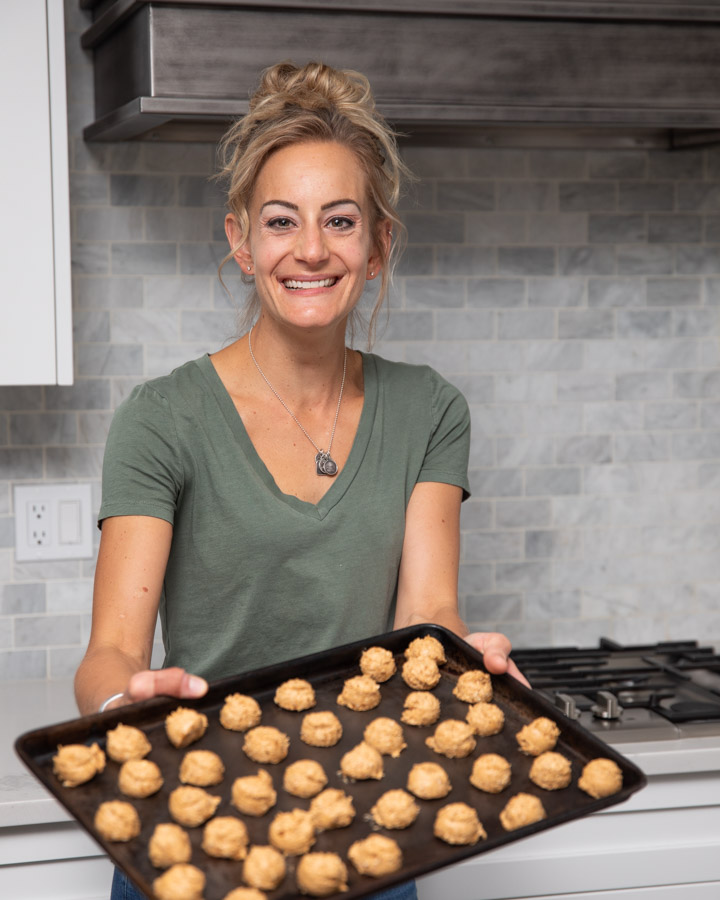 Lol, while reflecting this weekend and enjoying a glass that's still half full; why not enjoy a Pumpkin spiced Cheesecake bite! A Fall Spiced (https://cutcooking.com/cut-fall-spice-blend/) pumpkin truffle, completely enveloped with Cococo's Couverture White Chocolate, and dusted with pecans…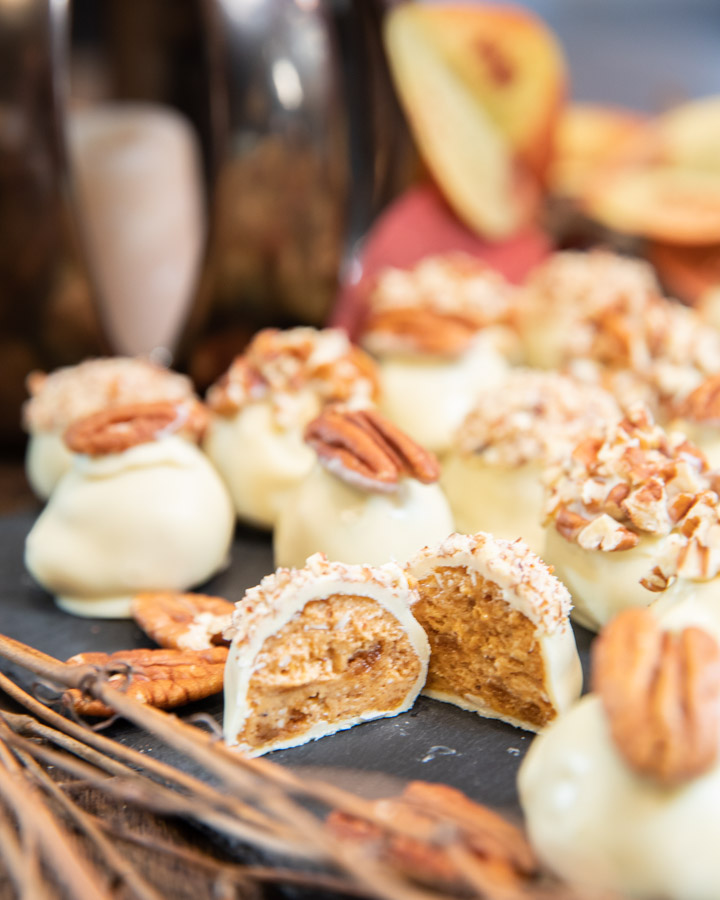 This autumn inspired treat is dynamite! It's absolutely scrumptious and we promise it'll be hard to eat just one. A soft, cream cheese truffle inside; composed of our Fall Spice (https://cutcooking.com/cut-fall-spice-blend/) and pumpkin purée, this dessert is hard to beat!
These cheesecake bites are the perfect Thanksgiving dessert. They serve single portions and are incredible for the holidays, complimenting all of fall's wonder.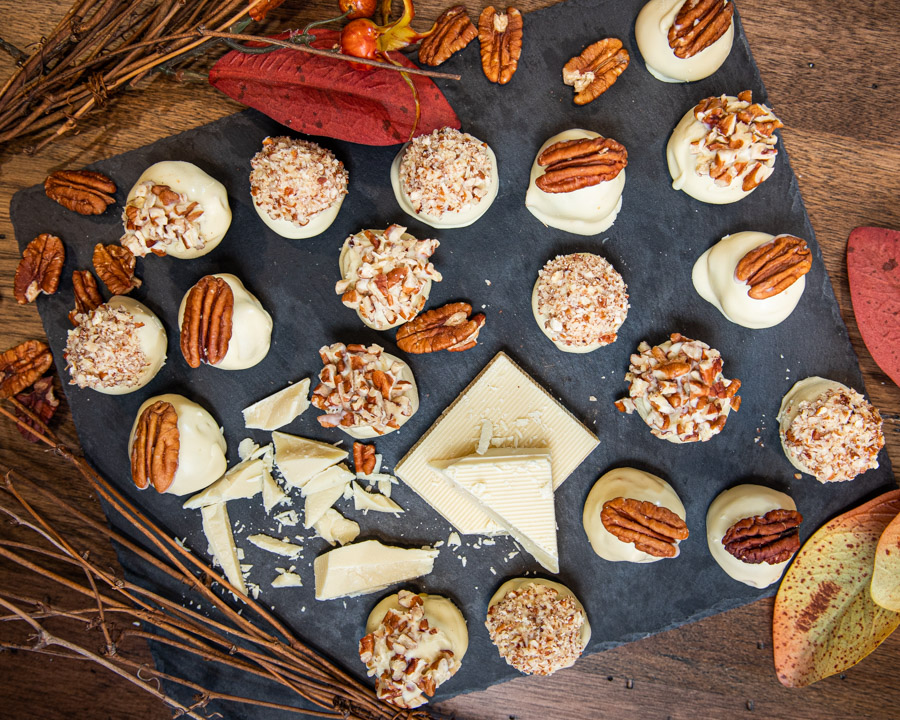 Now, we're not going to lie…If you've never tempered chocolate before, it's a little tricky. However, you CAN do this!!! Don't panic. Tempering chocolate is an essential step for making a smooth, and glossy chocolate coating. It allows the chocolate to "snap" right when cooled and is necessary to hold all the pumpkin cheesecake truffle goodness.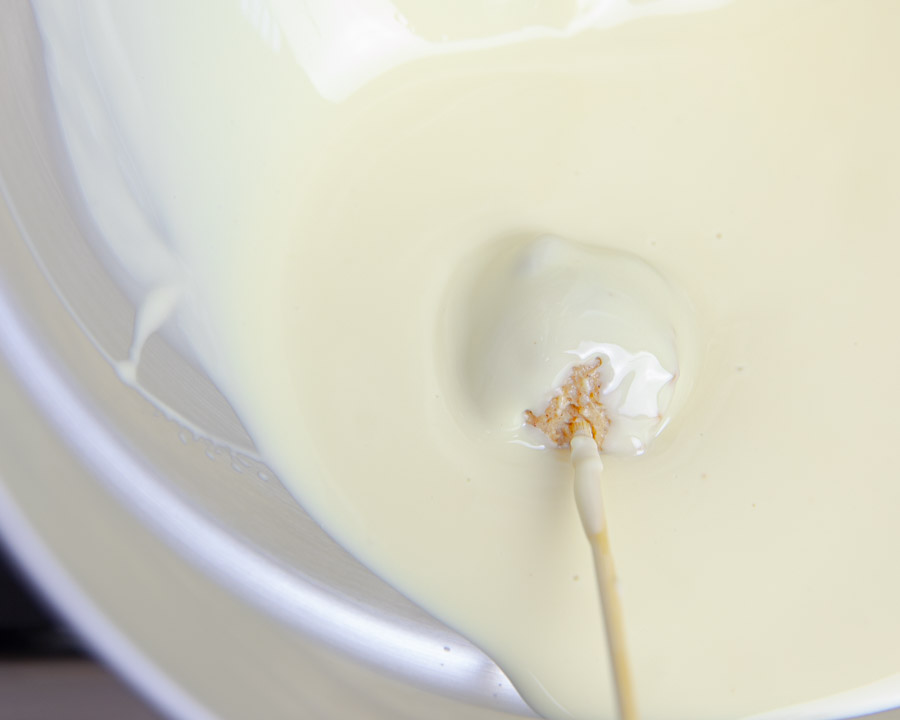 The most important tip we can share when tempering chocolate is having a good kitchen thermometer! You'll need something accurate and able to read temperatures quickly. If you don't own a good kitchen thermometer, we highly recommend you invest in this. You can buy digital thermometers now that literally work for candy, meat, milk….anything!! One thermometer for every type of food temperature.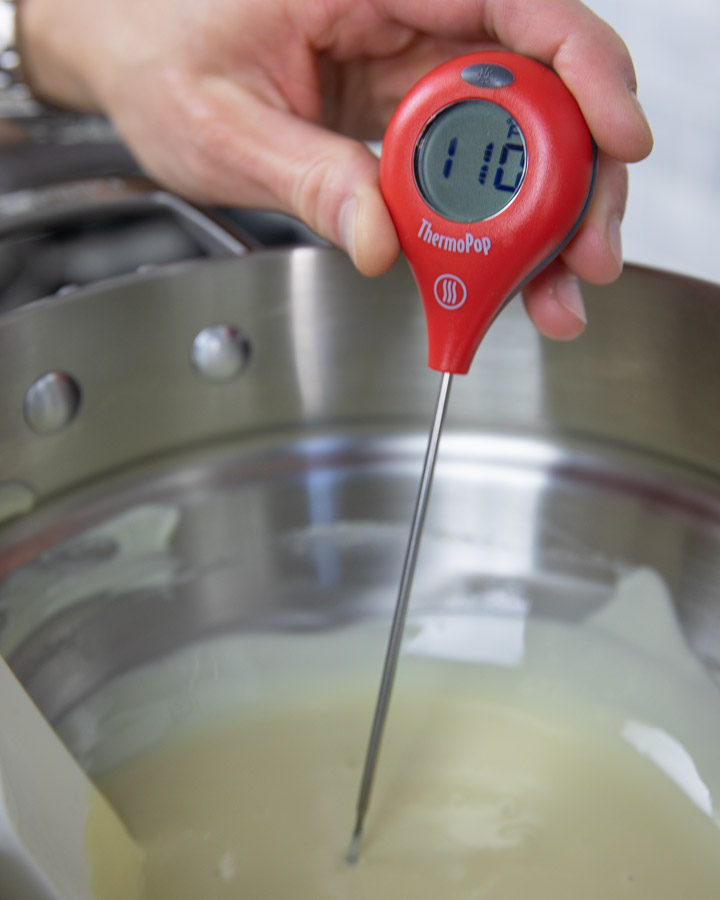 A couple other tips we have for you when tempering chocolate:
Start with only melting about 2/3 of the needed chocolate. Reserve the other 1/3 for helping to cool the melted chocolate during the tempering process.
2) Use small pieces whether it's for the melting or cooling process.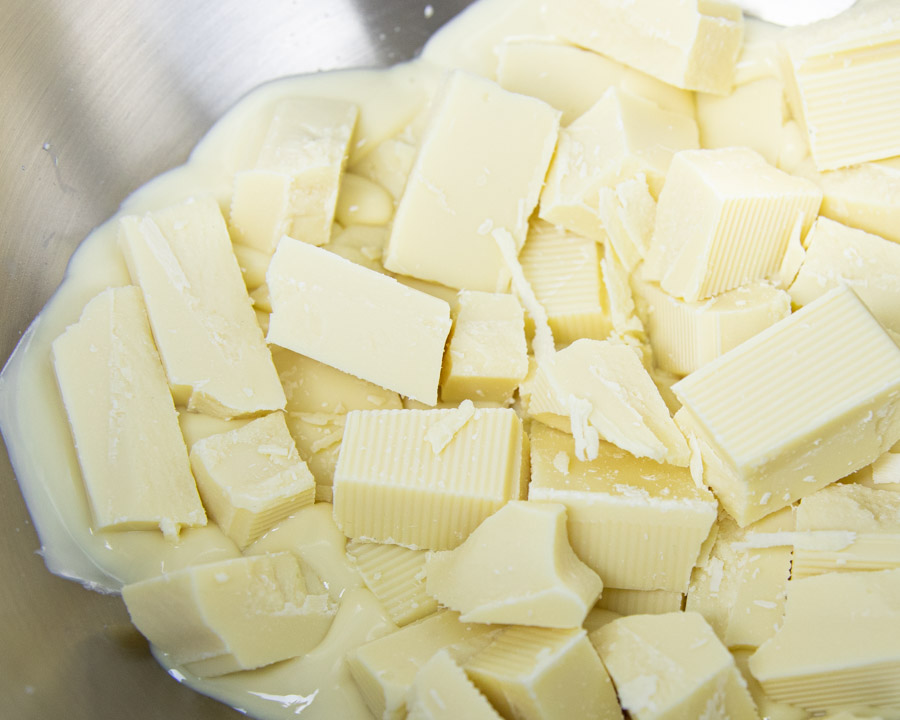 Before we get to the details of tempering chocolate, let's begin by creating the pumpkin bite first! The inner truffle cheesecake portion is the easy part. You can use an electric mixer or mix everything by hand. Whatever works best for you!
To add a bit of texture into the cream cheese, we cheated and crumbled store bought, gluten free, gingersnap cookies! Ginger cookies are not hard to find whether they're gluten free or not. They're on the local grocery store shelves! However, if you are having trouble finding them, go ahead and crumble graham crackers (gluten free).
Get mixing, rolling and freezing. Then it's the chocolate and nuts. These cheesecake bites take a bit of time to make. But….SO WORTH IT!!!! Your Thanksgiving weekend will be on the upswing if cheesecake bites are present!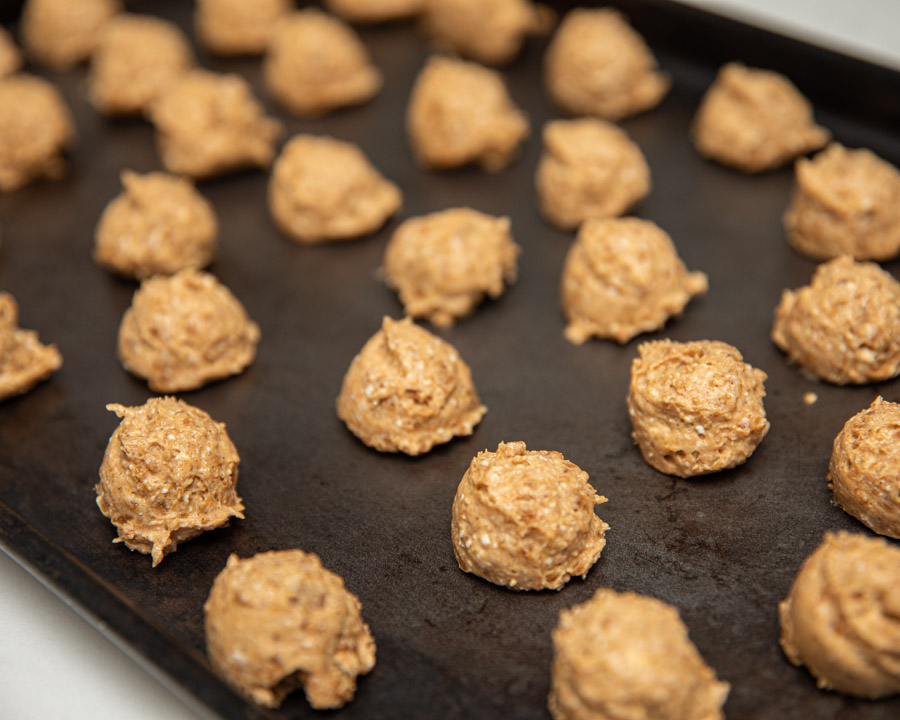 Once you have all your cheesecake balls rolled, they need to be thoroughly frozen. Remember to keep the balls small. They'll be dipped in chocolate too! We suggest that you even make the truffle part one day and let them freeze overnight. They dip so much easier when completely frozen. Start tomorrow and they'll be ready for turkey dinner this weekend!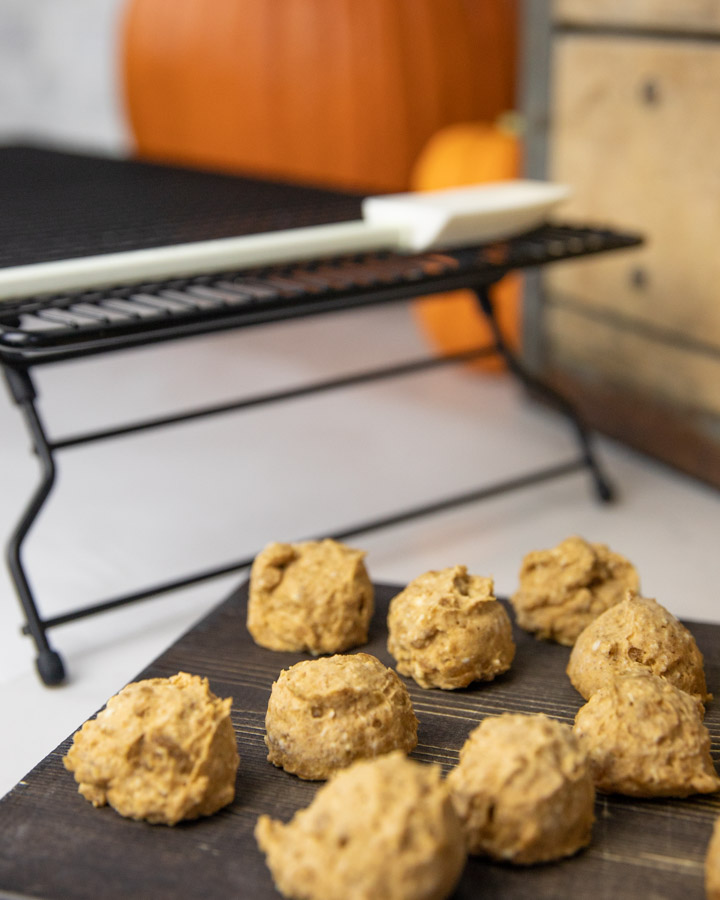 When the cheesecake bites are totally frozen, they're ready for dipping in chocolate. As we mentioned earlier, the chocolate must be tempered for these to turn out. Otherwise, your chocolate may look dull, not cover thoroughly, or may not even set properly!
Using the Couverture White Chocolate baking bar from Cococo Chocolatiers, you'll begin by cutting the bar into small pieces. We suggest using stove top directions versus the microwave as we've had more consistency this way. Ha! Let us do the hard trial work for you 😉
Pull out your double boiler, or if you don't have one, a stainless steel bowl and medium sized pot. You'll begin by bringing water to a slow boil in the bottom of your pot, using low heat. Do not use a lot of water, all you need is about 2″; just enough to create a good steam and melt the chocolate. Be sure that the bottom of your melting bowl is not resting in any amount of water. If the bowl is touching, your chocolate may burn or not melt properly. It is only the steam from boiling that is needed to melt your chocolate!
Following the instructions from Cococo Chocolatiers, you'll temper white chocolate at a temperature of 84°F (29°C). Although, to first begin, melt 2/3 of you chocolate to a temperature of 110°F (43°C). Caution: this will happen quickly! Reserve the other 1/3 chocolate for later. Pay attention and do not overheat your chocolate. Once you have reached 110°F (43°C), immediately take your melting bowl off the steam. Begin cooling the chocolate by adding small portions of the remainder 1/3 reserved chocolate and stirring well. These pieces will melt, incorporate and bring the temperature down.
It won't take long for the chocolate to cool, approximately 5 minutes. Once you have reached the temperature of 84°F ( 29°C), you're ready to begin dipping the cheesecake balls.
Allow your water to keep boiling because you'll need to keep the chocolate in the range of 84°F (29°C) – 90°F (32°C) by just placing the bowl back over the steam for 10-15 second intervals.
Dip a few balls and check your temperature frequently. Warm your chocolate for short 10-15 second intervals over the steam, keep it in range of 87 °F (30°C) and you'll have success of beautifully covered white chocolate cheesecake bites!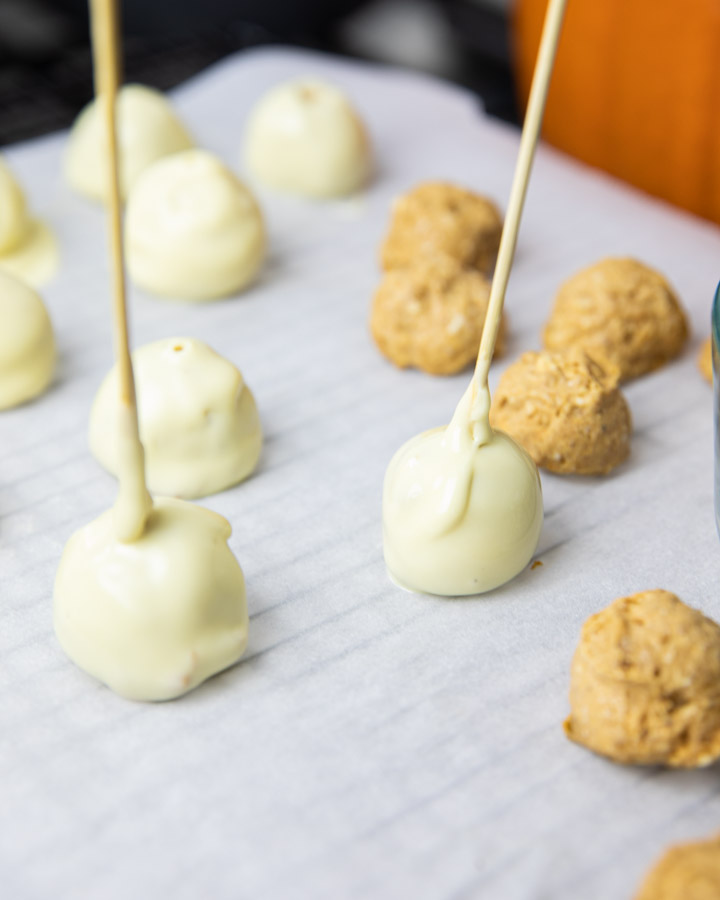 We used wooden skewers to dip the cheesecake balls which allows you to cover the entirety with only a small hole. After a few minutes when the chocolate is fully set, pull the skewer out. You can then secure another ball and keep dipping. Once all the balls are covered, begin the process of dipping the top 'skewer hole' and then covering either with chopped pecans or a whole pecan.
Boom! You have become a master chocolatier…Lol, or maybe we leave that title to Cococo Chocolatier's! Enjoy your Thanksgiving with a glass half full – you'll be thankful for the Cheesecake bites!
Pumpkin Cheesecake Bites
Course: Dessert, Treats
Cuisine: Canadian
Difficulty: Savy
Prep time for cheesecake
30
minutes
Tempering chocolate/dipping
1
hour
Autumn inspired, these single portion cheesecake bites are dynamite! A soft, pumpkin cream cheese truffle, enveloped in Cococo's couverture white chocolate, this dessert exude's all of fall's comfort.
Ingredients
Pumpkin Truffle

1 brick cream cheese (250g)

1/4 cup icing sugar

2 tbsp brown sugar

2 tbsp pumpkin purée

1 tbsp CUT Fall Spice blend (https://cutcooking.com/cut-fall-spice-blend/)

1 box gluten free ginger cookies (approximately 12 small cookies) crumbled

Chocolate

454g bar White Couverture Chocolate bar (Cococo Chocolaterie Bernard Callebaut )

1/3 cup pecans, chopped or whole depending on preference
Directions
Using either an electric mixer or by hand, combine all "Pumpkin Truffle" ingredients. Ensure they're well mixed.
Form small balls, measuring about 1″ in diameter, and place on parchment lined tray to freeze.
Freeze pumpkin balls over night until absolutely frozen. This will help ensure a smooth chocolate dipping process.
Using a double boiler, temper chocolate at a temperature of 84°F (29°C). If needed, follow specific tempering instructions above in our blog 🙂
Keep the melted chocolate in a range of 87°F (30°C) and begin dipping pumpkin truffle balls using a wooden skewer.
Using a few skewers, allow the skewers to set with the chocolate. After 2-3 minutes, gently twist the skewer and it will remove from the ball. Go ahead and reuse skewers. Continue the process of dipping pumpkin balls.
Once all the truffle balls are covered, dip the tops in a very small amount of chocolate then roll in chopped pecans or place a whole pecan on top.
Allow the chocolate to fully set and be thankful! You have Pumpkin Cheesecake Bites this Thanksgiving!
Happy Thanksgiving! We hope your glass stays half full this weekend,
Stacey and Meg