It's no secret that we both love bacon. In fact everyone in our families love bacon. Although, we did it. We branched out! Lol. This recipe uses PROSCUITTO instead and is absolutely delicious. It's so incredibly easy and yet serves up gourmet. The perfect meal if you're looking for something special to share with your family.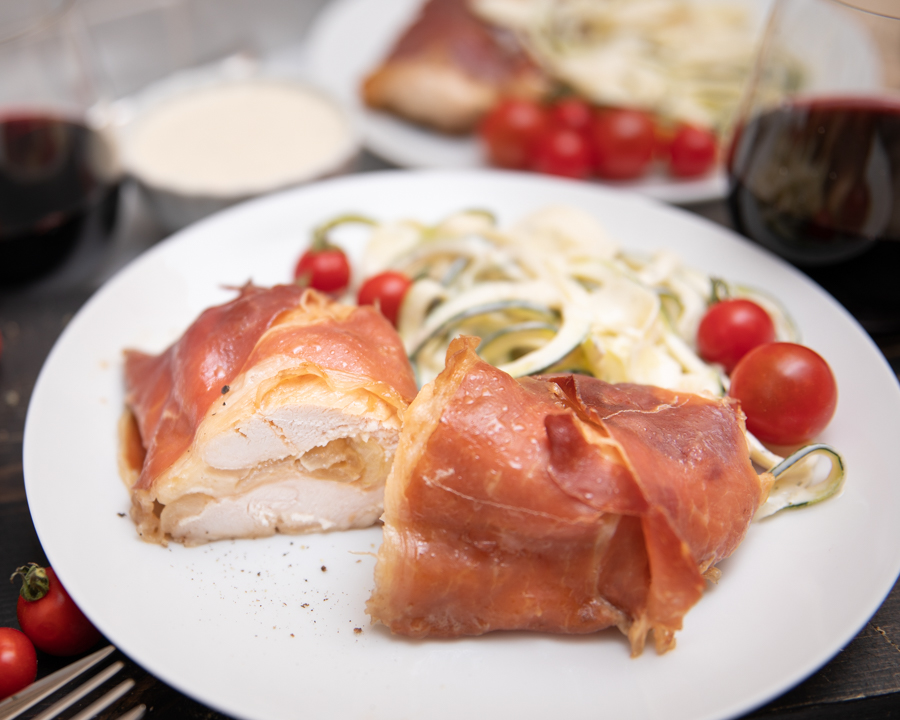 This fresh meal is such a great option for the winter. It combines the sweetness of carmelized onions with a salty proscuitto and the mildness of swiss cheese. It's a warm comfort meal that will fuel your family and soul.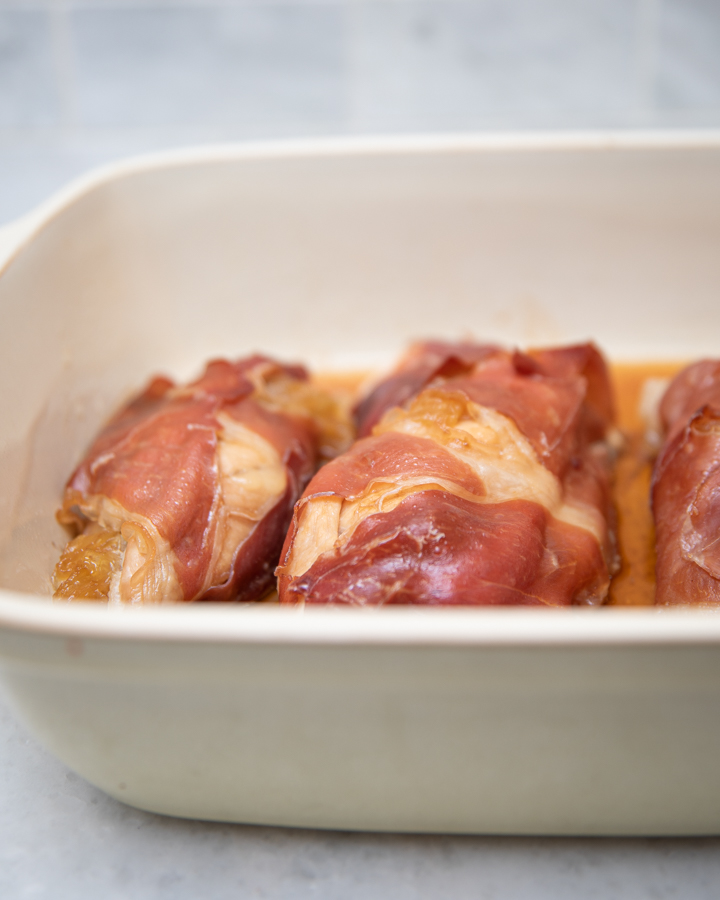 This dish won't take long to have ready! While it bakes, you'll have time to make a side dish, make the kids' lunches for tomorrow, or pour yourself a glass of wine and find your slippers.
You'll need to begin by chopping and caramelizing the onions. If you've never caramelized onions, don't panic! It sounds a lot harder then it really is. On medium/high heat, melt butter in a frying pan. Add the onions and stir well. Cook them on this heat for approximately 2-3 minutes to begin browning the outside layer of the onion. Then turn down the heat to low and cook slowly for approximately 25 minutes. Remember to stir the onions frequently. That's it – caramelized onions are ready to add to your chicken!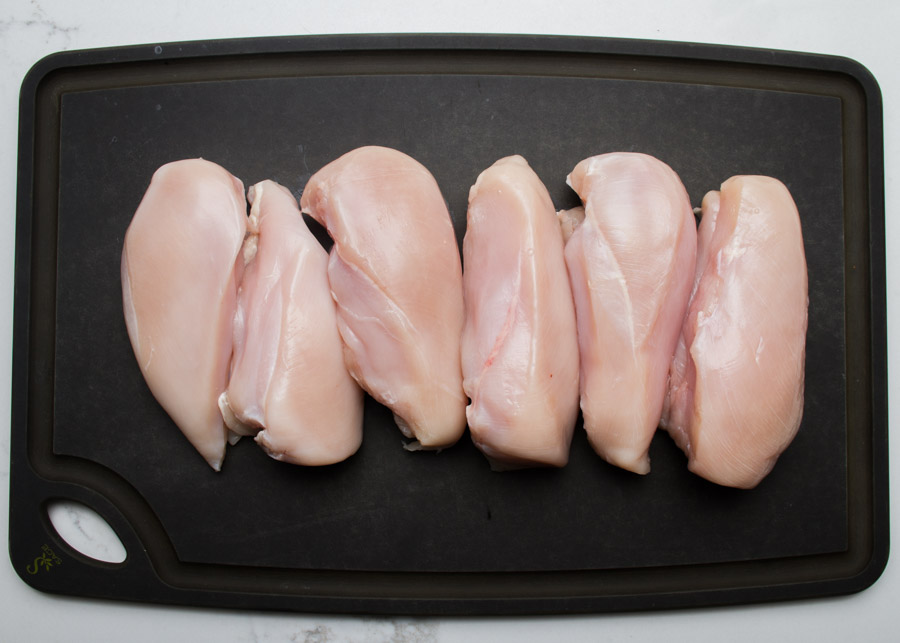 Begin by tenderizing your chicken breasts with a meat tenderizer and then slicing them in half. Don't cut all the way through, rather "butterfly" the chicken for stuffing.
You'll begin by laying a slice of swiss cheese and topping it with the caramelized onions.
Fold your chicken breast in half and pull out the brown sugar! This next step essentially "caramelizes" your chicken and allows the proscuitto not to burn. You'll cover each chicken breast with brown sugar and then wrap it with proscuitto. Hhhhhmmmmm…..it's all so delish!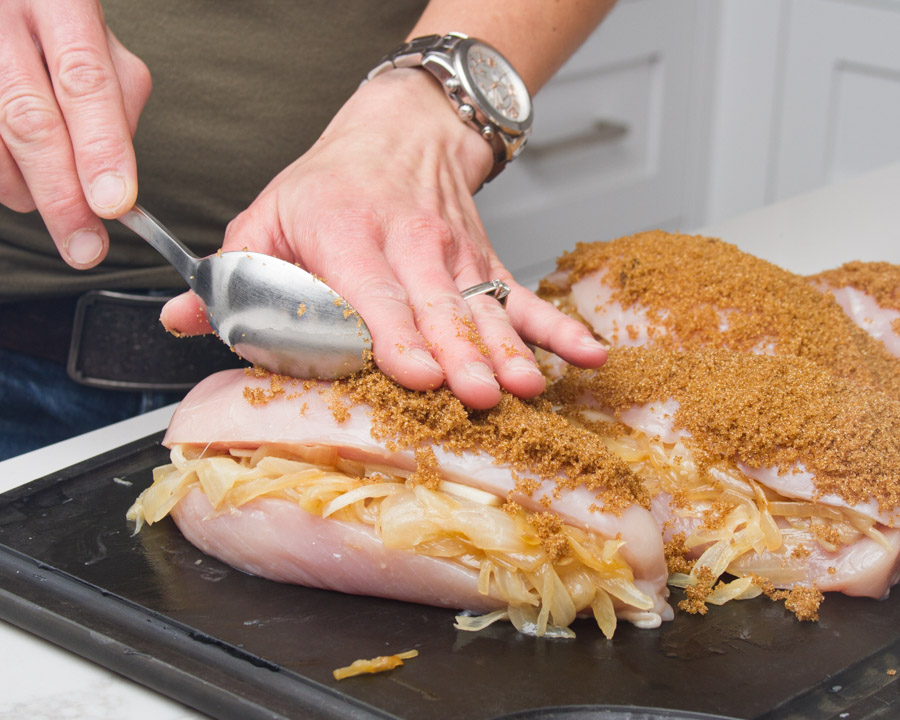 Get it in the oven and you're well on your way to an amazing dinner.
Sweet Proscuitto Chicken
Course: Main, Chicken
Cuisine: Canadian
Difficulty: Easy
This caramelized chicken is full of sweet onions and salty proscuitto. The pairing is soul food. Incredibly easy to make and serves up gourmet!
Ingredients
4 chicken breasts, tenderized

2 medium onions, sliced

3 tbsp butter

4 slices of swiss cheese

8 tbsp brown sugar

8 slices of gluten free proscuitto
Directions
Preheat oven to 350°F.
Caramelize onions: on medium/high heat melt butter in frying pan, add sliced onions and stir for approximately 2-3 minutes. Once starting to brown, reduce heat to low and continue to stir often. Cook for additional 20 minutes.
Slice tenderized chicken breasts in half to butterfly.
Layer a slice of cheese and a quarter of the caramelized onions in each chicken breast.
"Close" chicken breast and top with 2 tbsp of brown sugar on each.
Wrap each chicken breast with 2 slices of proscuitto.
Bake in baking dish for approximately 45 minutes, until juices run clear. If using a meat thermometer, the internal temperature of cooked chicken is 165°F / 74°C.
Pour a glass of wine, make a side salad or the kids' lunches while it bakes….Enjoy!!
Stacey and Meg