This traditional hard crack toffee is one of the most delicious candies you'll ever have. It's complexity of taste and texture is like no other chocolate confection. Honestly, if you've never experienced this incredible treat, be ready for a new favorite!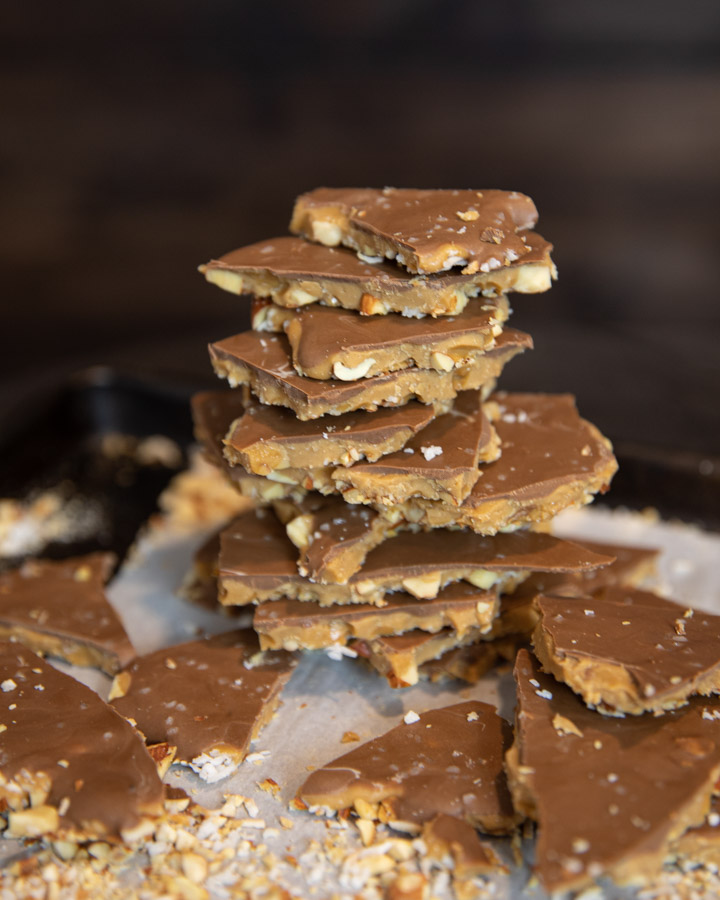 This one is perfect for the holidays. It's so easy to make; and is perfect for gifting to friends and neighbours, or simply indulging with your own family. It literally takes minutes. You'll find that the hardest part is waiting for it to cool! Have patience though…otherwise you'll end up burning yourself. From experience we might know 😉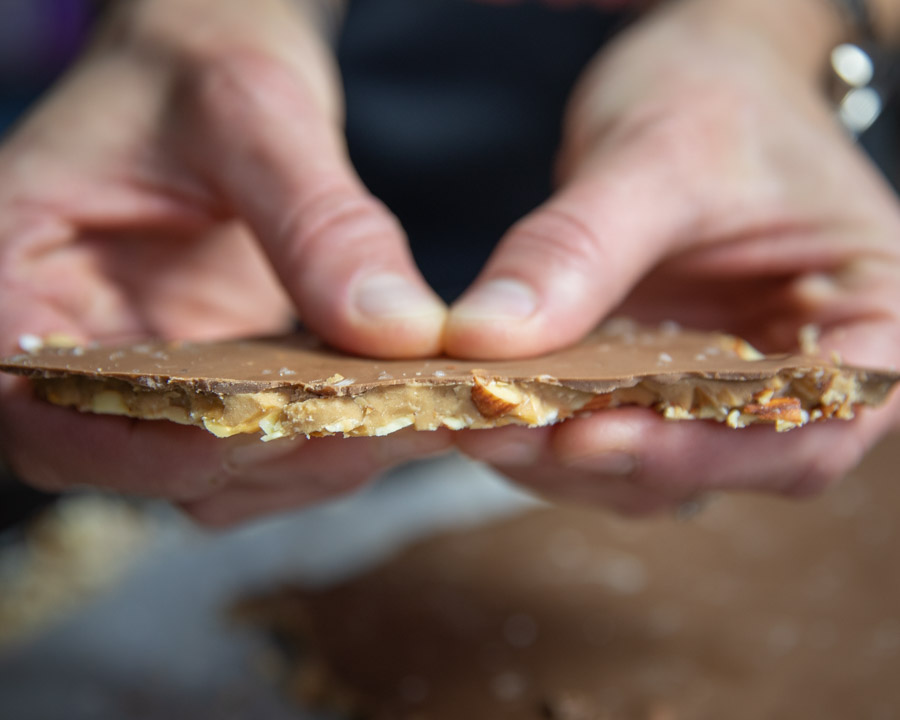 We both have fond memories of enjoying this treat in it's traditional sense – toffee, chocolate and then almonds sprinkled on top. However, we are excited to share with you our twist on the 'traditional' and we've added coconut and sea salt.
AND the best part? We have partnered again with Cococo Chocolatiers for this recipe and melted their milk chocolate drops. All we can say is that Almond Rocca will never be the same. This match; is a match made in heaven! Lol. It's SO DELICIOUS!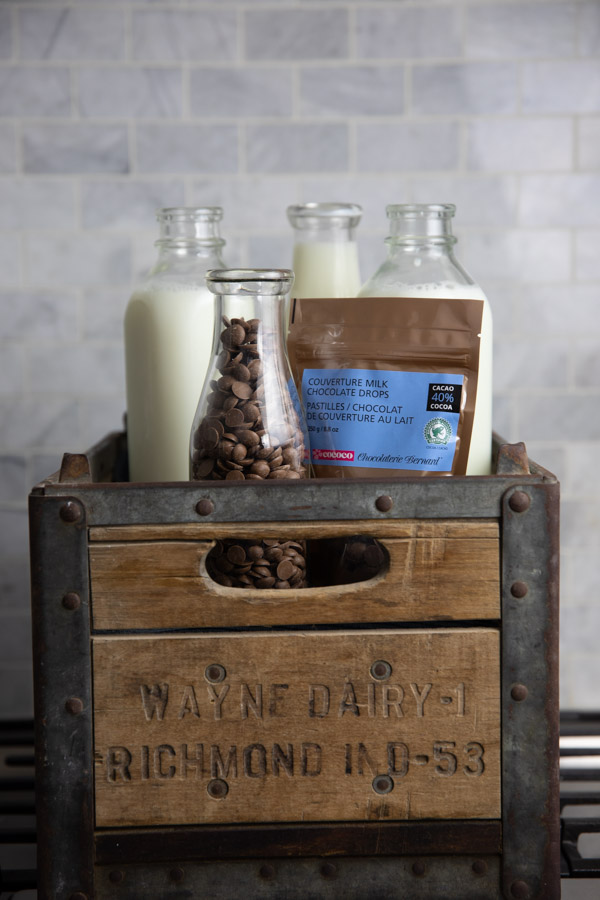 Pull out your candy thermometer and lets get cooking! You won't want to wait any longer.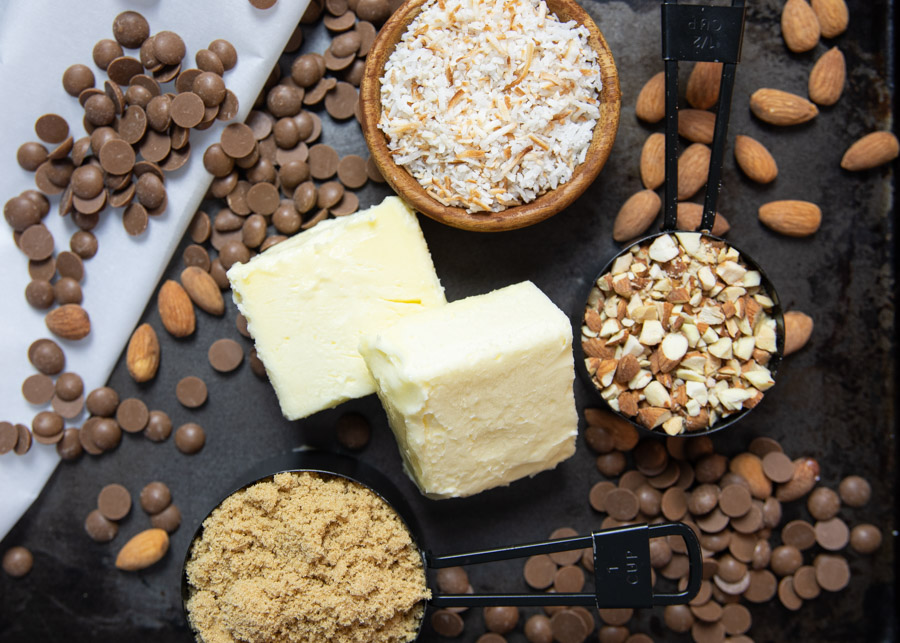 The trick to ensuring that your toffee turns out and isn't too sticky or hard; is a good thermometer. We love our instant read thermometer in the kitchen but if you don't have one, be sure to keep a close eye on the mercury.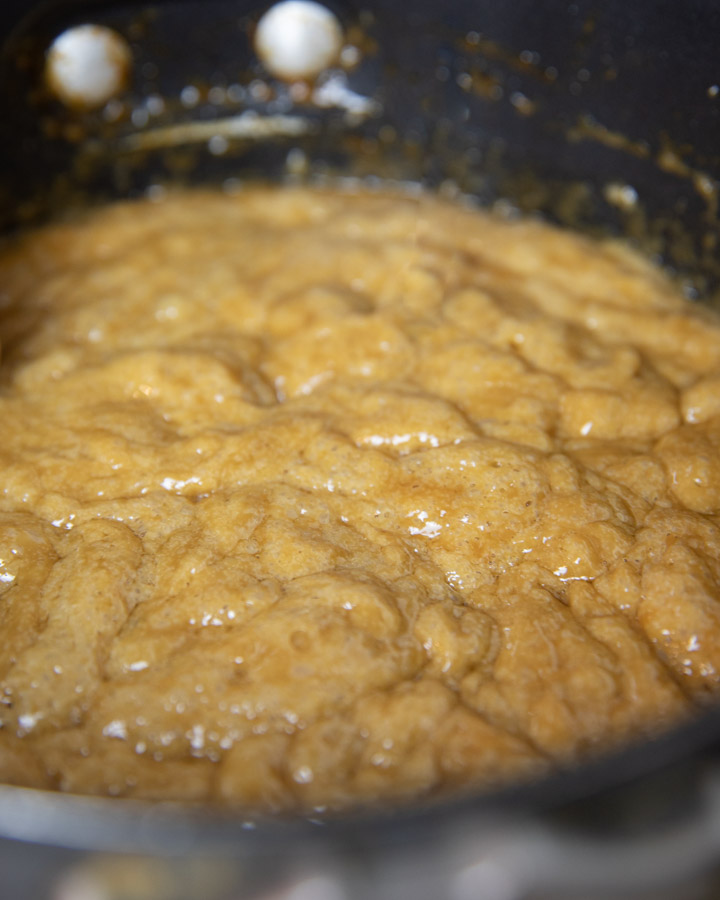 You'll need to excercise a bit of patience when you're cooking the toffee component. Keeping your heat on low, begin by melting the butter first and then adding the brown sugar. Whisk the butter / sugar combo well. As it begins to heat up, you'll begin to grow 'toffee lava' in your pot.
It does take approximately 15-20 minutes to bring the toffee to a hard crack temperature. Have patience! Do not raise the temperature on the stove to make things heat faster. You'll end up with the butter separating, or a toffee texture that's sticky or too hard.
Have everything else ready to go because you'll need to move quickly with the boiling hot 'toffee lava.' Your coconut needs to be toasted and the almonds chopped. The sea salt and couverture milk drops on standby…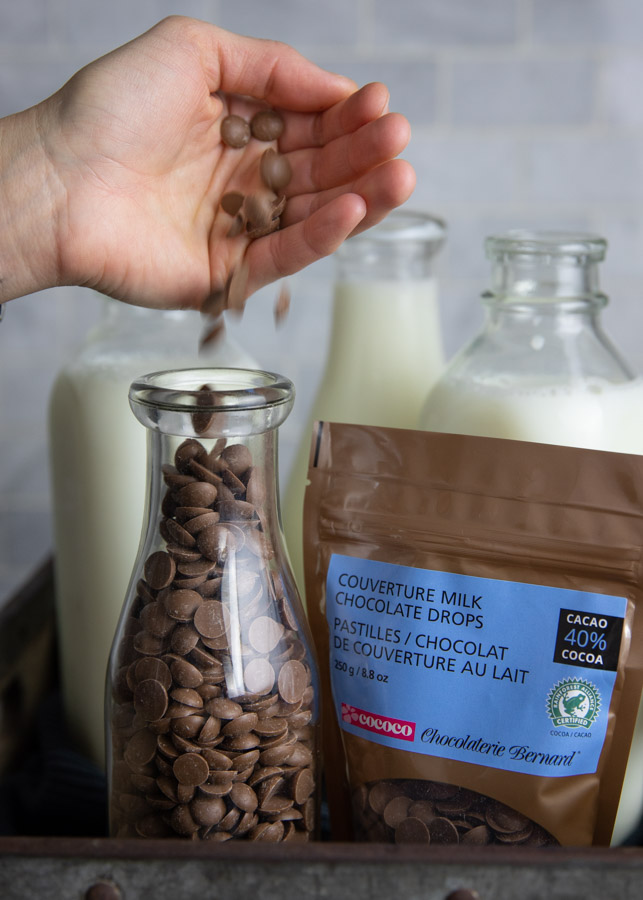 As soon as your toffee has reached hard crack temperature, stir in the almond extract. Then you're ready to pour it over the almonds and coconut.
Working quickly, spread the toffee out. Then it's time to add the chocolate. Not going to lie here, we have tried this recipe using plain chocolate chips and then tried it with Cococo Chocolatiers chocolate. There's absolutely no comparison!! The smooth texture, clean crack consistency, and melting ability when using Cococo chocolate is simply unmatched. This treat is too incredible. Spoil yourself and those around you…head to Cococo Chocolatiers for your baking chocolate. We promise you won't regret it!
Just from resting on the hot toffee, the chocolate drops will melt. Using a spatula go ahead and thinly spread the chocolate. Sprinkle with sea salt and you're finished! Let it cool completely before breaking into pieces. That's it. It's honestly that easy.
Almond Rocca
Course: Treat, Dessert
Cuisine: Canadian
Difficulty: Easy
Almonds and toasted coconut blanketed with a smooth salted chocolate, this treat is absolutely divine. This recipe is easy to make and gifts gourmet. The perfect option for holidays or just because!
Ingredients
1 cup butter

1 cup brown sugar

1/4 tsp almond extract

1/4 cup coconut, toasted

1/4 cup almonds, chopped

1/2 tsp coarse sea salt
Directions
Spread coconut on baking pan. On LOW broil, broil for approximately 2-3 minutes to toast coconut. Coconut will turn a golden color when finished. Be very careful not to burn. Coconut burns easily!!
Finely chop almonds simply using a knife.
Combine coconut and almonds and spread a thin even layer on parchment lined baking tray.
On low heat, melt butter in saucepan.
Add brown sugar and whisk well to dissolve.
Continue to heat on low until candy mixture reaches 'hard crack' temperature (295°F / 146°C). This will take approximately 15-20 minutes. Have patience and check often using an instant read thermometer or a traditional candy thermometer. Just ensure whatever type of thermometer used it never rests on the bottom of the pan.
Once candy reaches hard crack temperatures, add almond extract and stir.
Pour toffee over almonds and coconut on baking tray.
Sprinkle Cococo Chocolatiers milk chocolate drops over toffee. Within a minute or 2 they'll be melting. Carefully spread over toffee using a spatula.
Sprinkle with sea salt.
Let cool completely. You can go ahead and use the fridge if you're like us and simply can't wait to break off a piece. Happy days are here when you have Almond Rocca,
Stacey and Meg