It's almost Valentines Day and we love creating something extra special in our kitchen to celebrate those we love! Chocolate and strawberries always seem to come 'hand in hand' with Valentines Day, and so we thought – "let's not mess with a good thing!" This recipe incorporates both chocolate and strawberries.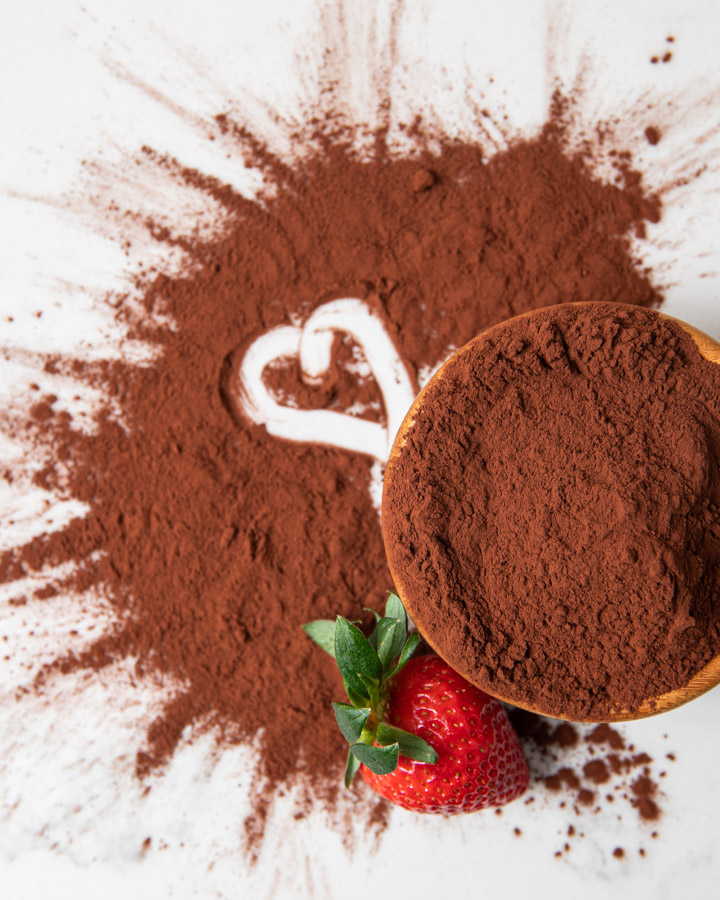 A light chocolate puff, filled with strawberry vanilla whipping cream; this is the perfect bite for Valentines day! Young or old, these incredible treats will become a favourite. You'll be surprised at how easy and quickly they come together!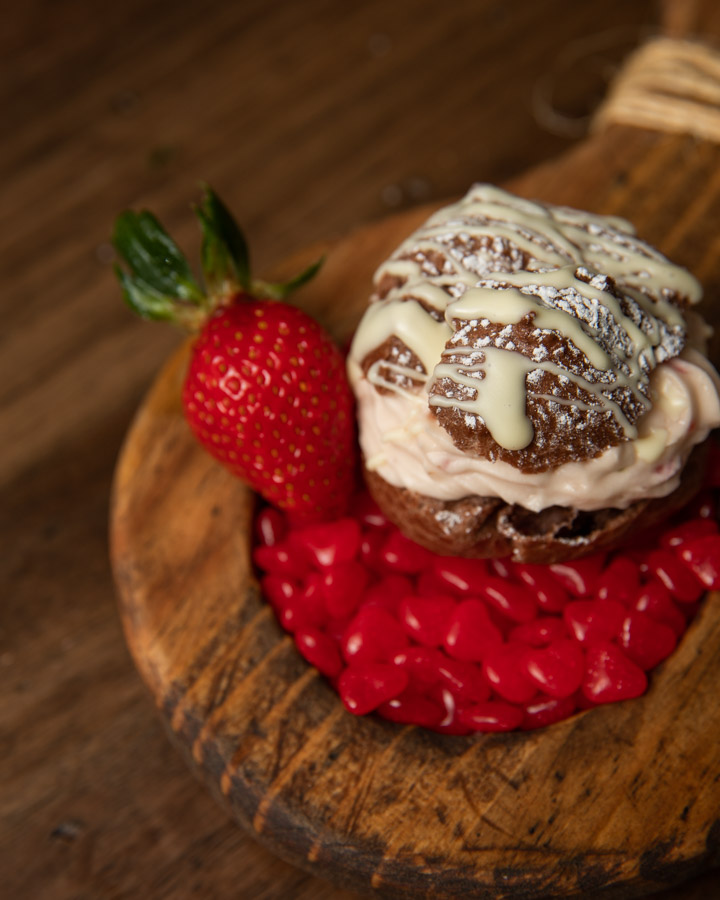 AND….did we mention that of course they're gluten-free?! They're the same texture as you'd expect, and hollow in the middle for your filling. We promise using CUT Flour and this recipe, no one will have a clue that they're gluten-free. They're AMAZING!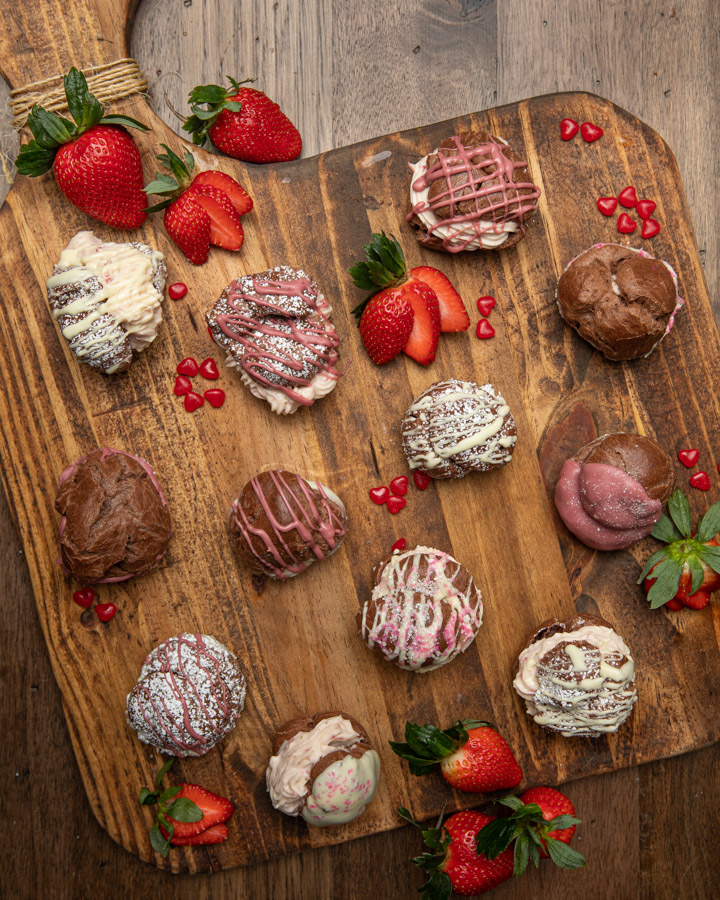 A cream puff is a type of French pastry that is called "Choux Pastry". It is pronounced "shoo pastry". It sounds fancy and you'd think tricky to make. The good news is that it actually uses few ingredients and is "shoo easy" to make!
Our only caution is that you may find a "new love"! Ha.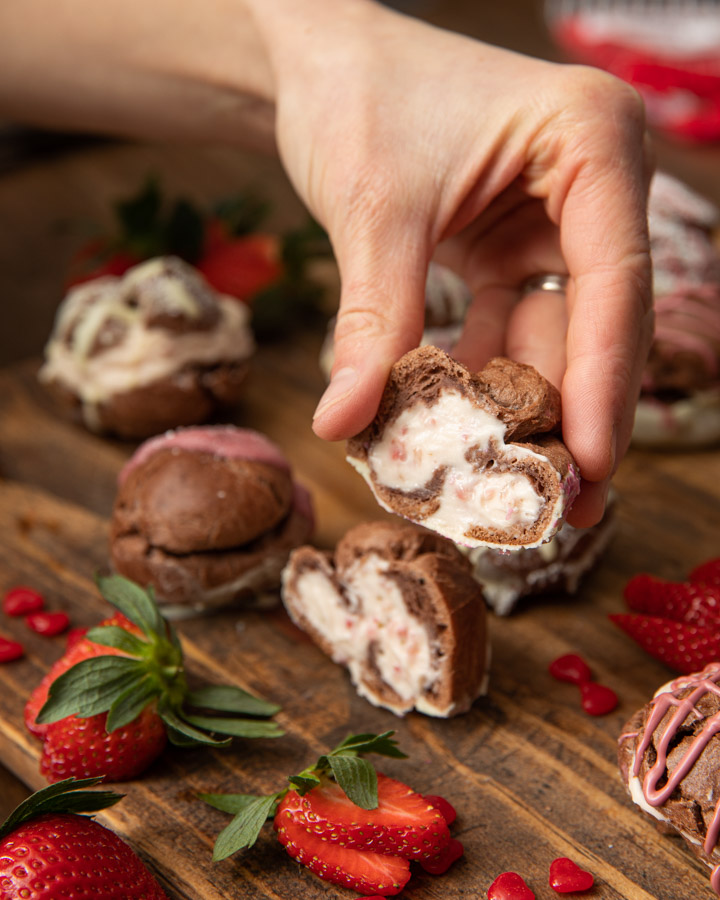 Gather up the ingredients and let's go! You'll never have a store-bought cream puff again…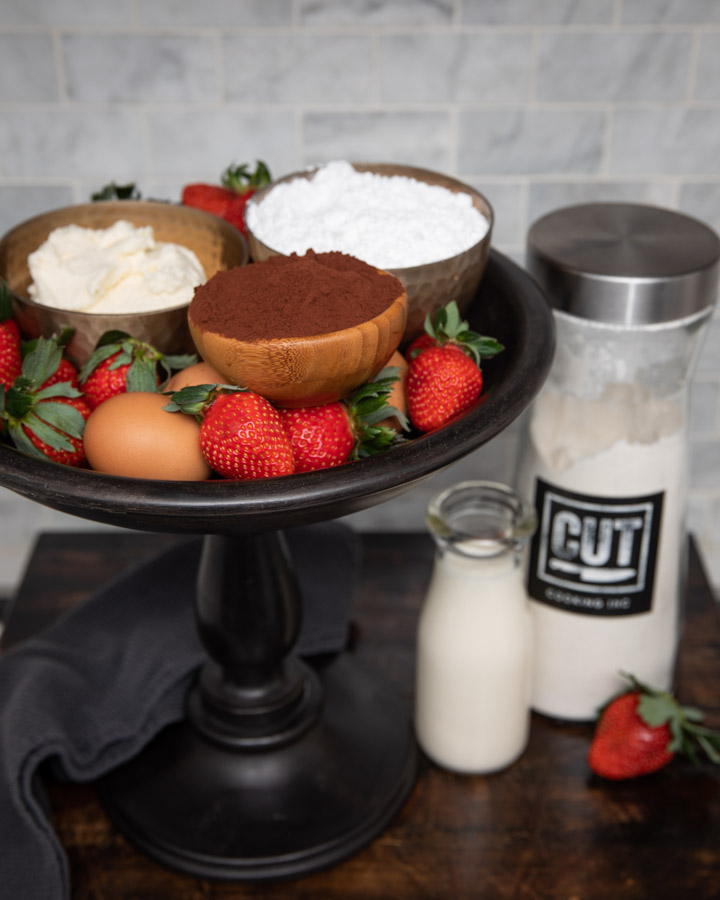 Using a medium sized saucepan, combine first the water and butter and bring to a boil. In the meantime, you'll measure and sift together all the dry ingredients.
As soon as the water and butter is boiling, combine your sifted dry ingredients. Stir well until a smooth ball of dough forms. Then transfer the dough to an electric mixer to add the vanilla and beat in the eggs. You can do this by hand, but your 'Puffs" may not be "puffy". It's hard to incorporate enough air into the dough by hand. We highly suggest using an electric mixer.
Once both of the eggs added and the dough has been beat well, pull out your piping bag. Using a large tip, mound the dough into "puffs" on a baking tray. Use parchment paper so that the pastry doesn't stick or burn on the baking tray.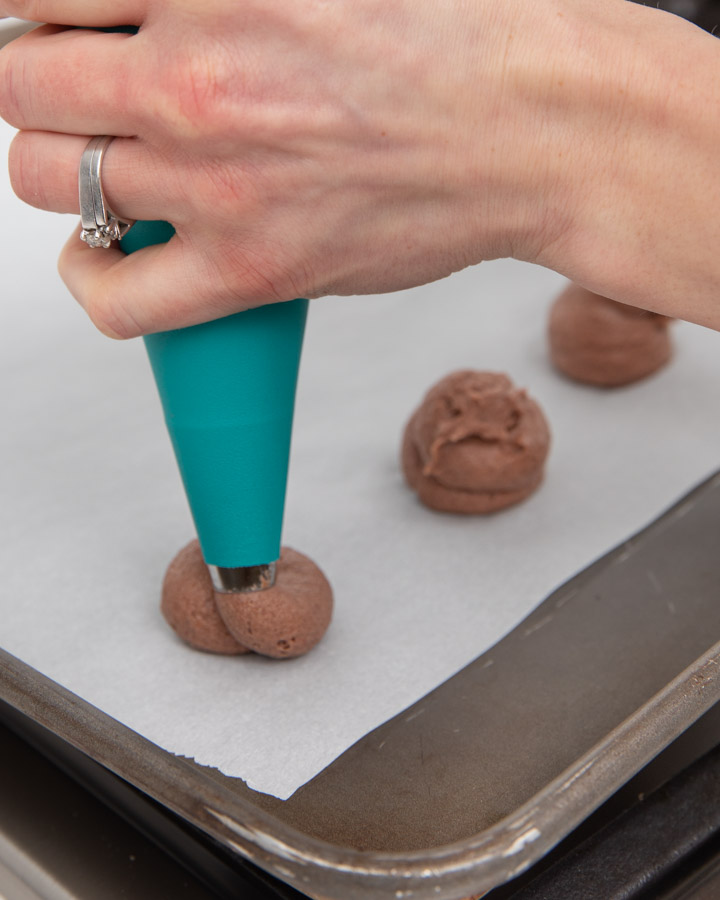 That's it! Into the oven and begin creating the strawberry cream filling. This incredible filling uses fresh strawberries and holds well. Just make sure your Chocolate Puffs are COMPLETELY cooled before adding the filling!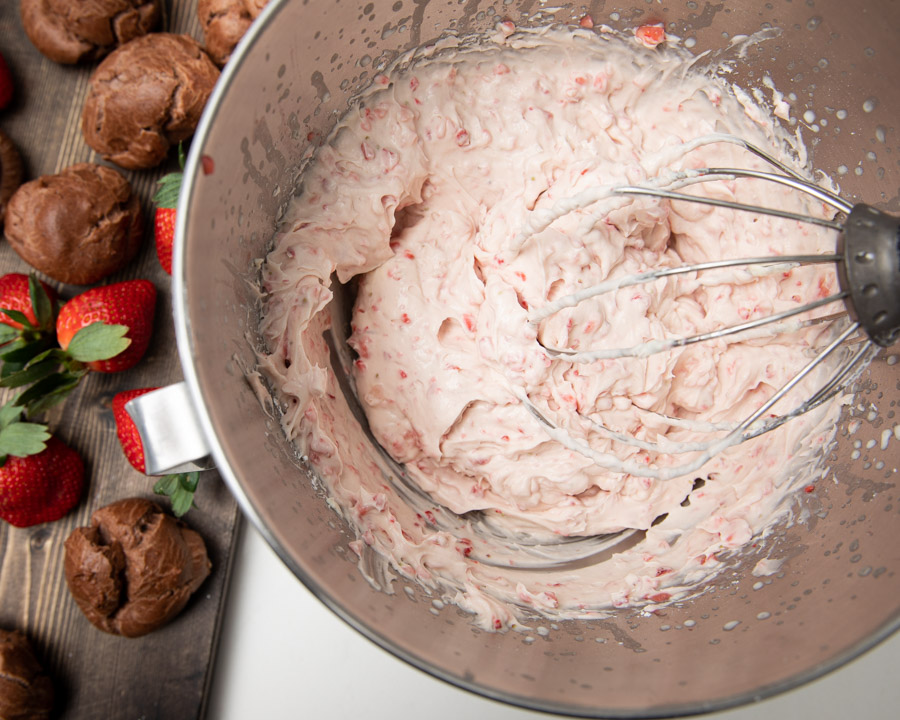 You can either pipe it directly into the middle of your puff, or cut them in half and make a "sandwich".
Done!! That's it. Can you believe you've mastered Choux pastry?! Lol.
If you want to get really fancy, go ahead and either sift a light powdered sugar or drizzle melted chocolate. Or like we did…do it all! Have fun.
Chocolate Cream Puffs
Course: Dessert, Treat
Cuisine: Canadian
Difficulty: Easy
A light chocolate puff made from "choux pastry", filled with a strawberry vanilla cream. The ultimate bite of "love" and "shoo" easy to create.
Ingredients Chocolate Puffs
1 cup warm water

1/2 cup butter

1 cup CUT Flour

1/2 tsp salt

4 eggs

2 tbsp dutch processed cocoa powder

1 tsp vanilla

2 tbsp powdered sugar

Strawberry Filling

2 cups whipping cream


1 box instant vanilla "Jello" pudding (102g)


1 cup fresh strawberries, minced

Optional

powdered sugar for decorating

melted Cococo Chocolatiers Chocolate for drizzling or dipping
Directions
Preheat oven to 400°F.
In medium saucepan on medium/low heat, bring water and butter to a boil.
Sift together CUT Flour, cocoa powder, powdered sugar, and salt.
Add sifted dry ingredients to boiling water/butter, stir with a spatula until a smooth ball of dough forms.
Transfer dough into electric mixer with paddle attachment.
Beat in one egg at a time, mixing well after each addition. Then beat dough on high for 2 minutes.

Use a piping bag and large tip, pipe dough into small "mounds" on baking sheet lined with parchment paper.
Bake for 15 minutes at 400°F, then reduce the oven temperature to 325°F and bake for an additional 15 minutes.
While cream puffs baking, combine Strawberry Filling ingredients into electric mixing bowl and beat until stiff peaks form.
Once cream puffs removed, let FULLY cool.

Begin filling cream puffs with strawberry cream. You can either use a long tip and fill from either the side or bottom of the cream puff; or slice them in half, and dollop the cream between like a sandwich.
Optional – sift powdered sugar or drizzle/dip puffs in Cococo Chocolatiers Chocolate.
Love at first bite…
Stacey and Meg