Did you know that mushrooms are a superfood?! That's right, these little buttons don't just taste amazing but they are loaded with a nutritional vitamin punch. They can help promote a healthy immune system, boost bone health, improve brain growth; mushrooms are rich in antioxidants, they fight aging, they can increase your metabolism….the list goes on and on! We just had to use these little gems and turn them into a common appetizer for your next party.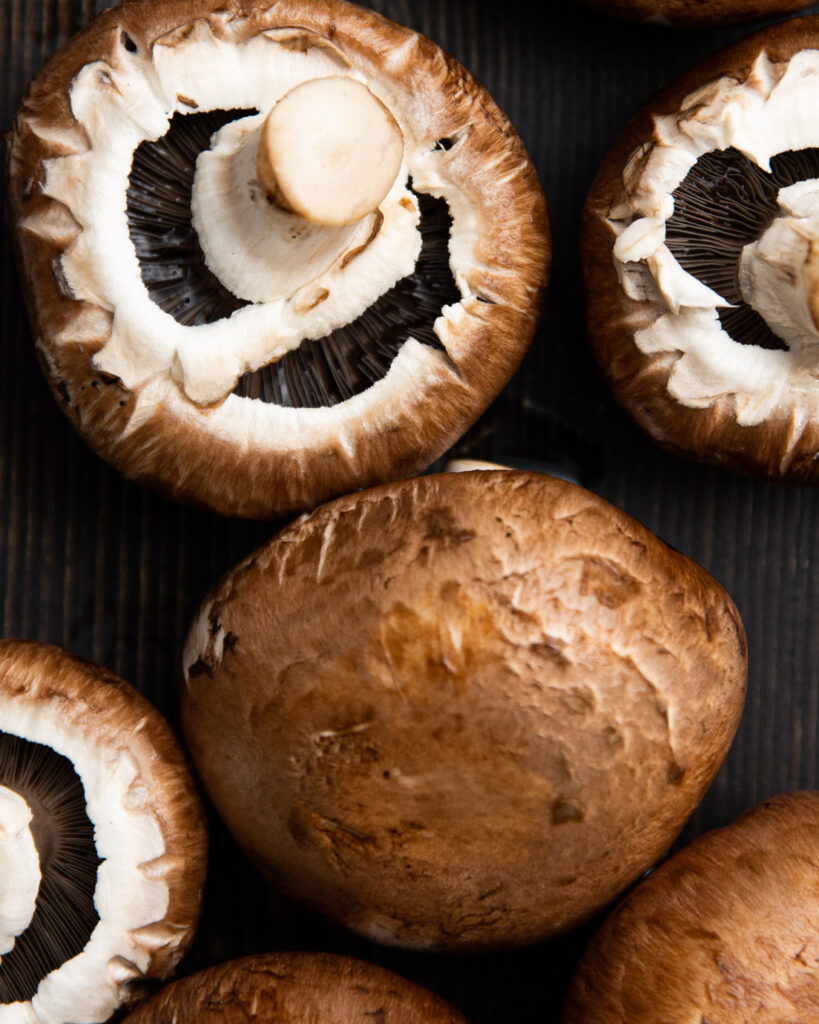 These little mushroom bundles are so tempting, you won't be able to eat only one. We promise this recipe is so easy and always a crowd pleaser. Ha!… Even our kids don't like mushrooms yet these stuffed mushrooms seem to move off the platter quick!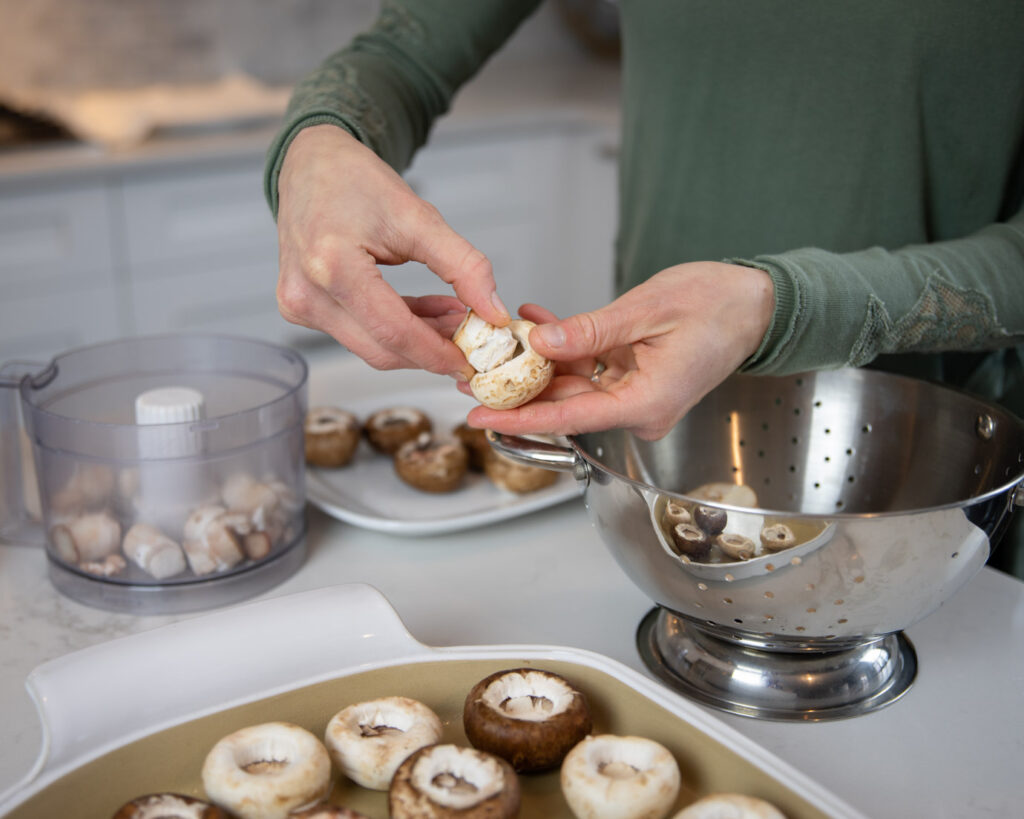 Start first with either washing your mushrooms, or not!?! This is always the debate in our kitchen. Do you wash your mushrooms? There's no judgement on either end from us – promise.
Whether you wipe them, wash them or just pull them from the bag; it doesn't matter. To get started, twist the stems out from each mushroom, leaving only the cap to stuff. Save the stems.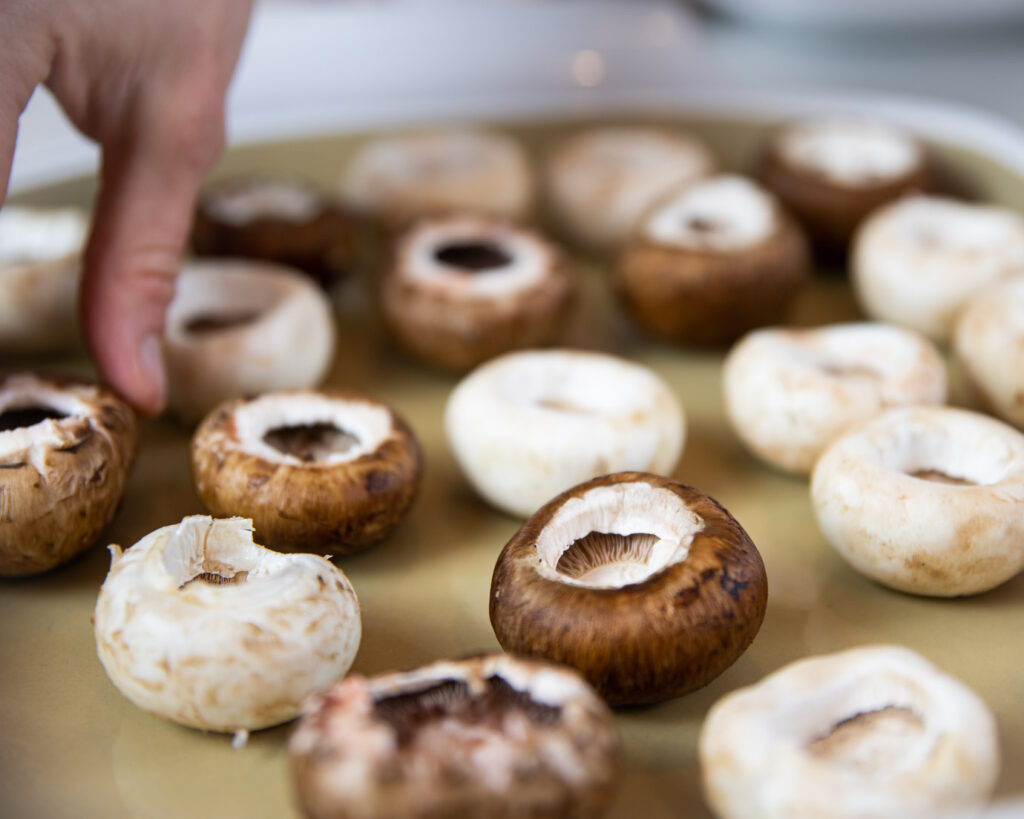 Mushroom caps ready and stems waiting to be mixed, gather together the rest of your ingredients. This recipe is so easy. Literally, toss everything all in your food processor. But don't fear or stress if you don't have a food processor. You can also chop up the mushrooms and cooked bacon. Then into the mixing bowl everything can go.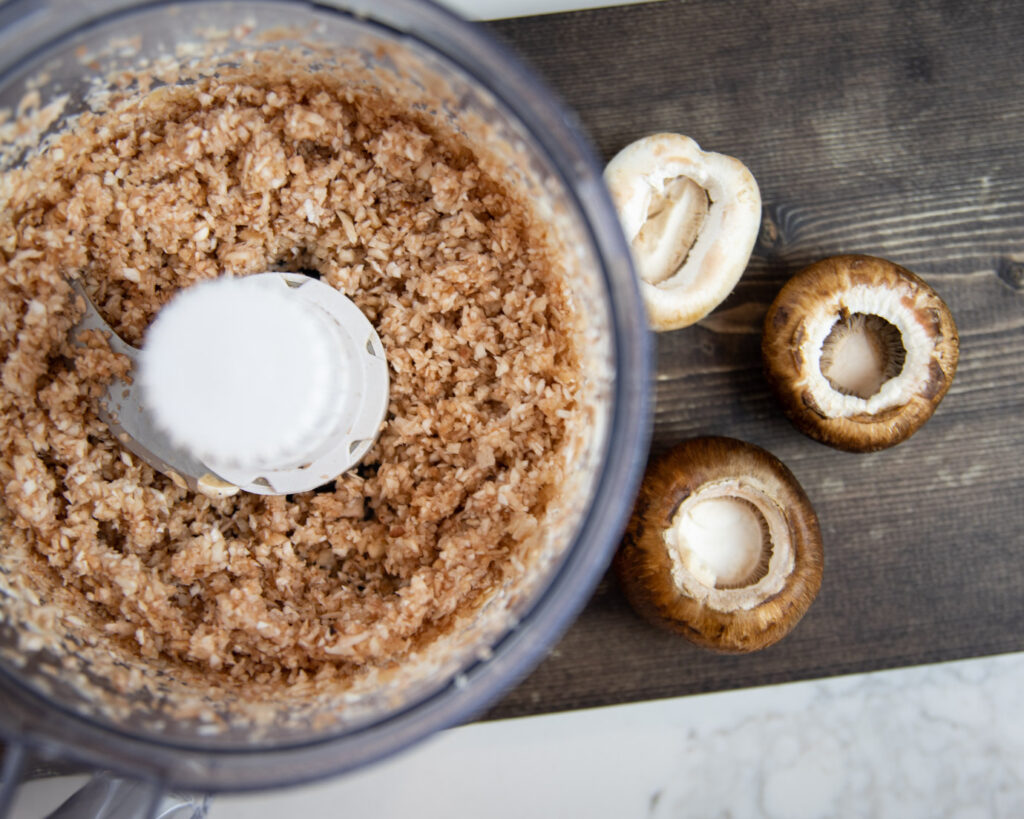 Here we go! While you've been prepping your mushrooms, we like to use this time to bake your bacon in the oven at a high temp. Or you can use the leftover bacon from yesterday's pancake breakfast! If you've never baked your bacon in the oven, you MUST try this!! It's SO EASY and your house doesn't smell like bacon for the rest of day…we love bacon but the smell lingering in your hair can be a bit much… Preheat the oven to 400˚F, lay the bacon on a cookie sheet covered in aluminum foil and into the oven for about 22 minutes. Flip the pieces once during baking. That's it! Just don't completely forget about it cooking away…we might have done this before and we're here to tell you bacon isn't super yummy when it resembles charcoal.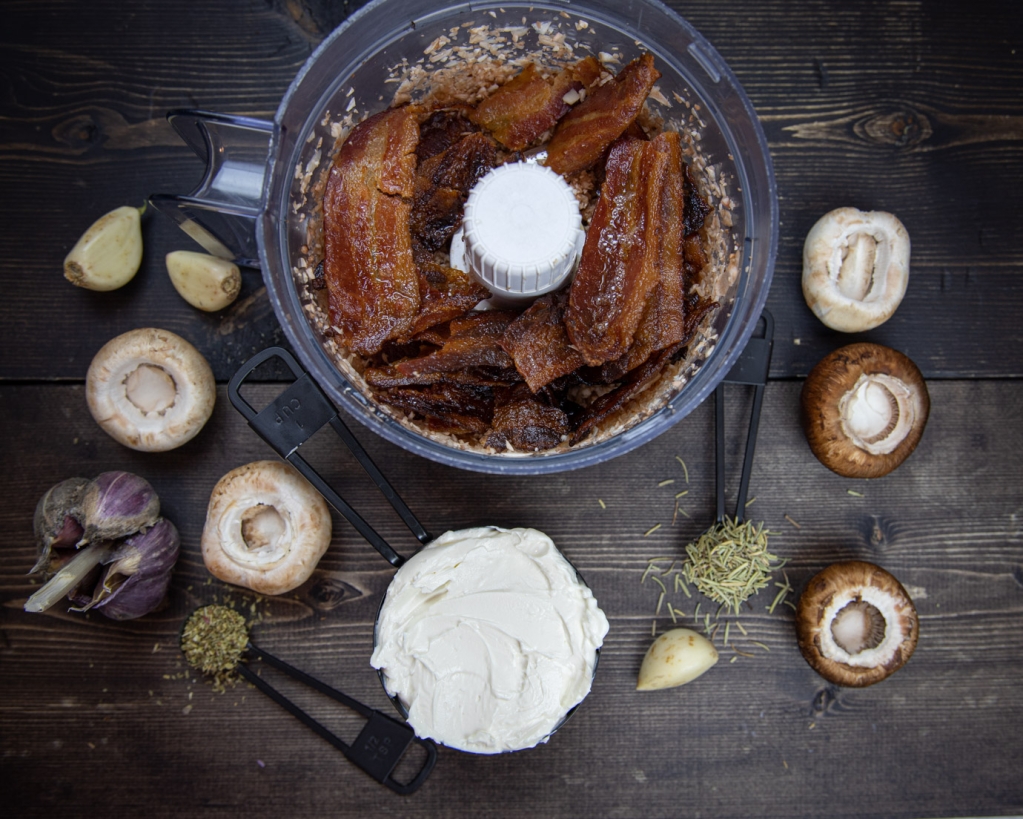 Alright, ingredients gathered, mix it all up. Let's get stuffing this incredible nourishing super food. Go ahead and fill the caps with just a spoon!
Once the mushrooms are all filled, go ahead and sprinkle either with parmesan cheese or nutritional yeast. We know, you might be asking what is nutritional yeast?! It's also a highly nutritious food with many various health benefits including lowering cholesterol and boosting immunity. It's sold in yellow flakes or as a powder and can be found in most grocery stores! Try it! We love it:)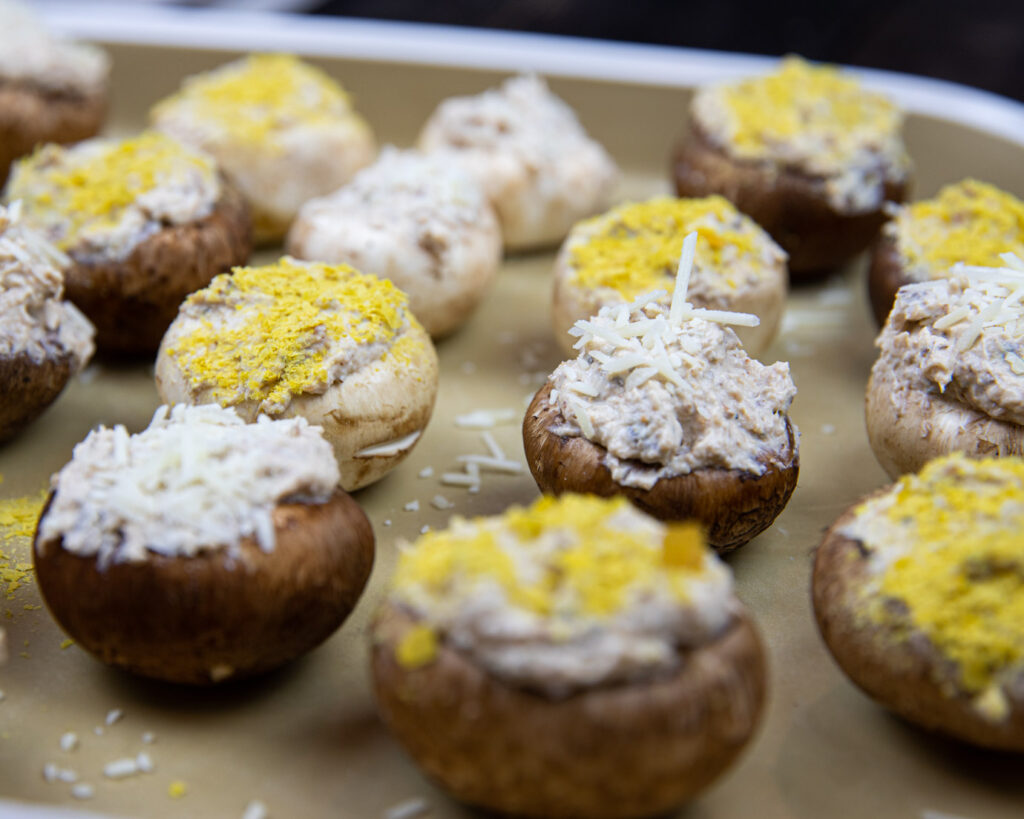 Mushroom Caps
Course: Appetizers
Cuisine: Canadian
Difficulty: Easy
These little mushrooms will become a favourite. They're such an easy appetizer yet serve up gourmet. In fact, our kids don't even like mushrooms!…yet somehow these little bundles always seem to disappear from their plates. Don't miss these little gems at your next party!
Ingredients
24 – 30 white and brown mushrooms

1 cup cream cheese (Whipped is easier to use, the 'block' works too)

8 strips of gluten-free bacon, cooked

2 – 3 garlic cloves, minced

1 tsp dried rosemary

1/2 tsp dried oregano
Directions
Preheat oven to 425˚F.
Remove stems from mushrooms and pulse them in the food processor.
Combine pulsed stems, cream cheese, bacon, garlic, rosemary, oregano and salt and pepper. Mix well.
Fill mushroom caps with cream cheese mixture, slightly overfilling.
Sprinkle with parmesan cheese or nutritional yeast.
Bake for 20 min.
Try and only eat one….Stacey and Meg
That's it! Load up with this super food appetizer. They're delicious and definitely pack a healthier punch.