Alright truth be known, Stacey might have a slight obsession with jalapeños…or anything spicy for that matter! Meg on the other hand…well let's just say she doesn't dare have a bite of a jalapeño unless a tall glass of milk is nearby or a loaf of bread to ward off any linger of picante. The jalapeño? This was going to be a day to remember in the CUT kitchen.
With only a little persuasion, Meg agreed. We would cook with these gorgeous little spicy peppers. After all, look how beautiful they were in a picture!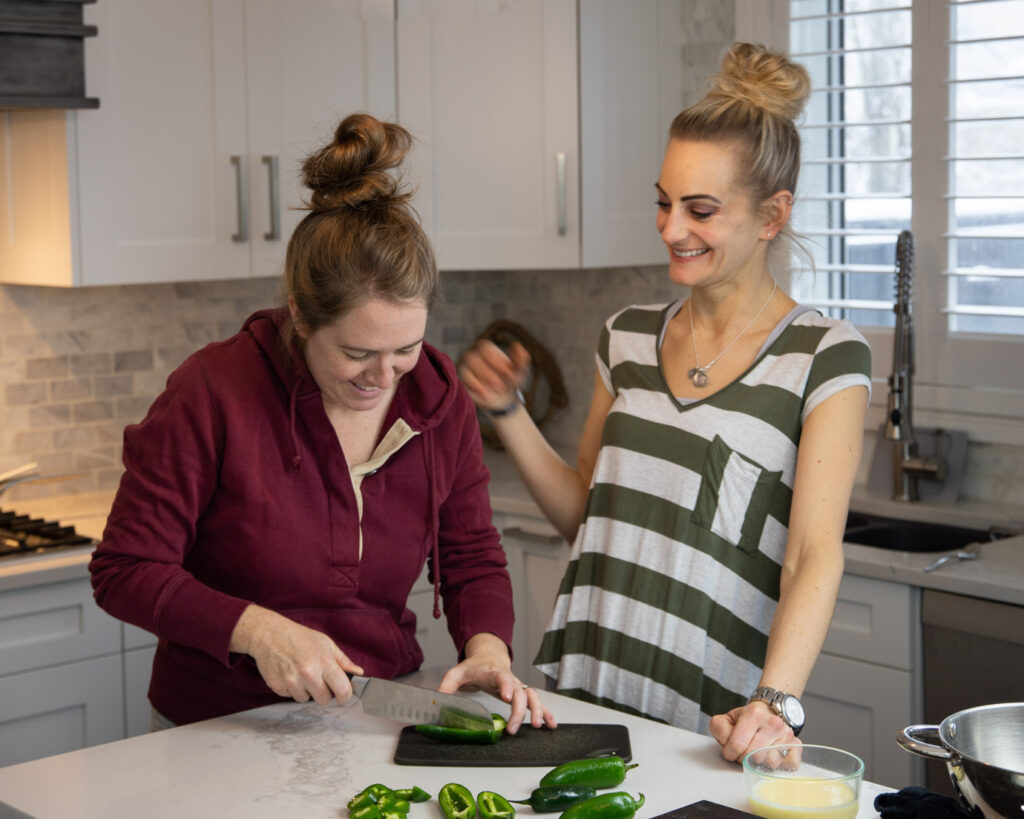 Washing these gems, we got to work, cutting them in half and hollowing out the meat and seeds from the peppers. We were on our way! Now as a hint, if you're going to be making a LOT of these, we would highly recommend wearing plastic (latex) gloves. No joke, after cutting, hauling the seeds and cleaning peppers out, you may notice your hands might be sensitive from the spice. For the 12 peppers, we weren't too bad. But there was 2 of us also working!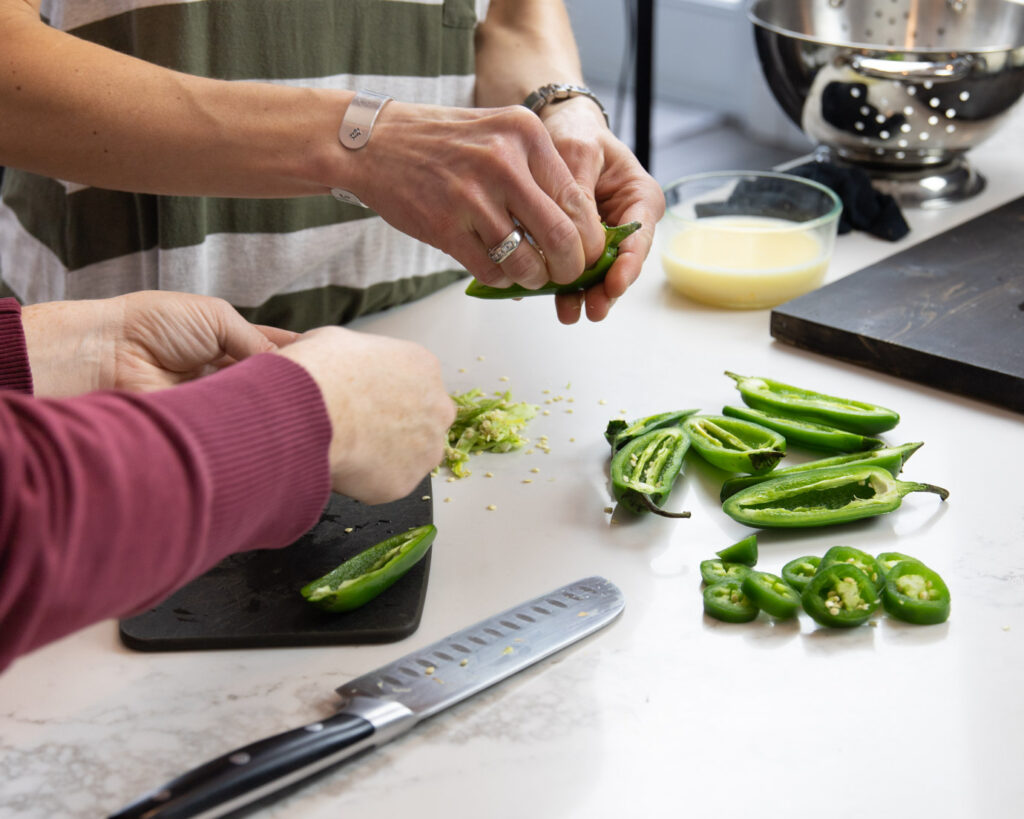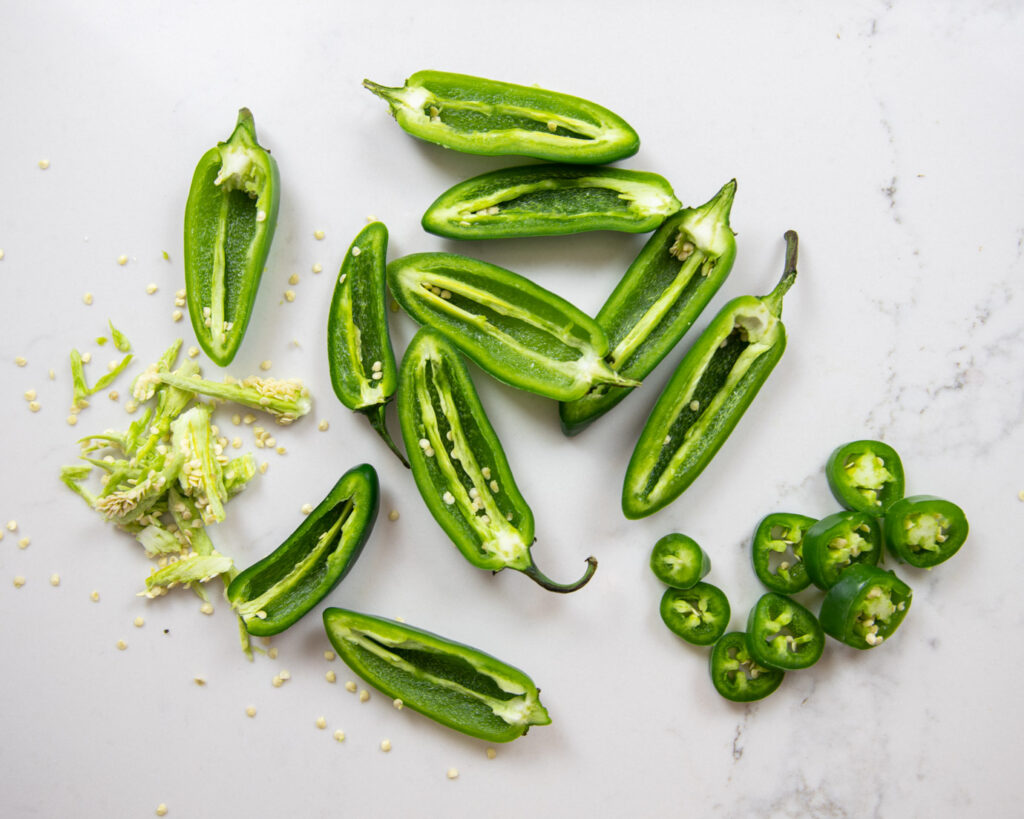 See? These peppers are absolutely gorgeous…Meg was going to be ok!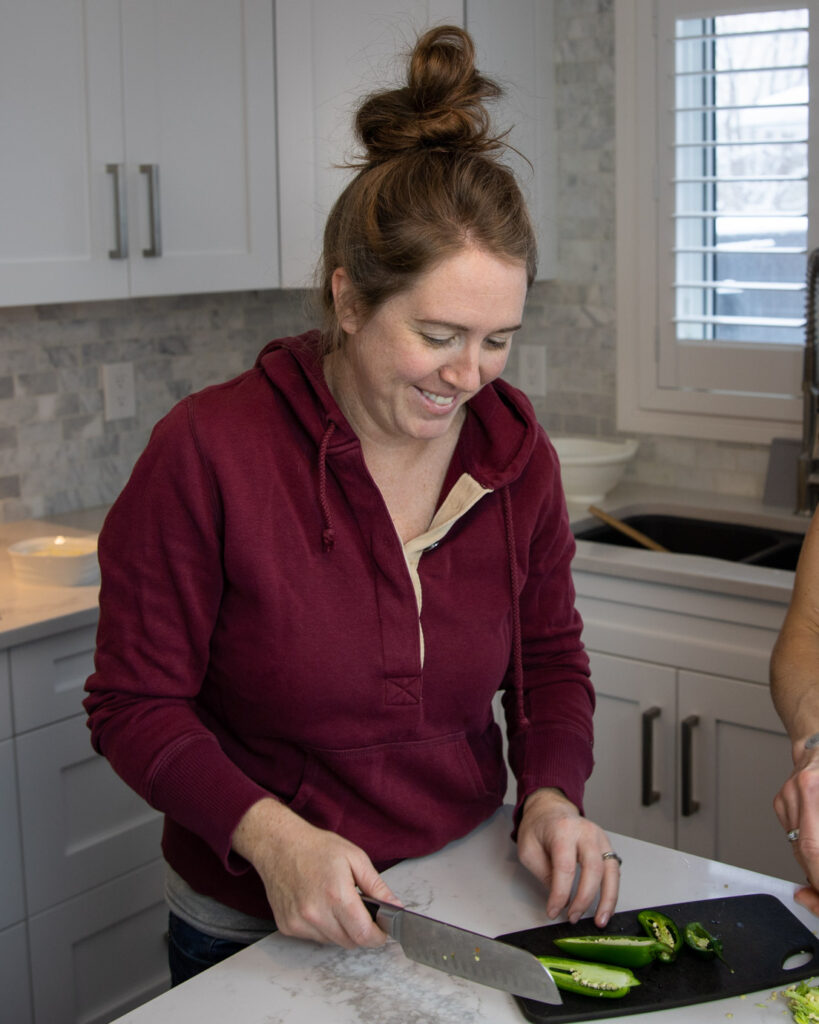 Alright, once your peppers are all cleaned and hollowed, it's time to fill them with the cream cheese. We chose cream cheese because after trialing a few different cheeses, we still came back to the old faithful. However, we encourage you to take control in your kitchens! Try a different cheese if you dare 🙂 Fill those spicy jalapeños up and get ready to dredge!
The dredging isn't hard and it makes these jalapeños spectacular. Egg mixture, CUT flour, egg mixture, and then bread crumbs! That's it. Don't forget if you're needing to make this recipe gluten-free, you're using a gluten-free bread crumb as well as our gluten-free flour mixture.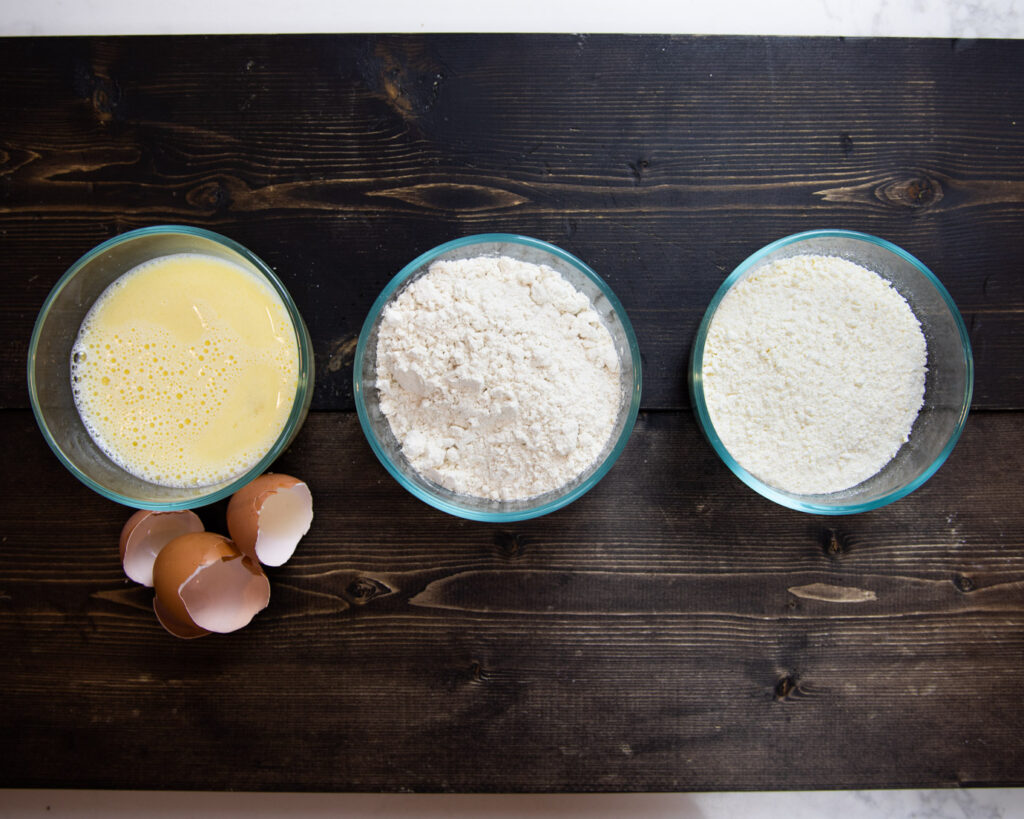 We like to use grape seed oil for heating because it can withstand higher temperatures and be a healthier choice vs. olive oil or other oil options for frying… So pour some grape seed oil, heat it up and get ready to seal in that cheese. The frying process doesn't take long as we don't use it to fully cook the jalapeños. Only pan fry 2-3 minutes; just long enough to make sure things are golden. Then, jalapeños into the oven.
This is where Stacey's mouth is watering, waiting for the spicy popper to finish baking. Meg, is pouring a glass of milk but she's game! This recipe has proven to be so incredible, it's worth every gamble of spice.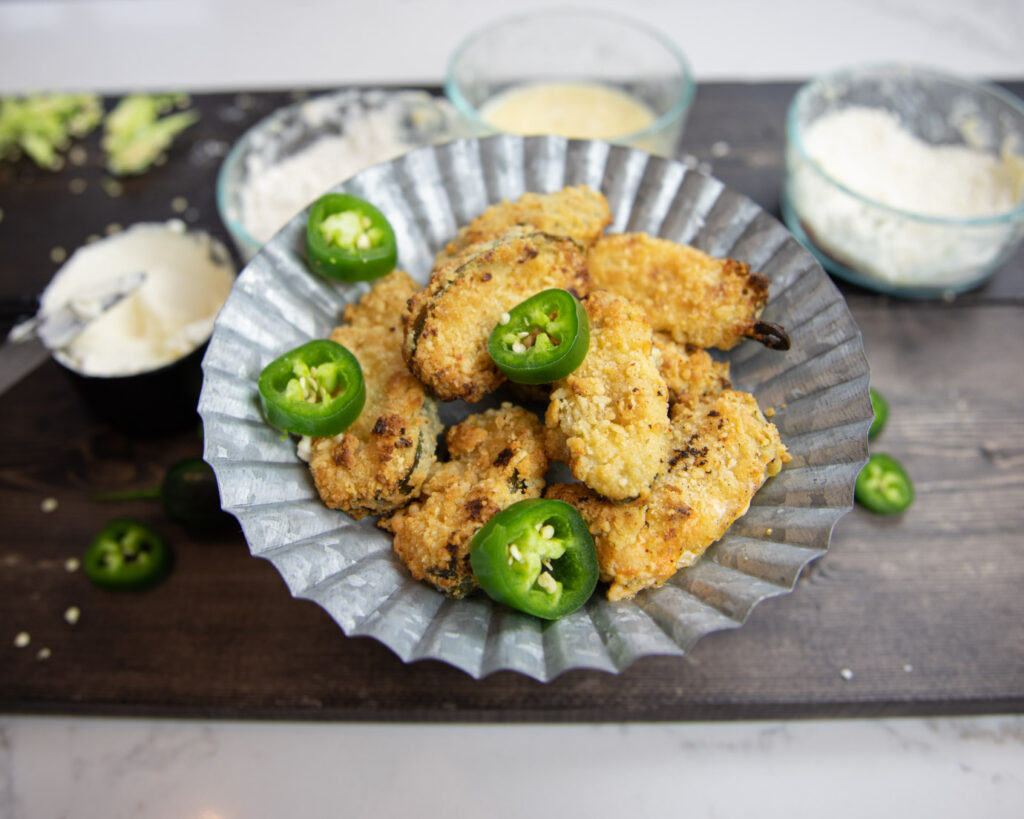 After these spicy peppers bake, they do loose some of their potency. Don't get us wrong, they're still spicy but even Meg will reach for one of these delicious bundles of pepper!
Jalapeño Poppers
Course: Appetizers
Cuisine: Mexican
Difficulty: Moderate
We think jalapeño's might be an obsession of ours…. well one of us anyways! We absolutely had to share with you this incredibly fresh tasting Mexican favourite. It's traditional cream cheese stuffing is enveloped in gluten-free bread crumbs and CUT flour. It's the perfect mix of spice. Even the mild one of us enjoys these! Definitely a crowd pleasure during the holidays or watching the game. Never again will you buy them boxed in the frozen section.
Ingredients
12 jalapeño's

1 cup cream cheese

2 eggs

1/4 cup milk

1 1/2 cup CUT flour

2 cups gluten-free bread crumbs

2 cups grape seed oil for frying . ( Enough to cover your frying pan 1/4″)
Directions
Wash and cut jalapeño's in half lengthwise.
Hollow out meat and seeds of peppers.
Preheat oven to 425˚F.
Fill each half of jalapeño with cream cheese. Don't over fill.
Combine eggs and milk using whisk. Ensure well mixed.
Dip filled jalapeño into egg/milk mixture then roll into CUT flour.
Dip filled and floured jalapeño again into egg/milk mixture and roll into gluten-free bread crumbs.
When you've prepared all the jalapeño's, heat grape seed oil in medium frying pan.
Once oil is heated, add jalapeño's and fry each side until golden. Approx 2-3 minutes per side.
Transfer to baking sheet and bake 20 minutes or until crumbs are all golden and cheese slightly bubbling but not spilling out of peppers.
From experience, maybe pour a glass of milk on hand nearby… Yes? Meg?….LOL, Stacey and Meg
Stacey pulled Meg to the spicy side with this one! We're sure these jalapeños will win your guests too!
Enjoy.