What happened!?! Last week we were commenting on how lovely the leaves were turning colors on the trees, light hoodies were enough to walk the dog, and today? It's a full on blizzard outside. Temperatures in Calgary are reaching record lows for this time of year. Winter has somehow snuck in the back door and doesn't seem like it's leaving any time soon.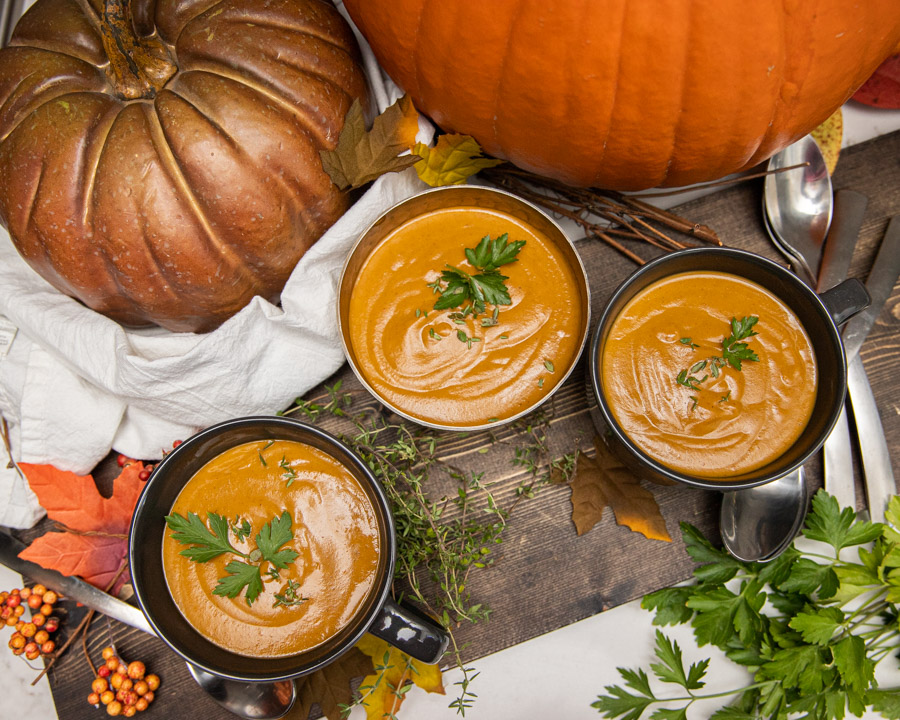 We like to fuel our families with what's happening outside and so today is definitely a 'soup type of day'. Pull on the extra cozy socks, sweatpants for the evening and find your stock pot. This pumpkin soup will fuel your soul and warm you from the inside out.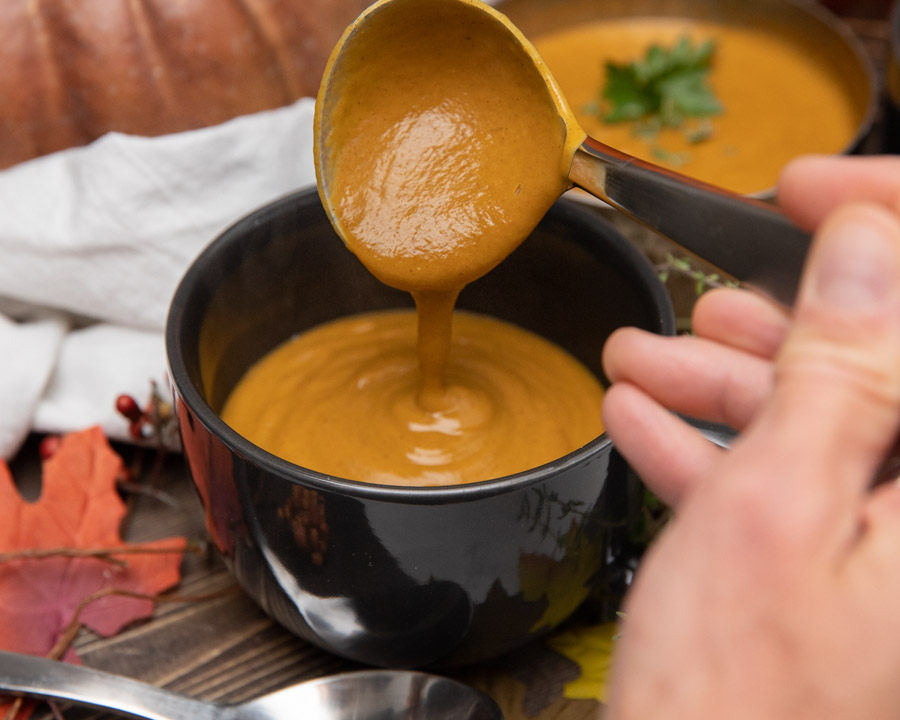 The taste of fall can still be in our kitchens although it feels like the middle of winter!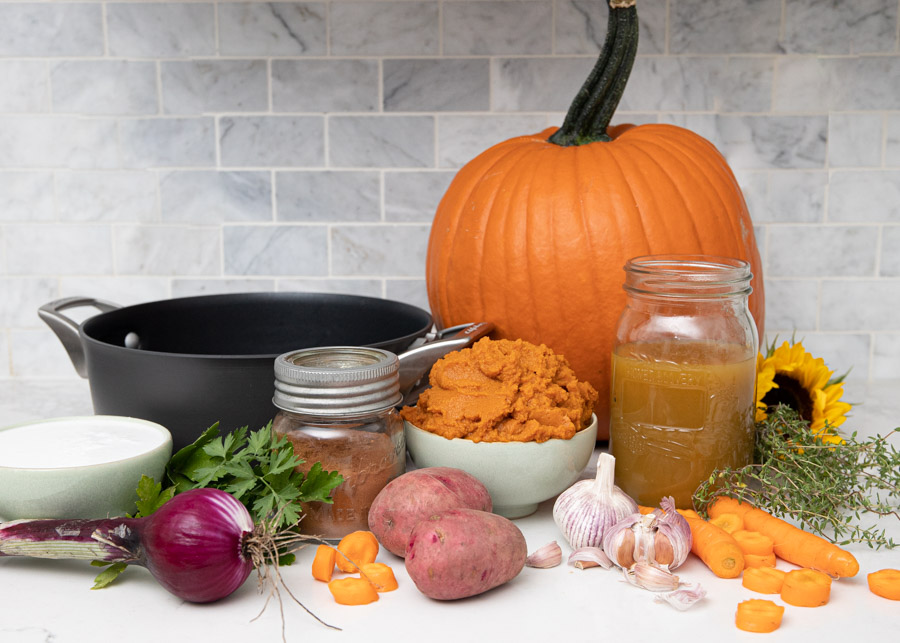 This soup is quick and easy to make. It uses accessible ingredients you probably already have in your fridge and pantry. Within about 45 minutes, you'll have one of the most delicious soups. Your family will be asking for seconds!
Chop the veggies, and begin to sauté them with oil in a pan. They'll need to sauté about 10 minutes until the onion becomes translucent. Use this cook time to prep your potatoes and set the table. Dinner isn't too far out!
Did we mention that this soup also freezes well? Maybe even double the recipe and then pack for tomorrow's lunch or dinner next week.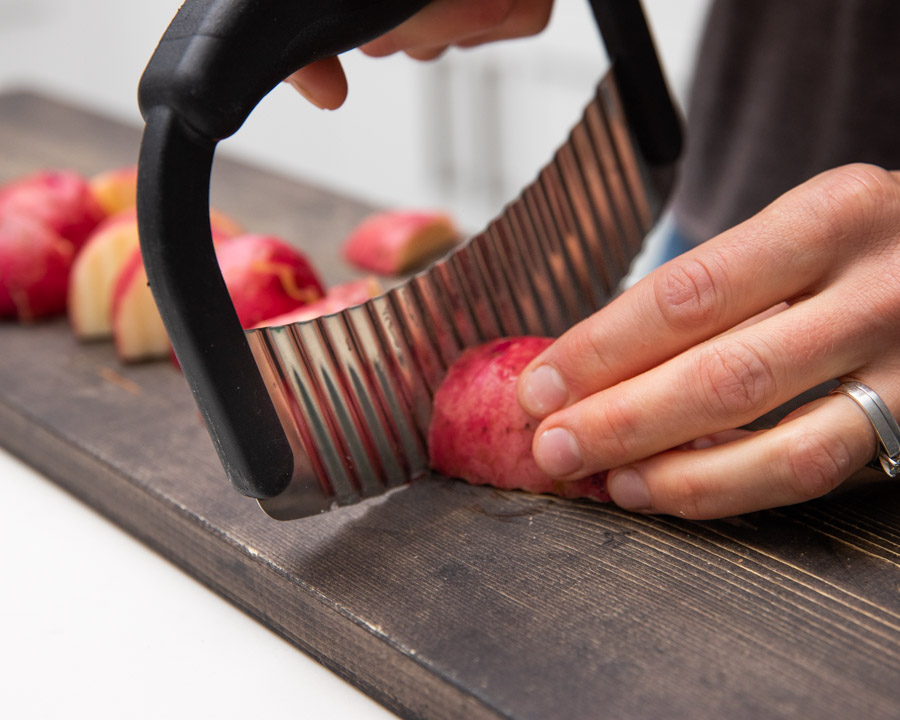 Both our families love pumpkin! Lol, the kids probably wouldn't agree. Although it's funny how the pumpkin soup, the pumpkin loaf, the pumpkin cheesecake all magically disappears. Our kids love pumpkin.
Back to our soup- Once the garlic, carrot, and onions have sautéed, add our CUT Fall spice mix (https://cutcooking.com/cut-fall-spice-blend/) and a bit of salt. You'll stir this together for a couple minutes before adding all the rest of the ingredients. Cover and simmer then for 20 minutes. The count down is on. Soup is almost ready:)
Once everything has simmered, run it through your blender. This makes everything more rich, creamy and smooth. Ha! Maybe that's also why the kids have no idea how loaded this soup is with veggies!
Blend away and stir in some cream…This soup is the key to staying warm and cozy through fall. Or winter.
Pumpkin Soup
Course: Soup, Vegetarian
Cuisine: Canadian
Difficulty: Easy
This rich and creamy pumpkin soup will warm you from the inside out with it's fall spices. It's quick and simple, freezes and packs amazing for lunch. Oh pumpkin how we love you.
Ingredients
3 tbsp olive oil

4 cloves garlic, minced

1 medium onion, chopped

1 cup carrot, chopped

2 tbsp CUT Fall Spice (https://cutcooking.com/cut-fall-spice-blend/)

1 1/2 tsp salt

1 can (796ml) pumpkin purée (approximately 3 cups)

6 cups gluten free vegetable broth

1 cup potatoe, chopped

2 tsp fresh thyme

2 cups heavy cream
Directions
In stock pot or large saucepan, sauté garlic, onion and carrots in olive oil on medium heat.
Let cook for approximately 10 minutes or until onions are "translucent".
Add CUT Fall spice and salt. Stir while cooking for additional 2 minutes.
Add all the rest of the ingredients and simmer on low heat for 20 minutes.
Purée soup through a blender of food processor.
Return soup to stock/saucepan and add cream.
Stir to combine and simmer for another 5 minutes.
Pull on your cozy socks and ladle into bowls. The essence of fall is still all around us …even though we're knee deep in snow!
Stacey and Meg