Who doesn't love quinoa? It's such a healthy option of protein and also contains a fair amount of fiber. The perfect choice for packing a picnic to the park, beach or mountains. Prepare this salad ahead of time and be ready for any summer adventure!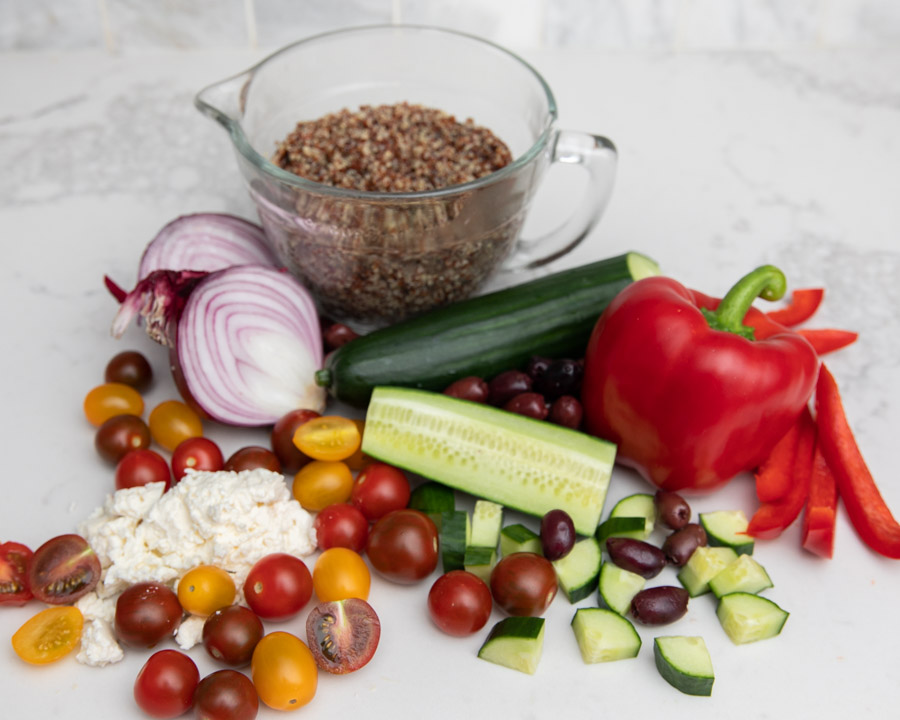 We love the idea of combining roasted vegetables with fresh. This allows you to also enjoy either a warm or cold salad. Either way tastes delicious and we promise you won't regret however it's served. Ha! With Calgary's crazy weather and how it can change instantly within minutes, the option to have either a warm or cold meal is always welcome.
Make your quinoa and preheat the oven to 425°F. While the oven is warming, prep the roasted vegetables into bite sized pieces. We used red peppers but feel free to use any color you may have in the fridge. The summer brings such an incredible assortment of peppers. If you're lucky enough to score a white or purple one, roast them too!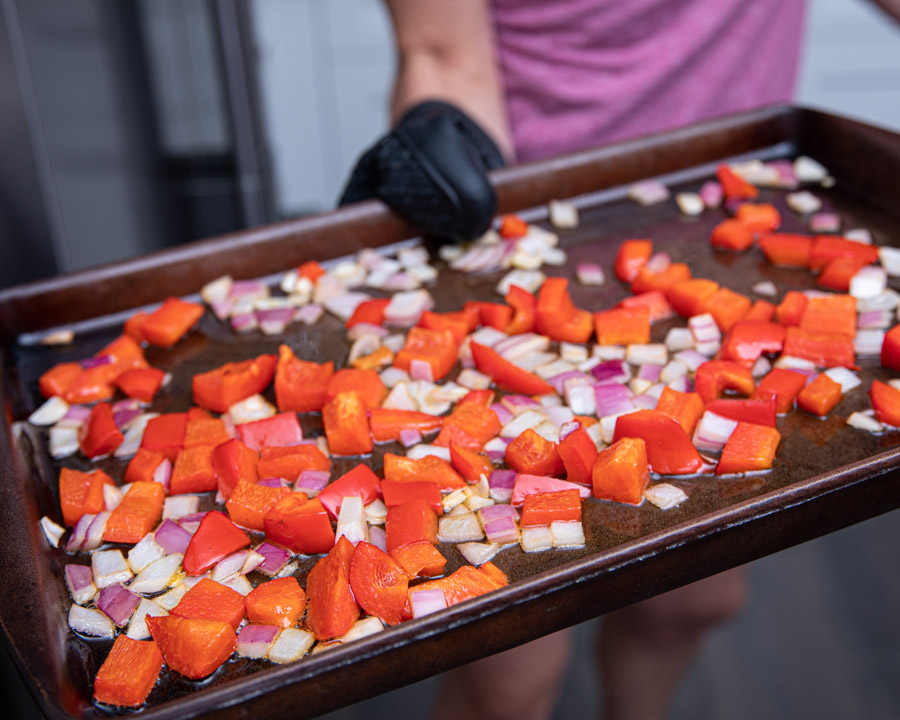 Once your vegetables are heading into the oven to roast, it's time to chop the fresh cool veggies.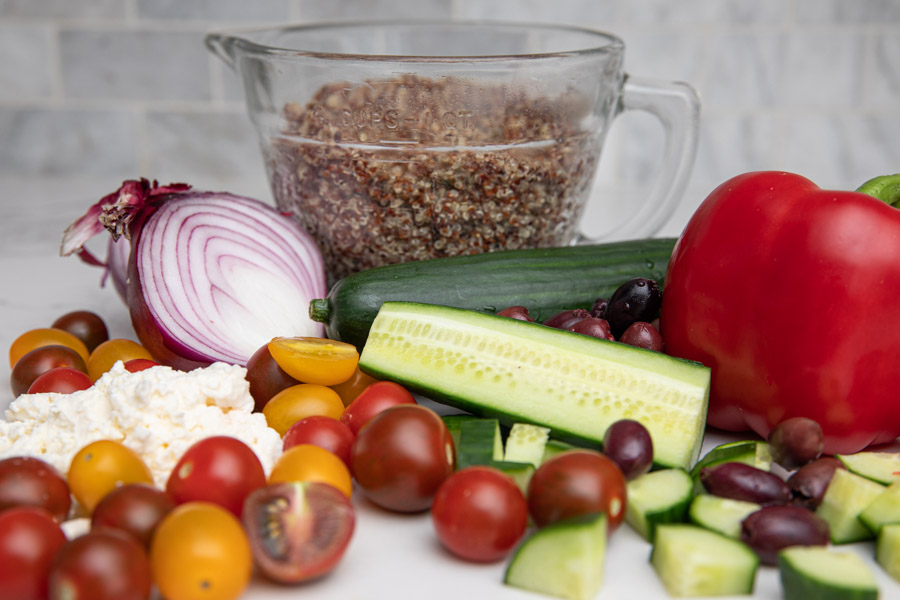 For a dressing, you'll use our Lime Vinaigrette https://cutcooking.com/lime-vinaigrette/. This cool and refreshing vinaigrette is the perfect dressing for this summer quinoa salad. It will compliment whether you're serving warm or cold and will have everyone in your family asking for seconds.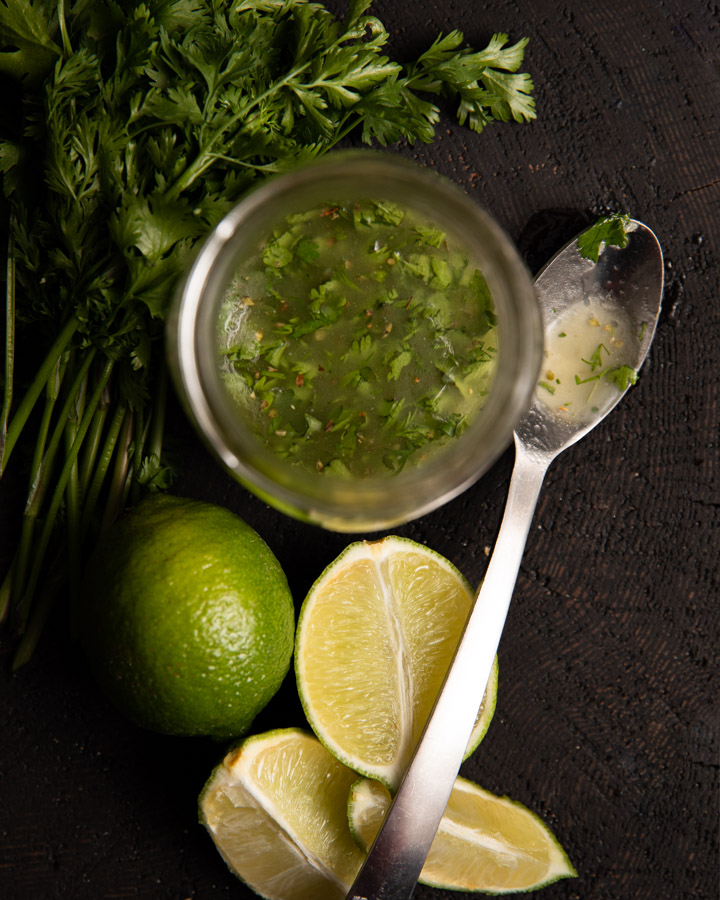 Such an easy option for mealtime – once everything is prepped, simply just combine. Lunch or dinner is ready!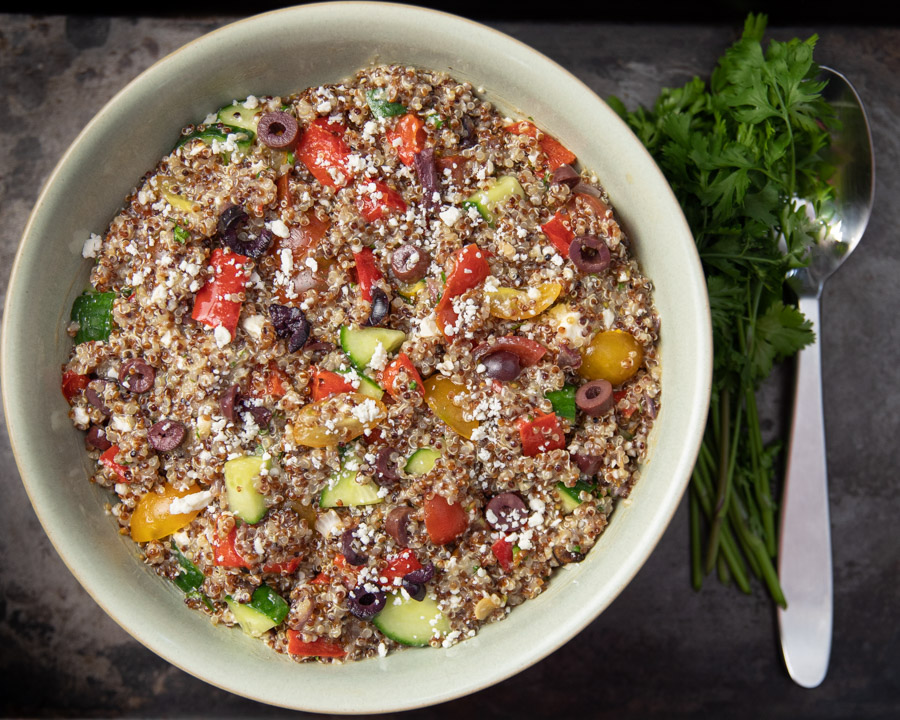 Quinoa Salad
Course: Vegetarian
Cuisine: Canadian
Difficulty: Easy
This quinoa salad is a full meal on it's own! Combining both roasted and fresh vegetables, it can be served either warm or cold. Everyone will be asking for seconds…even the kids.
Ingredients
3 cups quinoa, cooked

1/2 cups feta cheese, crumbled

1/4 cup kalamata olives, sliced

1 cup cucumber, diced

1 cup tomatoe, diced

1 cup red pepper, diced

1/2 cup red onion, diced

olive oil for roasting peppers and onion

Dressing

Use CUT's Lime Vinaigrette https://cutcooking.com/lime-vinaigrette/
Directions
Prepare quinoa to manufacturer's instructions. Set 3 cups cooked aside in larger sized bowl.

Preheat oven to 425°F. Chop peppers and onions and sprinkle with olive oil for roasting.
Roast vegetables for 15 minutes, stirring them half way through.
Prepare Lime Vinaigrette dressing. https://cutcooking.com/lime-vinaigrette/
Slice and dice other vegetables, olives and feta cheese. Combine with cooked quinoa.
Add roasted vegetables and pour salad dressing over all ingredients.
Stir everything well to ensure salad fully mixed.
Enjoy every bite. If there are any leftovers, this salad stores well in the fridge.
Pack along for your next summer adventure,
Stacey and Meg
Savour every last bite!