When the neighbour gives you rhubarb…make crumble! July in Calgary brings fresh B.C cherries to the local farmers markets and grocery stores. Both our families can't wait for these gems to arrive. Our provincial neighbours in B.C grow some of the best cherries in the world! This recipe is so good, you'll want to search out both cherries and rhubarb for this one. Seriously, this combo is incredible!! The flavours exude summer.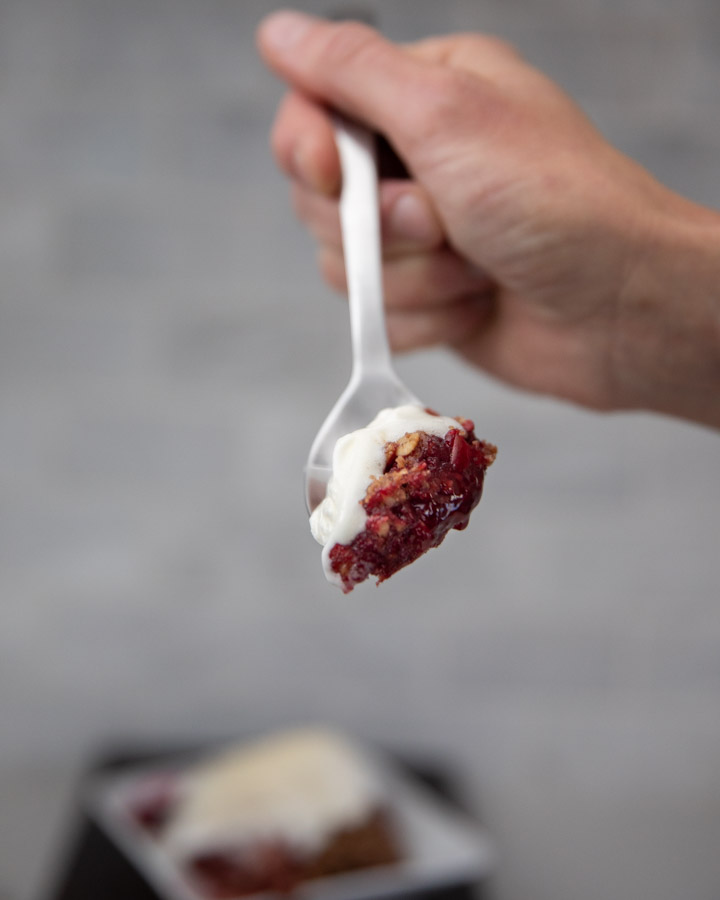 Now before we continue, a skill testing question! Is rhubarb a fruit or vegetable? Think carefully about this one…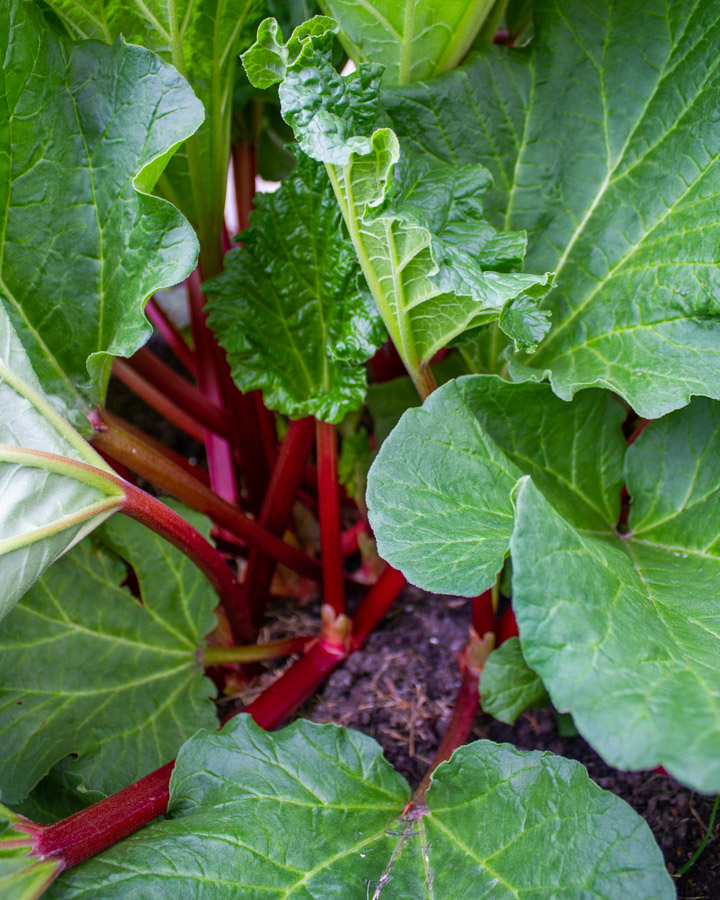 It is a vegetable! Although we often cook and combine it with sweeteners, treating it as a fruit, it is a vegetable. This vegetable is considered to be one of the most hardy plants growing in gardens all through Canada. If you've never tasted rhubarb before, you'll have to source some out one day and have a bite. Careful though, the leaves are actually poisonous and it's only the stalks you'll want to eat.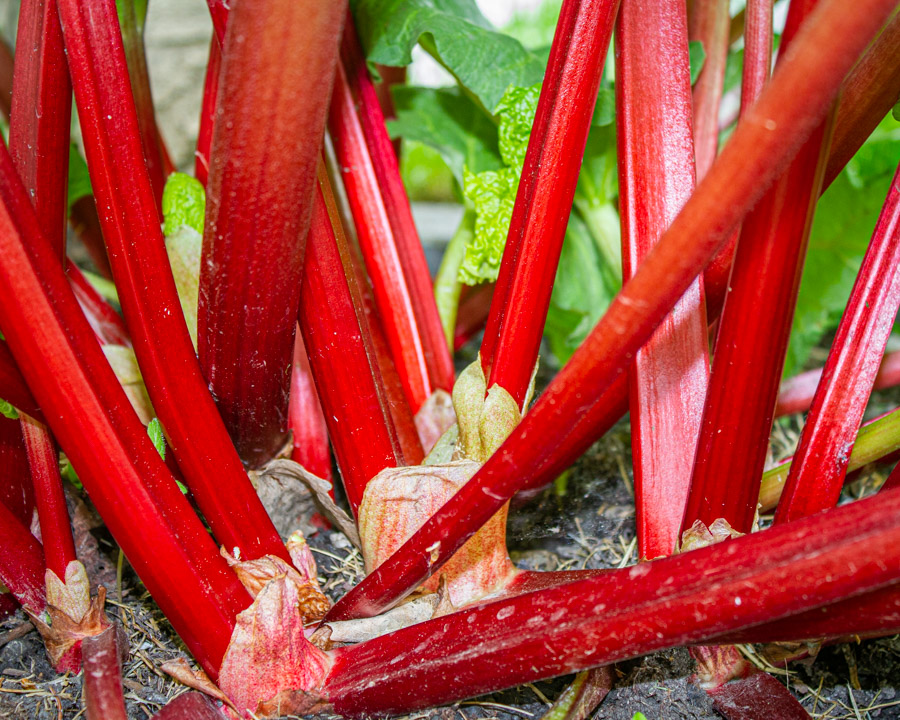 With its crisp bitter stalks, its the perfect compliment to our Canadian sweet B.C. cherries. The crumble oat topping and brown sugar added to this recipe is the perfect summer dessert.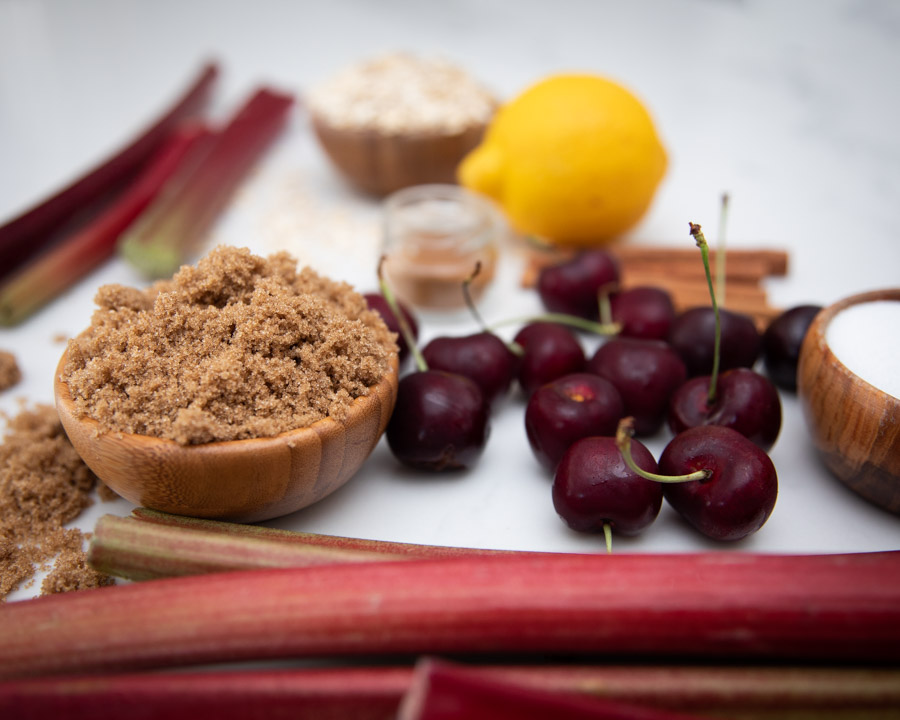 Before we can move forward with our recipe, we have to show you one of the coolest gadgets for your kitchen. Lol, did you know they make cherry 'pitters'? Yep! This blew Meg away when Stacey revealed her cherry 'weapon'. In fact, if you want to get really fancy, you can find cherry pitter's that pit numerous cherries at once!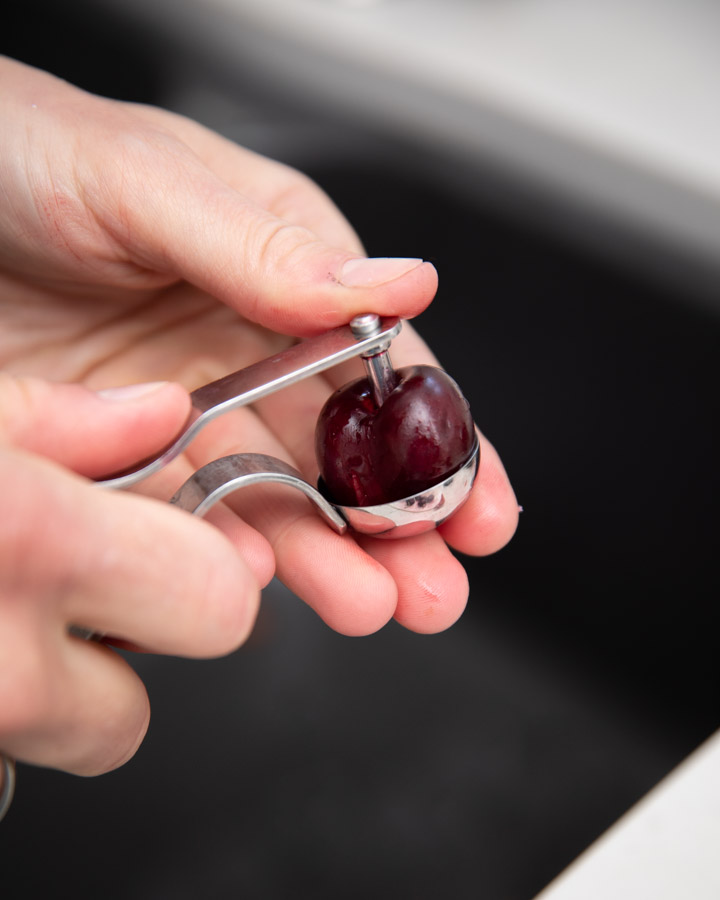 For the amount of cherries needed within this recipe, if you have a single hand one shown above, life will just be a little easier. Truly, you can cut and pit the amount of cherries needed with no problem using simply a knife. Or better yet, use frozen cherries! Don't stress it. Pit them, cut them. Let's make crumble.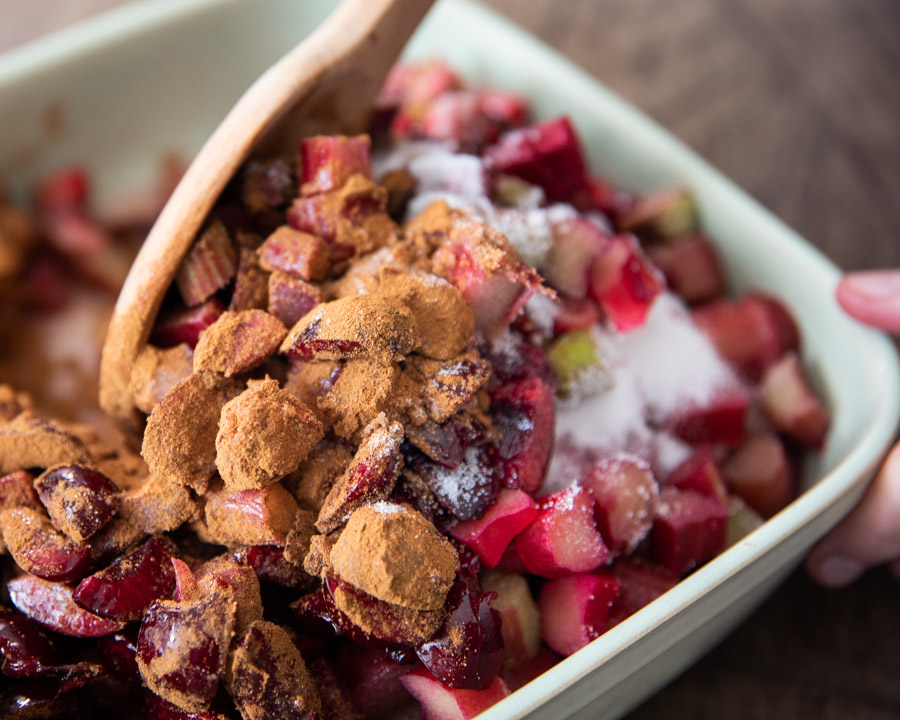 Once your cherries and rhubarb are all diced small, you'll stir in the sugar, cinnamon and lemon juice. Then it's a matter of really just making the crumble topping. It's like the icing on a cake!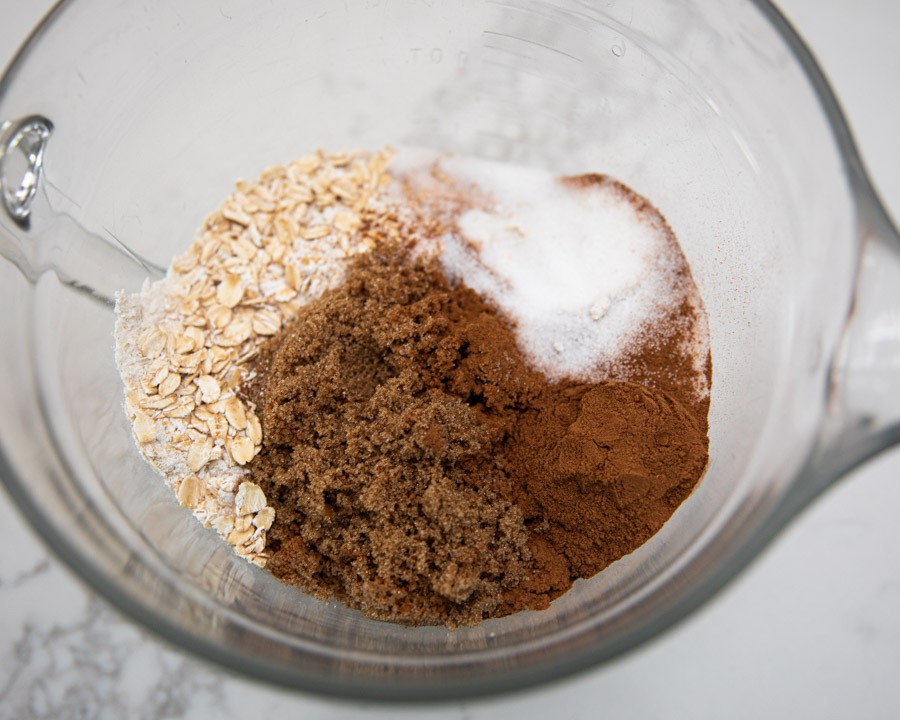 You can use quick oats in this recipe. However, the texture of large rolled oats is so much yummier! Did you know that oats are a grain that does not contain gluten? However, be sure to read your packages carefully. Even organic oats "may contain wheat" or be processed with wheat or another grain such as barley or rye. If you are suffering with celiac disease, you must stay completely away from any "may contain" products. There are gluten free oats within your local grocery. Just read the labels!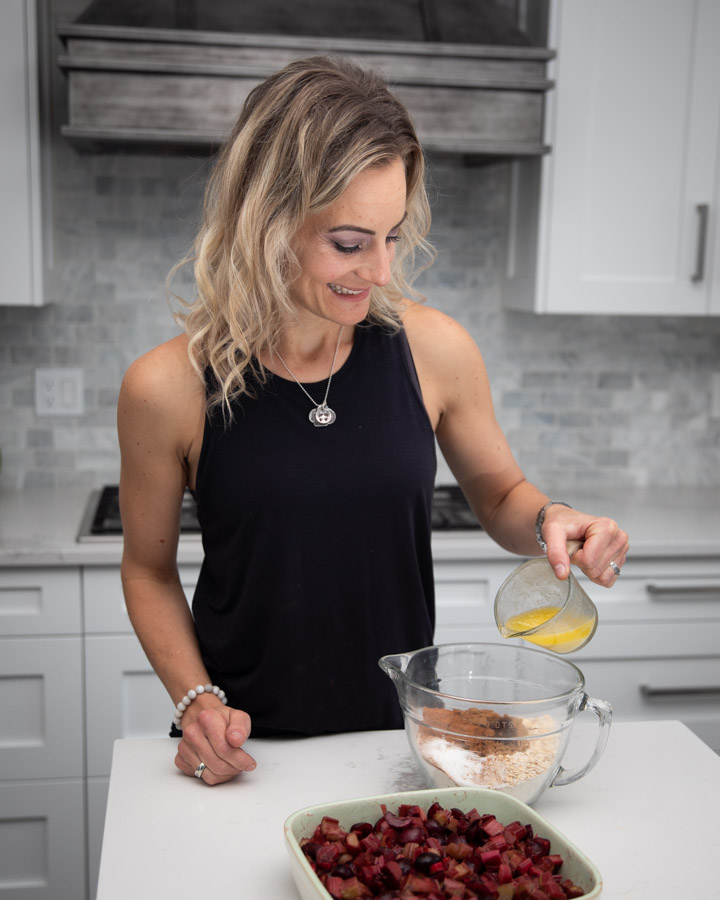 Back to our recipe, go ahead and pour the melted butter into the dry ingredients and then stir well. It will look like a crunchy oatmeal consistency. Spread it over your compote mix and into the oven. It's that easy!
Call the neighbours, invite a friend, reconnect on the patio tonight…of course while keeping your distance. This is the perfect summer dessert all ages will love.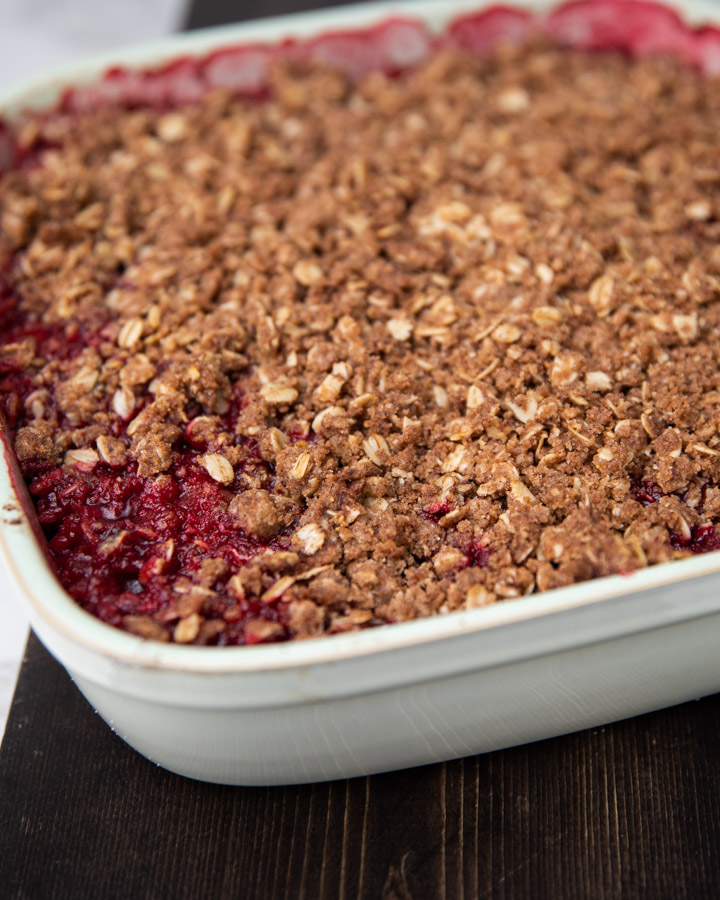 Rhubarb and Cherry Crumble
Course: Dessert
Cuisine: Canadian
Difficulty: Easy
The perfect dessert to please anyone, any season. This combo of fresh rhubarb and cherries with a crunchy, rich oat topping is the perfect bite. Add a scoop of ice cream and savour every spoonful.
Ingredients
6 cups rhubarb, chopped into smaller chunks

2 cups cherries, pitted and sliced. (These can be fresh or frozen)

1/4 cup lemon juice

1/4 cup white sugar

Crumble

3/4 cup brown sugar

1 cup CUT flour

1 cup gluten-free rolled oats

1/4 cup white sugar

1 tbsp cinnamon

1/2 cup butter melted
Directions
Preheat oven to 350°F
Chop rhubarb and slice cherries.
Add lemon juice and white sugar to rhubarb and cherries.
Stir to combine. Pour into 8×8″ pan.
Mix CUT Flour and all the dry crumble ingredients into large bowl.
Pour melted butter into dry ingredients and using a fork stir to combine. It will look like a 'crunchy oatmeal'.
Spread crumble over top of fruit in pan.
Bake in oven for 45 minutes.
Let cool approximately 5-10 minutes.
Get scooping ice cream….it's crumble time!!
Stacey and Meg