May your coffee be strong and your Monday short. Or better yet, simply eat Tiramisu for breakfast!
A dessert featuring lady finger biscuits soaked in rum and coffee, layered with mascarpone custard and dusted with cocoa powder and whipped cream – this classic Italian dessert will be the highlight to anyone's day!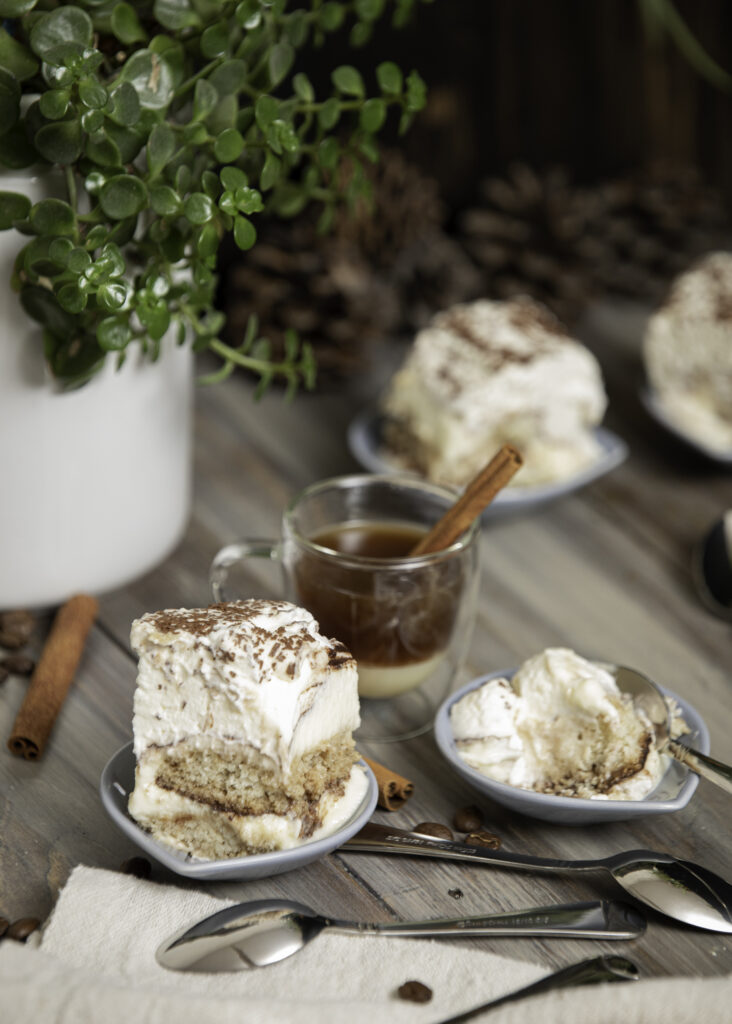 This dessert is simple to make. Although as with all good things, patience is required. In fact, it serves best the next day. Once all the chocolate, coffee, creamy goodness is layered; it will need at least 5 hours to set. Overnight is even better. The longer it can rest before served, the more the different layers fuse and the flavours will mix. This resting time allows the magic of Tiramisu to happen!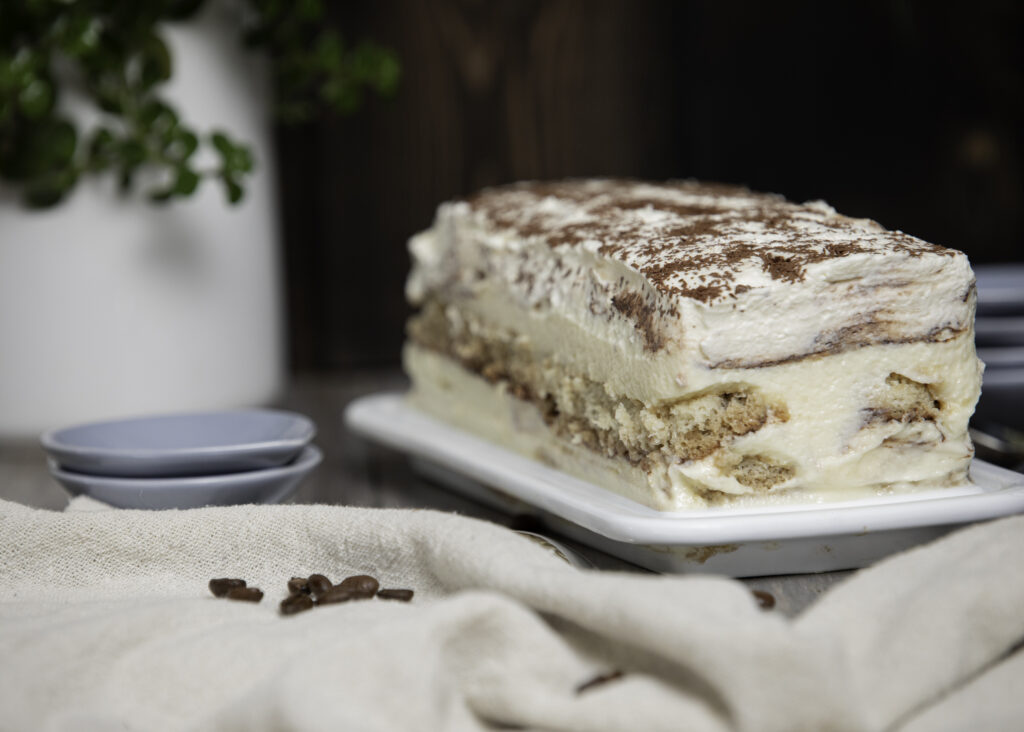 To get started, you'll need to bake a quick batch of GF Lady Fingers. We promise they won't take long to make and freeze really well if you want to make just the lady fingers in advance before layering the Tiramisu. (Hint* When piping the size of lady finger, think about the 8″X8″ size of pan you'll be using to construct your Tiramisu. The size of pan dictates the size and quantity of lady fingers needed to build your Tiramisu. You'll want approximately 24-28 lady fingers in total. No worries if you make a mistake! You can always cut the lady fingers to fit…)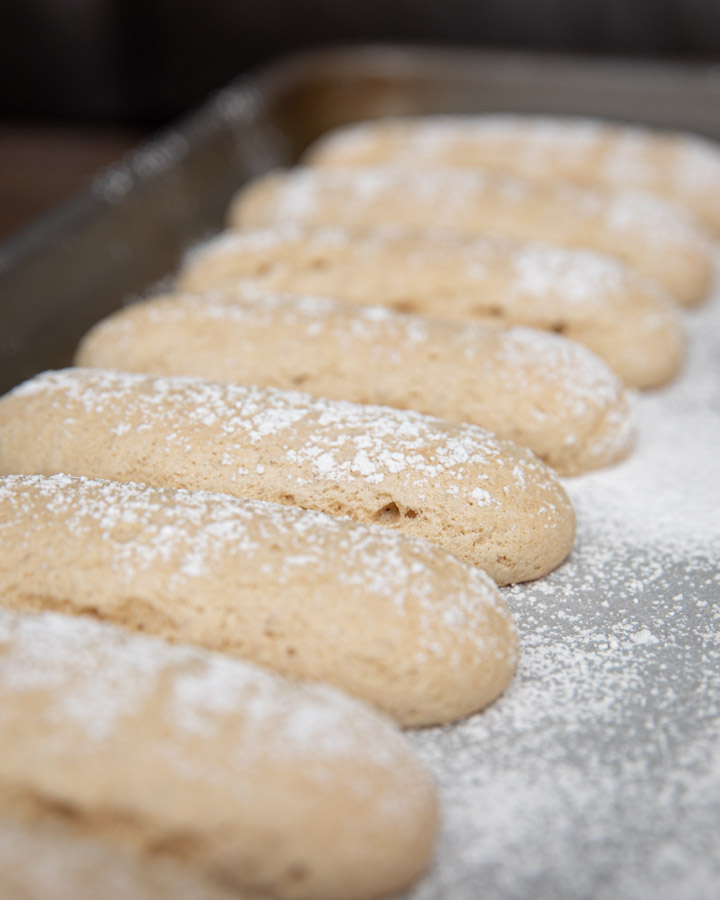 Lady Fingers made, your ready to begin construction! Brew a pot of strong coffee and pour yourself a cup. Pour another for the Tiramisu into a medium sized bowl with the addition of 2 tbsp. rum and let it cool.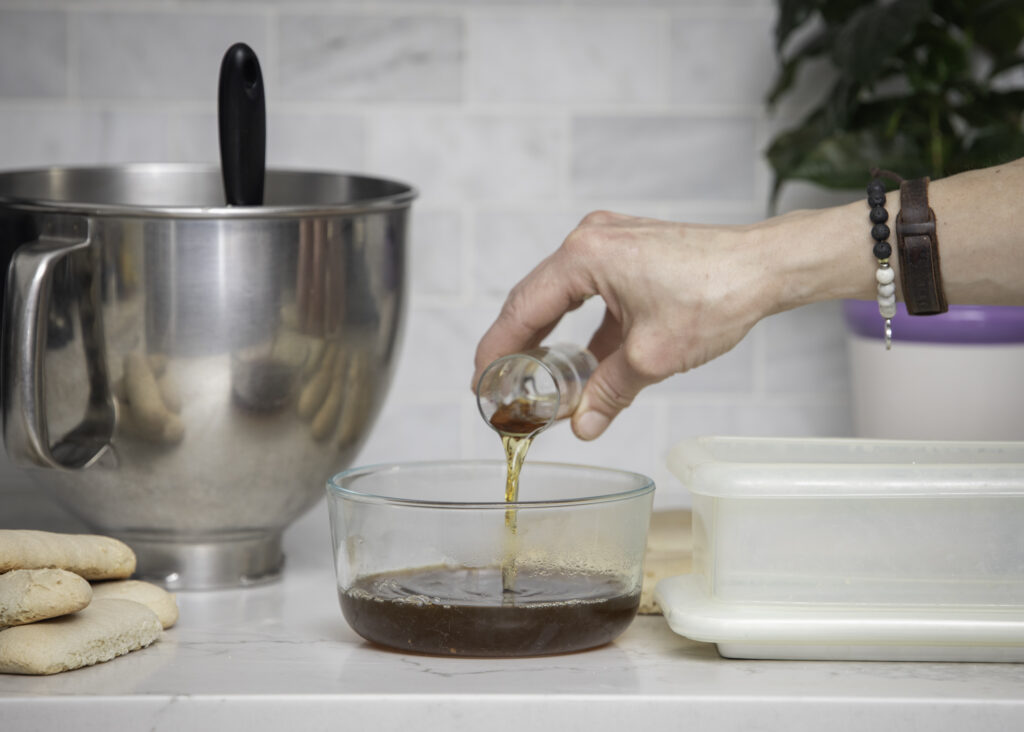 Using an 8″ X 8″ pan, first practice arranging your lady fingers to see how they best fit and create a layer within. You will make two Lady Finger Biscuit layers so divide the batch in half. Approximately 12-14 biscuits within each layer.
While the coffee/rum is still cooling you can begin to make the Mascarpone custard. You'll need to use a low water bath and double boiler to do so. Combine the egg yolks and sugar and whisk well in the top pot. Continue to whisk often for approximately 10 minutes until the sugar is dissolved and is lighter in colour. The mixture of yolks and sugar shouldn't be gritty at all. Once finished, remove the top pot from the water bath and let cool.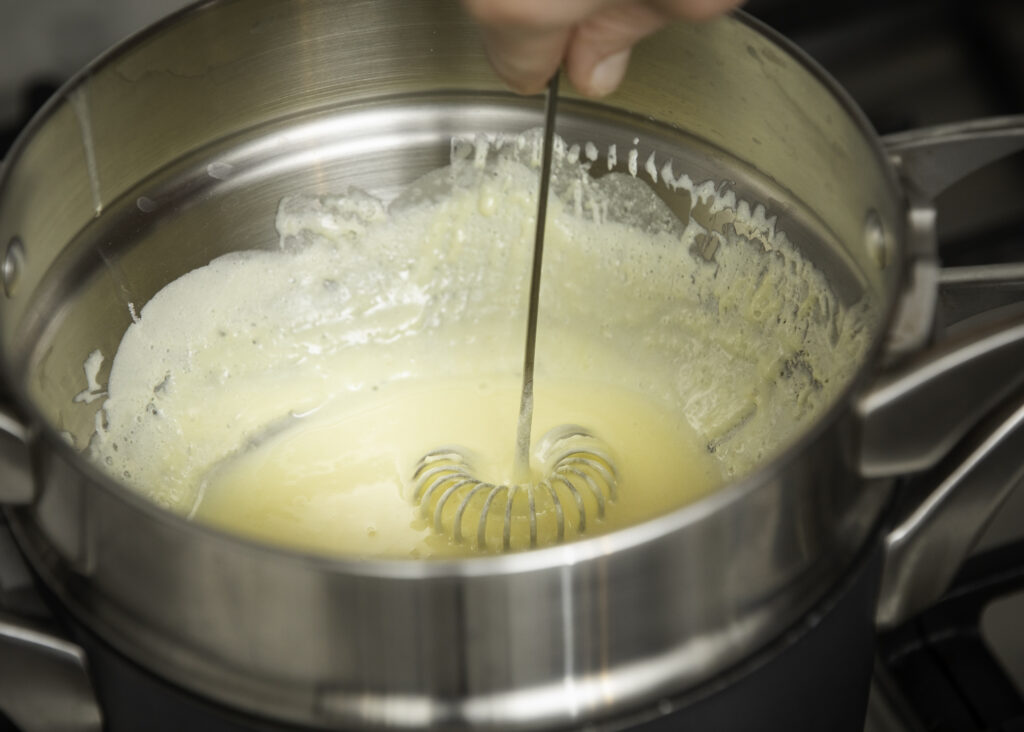 At the same time, using an electric mixer, you'll whip the Mascarpone cheese with 2 tsp. of rum. Then go ahead and transfer to another bowl and set it aside. Continue to use your electric mixer and whip all 3 cups of whipping cream with 2 tbsp of sugar until stiff. Transfer half of the plain whipping cream to a separate bowl and reserve for later.
Once the yolk/sugar mixture is cooled slightly, combine this and the whipped Mascarpone Cream/rum with remaining whipped cream. Fold everything gently by hand. Genius, you have now made Mascarpone custard!
With all the ingredients prepped and ready, the Tiramisu construction is ready to begin! You'll start first by dipping the lady fingers in the cooled coffee/rum. Quickly flip the biscuit so it has a chance to soak on both sides. Just a few seconds in the coffee/rum, then transfer the biscuit to your Tiramisu pan. Continue to do this with half of the lady fingers to create a first layer of biscuits on the bottom of your pan.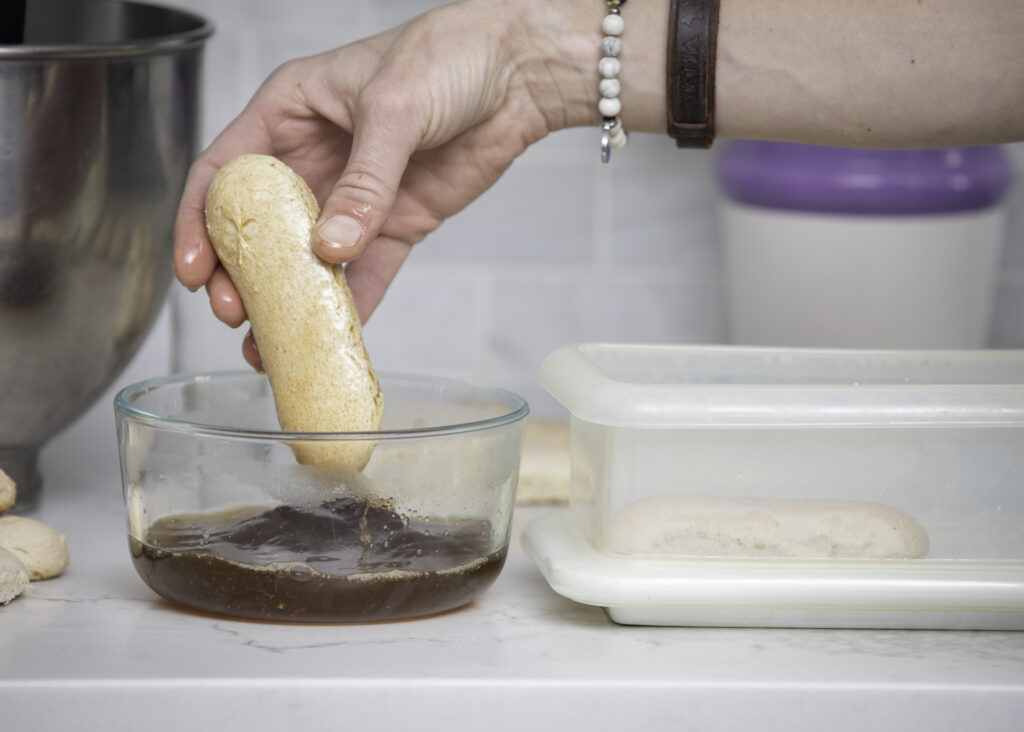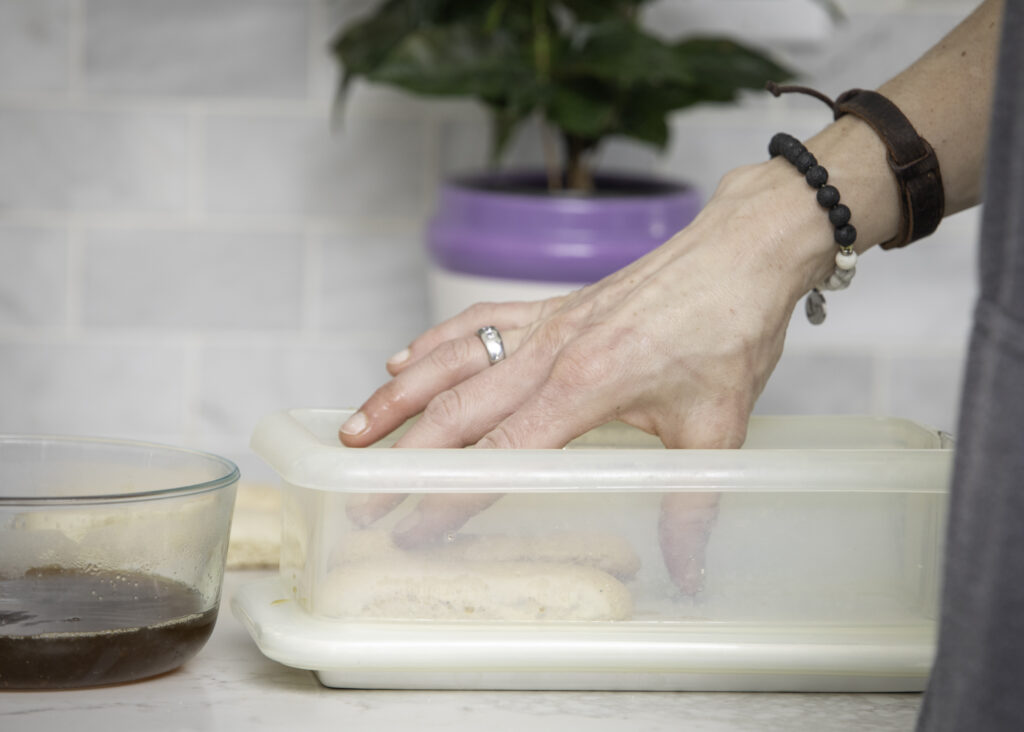 Once you've completed the first layer of soaked Lady Fingers, you'll scoop a layer of the Mascarpone custard over top. Use half the custard and then reserve the rest for the next custard layer.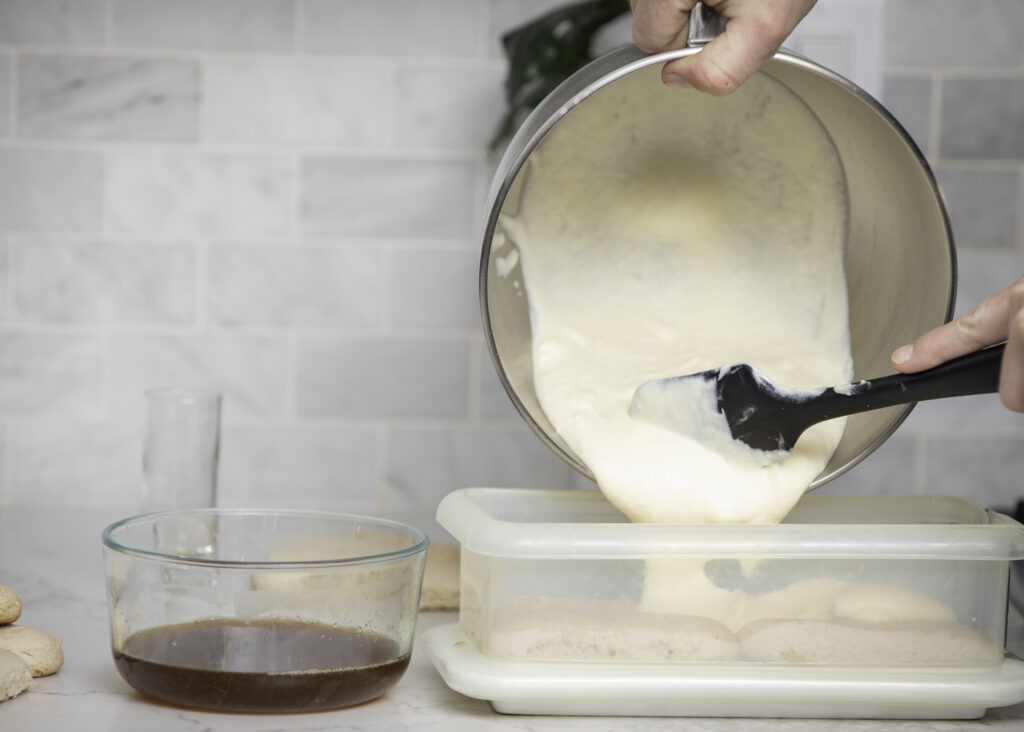 Dust the top with a heavy layer of cocoa powder and you're ready to start the process again! Lady Fingers, Mascarpone custard and cocoa powder…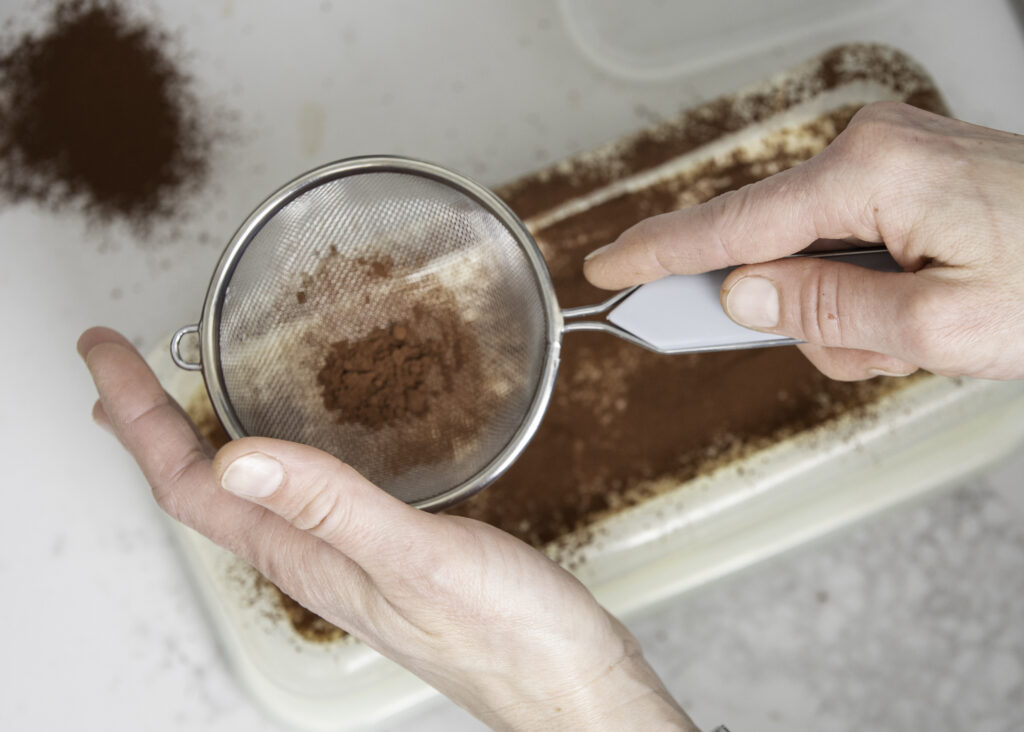 When you've built all 6 layers, we like to add a final whipped cream topping. Go ahead and spread the reserved plain whipped cream to finish this luxurious layered dessert. For a more polished look and a little more sweetness, add chocolate shavings lightly sprinkled on top.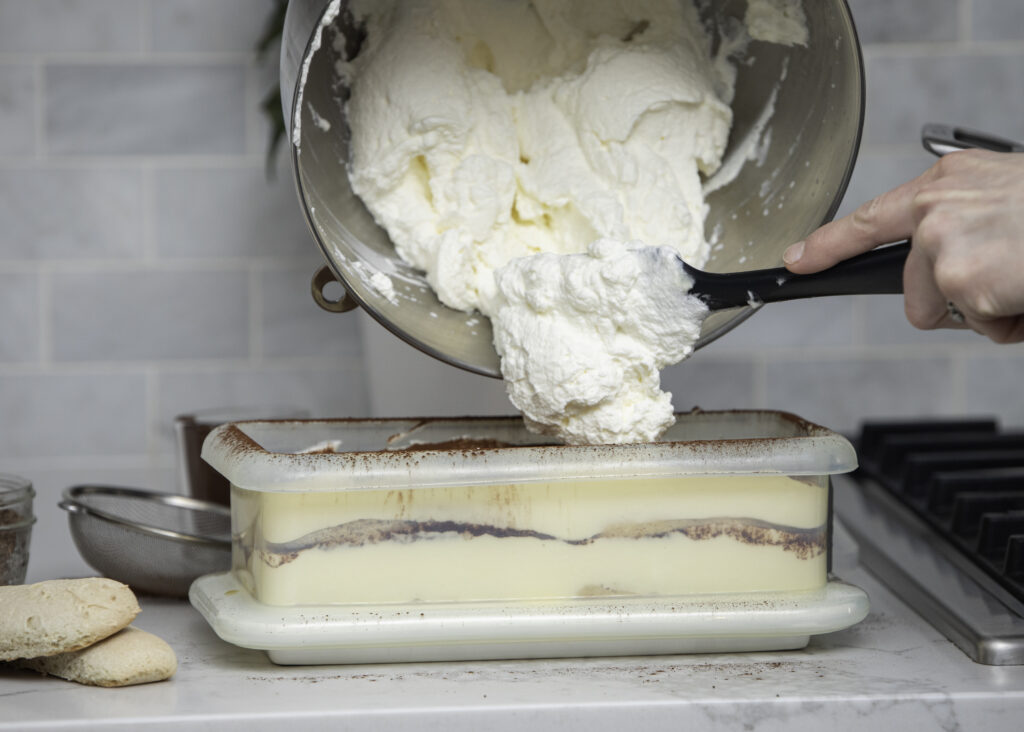 Presto… Happy Monday mornings 😉
Tiramisu
Course: Dessert
Cuisine: Italian, Canadian
Difficulty: Easy
A dessert featuring GF lady finger biscuits soaked in rum and coffee, layered with mascarpone custard and dusted with cocoa powder and whipped cream – this classic Italian dessert will be the highlight to anyone's day!
Ingredients
CUT Cooking GF Lady fingers (Pipe size to fit your pan with 2 layers. Approximately 24 biscuits)
 

3/4 cup espresso OR dark roast coffee brewed

2 tbsp rum  


3 egg yolks

1/2 cup sugar

275g Mascarpone cheese (approximately 1 cup)

2 tsp rum 

3 cups whipping cream whipped, then divided

2 tbsp sugar

6 tbsp cocoa powder, divided

chocolate shavings for topping (*optional)
Directions
Combine coffee and 2 Tbsp of rum into medium bowl to let cool.
Practice how Lady Fingers will best 'fit' into 8 X 8 pan to create a biscuit layer. You will make 2 Lady Finger Biscuit layers so divide the batch in half. Approximately 12 biscuits within each layer.
Using a double boiler and over low water bath, combine egg yolks and sugar. Whisk well and continue to whisk often. Approximately 10 minutes – until lighter in color and the sugar is dissolved and no longer gritty.
Using electric mixer, whip Mascarpone cheese and 2 tsp. of rum. Transfer to another bowl and set aside.
Again using electric mixer, mix whipping cream with the addition of 2 tbsp sugar. Beat until stiff. Transfer half to a separate bowl and reserve plain whipping cream for later.
In remaining whipped cream, add the cooled egg yolk/sugar from double boiler and whipped Mascarpone cheese/rum. Fold ingredients all together by hand. Do not over mix.
With all the different components ready and prepped, begin to construct the Tiramisu! Start by quickly soaking each lady finger in the cooled coffee/rum. Ensure that both sides rest in the coffee/rum. (Be cautious that the biscuits don't soak too long. Just a few seconds per side.) Then transfer to your pan and create a bottom layer of soaked Lady Fingers.
Spread half of the Mascarpone custard mixture over lady fingers.
Using a small sieve, dust heavily with 2 tbsp. cocoa powder.
Repeat all 3 layers again by soaking remaining last lady fingers, cover with the rest of the Mascarpone cheese mixture and then finally dusting the top with the last 2 tbsp. of cocoa powder.
Spread remaining plain whipping cream that was set aside and optionally add chocolate shavings or more cocoa powder on top.
Let rest in fridge for at least 5 hours or better yet – overnight! This is extremely important. You cannot rush the magic of Tiramisu. It needs the time to set or it will not hold as a cake. Then….Presto!
May your coffee be strong and your Monday short. Or better yet, simply eat Tiramisu for breakfast!
Stacey and Meg