A.K.A – Red Sauce. There's nothing better then fresh tomatoe and herbs poured over fresh pasta or dipped with a Mozza Ball. It's so easy to crack a lid on bought marinara sauce but honestly, this homemade can be just as easy! It does require more patience as our red sauce needs to simmer for hours, but we promise it's SO worth the wait.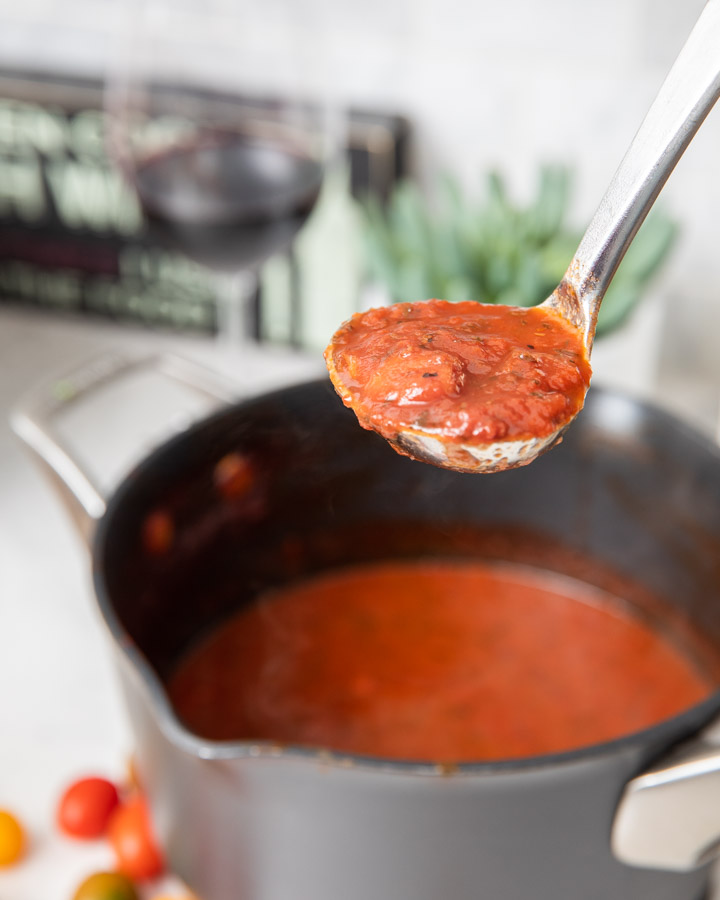 This recipe is a treat. It's a traditional Italian sauce that everyone will love! Simmered with a whole onion, it's sweet and incredibly smooth. An Italian friend once told us that; traditionally, the whole onion is saved and given to the families "Patriarch". We had to sample this coveted onion and we won't lie, just as the sauce itself, the onion is pretty fantastic! You won't ever find such a "treasure" in a canned marinara sauce! Lol.
Feel free to use either already crushed tomatoes or mill your own. Either will cook up to a sauce that tastes incredible. The freshest of the fresh. Uncork a bottle, pour a glass and lets get cooking!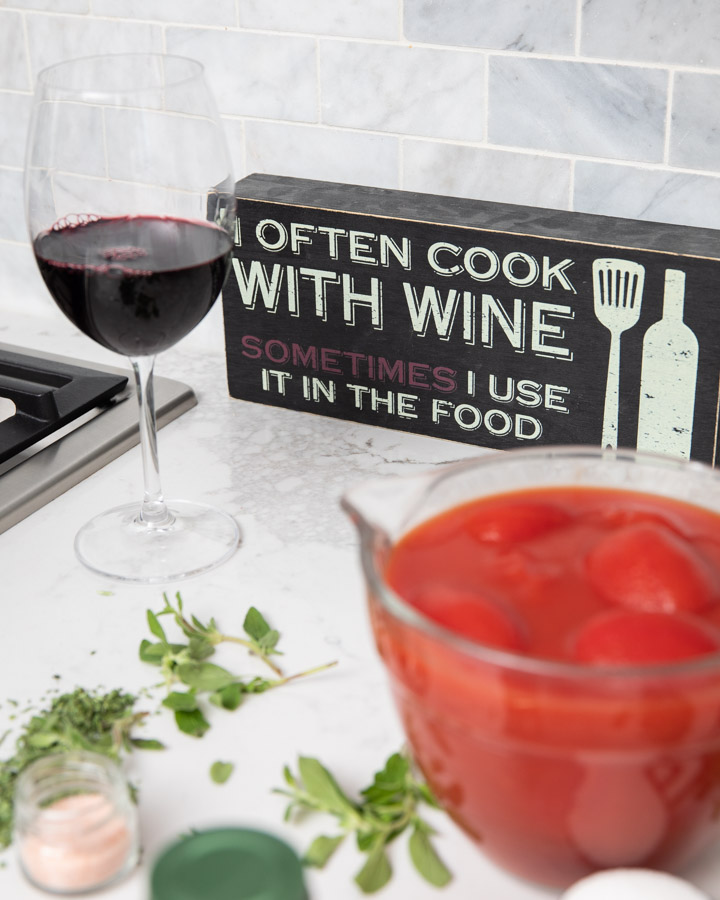 Gather your ingredients and we're going to use our food mill. This will help crush the tomatoes and use just the "meat" portion of a tomatoe. Using a mill will remove the tomatoe's seeds and peel and ultimately create a more smooth Marinara.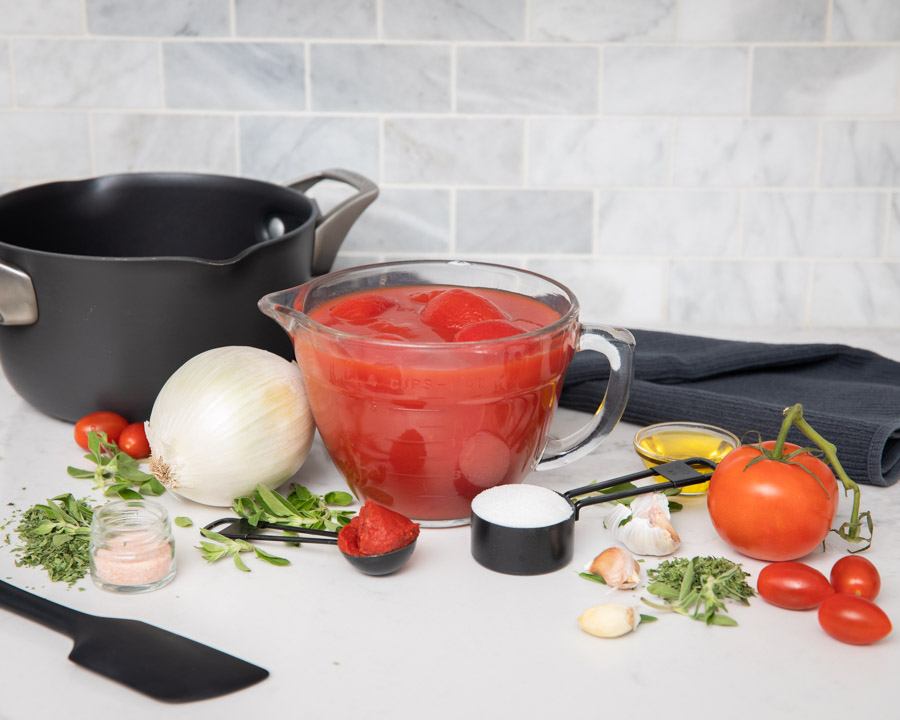 To begin making this Marinara Sauce; first heat the olive oil and add garlic, tomatoe paste and literally an entire whole onion!! Just trim the onion's ends off, and begin to fry it up.
If you're using whole tomatoes, you'll next begin to mill and crush them. Again, you can use already crushed or whole tomatoes. Milling the tomatoes ensures a smoother sauce. Although, either option will be delicious. After the tomatoes are added, combine the water, sugar and of course…wine!
Continue to add the rest of the herbs and spices. Then it's simply adding "patience" as the sauce simmers and thickens. This will take a while for the sauce to reduce and thicken.
Give it a few hours…put your feet up and look forward to dinner. When you think your sauce might be ready and thickened, give it the Italian bread test. Simply dip a piece of bread and if the sauce "sticks", it's ready!
"Muuwah!"…Amore.
Marinara Sauce
Course: Main
Cuisine: Canadian, Italian
Difficulty: Easy
A traditional red sauce that will become the families go-to marinara. Simmered with a whole onion, it's sweet and incredibly smooth. With a little patience, you'll never want to open a jar of bought sauce again!
Ingredients
2 tbsp olive oil

4 cloves garlic, peeled whole

2 tbsp tomatoe paste

1 medium whole onion, ends trimmed, outer peel removed

60 fluid oz. canned tomatoes, either crushed or whole

2 cups water

1/4 cup white sugar

1 cup red wine

2 tbsp basil

1 tbsp oregano

3 tbsp parsley

1 tsp salt
Directions
Using a large saucepan on medium heat; heat olive oil, add garlic, tomatoe paste, and the whole onion.
Using a food mill, add tomatoes and disregard seeds and peel.
Combine water, sugar, and wine. Stir.
Add additional herbs and seasonings- basil, oregano, parsley, salt.
Stir sauce and cook on low for 3+ hours until reduced and thickened.
Adjust to taste by adding more herbs, sugar or wine….but we think you'll love our suggestions;)
Dip a piece of bread and if the sauce "sticks", it's ready!
Pour over your favourite pasta, dip a Mozza ball or add to a meatball!
Muuwah! It's amore,
Stacey and Meg