Hang on, don't let this amazing recipe roll by! An extraordinary gluten-free lady finger biscuit, topped with homemade luxurious marshmallow, and then enrobed in decadent Cococo Chocolate – your Easter will be complete. We promise this recipe is absolutely incredible and a ton of fun to make. It's comprised of two separate CUT Cooking recipes; both our Marshmallows and Lady Fingers; and then combined with incredible chocolate from Cococo Chocolatiers.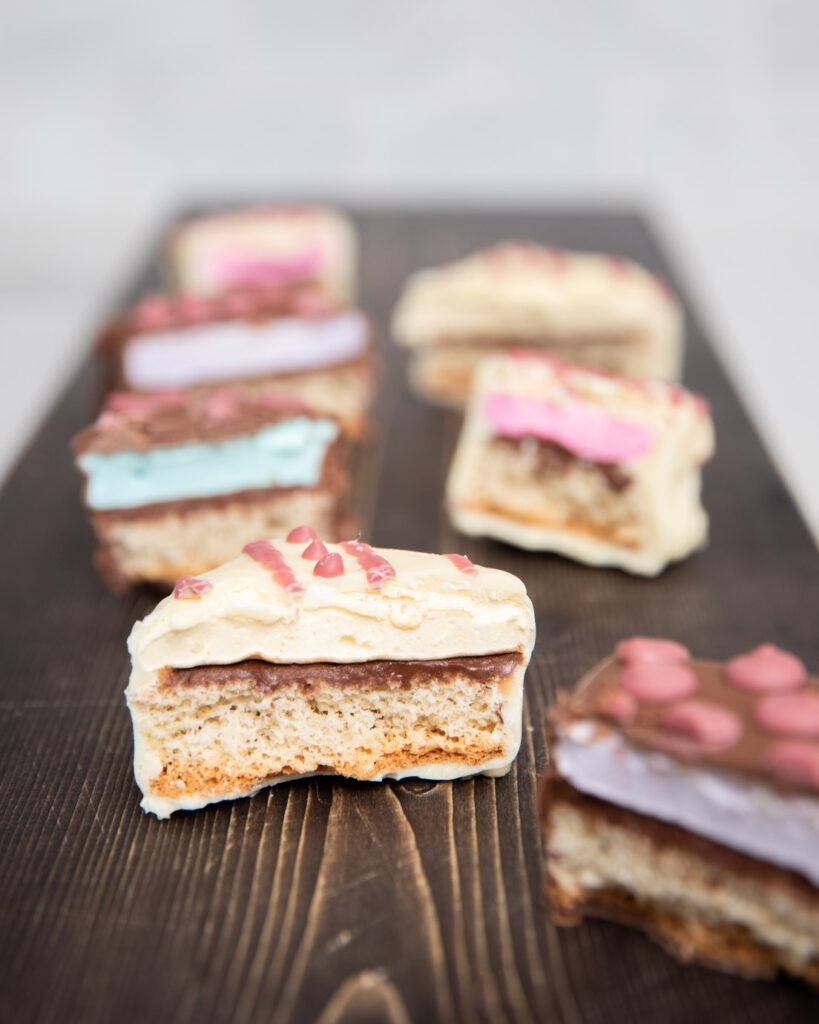 Using two different recipes and then blanketing the layered cookie with chocolate, this recipe is perfect for families! If you have children, divide the process up and have some fun throughout the Easter break. Remember that they don't have to look from a bakery, let the kids design and build. They'll taste amazing regardless of what they might look like. You can't mess up the tasting combo of Lady Fingers, Marshmallow and Cococo Chocolate!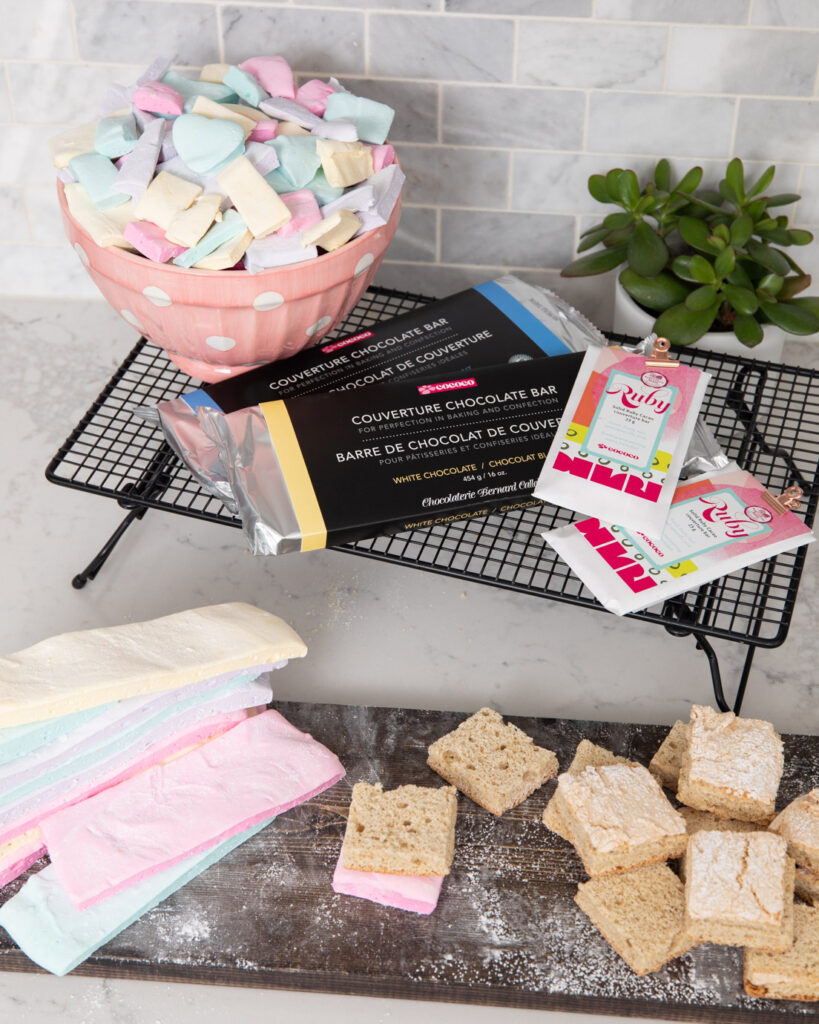 Make the Marshmallows, and definitely make a few extra. As hints of spring appear, we love to roast them over a backyard fire! Truth be known, a marshmallow roast literally over the stove's element has also been known to happen in our families…
We also had some fun dying pastel coloured marshmallows for Easter. Although, feel free to make them any colour you wish! Get creative. We dare you to try and make tie-dye marshmallows?! Lol.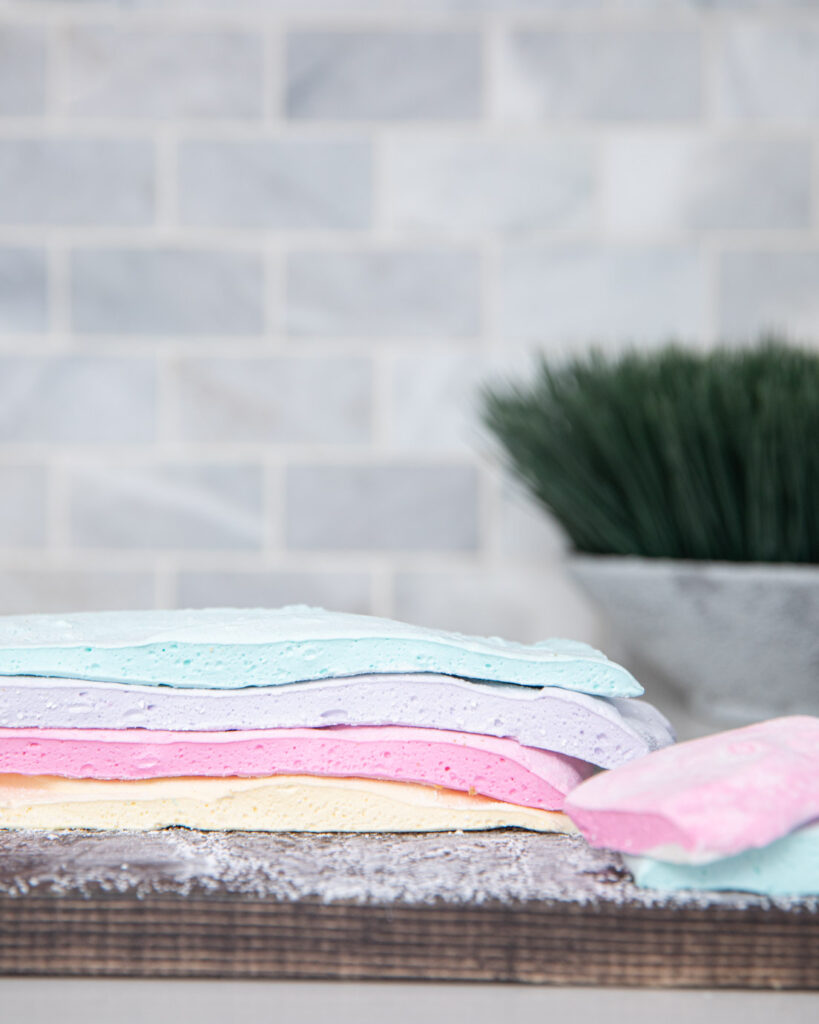 After the marshmallows have been made, you'll need a batch of our gluten-free Lady Fingers too. These incredibly light and crispy cookies freeze amazing and are the perfect base for our gluten-free Wagon Wheels.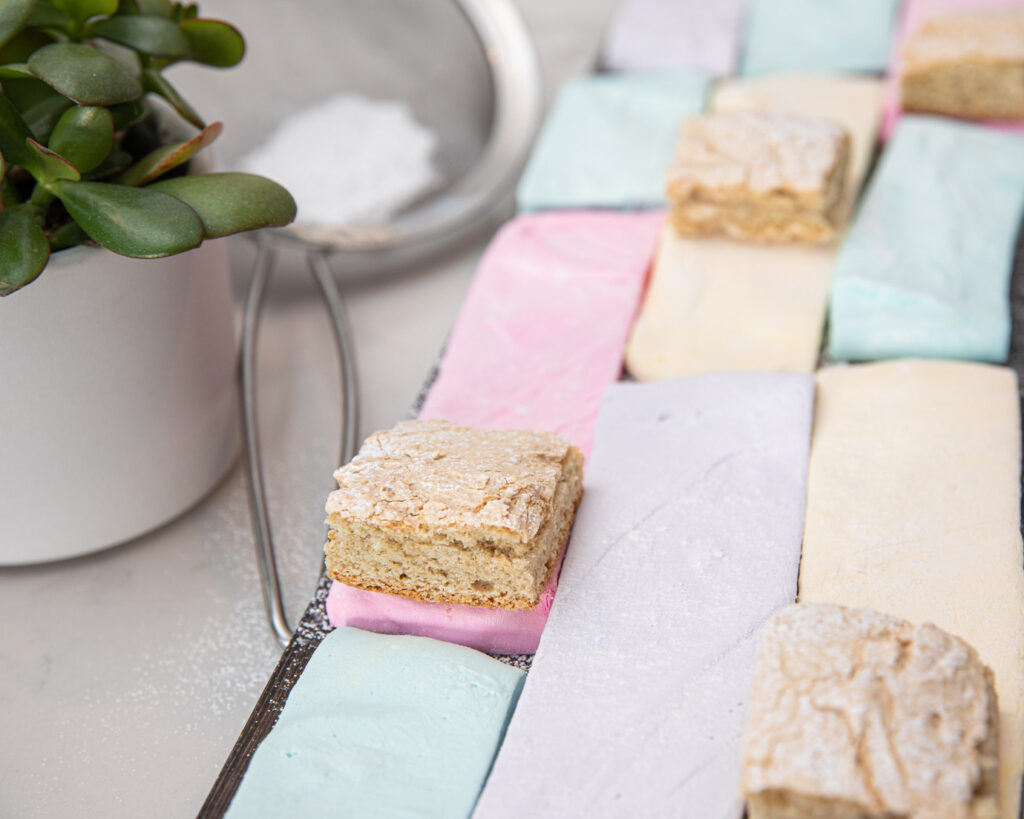 Now before we continue further, we need to address the whole concept that a wheel is round and our "Wagon Wheels" are square! Lol, you can make your "Wagon Wheels" whatever shape you want them to be. Simply pipe and bake the Lady Fingers in whatever shape you desire. Then cut the Marshmallows either using a knife or cookie cutter to match! Have some fun with this…chef's tip- less is more. Stay simple;)
Once the Lady fingers and Marshmallows are cut to match, you'll "glue" them together using a chocolate hazelnut spread. There are so many delicious gluten-free versions on the market now, use your favorite!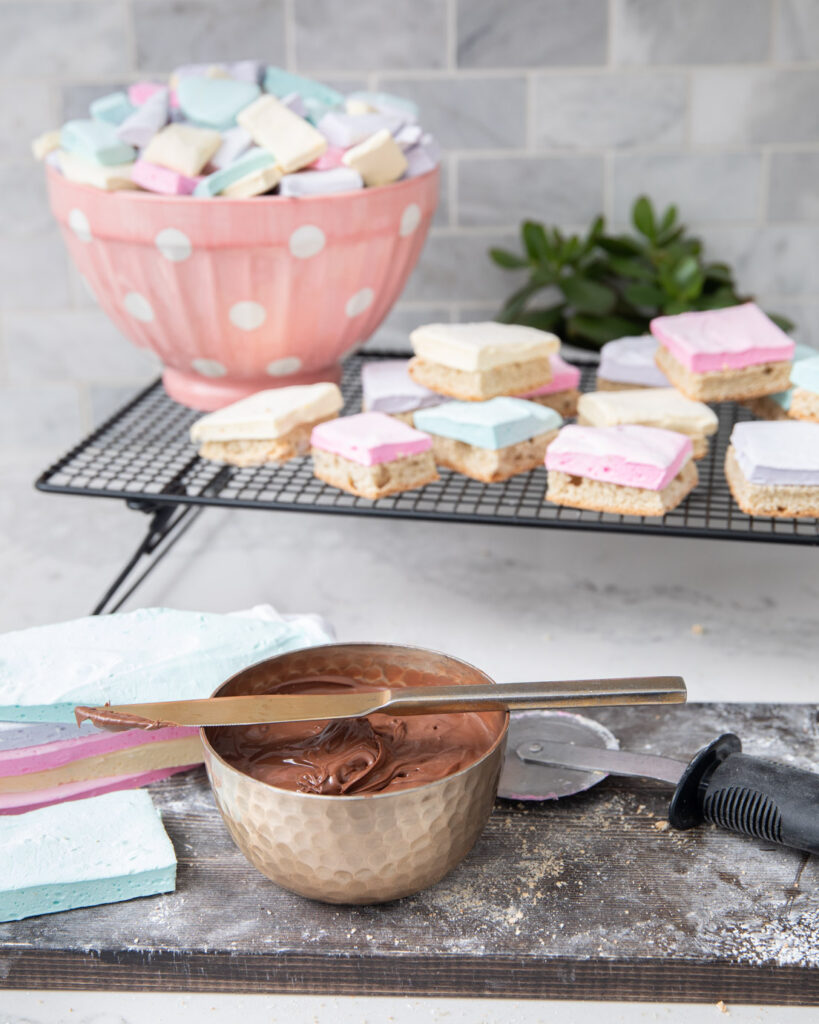 Once your marshmallow sandwiches have all been made, begin tempering the Cococo Chocolate. It doesn't matter what type of chocolate – white, milk, semi-sweet or Ruby. They're all ABSOLUTELY delicious and perfect for this Easter treat.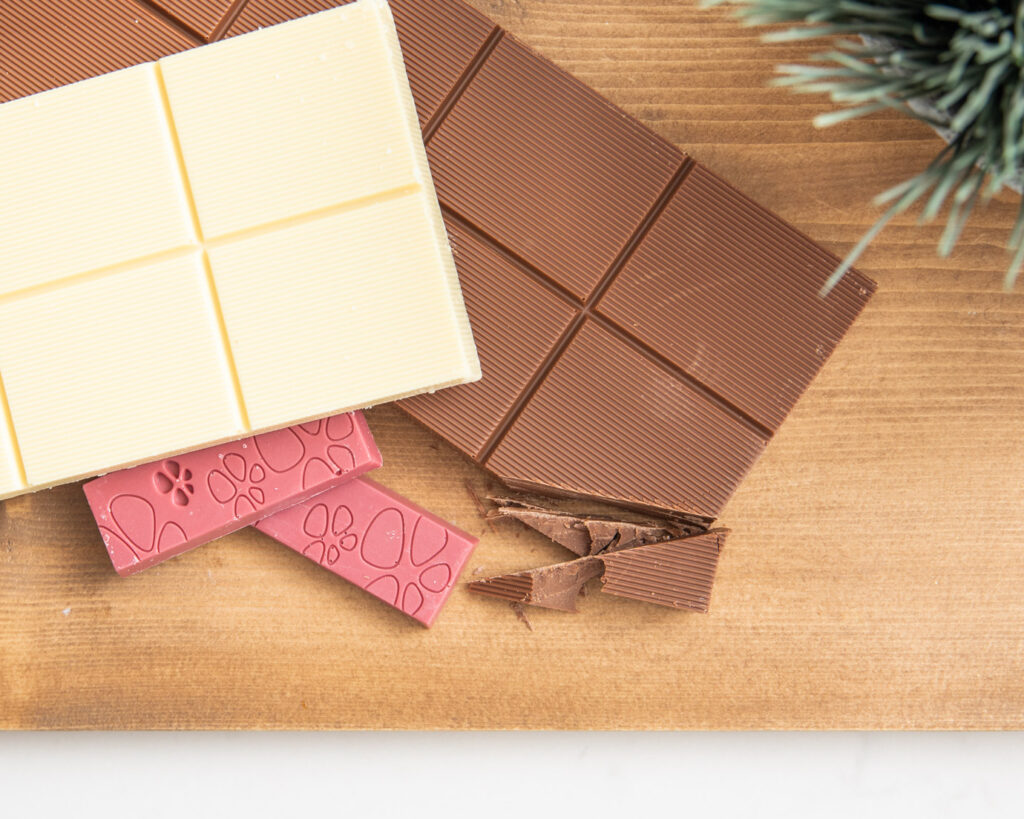 However, it does matter that you do temper the chocolate! Otherwise your wagon wheels will be a melty, sticky mess. The tempering process allows the chocolate to become firm and break off with a snap when you bite. It will have a flawless appearance and then will melt smoothly in your mouth. For directions of how to exactly temper chocolate, you can refer back to our Pumpkin Cheesecake Bites or microwave instructions on Cococo Chocolatier's blog.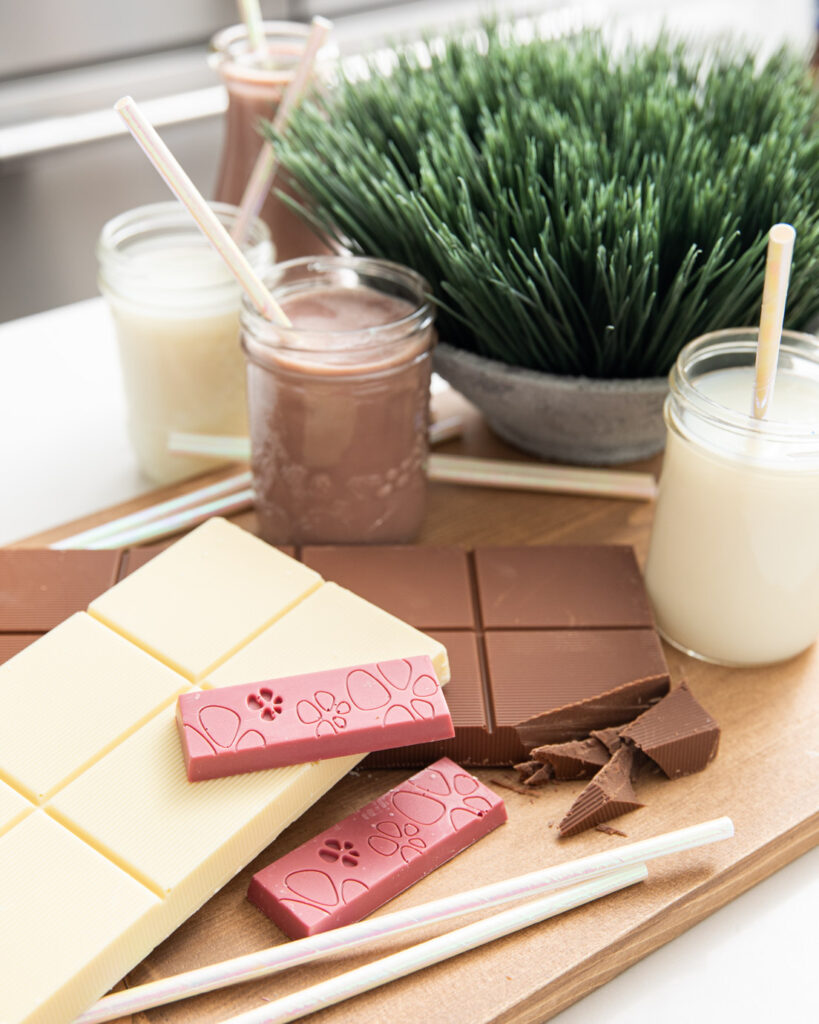 Temper the chocolate, dip your sandwiches and let the creative juices flow. We used different chocolates to decorate but ask the kids! Maybe it's adding sprinkles or candies quickly before the chocolate fully cools, or maybe a combo of different chocolate?! Have some fun, and don't get discouraged if they don't look perfect. We promise they'll taste perfect! AND, we're pretty sure the kids will have a blast melting chocolate with you in the kitchen. That's what holiday's are more about – making memories in the kitchen AND creating delicious food.
Spring is here; Happy Easter!
Wagon Wheels
Course: dessert, holiday, treats
Cuisine: Canadian
Difficulty: Moderate
An extraordinary gluten-free Lady Finger biscuit, topped with homemade luxurious Marshmallow, and then enrobed in decadent Cococo Chocolatiers Chocolate – Easter is complete!
Directions
Prepare both the Marshmallow and Lady Finger recipes and use right away, or they can be prepped and used when desired to build the Wagon Wheels. Both the Marshmallows and Lady Fingers freeze excellent! (Powder the marshmallows with icing sugar so they don't stick before freezing).
When you're ready to build the Wagon Wheels, cut both the Marshmallow and Lady fingers to match. You can use either a knife, pizza cutter, or cookie cutter!
Spread a thin layer of chocolate hazelnut spread between the Lady Finger and Marshmallow to "glue" them together.
Temper the Cococo Couverture Chocolate and get ready to dip. We found doing one side, letting the chocolate set and then dipping the other side worked well. You may need to dip twice for full coverage of the Marshmallow and Lady Finger.

Tempering Chocolate temperatures:
Semisweet Chocolate – 32°C
Milk Chocolate – 30°C
White Chocolate – 29°C
Ruby Chocolate – 28.5°C

Have fun. Indulge a little… Happy Easter!
Stacey and Meg