The holidays are coming and lazy mornings are an order:) There's not much better then heading downstairs to freshly baked muffins and pouring yourself that first cup of coffee…unless your muffin is made from coffee!!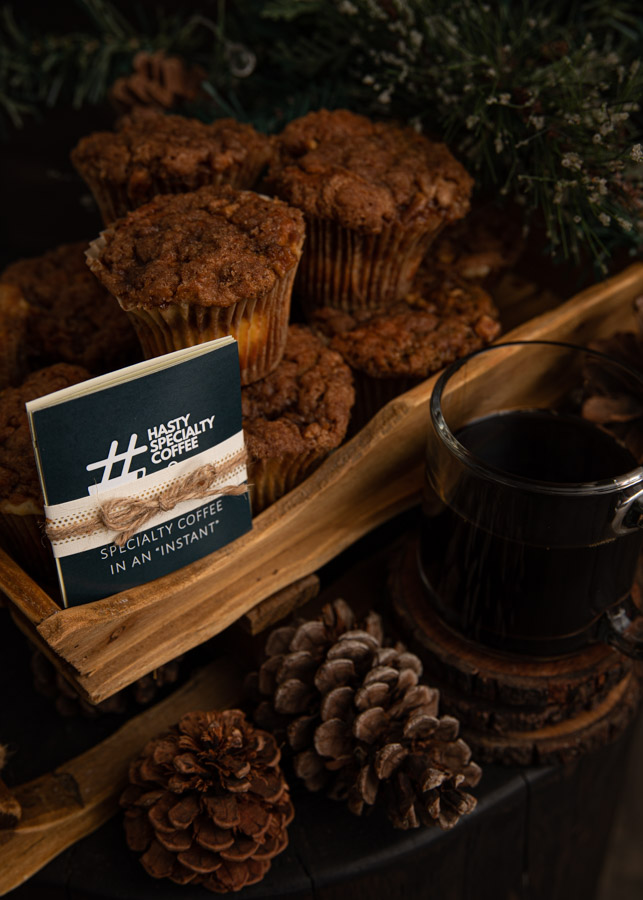 We did it! The lazy mornings can begin. We have created a muffin loaded with fresh apples, cream cheese, a streusel top and baked with instant coffee!! It's a Christmas miracle 😉 Seriously though, we need to let in on an incredible secret – a local YYC company. Hasty coffee.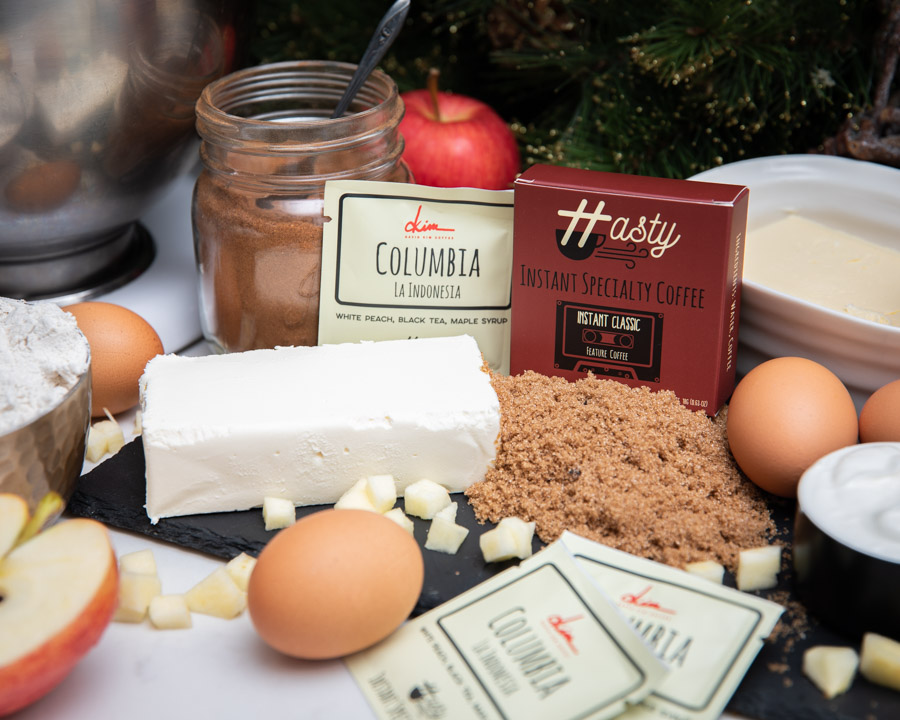 "We make specialty-grade instant coffee, from specialty grade coffees, roasted by incredible roasters, and purchased ethically from incredible farmers.
Specialty-grade coffee isn't anything less than a lot of coffee that achieves an 80+ score from a certified q-grader but we feel it is more than that. For us, specialty-grade coffees are purchased ethically, with a transparent buying model and then roasted to highlight the unique flavors of every individual lot. We want to work with coffees that are roasted light to avoid any roasty, carbon flavors but also fully developed to avoid grassy, vegetal off flavors".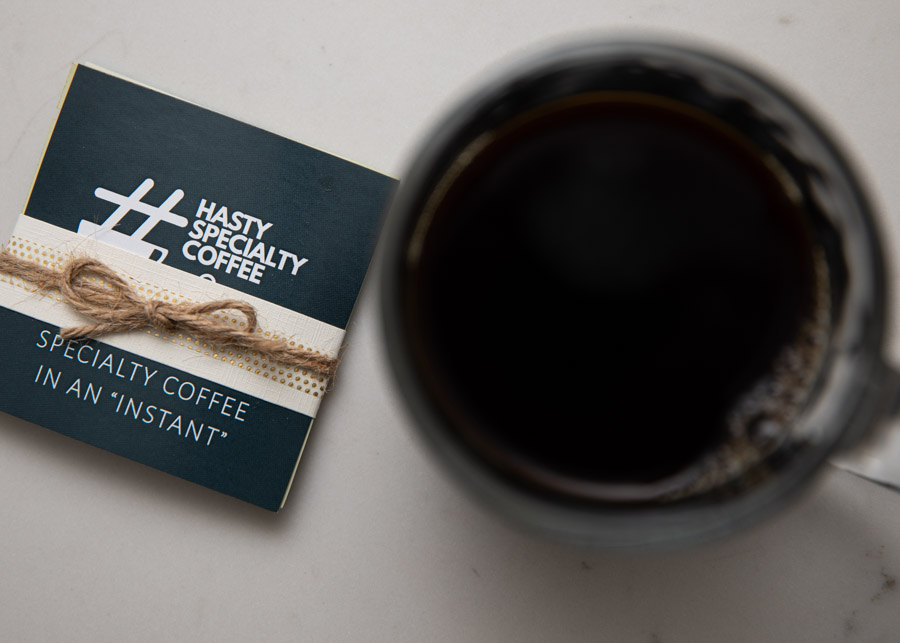 Hasty Coffee has "developed a unique and proprietary process for crystallizing coffees. Commodity instant brands use low quality, over-roasted coffee. They then boil coffee to extract every bit they can and then spray dry it in hot rooms. In our process, they start with great coffee. We brew the coffee gently to extract a balance of flavors and then crystallize in low heat so that it maintains its original characteristics".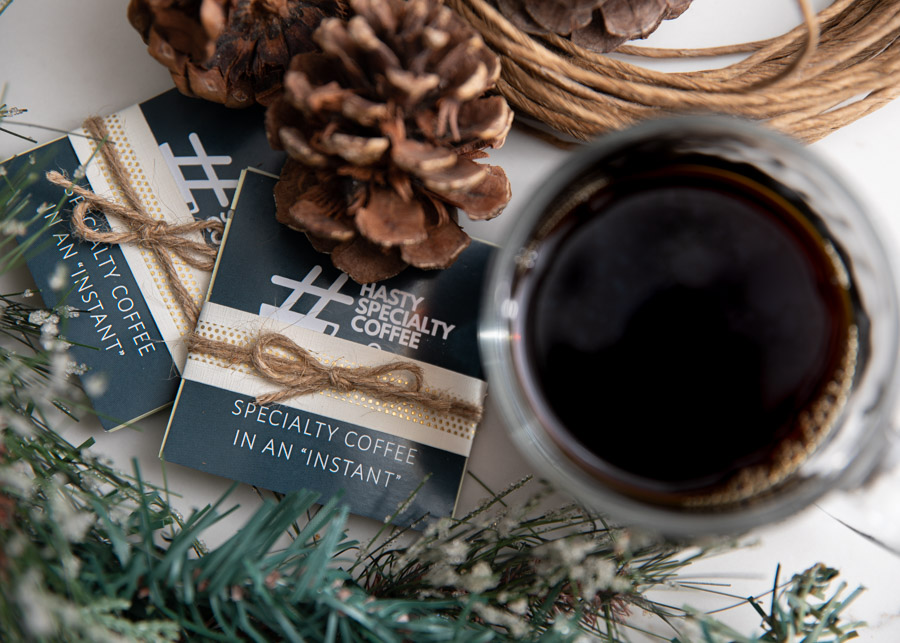 "We love great coffees and we want to share them with everyone in an accessible format. Coffee is a challenging and illusive substance. It takes a long time and a lot of practice to brew consistently good coffee. Brewing great coffee at home is also challenging and expensive but you don't want to drive to a trendy part of town everyday just for a cup of coffee. When you're on the go, how do you know where to go to get good coffee? You don't want to lug around a kit with your burr grinder, brewer, and brewing water everywhere you go. What about camping or hiking?"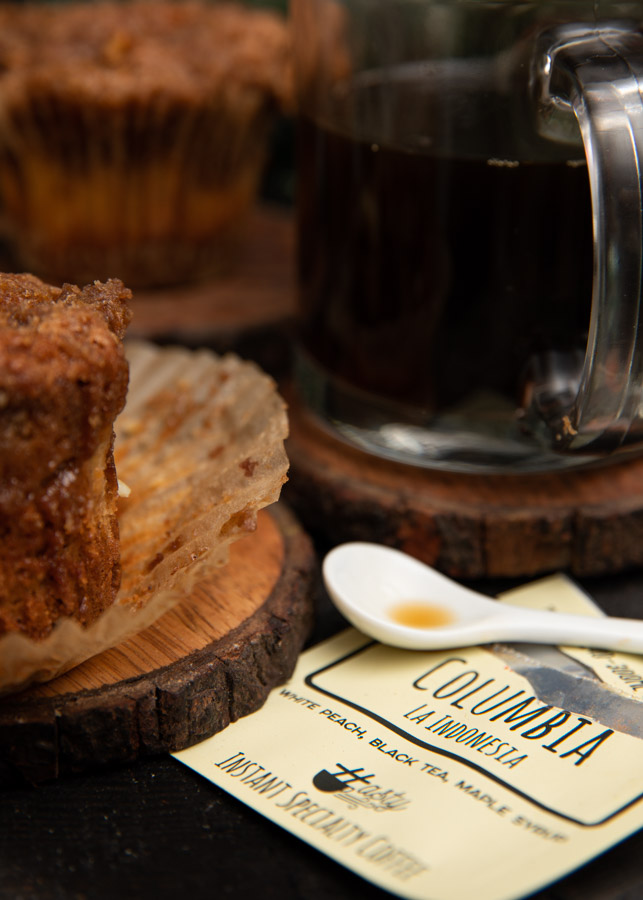 "We've taken the work out of making coffee so that you can enjoy a highly accessible and consistent cup of coffee. Our crystallized coffees are guaranteed to bring you quality and passion in every sip no matter where you may find yourself. All you need is water."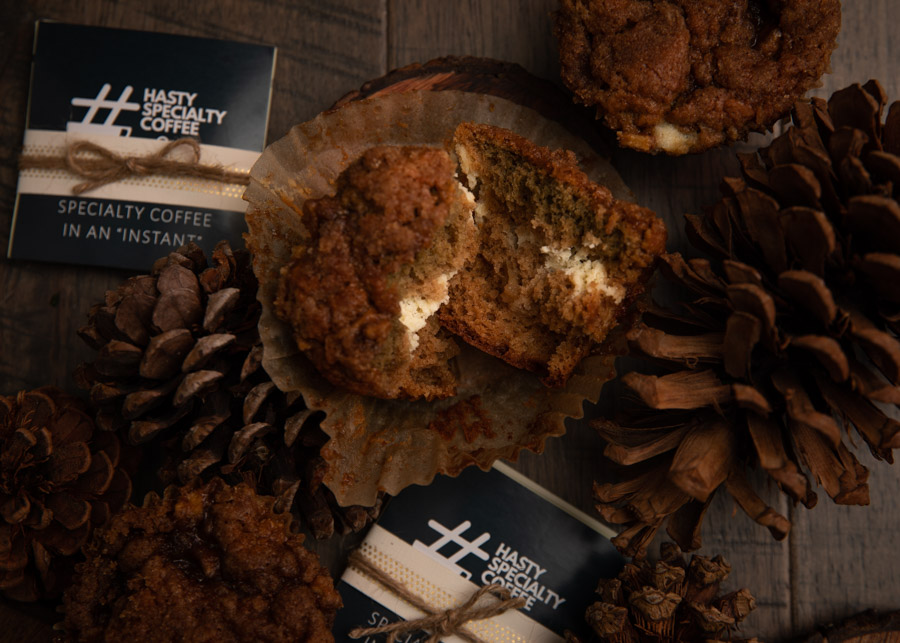 So really, a muffin made from Hasty Coffee?! Merry Christmas!
These muffins are so moist and delicious. They also freeze incredible – go ahead and make them early! There's 3 sections to prepare but don't worry, nothing is tricky about these.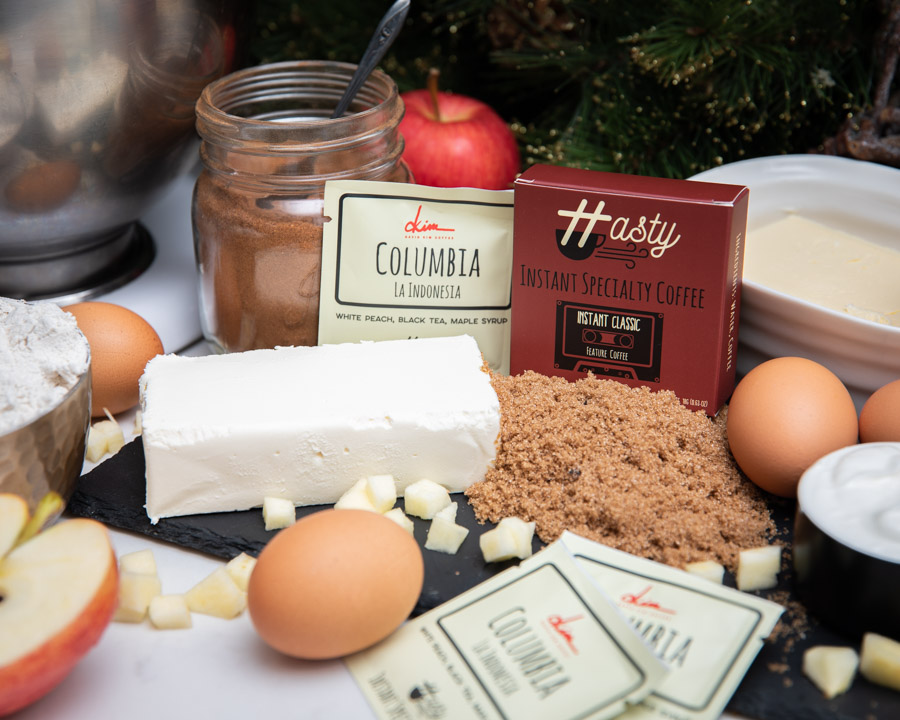 Grab your mixer and let's get started! First we'll make the 'cake' portion. Begin by creaming your butter and then add the following:
Lastly you'll add one package of Hasty Coffee and diced apples. Then stir well to combine.
Set this aside and begin to prep the cream cheese middle layer and crumbly streusel top.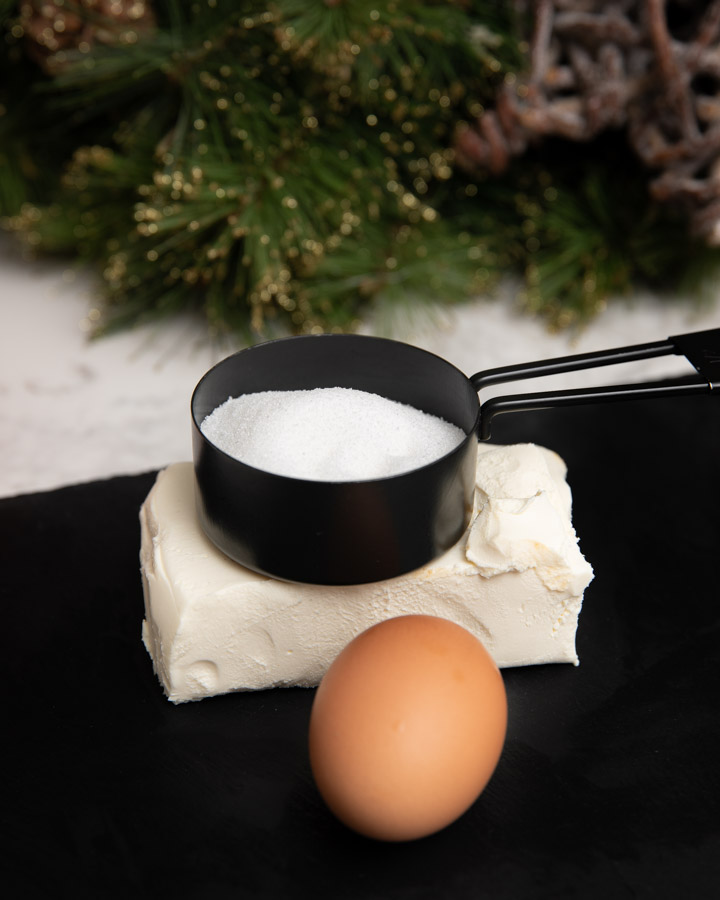 The cream cheese layer literally consists of 3 ingredients. You can mix this by hand with a good whisk or feel free to use your electric mixer again.
Next is the crumble. This definitely can be combined by hand. Get stirring the following:
Once you have prepped all three layers, you're ready to begin loading your muffin tray. We would definitely suggest using muffin liners for these so you maintain the different layers. We LOVE the extra large liners shown below so the crumble doesn't spill out! You can find these simply at your local grocery store.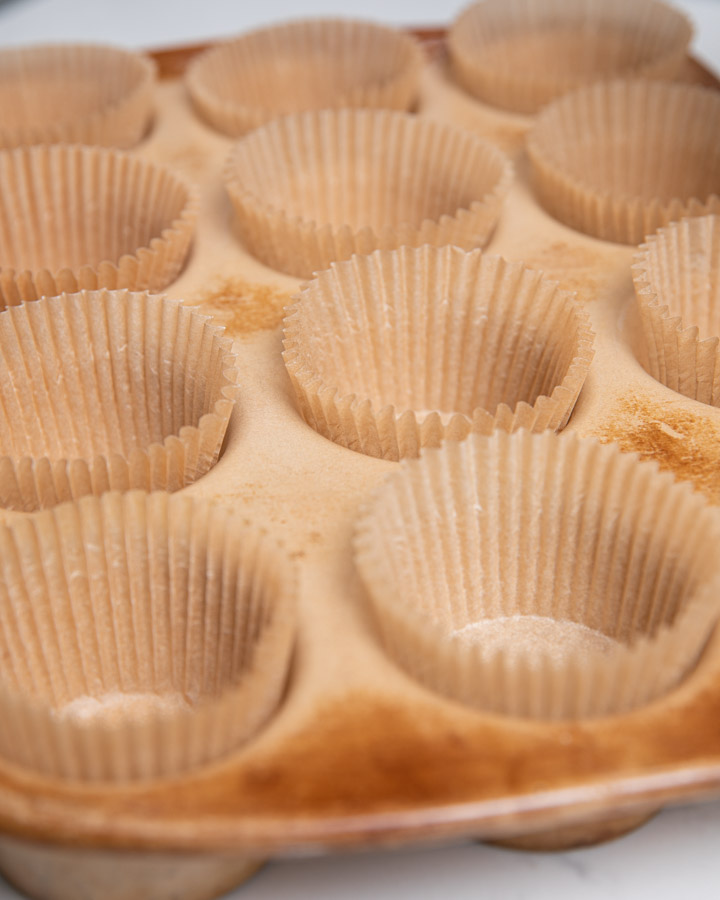 Liners loaded, you're ready to begin filling the muffin cavities. First layer the 'cake' portion (use about 11/2 tbsp of batter). Spread it slightly to ensure bottom of muffin is covered if needed. Then a layer of the cream cheese, (about 1 tsp), and again 'cake batter' (about1 tbsp) to cover the 'cream cheese middle'. Lastly, top each muffin with approximately 11/2 tsp of the streusel crumble. These measurements are suggestions. You may want to adjust accordingly to your pan and size of liners 🙂
Continue to do this for all muffins. When your pan is full, get them into the oven to bake! You're only minutes away from enjoying your coffee in muffin form…Lol.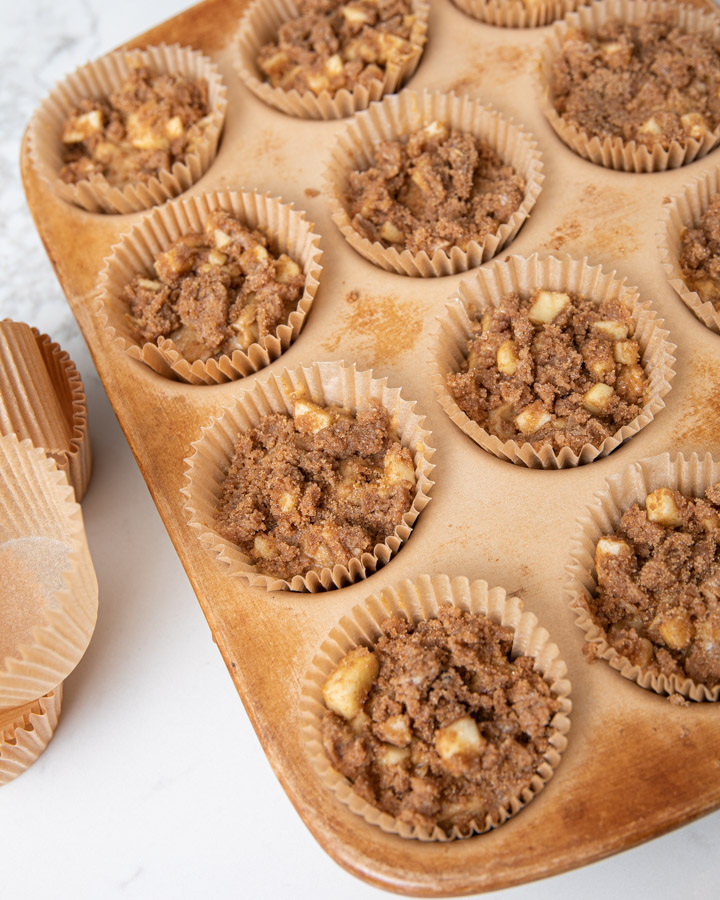 Apple Spice Muffins
Course: Not Always Breakfast, In Betweens
Cuisine: Canadian
Difficulty: easy
An incredibly moist, and flavourful muffin loaded with fresh apples, cream cheese, a streusel crumble top, and baked with Hasty instant coffee! A Christmas miracle that can be prepared early, and frozen until you're ready to enjoy.
Ingredients
'Cake' Batter

1/2 cup cold butter

1 1/2 cup granulated sugar


4 eggs

1 1/2 cup plain Greek yogurt

2 tsp vanilla

1 1/2 tsp CUT Fall Spice

1 1/4 tbsp baking powder

1 tsp baking soda

1/2 tsp salt

3 cup CUT Flour

2 large apple, peeled, cored and diced

1 package of Hasty Instant Coffee, approximately 1 tsp

Cream Cheese Middle

1 pkg. cream cheese


1/3 cup granulated sugar

1 egg

Cinnamon Streusel Crumble

2 cups brown sugar

1/4 cup CUT Flour

1 1/2 tsp CUT Fall Spice

6 tbsp cold butter

***

Muffin Liners
Directions
Preheat oven to 350°F
Prepare ingredients for 'Cake Batter'. Using elctric mixer, begin by whipping butter. Combine sugar and eggs.
Add the rest of ingredients except apples and mix well.
Add apples and stir. Set aside.
Prepare 'Cream Cheese Middle'. Either by hand or in electric mixer, whip cream cheese, add sugar and egg. Beat well. Set aside.
Prepare 'Cinnamon Streusel Crumble'. In large bowl, combine all ingredients and mix well. Texture should look like 'oatmeal' – chunky.
Lightly grease muffin pan and load with paper muffin liners.
Layer first 'Cake Batter' (approximately 1 1/2 tbsp) on bottom of muffin cavities.
Add a scoop of 'Cream Cheese Middle' to each muffin. (approximately 1 tsp).
Add another layer of 'Cake Batter' again to each muffin (Approximately 1 tbsp), covering the 'Cream Cheese Middle'.
Top each muffin with 'Cinnamon Streusel Crumble' (approximately 1 1/2 tsp).
Bake for 23-25 minutes.
Let cool in muffin pan for 10 minutes before removing to cooling rack to let fully cool.
Coffee in a muffin…a Christmas miracle! Enjoy.
Stacey and Meg