Father's day is coming and we have the perfect recipe to celebrate Dad. Dad's of every age and type! Celebrate your Dad, a step Dad, or your Dad's Dad, your husband, a friend's Dad, or someone wishing to be a Dad, a dog Dad, cat Dad, horse Dad, your wife's Dad….the point is to celebrate those around us that we love – whatever "father figure" role they play.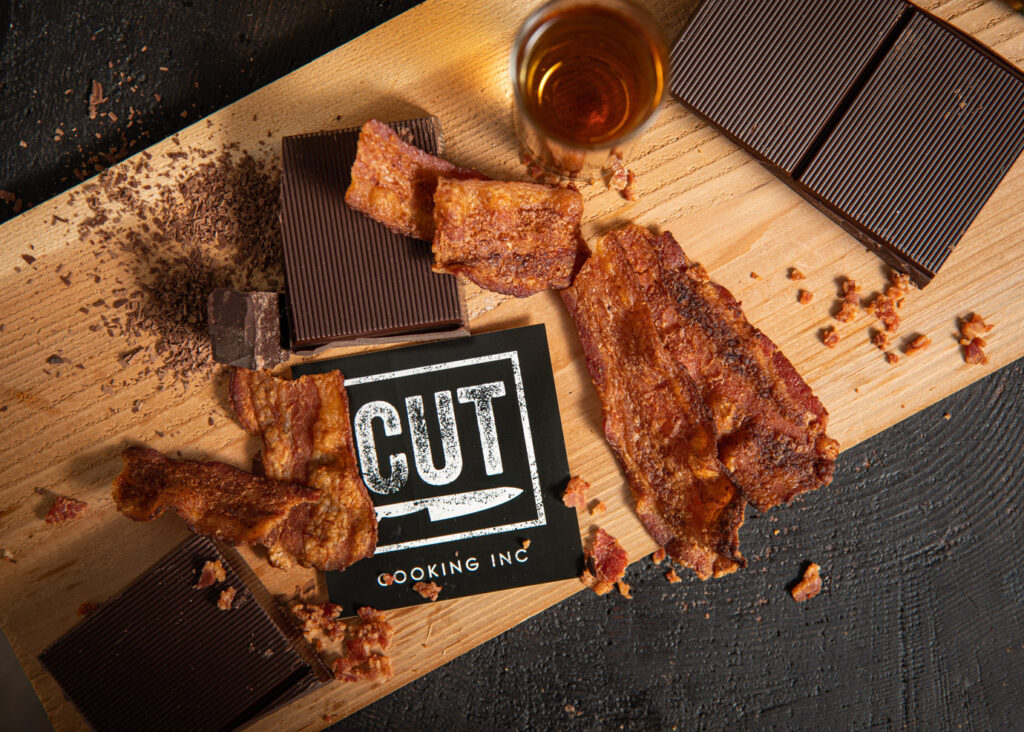 Incorporating bacon, maple syrup, bourbon, and of course Cococo Chocolate, this cupcake is the most incredible fusion of flavours. Inspired from our own families, we wanted to capture the essence of family within a single cupcake.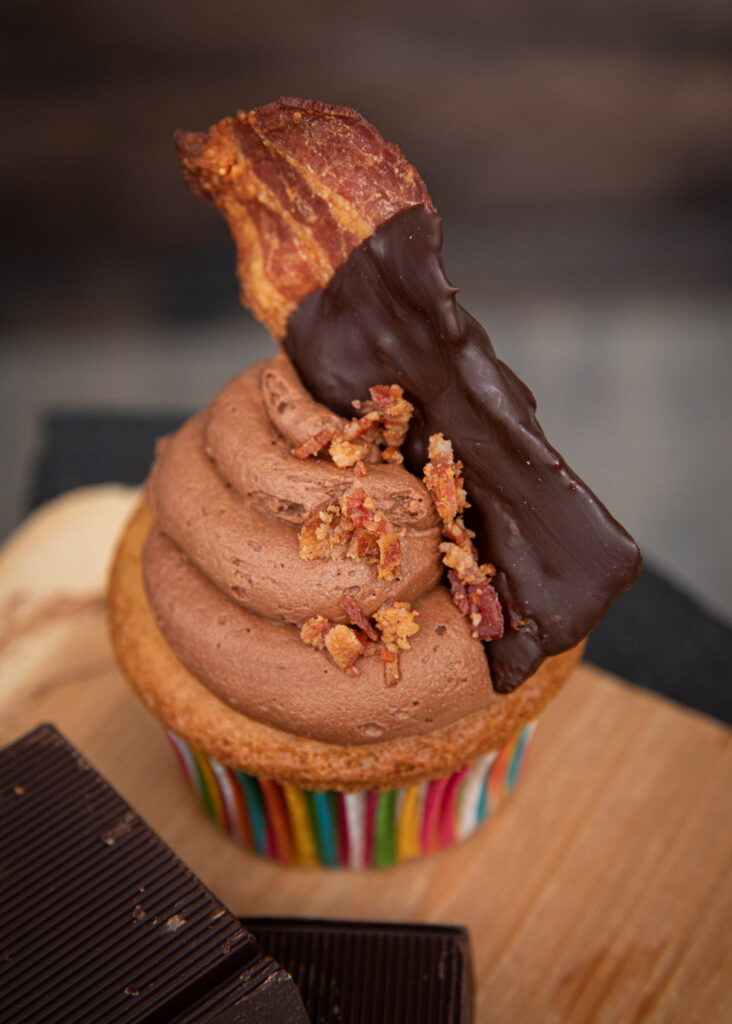 We promise this cupcake will capture the hearts of every age! It has "grown up" distilled spirits that when combined with white cake and maple syrup suddenly become as sweet as a childhood birthday party. Add the chocolate covered bacon and wowzers…Watch out, these cupcakes will bait anyone!
Families are complex. Life is complex. These cupcakes are complex. Complex in their taste that is. In the kitchen, these cupcakes are easy! With an easy method, and basic ingredients, you'll come out on top as the gourmet chef. Did we mention that our Dad's Cupcake is stuffed with a chocolate bacon core?!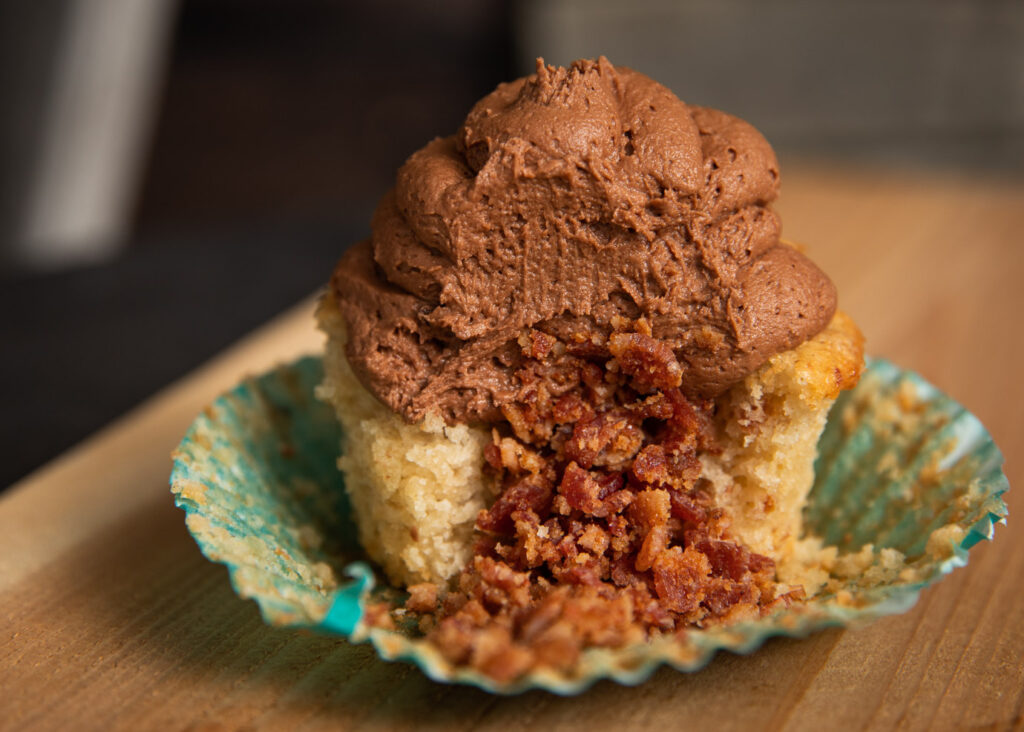 Have we hooked you yet? Let's get reeling and catch the recipe. This one's too good to lose!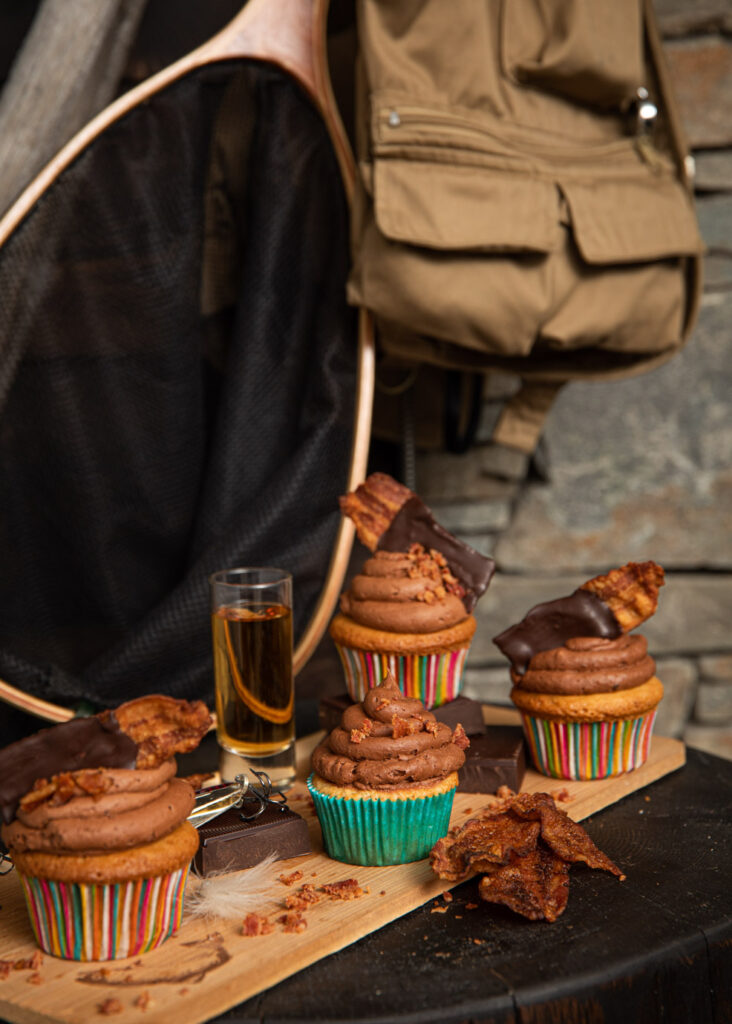 Before beginning in your kitchen, be sure to have your bag of CUT Cooking flour and semi-sweet couverture chocolate from Cococo Chocolatiers. You can use either the semi-sweet couverture chocolate baking bar, or the semi-sweet chocolate drops, it doesn't matter. Quality chocolate doesn't change whether it's in a bar or drop;) As long as it's Cococo, you'll be set.
PS. You can now order CUT Cooking GF flour on their site too!
Let's get started, there are Dad's to celebrate!
Begin by adding all the wet ingredients into a large mixing bowl. Then, sift together all the dry ingredients in a separate bowl. Using an electric mixer, with whisk, slowly combine the dry ingredients into the wet. Mix well but be careful not to over mix. Stir in the cooked bacon and you're ready to fill the cupcake liners, then get these into the oven! It's truly that easy. Let the kids help if they want! Lol, although maybe just the 2 legged ones this time.
Once they've baked, let the cupcakes fully cool before adding the chocolate/bacon core and icing. The time for them to cool is perfect to start making the bourbon chocolate butter cream icing. Cream the butter, melt the couverture semi-sweet Cococo Chocolate and get ready for the most delicious icing ever!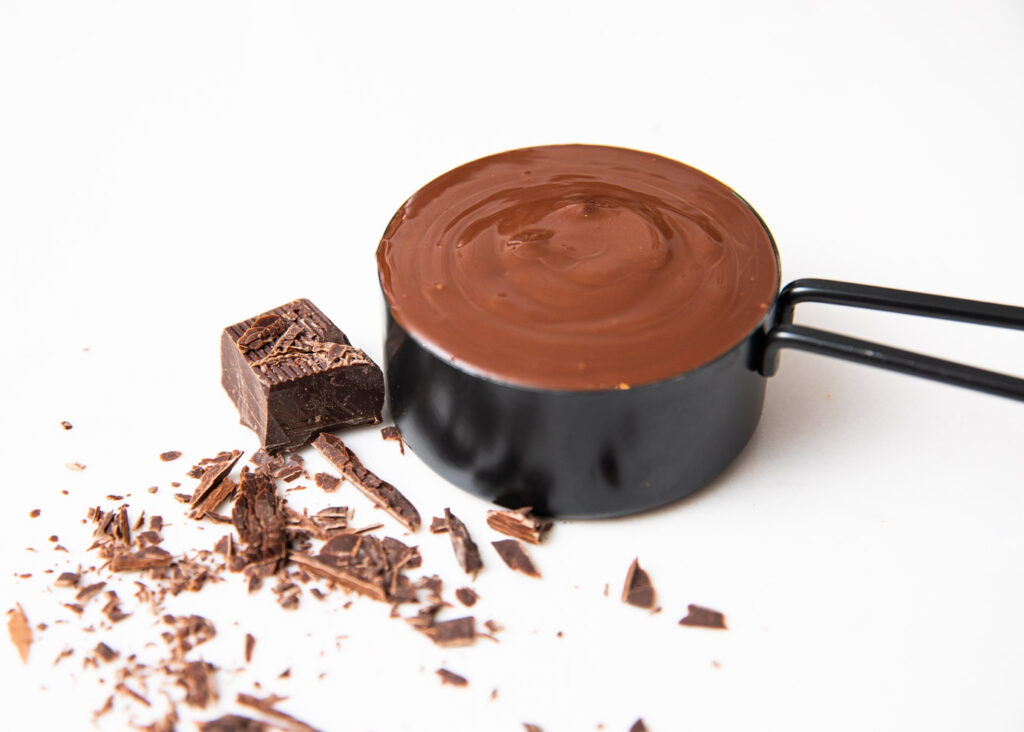 Reserve half of this incredible chocolatey goodness for piping on the top, and the rest gets more bacon added to fill the middle core of the cupcakes with. Do your best not to just eat this by the spoonful out of the bowl…it's SO DELICIOUS!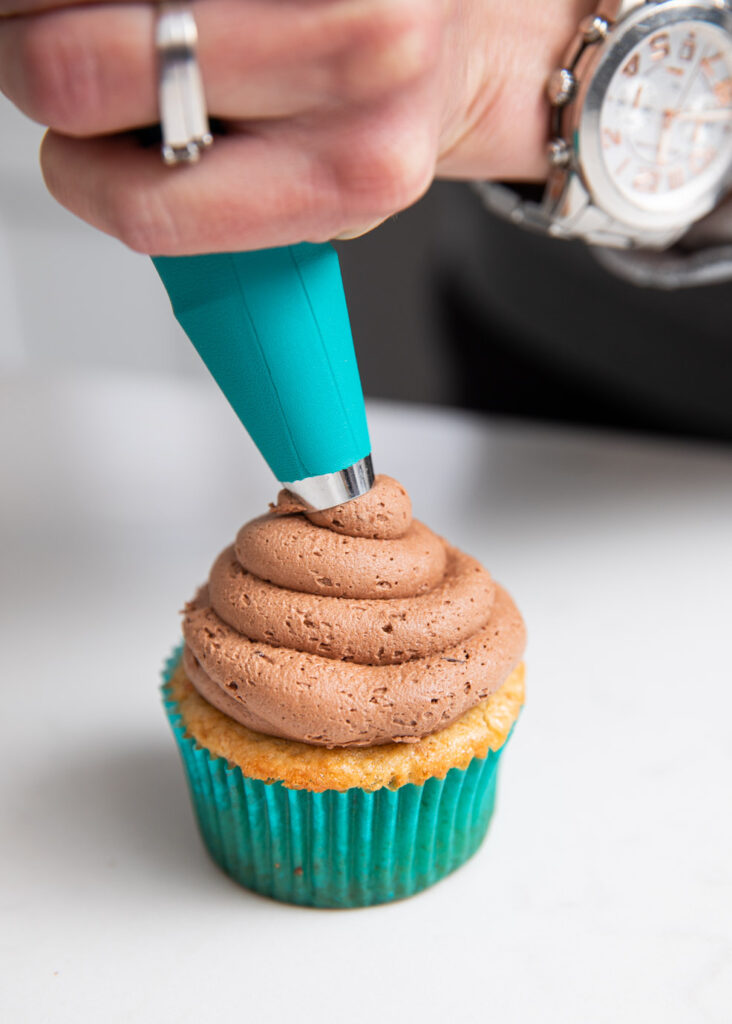 These cupcakes freeze amazing too so don't wait, get baking today! Busy spring schedules? Start by making just the cupcake and freeze it. Then you can make the icing and finish them another day…Happy Dad's Cupcakes Day!
Dad's Cupcakes
Course: Dessert
Cuisine: Canadian
Difficulty: Moderate
These cupcakes encompass the complexity of family, the tastes of all ages and yet are simple to create. Baked with CUT Flour, bourbon, bacon and Cococo Couverture Chocolate, we promise these cupcakes will be enjoyed by Grandpa and sought after by your kids who helped in the kitchen.
Ingredients
Cupcake

1/2 cup plain Greek yogurt

1/3 cup bourbon

2 large egg whites

1/3 cup oil

2 tsp table syrup

3/4 cup sugar


1 1/2 cup CUT Cooking flour

2 tsp baking powder

1 tsp baking soda

Cook 1 X 454g package (1 lb.) gluten-free bacon. Crumble small and measure 1/4 cup into cupcake batter. Reserve the rest for icing and chocolate "core".

Icing and Chocolate/Bacon Core

1 cup soft butter

4 cups icing sugar

1/2 cup melted Cococo Couverture Semi-Sweet Chocolate

2 tbsp bourbon

Reserved gluten-free bacon, cooked and crumbled small
Directions
Preheat oven to 350°F
Combine "wet" ingredients, Greek yogurt, bourbon, egg whites, oil, and table syrup into large mixing bowl.
Sift together CUT Flour, sugar, baking powder and baking soda into a separate mixing bowl.
Using an electric mixer with whisk attachment, combine wet and dry ingredients. Don't over mix.
Stir in 1/4 cup crumbled bacon bits.
Place liners in muffin tray. Fill muffin cups 3/4 full of batter.
Bake for 23-25 minutes, until cupcakes are slightly browned.

Remove from oven and let slightly cool approximately 5-10 minutes. Remove individual cupcakes from pan onto cooling rack and let completely cool.
Begin making chocolate bourbon buttercream icing.
Using electric mixer and whisk attachment, whip butter until soft and smooth. Mix in bourbon.
Gradually add icing sugar. Allow sugar and butter to mix well before each new addition.
Melt Cococo Couverture Semi-Sweet Chocolate in microwave using short 25 second intervals, stirring in between.
Once completely melted, add to mixing bowl and stir well.
Divide icing in half within two separate bowls. Add reserved crumbled bacon into one bowl and stir well.
Using an apple corer or simply a knife or spoon, core a section from the middle of each cupcake. Take care not to go through the cupcake liner and leave a small bottom layer of cake.
Scoop the bacon chocolate buttercream icing into the middle and fill each cupcake middle core. We found a small spoon or a butter knife works best!
With remainder bacon icing, spread a think layer over the top of each cupcake to seal the core.
Pipe plain chocolate bourbon icing on top of each cupcake.
Take a bite, enjoy the complexity of family! Happy Father's Day.
Stacey and Meg