It's fall! The leaves are turning every vibrant shade of red, orange and yellow. The clear night skies are cool and the days are warm. The garden harvest has happened and the pumpkins collected! Now is the task of what to do with the pumpkins…don't worry! This recipe for pumpkin scones is to your rescue. In fact, we're fairly certain it will be on repeat.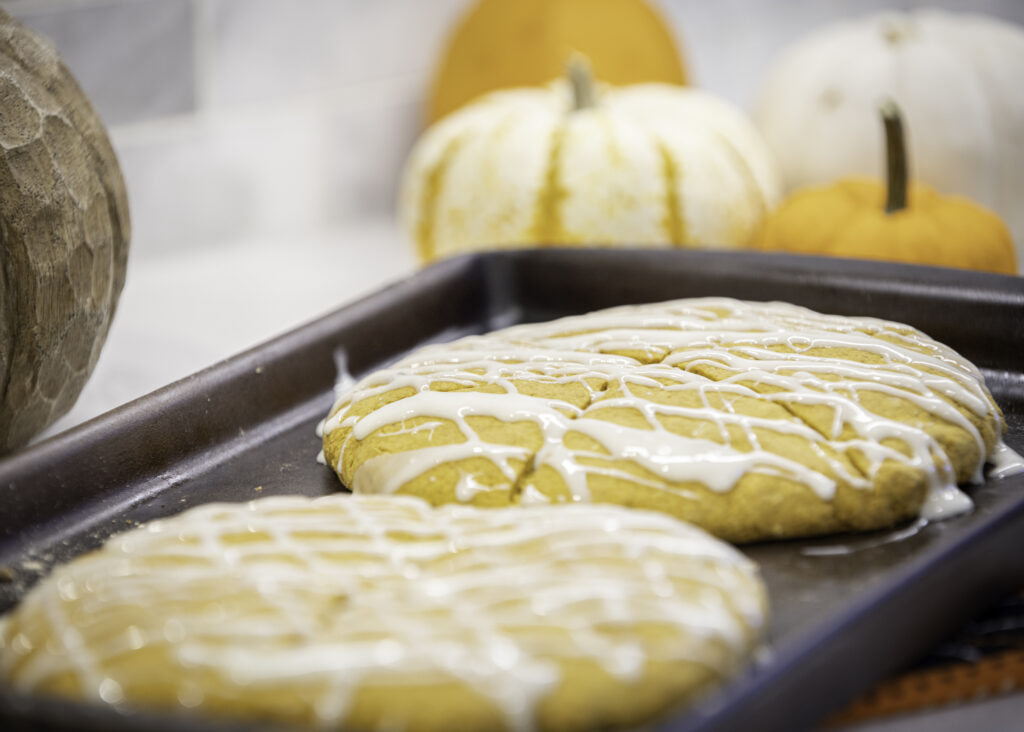 These pumpkin scones are moist, full of fall spice and promise that everyone will be reaching for another! Not a typical British scone that would be topped with jam and clotted cream, this variety is more common here in Canada. It's usually a triangular shape, more dense and often a staple in coffee shops this time of year. Although clotted cream or not, we love topping this pumpkin scone with jam!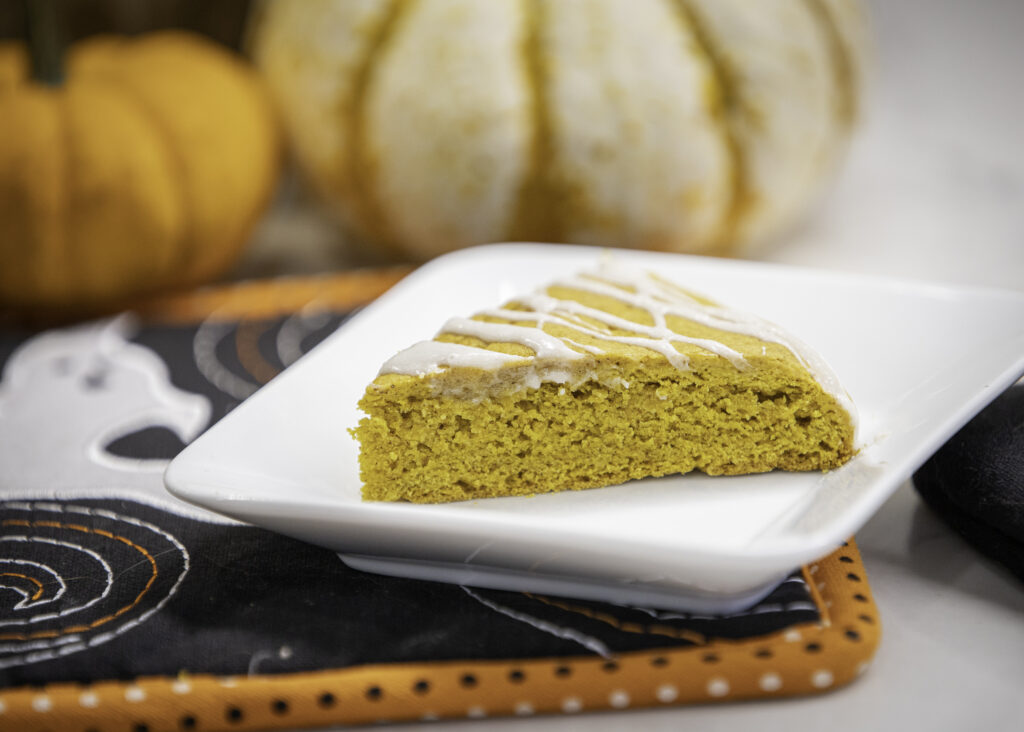 We love recipes that are easy and this one is no different. Literally combine the ingredients in a mixing bowl, divide and bake. You won't go wrong! They might even be better than the coffee shops down the street 😉 …and they're gluten free.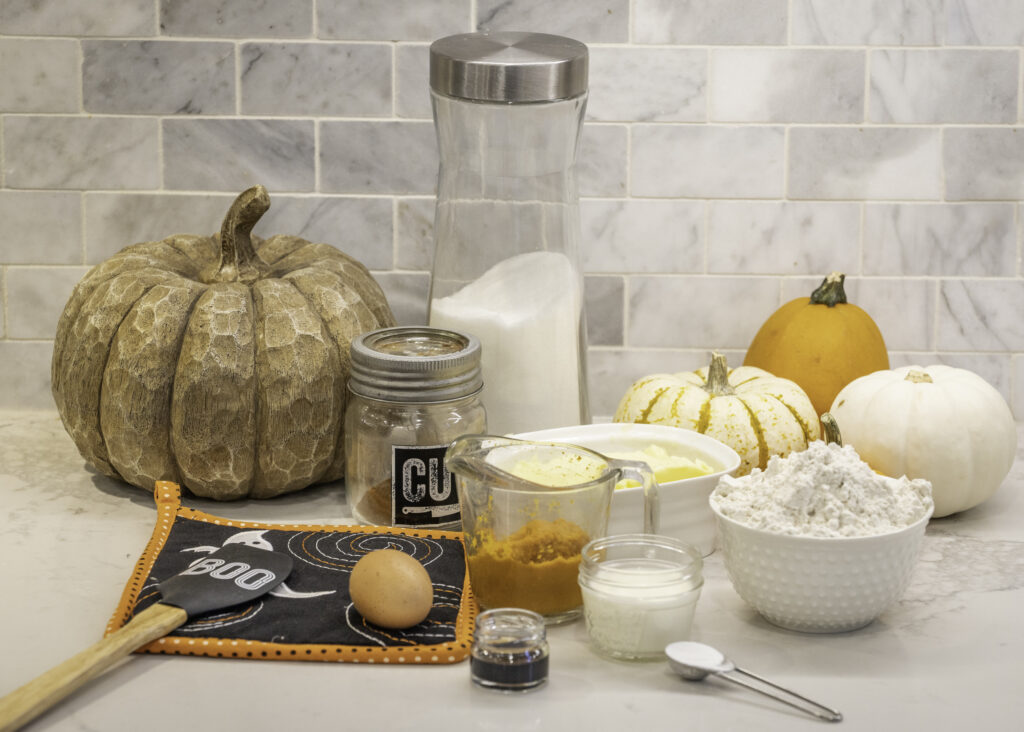 If you're reading this and are thinking to yourself, who gardens and has fresh pumpkins they need to use?! It's all good! This recipe works well with freshly cooked, puréed pumpkin and also store bought canned. Just a gentle reminder though; when purchasing canned pumpkin, ensure it's plain canned pumpkin and not pumpkin pie filling. They often sit right beside each other on the shelf at the grocery store, and many pumpkin pie filling mixes contain wheat or sources of gluten. If purchasing straight up canned pumpkin – no worries, you should be good!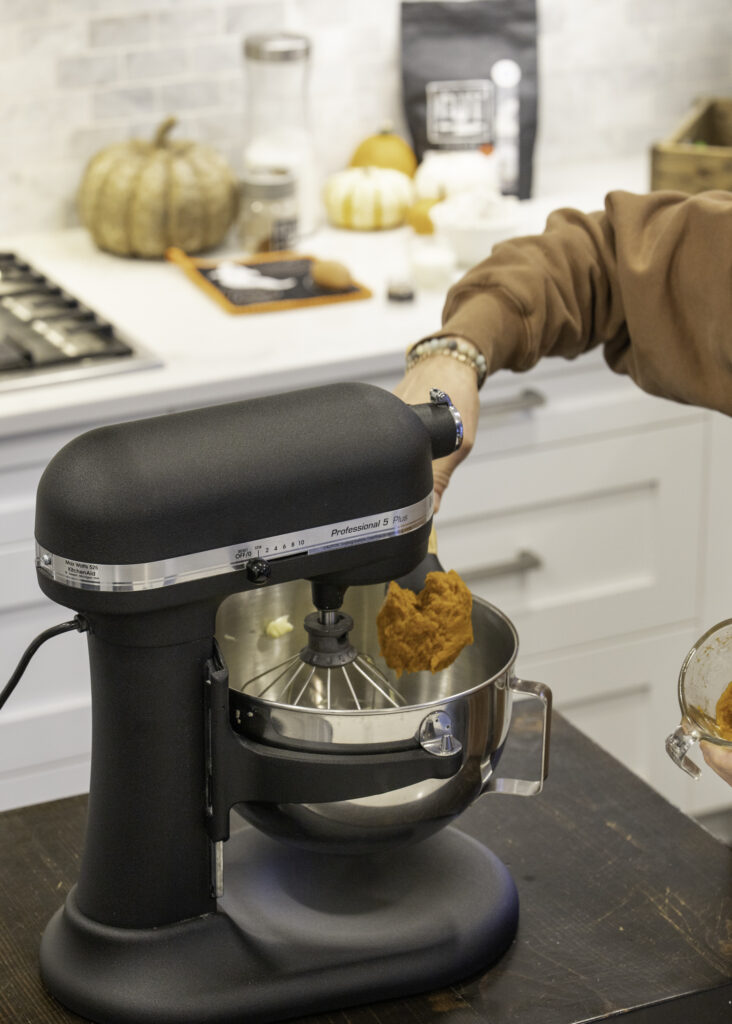 This recipe is perfect paired with a cup of tea or coffee or even packed in the kids' lunches. We love it for a snack, breakfast or brunch. It's so incredibly versatile and seems to win with every age! It freezes well and even has been wrapped and tossed into a purse or two…
Pumpkin Scones
Course: In Betweens
Cuisine: Canadian
Difficulty: Easy
Full of spice and everything fall, we're certain these pumpkin scones will be on repeat. The perfect addition to a cup of tea or coffee or even packed in the kids' lunches.
Ingredients
1/3 cup butter  

1/2 cup pumpkin puree 

1/4 cup whipping cream 

1 egg 

1 tsp vanilla 

2 cups CUT Flour

1/3 cup white sugar 

2 tsp CUT Spice

1 1/2 tsp baking powder 


**Optional Glaze:

1 tbsp whipped cream cheese 
3-4 tbsp icing sugar 
1 tsp milk 
In small bowl, combine and by hand whip well together. Drizzle using spoon over cooled scones 
Directions
Preheat oven to 375°F
Using mixer, add butter and whip.
Combine pumpkin, whipping cream, egg, vanilla and mix.
Mix until dough pulls together and forms a ball. Be careful not to over mix.
Divide in half and make 2 balls. Flatten each to approximately 1" thick on lightly greased baking sheet.
Score with knife and divide each circle into 8 even pieces.
Bake for 15 minutes. Check to see if fully baked by inserting a toothpick into the centre of each circle. If the toothpick comes out clean, remove from oven. If toothpick has batter, bake for additional couple minutes. 
Let cool for at least 5 – 10 minutes.
Serve and enjoy with favourite toppings – butter, jam, syrup, whipping cream, honey, etc. Or Optional Glaze** 
Enjoy every minute of this beautiful season!
Stacey and Meg