We're not going to lie, short ribs is a cut of meat that neither of us buys very often at the grocery store or butcher. Although seriously, after developing this latest recipe, we both will be buying these more often!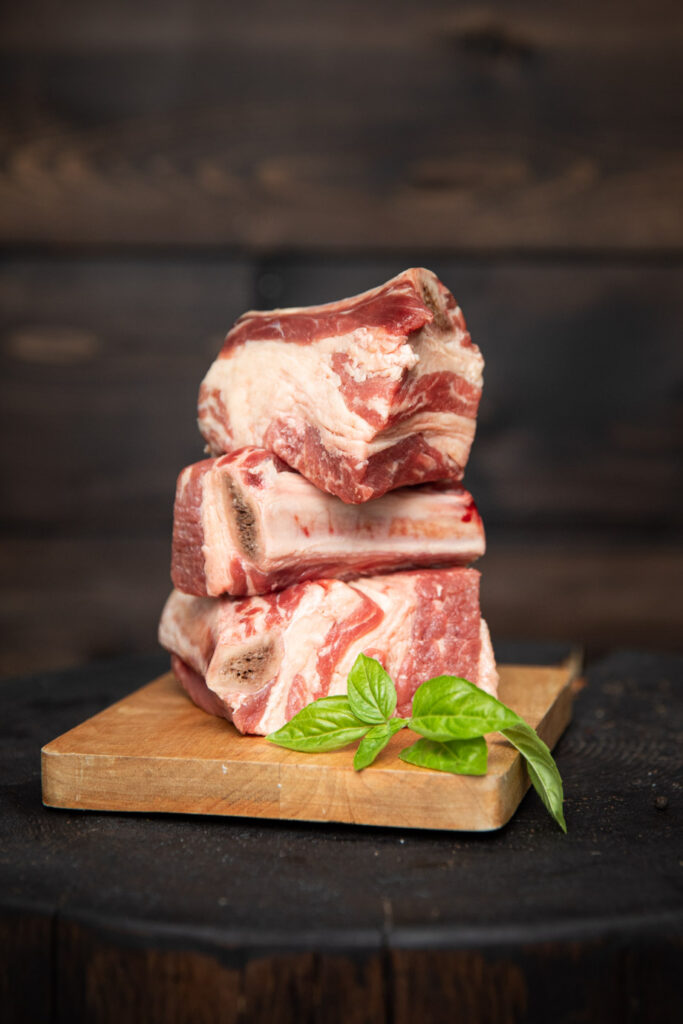 Beef short ribs are almost like a steak except waaaay cheaper. They're the same size as regular pork back ribs but warrant even more meat per bone ratio. So these days when we're all trying to save an extra dollar, more short ribs it is!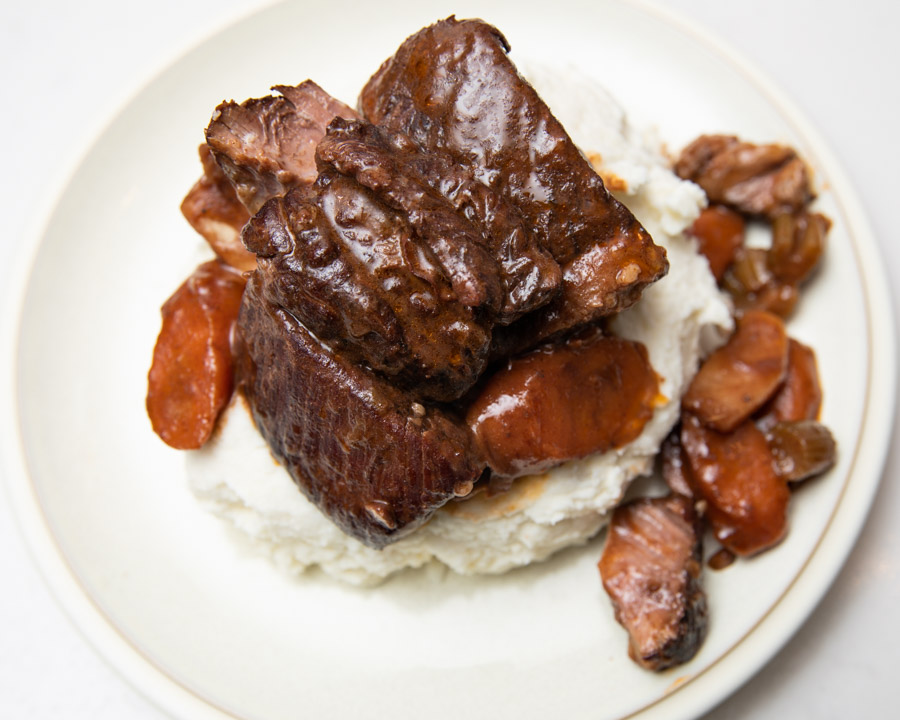 We promise though, you won't regret this decision. Support local Alberta beef producers and stew more short ribs! They're delicious!!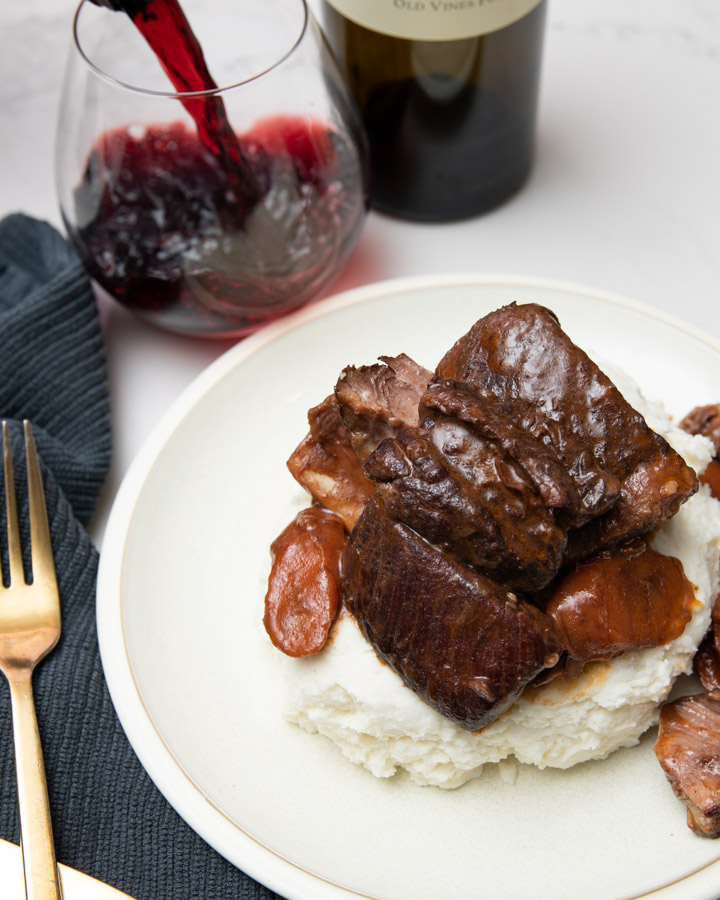 Our recipe incorporates a favourite drink of ours….yep! Red wine. Feel free to use any full bodied red that you may have. Although one of our very favourite wine producers is Quails Gate in Kelowna, BC. If you haven't tried any of their wines – you must! Drink local, drink Quails Gate Old Vines Foch. You are in for a TREAT!!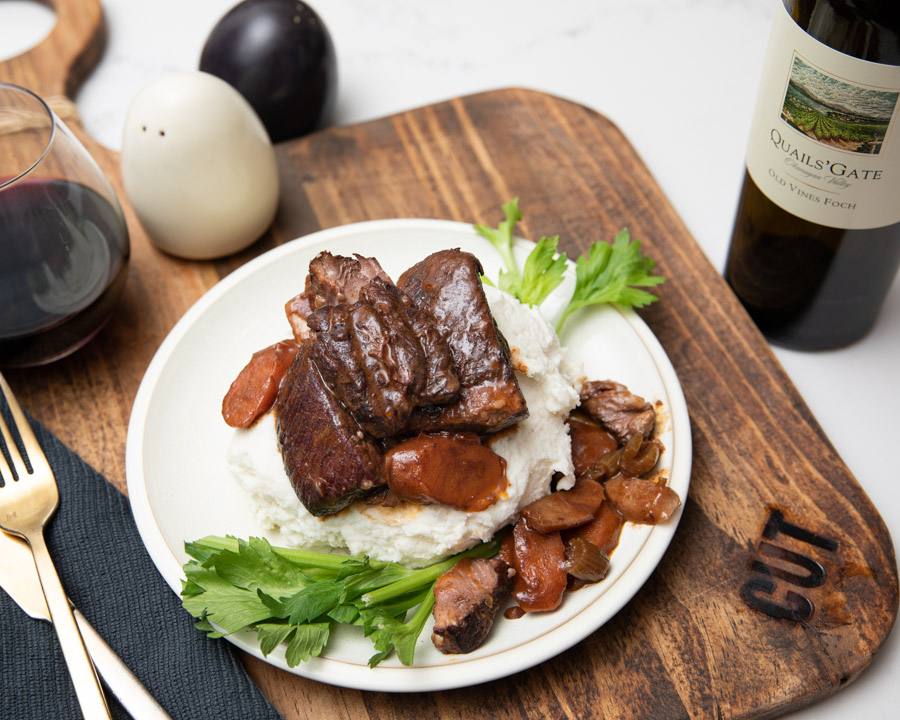 Lol, ok – back to our short ribs. This recipe is so incredibly easy. It's cold outside and no one wants to grill. Pull out your slow cooker, mix the ingredients and get ready for an amazing dinner! You can even prep the ingredients in the slow cooker the night before if your mornings are crazy like ours!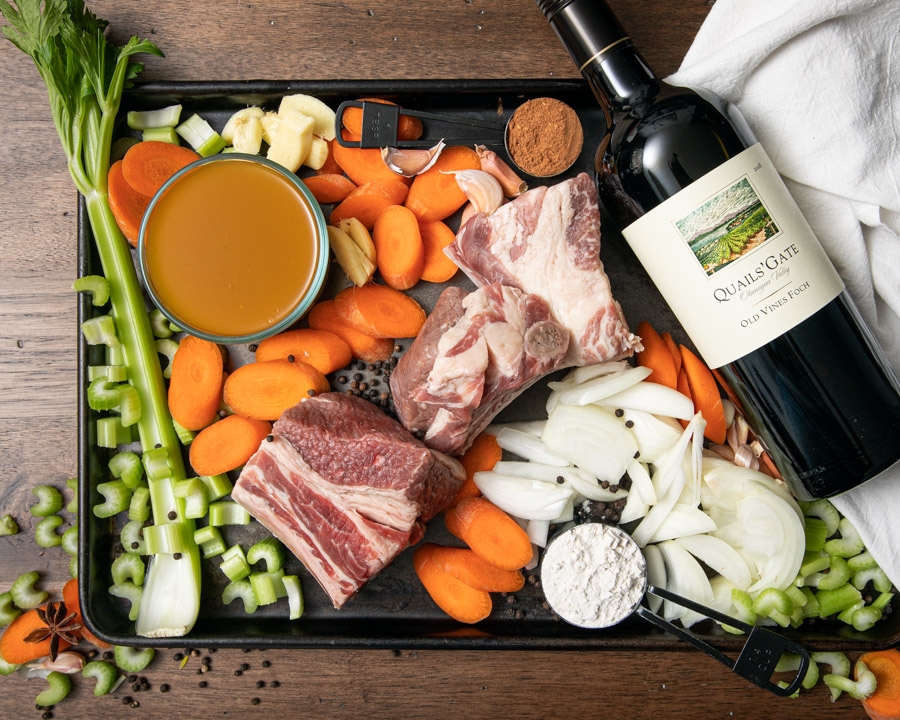 After searing the ribs quickly on high heat in butter, this recipe begins similar to making a soup. You'll fry the onions, garlic, carrots and celery until soft. Then add CUT Flour and CUT Fall Spice and make a "roux".
You'll then add the veg broth, tomatoe paste, anise, ginger root and red wine! Stir everything well and pour over your ribs in the crock pot. That's honestly it! The most incredible ribs out of your own kitchen…
Stewed Short Ribs
Course: Main
Cuisine: Canadian
Difficulty: Easy
These mouth watering, tender Stewed Short Ribs will literally fall off the bone. Slowly cooked in a full bodied red with hints of ginger, cinnamon and anise; we promise short ribs will become a staple on the grocery list.
Ingredients
1/4 cup butter

3 lbs. beef short ribs (1.3 kg)

1 cup yellow onion, roughly chopped

1 cup carrot, roughly chopped

1 cup celery, chopped

4 cloves garlic, minced

1/4 cup CUT Flour

1 tbsp CUT Fall Spice

1 cup gluten-free vegetable broth

3 cups full bodied red wine (Foch, Cabernet Savignon)

1 tbsp ginger root, roughly chopped

1 anise star

2 tbsp tomatoe paste
Directions
On high heat, melt butter in frying pan and sear all sides of short ribs.
Transfer meat to slow cooker.
Add onions and garlic to butter, reduce heat to medium and cook for 5 minutes.
Add carrots and celery and cook for 2 more additional minutes.
Add CUT Flour and CUT Fall Spice. Stir to create a "roux".
Combine tomatoe paste and sauté everything well for additional 3 minutes.
Add ginger root, star of anise and wine. Stir well.
Pour over short ribs in slow cooker.
Cook on low for 6 hours.

Who knew short ribs were this delicious? Lol, we did 😉
Stacey and Meg