Coconut and fish – we figure these 2 incredible foods are the perfect pairing. Not to mention, it's -30°C today as we write this blog and the combo just sounds balmy doesn't it? Coconut…Fish…imagine a warm beach…drinks with umbrella's…we promise you'll be swept away with this recipe! Let one bite transport your taste buds to a warm exotic island – at least for a minute, until you step outside into the deep freeze again.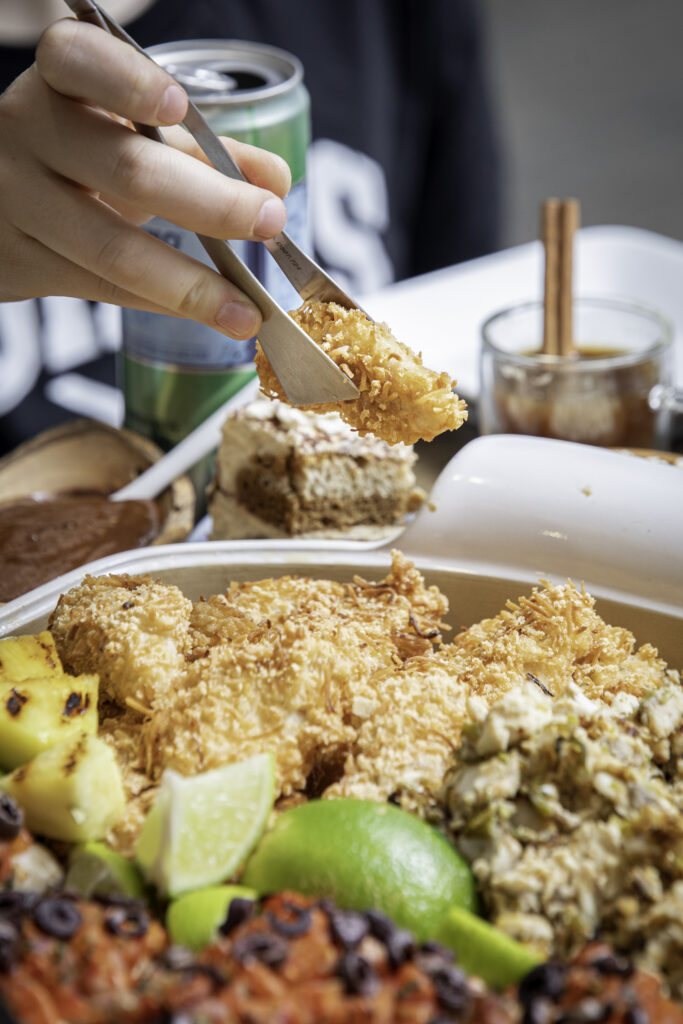 This is such an easy recipe and the end result is phenomenal! Honestly, everyone in our families LOVED this recipe. Including the kids!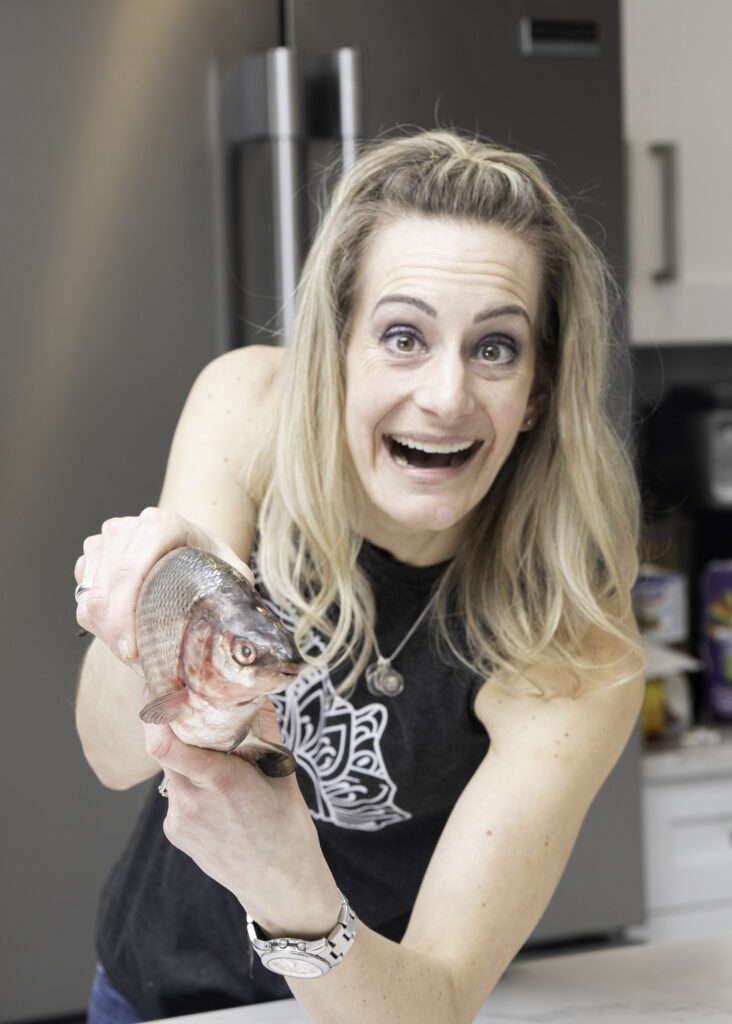 Find your favourite white fish. It won't matter whether it's haddock, cod, sole, maui maui, or simply a mountain white fish caught fresh from a Canadian lake…thanks to Stacey's husband this is what we used! Fillet and cut the white fish into nuggets/strips and lets get going.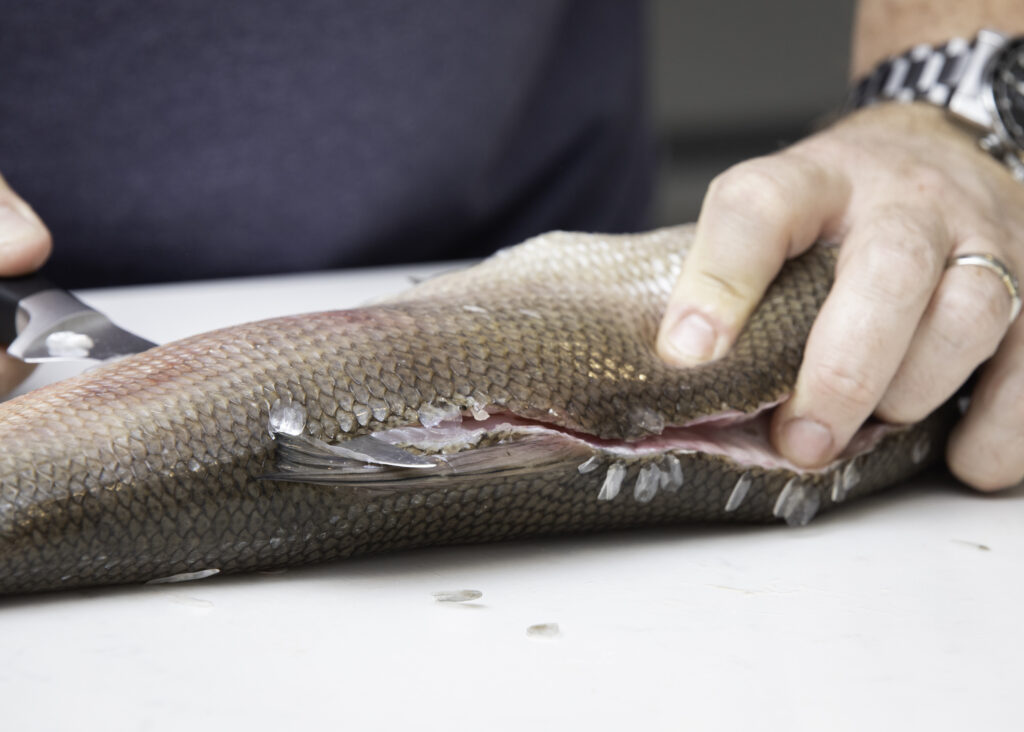 Using basic dredging methods, you'll create three different bowls. (Hint* pie plates make excellent dredging bowls). One of CUT Cooking flour, the next of egg/coconut milk, and the third of GF Panko bread crumbs and flaked coconut.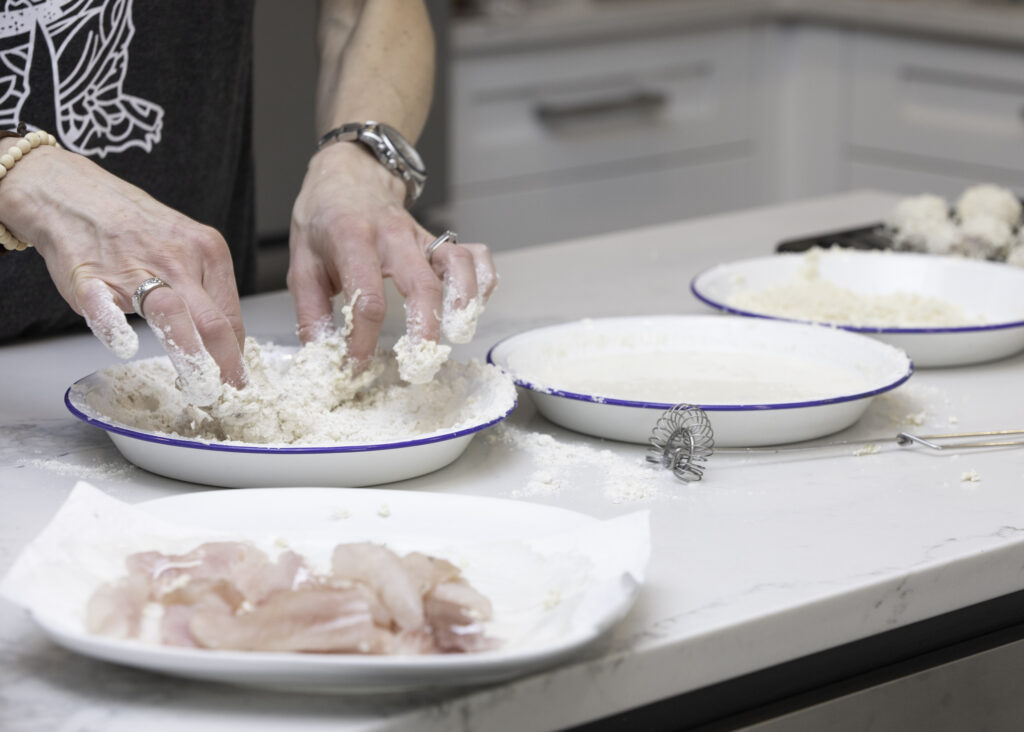 Simply dip the pieces of fish into CUT Cooking Flour and then into the coconut milk/egg mixture, then repeat. Then dip the fish finally into the coconut/ GF Panko crumbs. Ensure that the fish is well covered and set it aside. Dredge all the pieces before cooking. Yes – your fingers will get messy! Lol.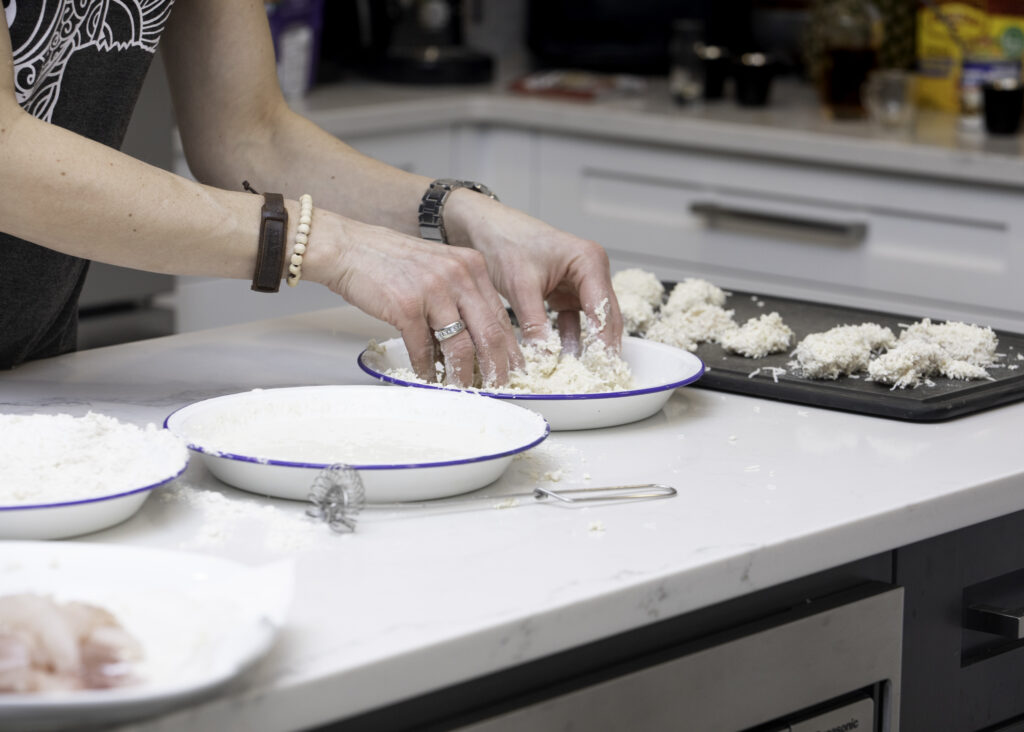 When all the fish is dredged and ready to fry, use a deep pot and fill with approximately 3″ of oil. We used canola oil but feel free to use plain vegetable oil or grapeseed oil too. Get ready to deep fry!
These fish nuggets are such a treat. To properly deep fry the fish, you'll need your oil HOT! In fact, it needs to be at 375°F. Pull out your cooking thermometer and use the time to start cleaning up your dredging station. You'll have a few minutes. However, please never leave oil warming on the stove unattended and never look directly into a pot of hot oil!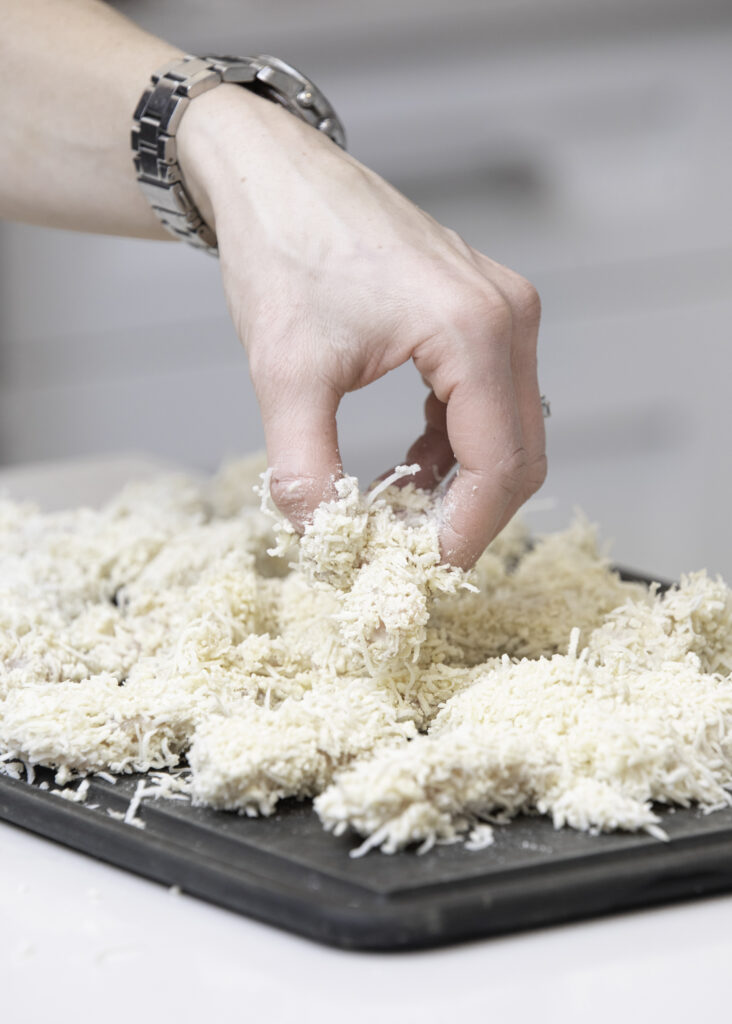 Once the oil is warmed to a temperature of 375°F, let the games begin! Depending on how large your pot is, you'll carefully drop a few pieces of fish into the oil at a time. Once the bread crumbs have turned golden brown, it's finished cooking. Using a slotted spoon, carefully remove the fish from the oil. Let the oil drip off and then set on a plate lined with paper towel. This will help pull any excess oil away from the fish. It will take approximately 2-3 minutes for the fish to be fully cooked. If you want to ensure it's cooked, you can use your thermometer again and insert into the center of each cooked piece. Fish is safely cooked when the internal temperature has reached 145°F.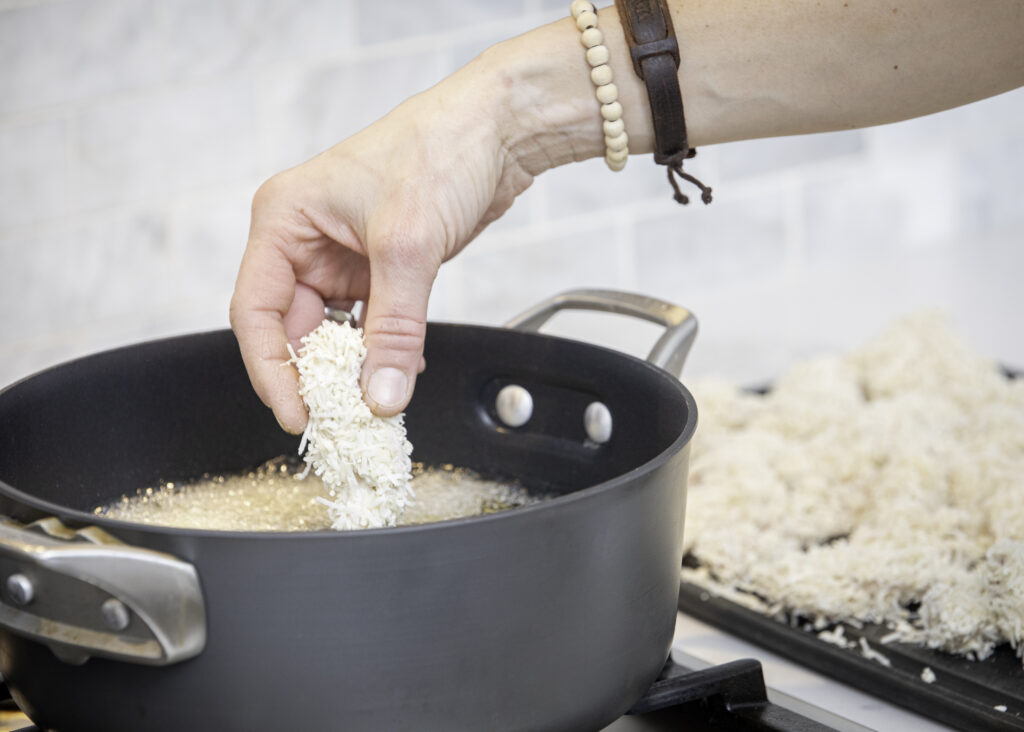 Once all the pieces of fish have been cooked go ahead and enjoy! We love to dip the fish nuggets in our Creamy Avocado Dip. The end result is absolutely amazing. Enjoy your trip to the tropics for supper…you're welcome!
Coconut Fish Nuggets
Course: Fish, Main, Appetizer
Cuisine: Canadian
Difficulty: medium
Coconut and white fish – the perfect pairing! We promise you'll be swept away with this recipe. Let one bite of this coconut crusted fish transport your taste buds.
Ingredients
400 g white fish (Haddock, cod, sole, maui maui…) 

1 can coconut milk (400ml)

1 egg

1 cup CUT Cooking GF flour


1 cup Gluten Free Panko bread crumbs

1 1/2 cup dried flaked coconut

Canola oil (enough for deep frying – approximately 3-5 cups depending on size of pot)

Creamy Avocado dip for dipping!
Directions
Using 3 medium sized bowls (pie plates work great!), mix coconut milk and egg in one bowl. CUT Cooking flour in another. And flaked coconut and GF Panko bread crumbs in the third.
 
Dip fish in CUT Cooking flour, then coconut milk and repeat.
Then dip the fish in the third bowl of Panko bread crumbs and flaked coconut.
Repeat with all the pieces of fish until all are dredged and coated with coconut mixture.
Using a deep pot, fill approximately 3″ with oil and heat to 375°F. Using a cooking thermometer ensure temperature of oil is 375°F. Never leave the oil unattended or look directly into the pot full of oil!
Once the oil is warmed to a temperature of 375°F, carefully drop a few pieces of fish into the oil at a time. Once the bread crumbs have turned golden brown, they've finished cooking. It will take approximately 2-3 minutes for the fish to be fully cooked. (If you want to double check it's cooked, you can use your thermometer again and insert into the center of each cooked piece. Fish is safely cooked when the internal temperature has reached 145°F.)
Using a slotted spoon, carefully remove the fish from the oil. Let the oil drip off and then set on a plate lined with paper towel. This will help pull any excess oil away from the fish.
Continue this process until all of the fish is cooked!
Pour an umbrella drink and let your taste buds be swept away,
Stacey and Meg