Get your Irish on! With the luck of a shamrock's petal we did it! Celebrate St. Patricks Day with your friends and family with GREEN PIZZA. We're pretty sure that if you create this incredible pizza you'll feel like you successfully followed the end of the rainbow and found the pot of gold. Lol, it's so delicious! And it's so easy! And so fun!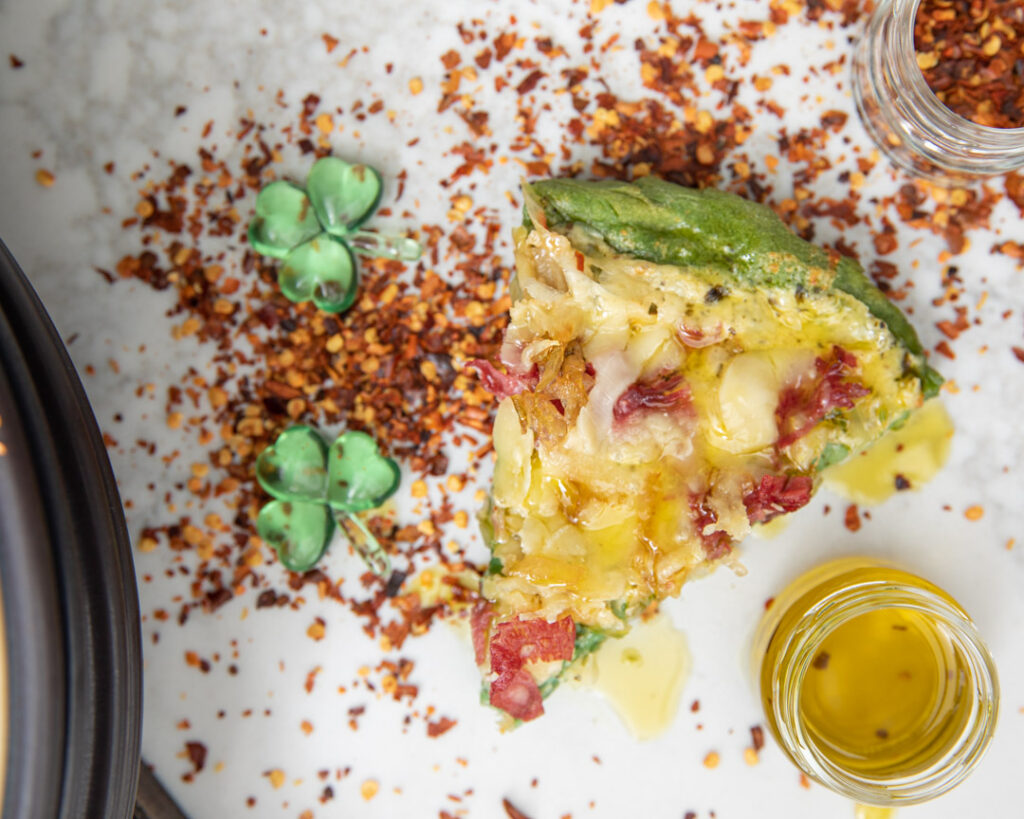 Using traditional Irish ingredients, we've created a pizza that you'll definitely cheers too. The combination of corned beef, green cabbage and a smooth Dubliner cheese is outstanding. It's unique fusion of flavour couldn't be better to celebrate the luck of the Irish. Pour a green beer and get rolling out your green pizza dough. Tonight is all about green, fun and luck! Just be cautious those sneaky leprechauns don't try and steal dinner. A pizza this good? They'll surely try!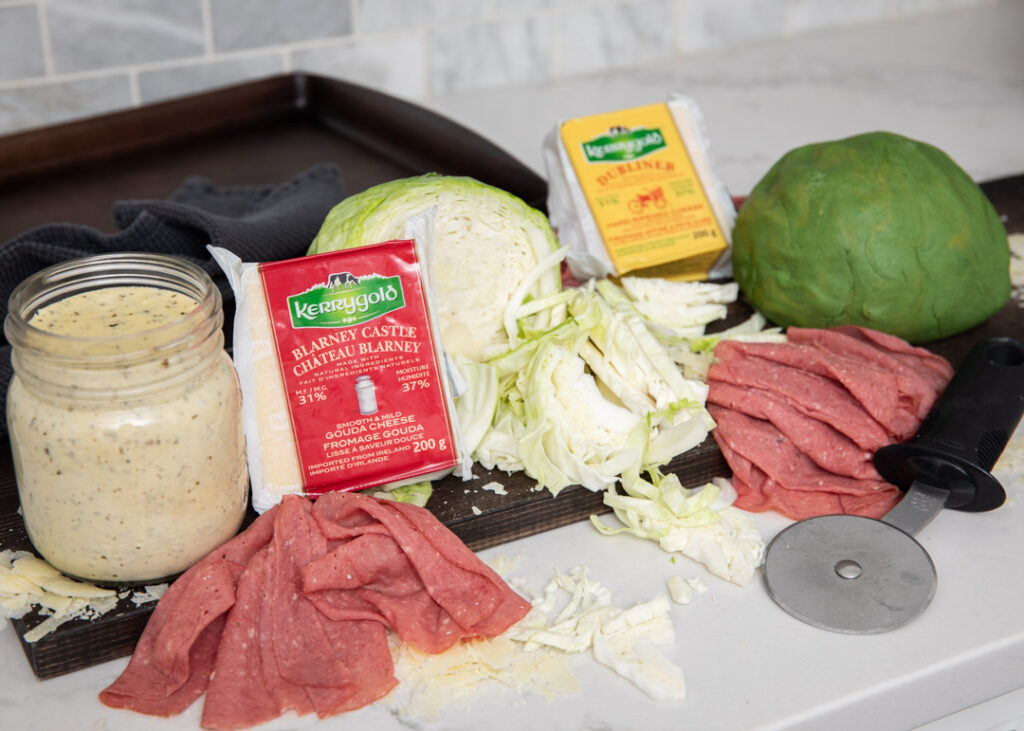 We didn't use a regular tomatoe pizza sauce to spread over this green crust. Instead, we used our creamy Epic Garlic Sauce and added CUT Pesto. It's flavours are so perfectly matched with the caramelized cabbage! Make sure to save a little extra for dipping the crust afterwards too. It's so good!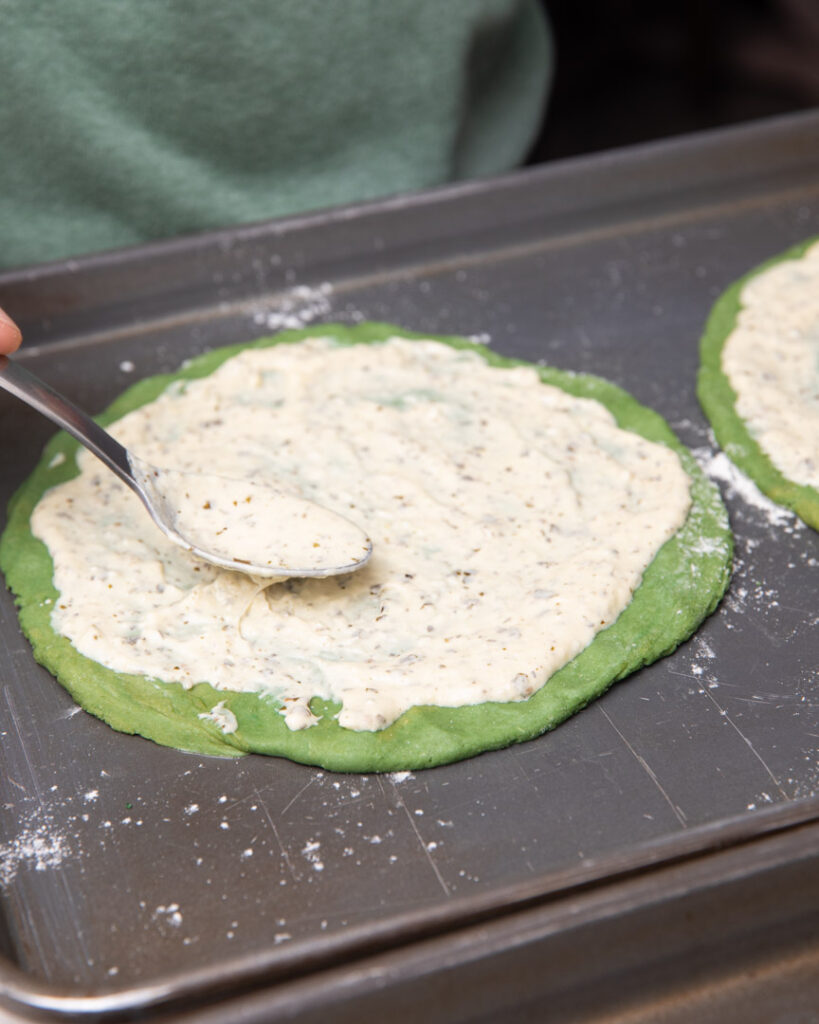 The pizza crust? We made CUT Pizza Dough and simply dyed it green. The kids had such a laugh, they couldn't believe they were eating GREEN pizza! We promise, this is such a fun option for every age. Pull out your green food coloring and celebrate.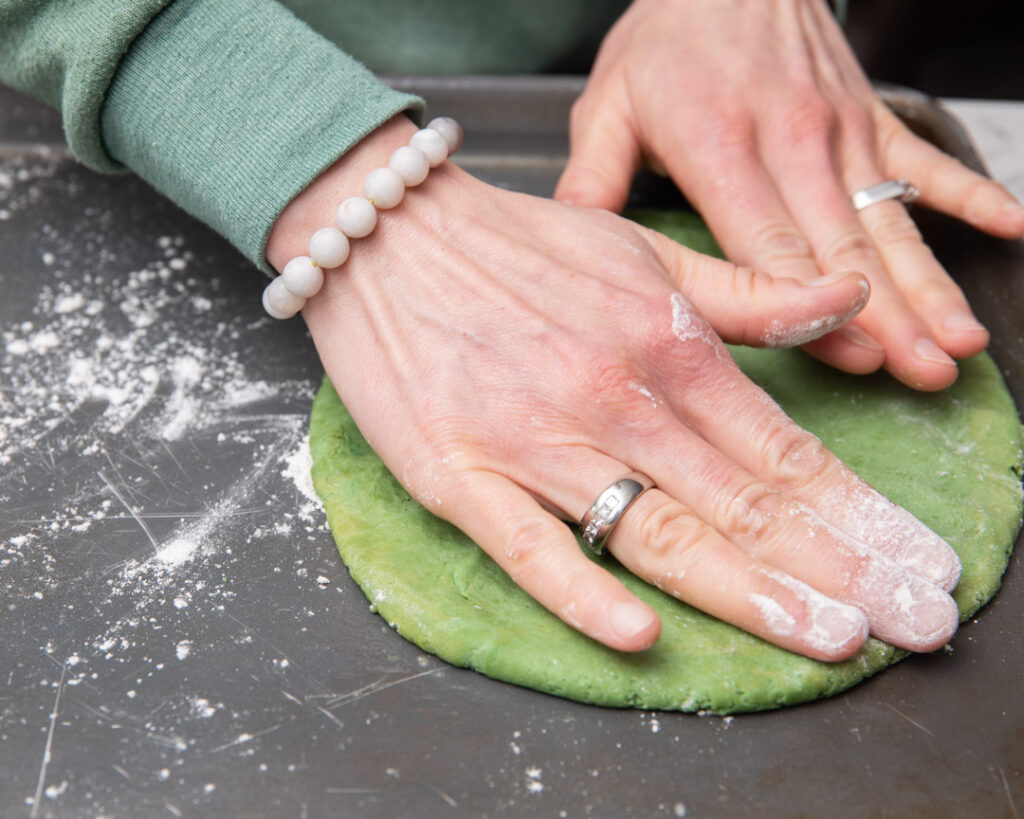 Once you've got your sauce and pizza crust sorted, go ahead and begin to create the beer caramelized cabbage. You'll use only 1 cup of gluten-free beer to make the pizza crust, so be sure and reserve the rest of the can for stewing the cabbage. Melt the butter, chop the cabbage and add the beer and spice. Let the Shenanigan's begin!!
When the cabbage is caramelized, you're ready to create your pizza! Roll out your crust, spread your sauce, grate the cheese and add the corned beef and cabbage. Your dinner luck is about to change. Irish pizza may just become a favourite…even the kids agreed the cabbage was alright! Lol. (And don't worry about the beer – the alcohol cooks out as you caramelize.)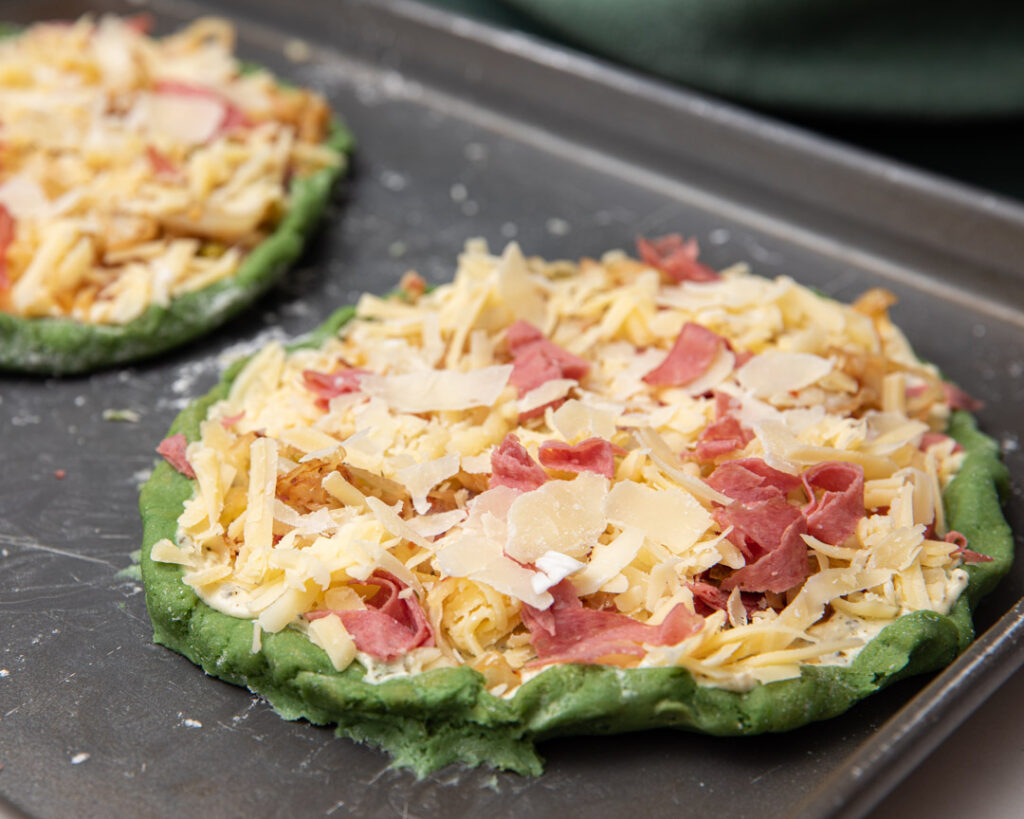 While the pizza is baking, pour yourself a green beer or mix up a shamrock shake. Celebrate St. Patricks Day right within your own kitchen! Cheers!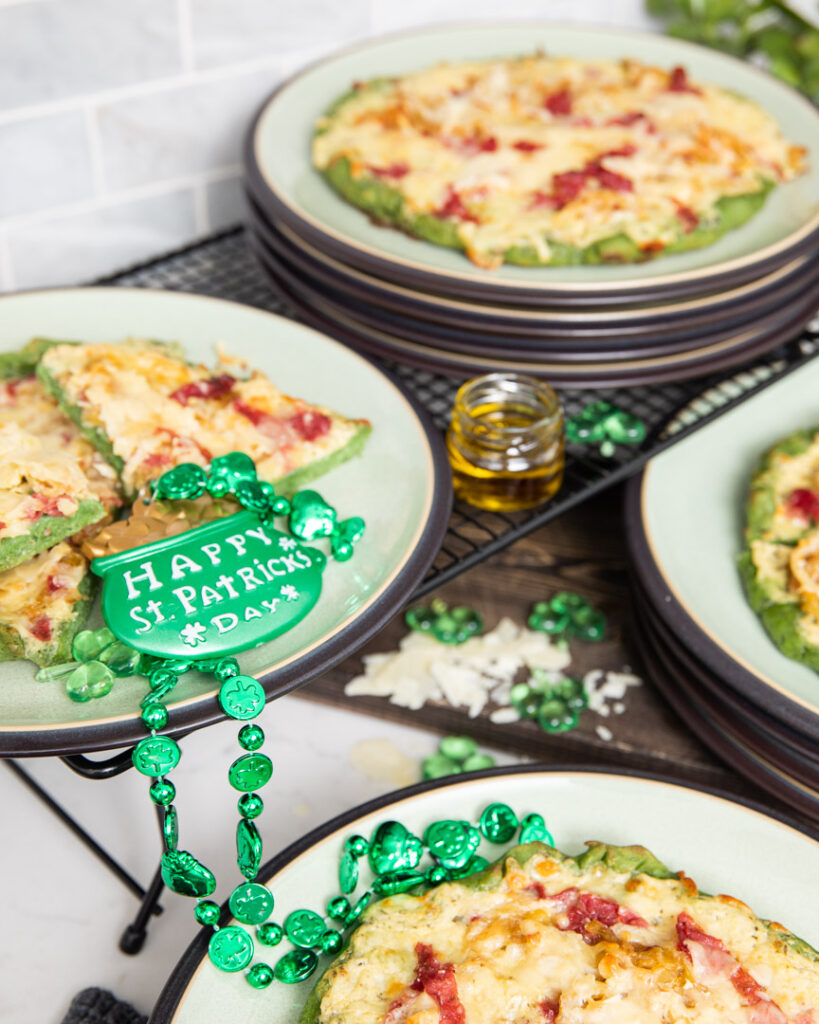 Irish Pizza
Course: Main
Cuisine: Canadian, Irish
Difficulty: Easy
Let the shenanigan's begin! A green pizza crust topped with traditional Irish corned beef, cabbage and Dubliner cheese. Get your Irish on and have some fun! Happy St. Patrick's Day!
Ingredients
Pizza Crust

1 recipe CUT Pizza Dough


Optional – green food coloring

Pizza Sauce

1 recipe Epic Garlic Sauce

2 tbsp CUT Kale Pesto

Pizza Toppings

200g gluten-free corned beef

4 cups Irish cheese (Dubliner Cheddar, Blarney Gouda)

1/2 cup parmesan cheese, shredded

Carmalized Cabbage


1/4 cup butter


3 cups green cabbage, roughly chopped

1 1/2 tsp salt

1/2 – 1 tsp dried chili flakes

1/2 cup gluten-free beer

pepper to taste
Directions
Preheat oven to 425°F.
Prepare CUT Pizza Dough, Epic Garlic Sauce and Kale pesto to directions. Add green food coloring to pizza dough if desired.
In large frying pan, melt butter on medium-low heat. Add salt and cabbage and stir well. 

Combine chili flakes, beer and pepper and continue to cook for 2-3 minutes.
Reduce heat, cook cabbage and stir occasionally for 20 minutes or until liquid fully reduced. Cabbage will become soft and caramelized 
Roll pizza dough to desired thickness and size on greased baking tray. Either individual pizza's or 2 larger sizes.
Spread thickly epic garlic/pesto sauce over pizza crust.
Add grated Irish cheddar and gouda cheese.
Continue to top with gluten-free corned beef, and caramelized cabbage.
Add shredded parmesan cheese.
Bake for 20 minutes, or until cheese is well melted and starting to bubble and turn golden.
Happy St. Patricks day! Stacey and Meg
"Luck is believing your lucky" – Tennesse Williams.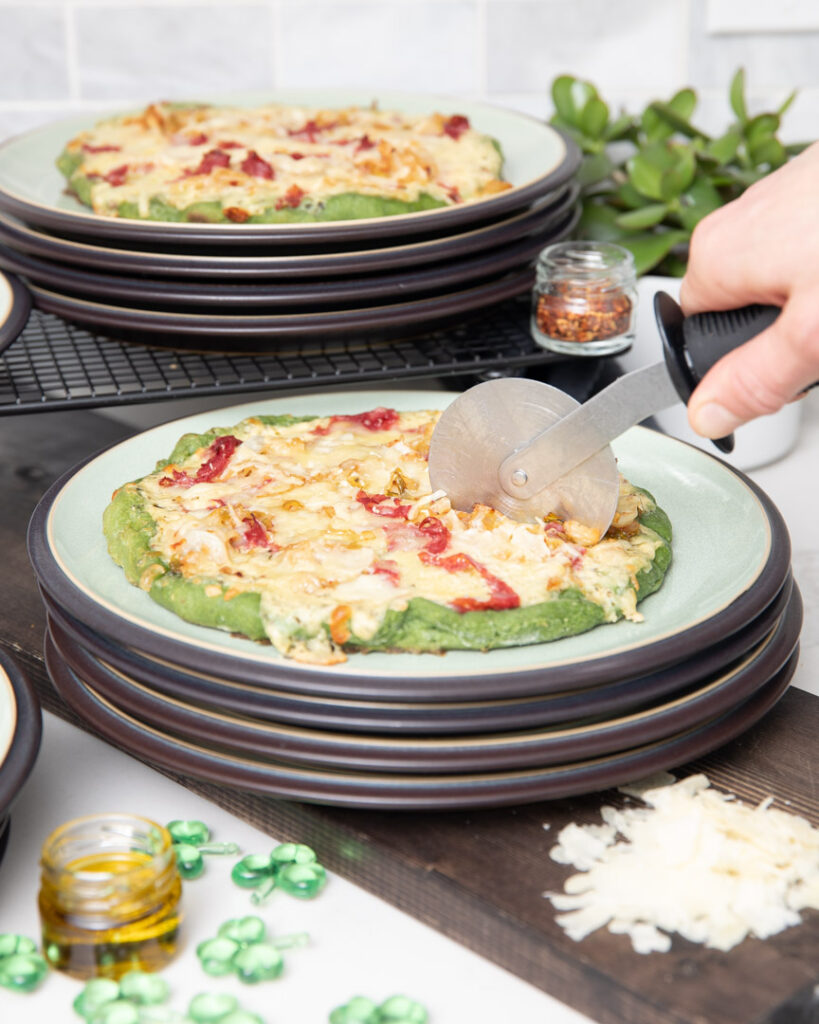 "May your troubles be less and your blessings be more and nothing but happiness come through your door"
– Irish blessing